So Warner Bros. just sent me an advance copy of The Dark Knight rises Blu-ray / DVD combo set and I watched just about everything on it and thought you might wanna hear my thoughts on both the film and the disc features.
*WARNING - POTENTIAL SPOILERS BELOW*
THE GOOD:
First off, I never really talked about the movie itself when it was first released in theaters, so here's my take on it. TDKR is a great movie - flawed with plot holes like any superhero movie for sure, and it had the nearly impossible task of living up to the success of TDK, but it's still great. What I really enjoyed about this one is that it focuses more on Bruce Wayne rather than on Batman. I always thought Bale's performance of Bruce Wayne was a lot better than his take on Batman. Well, there's a lot more Wayne in this movie than the other films, and I'm all about that.
I also really enjoyed Tom Hardy has Bane. Sure the voice was kinda funny since it sounded like a muffled Sean Connery, but Bane was just as badass as one could ever hope him to be. And man, I really enjoyed his fight with Batman. You expected it to be brutal, and Nolan doesn't let you down here at all. By the end of the fight, Batman is utterly exhausted and has his cowl practically caved in on his faced from repeated blows before having his back broken by Bane.
The music is also right on par with the previous films, only there's even more of a sense of panic and urgency to the music in TDKR. I dare say the score for this film is the best of the trilogy.
Lastly, the scale of the movie is incredible. If there's one thing they definitely did better with this one than in TDK, is they made the movie feel even bigger. The huge sweeping shots that are a Nolan trademark, the big football stadium, the big showdown on Wall Street between the cops and Bane's army, and the pit that Bruce has to climb out of... it all just feels so massive. I really wish more big films to advantage of IMAX cameras like Nolan does. Argue if you will, but The Dark Knight Rises feels WAY bigger than The Avengers, and it's not just because of how many real extras were used, but it's because of the way it was shot.
THE BAD:
First, I definitely thought they way that they killed off Bane was a cheap shot and an unceremonious end to a really entertaining villain. I would much rather see Batman break his one rule to finish off Bane than a blast from Catwoman.
Plot holes - yes, I can overlook them like most fans, but they're still annoying in any movie, and this one had plenty. What caused Bruce's leg to be injured so badly in the past 8 years when he hadn't done any crime fighting? How the hell do you fix somebody's broken back simply by punching it? How / why did Batman find the time to paint his logo in flammable liquids on the side of a huge building for Gordon to set ablaze when the city was about to be destroyed by a nuke!? I could go on and on...
I also hated the trailers, because they spoiled one of the biggest moments in the entire movie - the football stadium scene. That scene would've been so shocking to audiences had the entire cave-in not been shown in the trailers. I think it was a huge mistake on their part to show that in advance. People would've been caught completely off guard during the movie and talking about it a lot had that scene not been aired in advance.
Robin was also pointless to me. He barely has time to talk to Wayne in the entire movie, and yet Bruce basically retires and turns over the Batcave to him? Uh, let's not forget that Bruce is an extremely intelligent and highly trained ninja. While Robin is a smart cop, he's no Batman. So what, Bruce just expects him to learn all those martial arts moves on his own with no mentor? I get that he wanted to retire 'n all, but come on... at least train your replacement before you hand over the reigns.
THE BLU-RAY / DVD combo: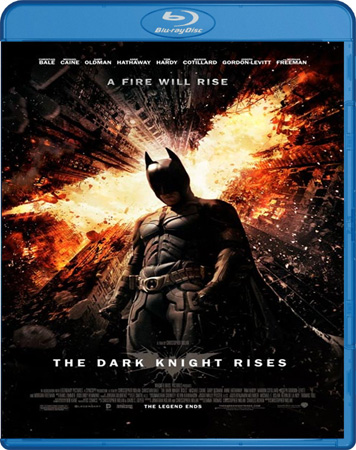 It goes without saying that the Blu-ray looks fantastic here, and while the movie is best seen on the big screen in IMAX, this is the next best thing. In terms of extras, it comes with a lot of featurettes (20 in total I believe) that show the making of some of the biggest scenes in the film. I enjoyed these more than anything, because you see just how many people and how much planning were put into the scenes. The football stadium, plane hijacking, Wall Street battle, and Batman vs. Bane featurettes were among my favorites here. There's also one that talks about the chant and music behind Bruce rising out of the pit, and I always love seeing how the sounds behind a film like this are put together. Again, the music in the film is absolutely stellar.
My only complaint about the DVD set is the lack of deleted scenes. Considering how much footage was shot for this film, it's disappointing that there's absolutely no extra footage from the cutting room floor. I was really hoping to see the rumored footage of Bane's origin - but no dice. So yeah, if you're hoping for deleted scenes, you may want to hold off, but there's no guarantee they'll ever release those I guess. Still, we know they're releasing an "Ultimate Trilogy" set next year too, so if you haven't purchased the other movies already, you may want to hold off until that one comes out anyway.
I should also note that there's a special edition version that comes with Batman's broken cowl. Nice display piece for sure, but my mantle is out of space, so I'm fine with just the standard Blu-ray which still comes with a nice lenticular art cover.
All in all, I thought this was a really solid ending to the Dark Knight trilogy. I'm sad to see the movies come to an end though, because I thought Nolan did more justice to the Batman mythology than any other director has in the past. Can't tell you how excited I was for the release of each film in theaters. Very curious to see what Nolan does next, because nobody does "big" movies quite like him, and whenever one of his works comes out, it feels like an event rather than just another movie coming out.
Alright, there you have it for my thoughts on The Dark Knight Rises. What did you guys think of the movie?