YO HO HO HO! WELCOME TO...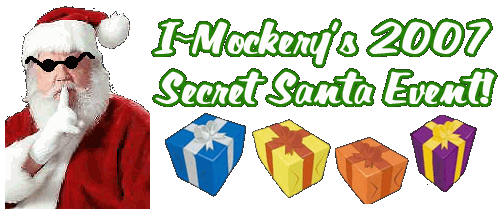 SIGNUP THREAD
It's that time of year again. Time for
I-Mockery's 3rd annual Secret Santa Event!
This is the commemorative holiday event in which Mockers leave their computers for a few minutes to send
ZANY
and
HILARIOUS
gifts to other Mockers at random, who then post the results of the exchange on the forums in this thread. Then the Mockers who sent out gifts will receive gifts of their own to post on the forums. What this holiday commemorates exactly is lost to
history
, but tradition is tradition, and if there's anything internet addicts hate, it's
change
. So are you ready to send gifts to and receive gifts from people who, in all likeliness, are complete strangers? You bet you are!
So here's how it works
: You sign yourself up in this thread. On or around November 27th, you will be
PMed
with the name of the Mocker whom you will be SENDING A GIFT TO. You should
NOT
share this information with anyone else. You will then buy a present with this person in mind - if you don't know anything about this person, don't worry about it, just buy something you think would be fun for just about anybody to receive and post pictures of. Make this a
good present
, but don't spend too much on it (between $15 and $20 USD,
not including shipping costs
). Send them their present WITH YOUR FORUM NAME IN THERE SOMEWHERE by
December 5th
. Shortly thereafter, you will receive a present from your very own Secret Santa! Take pictures of your gifts, import or scan 'em in, upload them, and share them with us by posting them this thread by
December 20th
. Feel free to create a fun story about your gifts with the photos. During this time, you should also
buckle yourself up for jingle bells of jubilation
.
Also, when you do post the pictures of the gifts you receive, we strongly encourage you to make a story/adventure out of it just like we've done in previous years. But
at the very least
, you should post photos of all the gifts you received along with your thoughts on them.
If you want to SIGN YOURSELF UP, you must do so by MAKING A POST IN THIS THREAD BY NOVEMBER 27th.
By signing, you agree to the following terms and conditions:
· Signing represents a contract. If you fail to uphold your end of the contract,
you will be permanently banned from the forums
, and possibly tracked down and sodomized.
· You
MUST
observe all deadlines and follow all of the instructions.
· You
MUST
spend the required amount of $15 - $20 on the gift for your recipient. This amount does
not
include any shipping charges.
· You
MUST
have a working camera (buy a disposable digital camera if you don't own a regular digital camera) and some means by which to transfer the images to your computer and upload them for others to see. We've been lenient about posting photos in the past, but there's no reason why anybody wouldn't have access to take a picture and post it on the web these days, so you
will
be banned if you fail to post your photos by the deadline unless you received your gifts late. If that happens, contact us and we'll work something out for you so you can post your photos a few days later.
· If you want to be lame and
make/build something
, that's fine and dandy, but please keep the spending minimum in mind and throw some other goodies in there. If you think parents really like it when their kids give them a crayon drawing as a present, you're wrong. DEAD wrong. If you're making something, we strongly suggest sending it
in addition
to the $15 - $20 worth of gifts that you buy for the person.· Your mailing address
CANNOT
be a P.O. Box. No gifts will be sent to P.O. boxes nor will anyone with a P.O box as a mailing address be allowed to participate in the Secret Santa event.
IF YOU'VE BEEN REGISTERED LESS THAN A YEAR:
To prevent misuse, any member who has been registered
and active
with these forums for
less
than a year
MUST
do the following:
1.
Provide a picture of themselves with a sign that says both "
I-MOCKERY SECRET SANTA 2007
" along with
their message forum name/name in plain view
.
2.
Post this picture in this thread for all to see.
3.
Send a PM to
Mockery
, who will then provide you with a mailing address for you to send a test/verification letter to. (the sooner you do this, the better)
4.
Send a test letter to Mockery at the mailing address he provides you with. The letter needs to include your full name, return mailing address and your name here on the I-Mockery forums.
These steps are necessary to verify that you have a working camera and the motivation to get your ass to a post office.
DEADLINES:
· The cutoff date for SIGNUPS is
November 27th
.
· The cutoff date for SENDING GIFTS is
December 5th.
· The cutoff date for POSTING PICTURES ON THE FORUMS OF THE GIFT(S) YOU RECEIVED is
December 20th
.
WHEN MAILING YOUR PACKAGE:
· You should probably observe federal law regarding what can and cannot be mailed.
· You
MUST
send your gift via Priority mail or your country's equivalent to avoid delays in people receiving their gifts.
· You
MUST
purchase a tracking number with your transaction. If your package is not received within a week, you will need this information to prove that it wasn't your fault.
· Do NOT send a PM or email to the person who you are sending a gift to in an attempt to let them know that you're their Secret Santa. It's called "Secret" Santa for a reason, people.
WHEN RECEIVING YOUR GIFT PACKAGE:
· You
MUST
take photos of
all
the items you receive and post them on them in this Secret Santa thread no later than December 20th, 2007.
· You
MUST
post some comments so everybody knows what you thought about the gifts you received. Creating a fun holiday story with your photos is also recommend, but not a requirement.
· If it's getting close to the posting deadline and you still haven't received your own Secret Santa gift package (say by roughly December 15th) please send a PM to
Mockery
so your Secret Santa gift sender can be contacted to see what the hold up is.
IF YOU LIVE OUTSIDE OF THE UNITED STATES:
· You can still participate in this event, but we will do our best to pair you up with somebody else who lives outsite of the U.S. as well. This is to avoid one person getting stuck with higher shipping charges. However, if we have an odd number of foreign participants, we'll obviously have one person who has to send his/her gifts out of the country. But hey, it's all part of the Secret Santa game and we expect everybody to live up to their end of the deal and not squabble over petty things like a few additional bux for shipping.
CONFIRMED PARTICIPANTS:
-Mockery
-RaNkeri
-Sethomas
-Uncle_Sham
-MarioRPG
-Microshock
-Protoclown
-Bigtimecow
-MattJack
-Darklycan
-J. Tithonus Pednaud
-Sam
-Grislygus
-Mburbank
-Chojin
-Poppers620
-Noob3
-MLE
-Schimid
-Nothing4buddha
-Zomboid
-Jixby Phillips
-Doopa
-Dr. Boogie
-Fathom Zero
-Draw A Sidewalk
-AlliSabbah (
new user: confirmation letter received. user has been approved
)
-JackSchmidtKnifeThrower (
new user: confirmation letter received. user has been approved
)
-aj2217 (
new user: confirmation letter received. user has been approved
)
-Vila (
new user: confirmation letter received. user has been approved
)
-Captain PirateFace (
new user: confirmation letter received. user has been approved
)
USERS WHO FAILED TO COMPLETE THE REQUIRED SIGN-UP TASKS ON TIME:
-Womti (never received confirmation email)
-Angryhydralisk (never received confirmation email)
-Seven Force (never received confirmation email)
-Misdemonar (never received confirmation email)
-saltshakermaniac ( confirmation letter received 2 days late)
-HungryWantBiddy (never received photos, pm and confirmation letter)
-Thanos (never received photos, pm and confirmation letter)
*
note
: to any of you who failed to complete the tasks on time, if you would like to coordinate a gift exchange with each other, that's fine by us. We'll be happy to help you set it up if needs be. Send a PM to "
Mockery
" if you have any questions.
***NOTE***
Once your name appears on the participants list above, please send an email to
santa@i-mockery.com
which includes the following information:
-Your Full Name
-Your Full Mailing Address
-Your Name/Alias here on the I-Mockery Message Forums
-Your Age
This information is ONLY being collected so we can assign somebody to send you your Secret Santa gifts. It will NOT be used to send you junk mail or add you to any mailing lists.
If you have any questions about the Secret Santa event, please post them here in this thread and one of the moderators will answer your question as soon as possible.