I-Mockery's latest forum contest has arrived!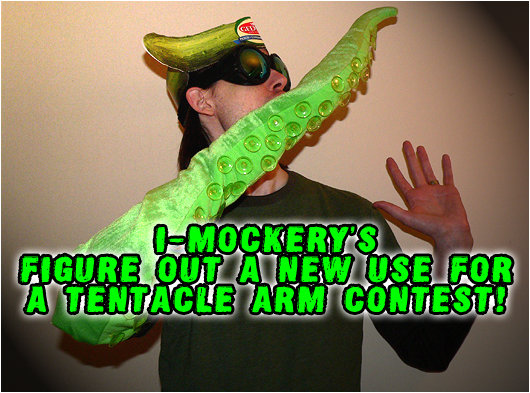 This has got to be one of the most unique items I've ever had the pleasure of giving away for a forum contest and I hope you'll all have a fun time competing for it. This brand new
Tentacle Arm from Gaia Online
is being offered up to one lucky winner. You can learn more about the Tentacle Arm
in this blog post
.
For this contest, we want you to show us what uses you would have for a tentacle arm. And no "tentacle rape" is not a valid entry.
In order to be eligible for one of the prizes,
you must create some kind of artistic rendition
for your entry to count. Feel free to use any pre-existing graphics/photos to integrate into your artistic rendition. You can do a simply cartoonish rendition in MS Paint, a Photoshopped collage or whatever you like. Also,
make sure you explain your new use for the tentacle arm
Here's on example of a new use for a tentacle arm: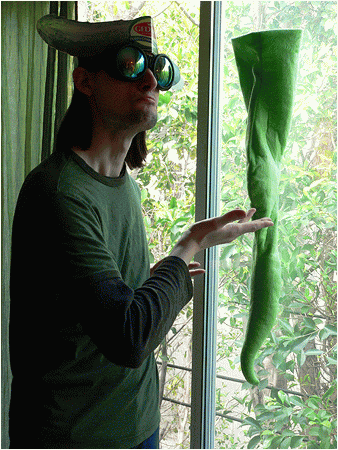 The Best Christmas Stocking EVER.
Obviously, since you don't own the tentacle arm yet, you can't take photos with it, so that's why I'm suggesting you do some simple MS Paint drawings (or MS Paint equivalent for you Mac users out there). Still, if you need a decent image of the tentacle arm on it's own to use in a photoshopped image,
CLICK HERE
.
As usual, this contest will be judged on
creativity
and
humor
.
If you have any questions still, feel free to ask.
PRIZES:
-One (1) lucky winner will receive a brand new green Tentacle Arm with suction cups galore!
RULES:
-To participate, you must register an account on these forums (if you don't already have one) and post your entries in this thread.
-Once the contest is over, myself and the other staff members will vote on the entries!
-Entries will be judged on creativity and humor.
-You MUST come up with a *new* use for a Tentacle Arm and demonstrate it by making a simple drawing in MS Paint (or the Mac equivalent), or Photoshoping some images together.
-No "tentacle rape" entries please. We get the joke and it's
hilarious
.
-If you need a photo of what the Tentacle Arm looks like alone, check here:
http://www.i-mockery.com/forum/conte...e-contest2.jpg
-Whether you win or not, your entries will be put on display for everybody to enjoy.
-
Enter as many times as you like!!!
Ok that's it. If you have any questions, feel free to ask. Good luck to all of you and start crankin' out those new Tentacle Arm ideas!
This contest ends 4/1/08.