Welcome back! When last we met, super awesome things had begun to emerge from the Super Awesome box I got from RoG, my super awesome Secret Santa! Let's continue, shall we?
You know, in this economy it's always a good idea to get the most sound financial advice you can, and Super Awesome has got me covered with my very own Wall Street Financial Guru:
The Official Sphere of the 1%!
Since I already make most of my personal, culinary and relationship decisions based on 8-ball technology, this one's right up my alley. Or should I say street - Wall Street, that is! :lol
In the spirit of the season, I'd like to share with you some of the Guru's hot financial advice: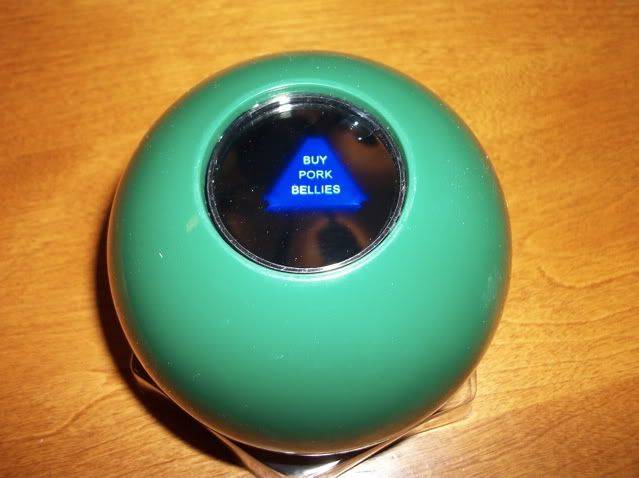 Mmmmm, bacon...
I'm also investing in Frozen Concentrated Orange Juice futures, based on a hot tip from my brokers, Winthorpe & Valentine.
This talk about food is making me hungry, but that's no problem, as Super Awesome has you covered at mealtime as well: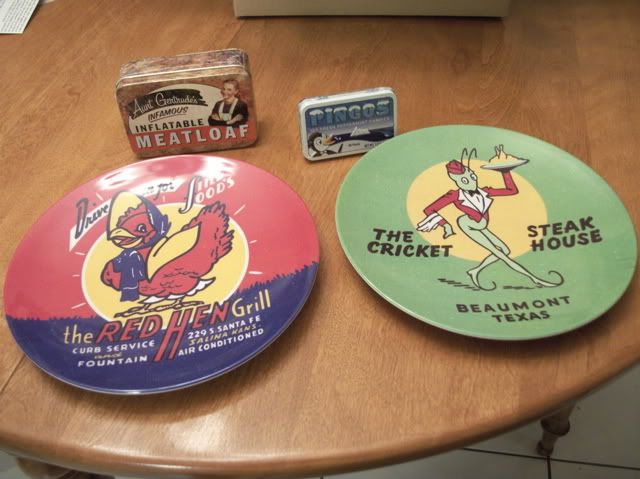 Two place settings, meatloaf, and even after-dinner mints! Plus, I'm not sure if it's real, but I would totally eat at The Cricket Steak House, which either has really big crickets or really small chickens. Doesn't matter.
And if you're thirsty, here's a lovely beverage:
A little salty, but so smooooth!
I've never had Mr. Snot Energy Drink before. That's all I'm gonna say. I immediately pounded it down (well, as quickly as it slithered out of the jug), and now I've got a nifty reusable sports bottle!
And it's a good thing that some food was included, because the box's population was not limited to dour businesspeople and a rogue gorilla! Let's check out the action figures, sprung to plastic life from the pages of literature, music and history: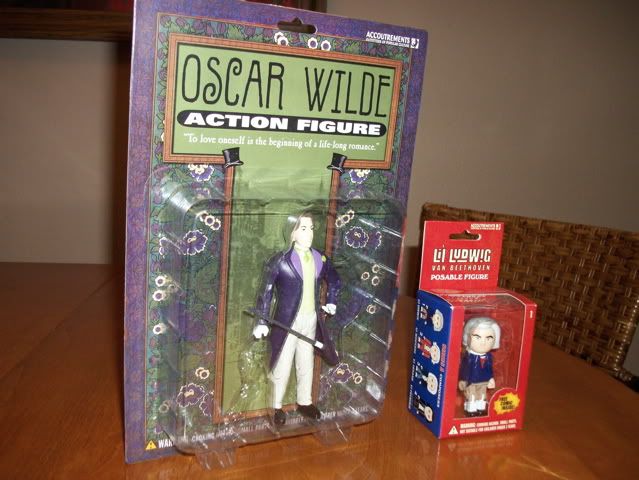 He's trying to use his cane to escape from the blister pack!
That's right, 19th century adventurer and superhero Oscar Wilde. Oh, man, I'm afraid my other action figures are gonna beat the crap out of him. Charm them with a witty
bon mot
, Oscar! On second thought, use your cane!! Oh, who will protect the poet? Wait a minute, Li'l Ludwig looks pretty tough: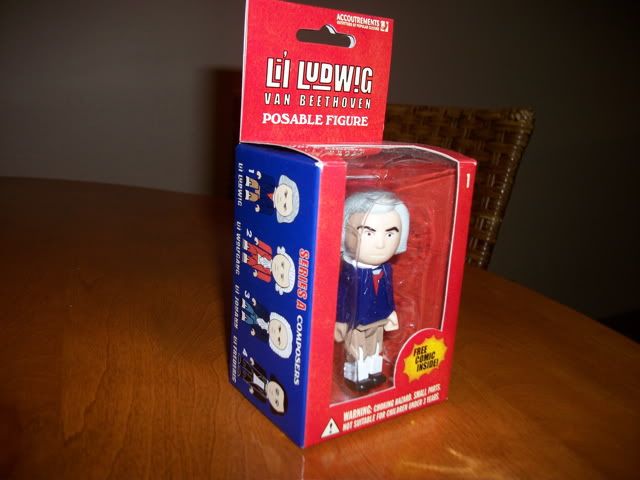 You talking to me? ARE YOU TALKING TO ME?!?
If he can get out of that box, Beethoven will kick. your. ass. Plus, he comes with the best possible accessory: a free comic! "Oh, Li'l Ludwig, what hijinks are you up to NOW?"
If you have any doubt at this point about the super awesome nature of this Super Awesome gift (and really, why would you? How could you?), here's the clincher: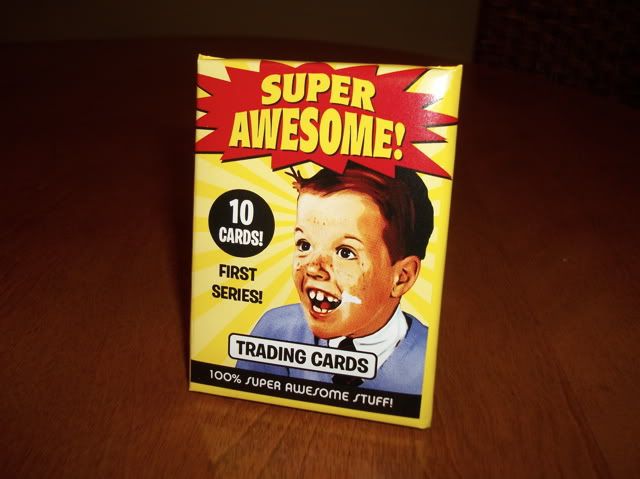 It's right on the package, people!
I'm not sure whether that kid is super excited, or frozen in abject terror. Either way he manages to be completely dead-eyed. Super Awesome!
Take a look at the cards:
I defy you to tell me that any of these are not Super Awesome!
The cards are great, and have fun facts on the back. Each one is undeniably awesome, but I think this may be my favorite: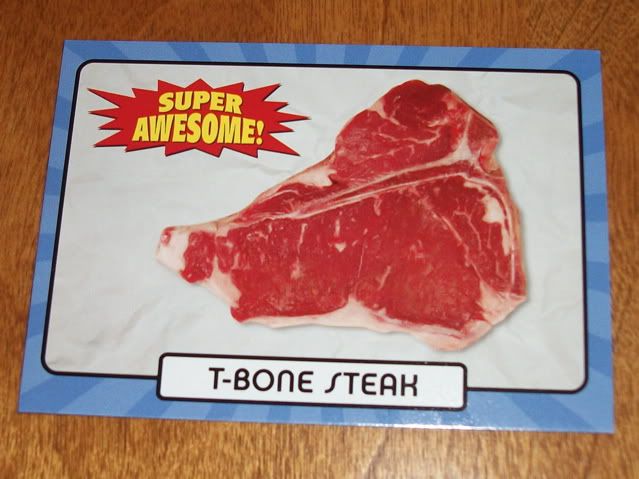 Is it more awesome because it's raw? You decide! (But the answer is yes.)
Well, we're down to the last few items in the box (Can you believe it? What a journey we've taken!). Here's one that will be fun to decorate with during next year's Two Months of Halloween: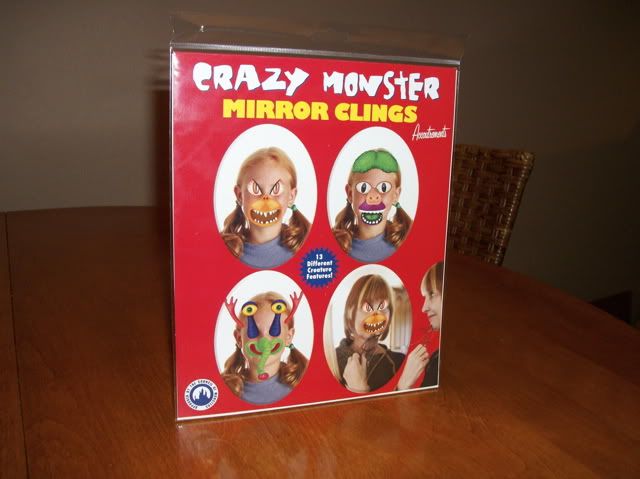 My kids already look like this.
The package comes with three sets of mirror clings, which should be enough to also put them on my TV during the news. Monster anchors!
And now the last couple of items, some Devil Duckie bandages and fifteen Texas Hold 'Em poker chips!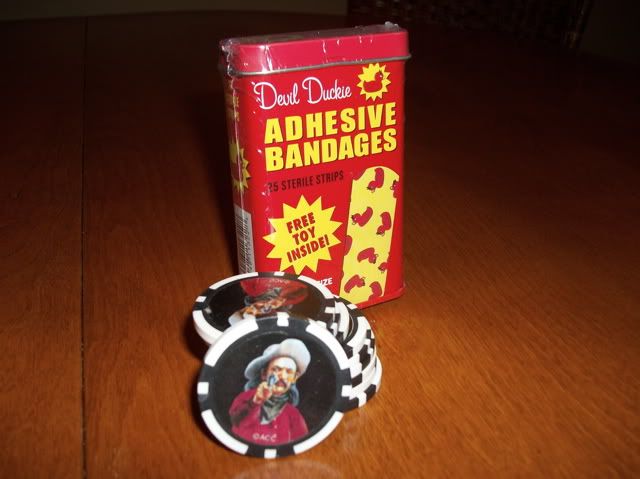 As used at The Drunken Gunslinger Hotel & Casino!
I haven't opened the bandages yet - I'm a little afraid to find out what kind of toy is appropriate to include with a wound care product.
And that's about it. Oh, I could have taken a few more pictures, I guess - shown that the mints were football shaped, and had little to no taste of penguin; or served up the meatloaf (recipe: inflate.), but that would have taken me even more time, and Christmas is almost upon us! Thanks again, Santa, and Happy Holidays to everyone in the I-Mockery community!
:xmas3