Oh, well anyways the newest forum member at the time is
sexpistolssid77
,his website can be found here
. I suggest we all give him a warm welcome.
I'll start off his post for him and he can finish it up later.
Name: Sid or Allen?
Age: 16
Job: Vandal
Where you at: Villa Rice, Georgia
How did you find out about this site: _________
Why did you start posting: _________
Level of Educ.: still in High School (this is an assumption, please correct if mistaken)
Income: ________
hobbies: His myspace, under general, says girls, music, guitar, hairspray
Fav. music/band: grunge, punk, rock, metal, reggae, Kurt Cobain, Pink Floyd, Misfits, and the Sex Pistols
Fav. book: just magazines
Fav. Video game: _________
Who do you hate the most on this board: I'm going to take another guess and say anybody who doesn't truly understand you and what you stand for.
In high school you were voted most likely to...-__________
He's also a libra.
Now, because I'm really fucking lazy and bored still I'm going to post his picture.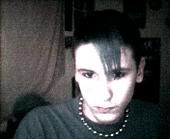 Note: I can't tell if it's just poor lighting in the picture or what.
Everybody, welcome him to our ranks, he appears to be a great assest to our ever growing roster of posters.
And to Allen himself, I'd like you to edit any incorrect info and fill out the blank spaces. Welcome to I-mockery.