I-Mockery's
final
forum contest of the 2007 Halloween season has arrived!

Continuing our annual "Two Months of Halloween" celebration, we're kicking off our latest contest where you can win an extremely rare classic
Boo Berry
costume! BEHOLD!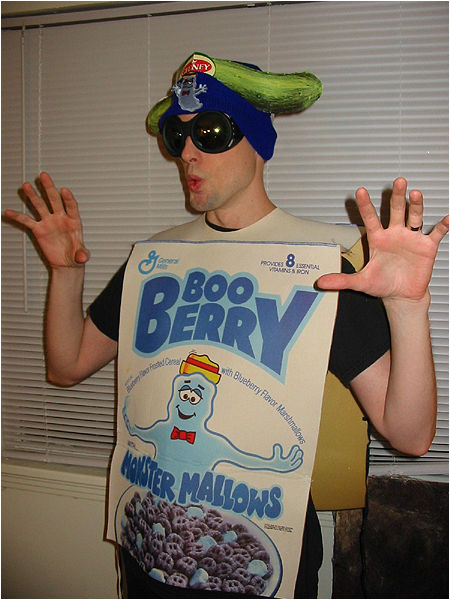 *goggles, hat and RoG not included
This costume was only available for a limited time as a mail order item for people who bought Boo Berry cereal back in the day. On the rare chance that it goes up for sale on eBay, this thing often sells for
over 200 bux
. So yeah, it's quite a collectible for Monster Cereal and Halloween costume fanatics alike. But that's just the
Grand Prize!
Oh yes, there's more. I'm giving our
2nd and 3rd place winners
some Elm Street goodies!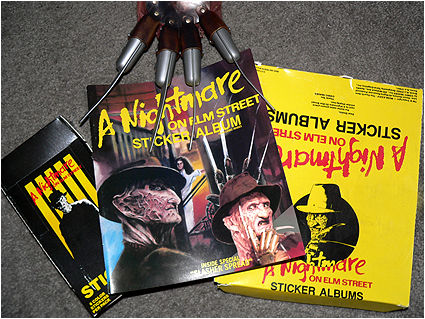 Both our 2nd and 3rd place winners will each receive a vintage Nightmare on Elm Street sticker album and a full box of Nightmare on Elm Street stickers (48 packs in each box)!
For this contest, we want you to show us how you think about breakfast. Monster cereals in particular. What if you were going to create your very own Horror-themed cereal? What would it be like? What would it be called? What would be the ingredients?
In order to be eligible for one of the prizes,
you must create some kind of new monster/horror-themed cereal.
for your entry to count. Feel free to use any pre-existing horror icons, graphics, etc. (vintage or modern) to integrate into the design of your new cereal. But
make sure you give the cereal an original name!
We also encourage you to
show the actual cereal itself
, either on the cover of the box or in a bowl sitting next to the box.
Your entries can come in one of two formats:
1)
You can physically modify a real cereal box and take a photograph of it. (definitely encourage people to try this)
2)
You can photoshop a cereal box with images you found on the web.
As usual, this contest will be judged on
creativity
and
humor
.
I've also whipped up a quick example for you: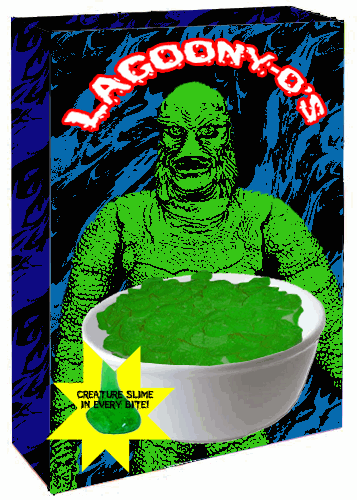 Of course, this is a quick, down 'n dirty example that's not very good, but you get the idea. You can also see some far more professional examples
here
. (those examples are from a cool upcoming book, I might add.)
If you have any questions still, feel free to ask.
PRIZES:
1st Place:
The Rare Boo Berry Costume!
2nd Place:
A Nightmare on Elm Street Sticker album and a full box of stickers!
3rd Place:
A Nightmare on Elm Street Sticker album and a full box of stickers!
RULES:
-To participate, you must register an account on these forums (if you don't already have one) and post your entries in this thread.
-Once the contest is over, myself and the other staff members will vote on the entries!
-Entries will be judged on creativity and humor.
-You MUST come up with a custom name for your new monster/horror-themed cereal.
-It would be a good idea to show the cereal itself either on the box or in a bowl too.
-Whether you win or not, your entries will be put on display for everybody to enjoy.
-
Enter as many times as you like!!
Ok that's it. If you have any questions, feel free to ask. Good luck to all of you and start crankin' out those spooky cereals!
This contest ends 10/28/07.
BIG THANKS
to our friends over at
FRIGHT CATALOG
for helping sponsor this!