Alrighty! I finally have some free time to share my Secret Santa gift haul with you guys. Sorry I didn't get to put these up last week, but I've been super busy on a variety of projects and wanted to make sure I gave this awesome holiday haul the proper attention it deserves. This year I was lucky enough to get
Thanos
as my Secret Santa! So let's dive into this box of wonders and see what treasures are lurking deep within, shall we?
Bubble wrap? I already like where this is headed! Oh, and the gifts look nifty too!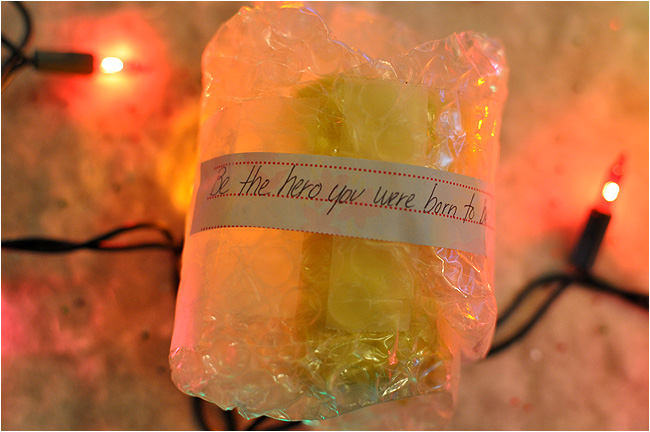 The hero I was born to be, eh? I guess my superhero costume is in this thing and it must be
really
tiny.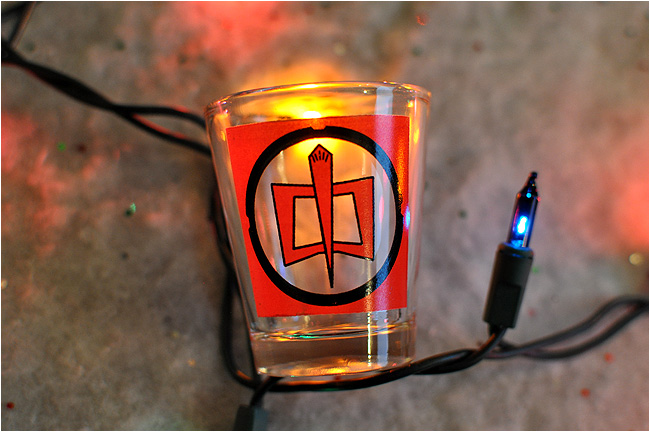 Holy crap! I don't even drink, but this makes me want to start. A Greatest American Hero shotglass?
Believe it or not
, this is a most excellent start!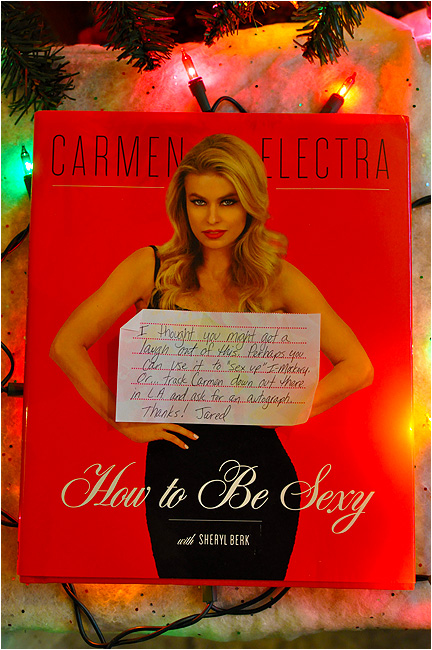 If there's one person who can teach me to be sexy (well...
sexier
), it's gotta be Carmen Electra. I don't think she's up to much these days, so I could probably just call her up on the phone and ask how to be sexy, but this book will do just fine. Maybe I can read this while listening to her
debut album
for the ultimate sexy experience?
Awesome! I get to build monsters AND it comes in a tiny metal lunchbox? Who could ask for more? Never seen this before, but I look forward to giving it a try. If only I had this before I started making BCPG, I may have come up with an entirely different game.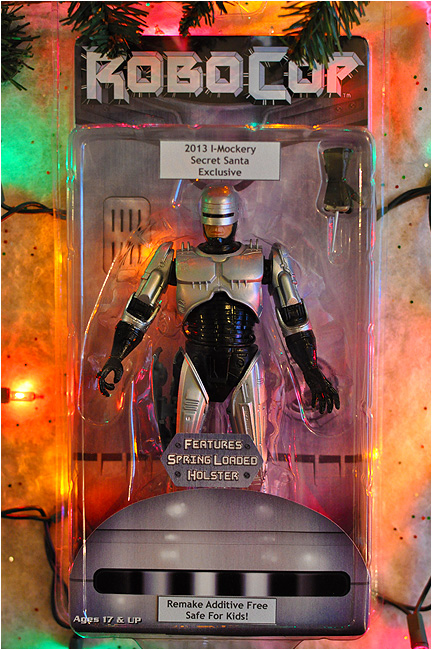 Holy crap
YES!
I don't think I have any RoboCop figures, and I definitely didn't own the "2013 I-Mockery Secret Santa Exclusive" one! Best of all, as you can see from the label at the bottom, it's "Remake Additive Free - Safe For Kids!" Which is a good thing, because if it was a figure from that piece of shit upcoming remake, I would've set it on fire and banned you from the forum. I kid of course............ or do I?
Either way, he will defend my Christmas tree from injustice for the remainder of the month. His first objective will be to destroy the DVD copy of "Christmas Vacation 2" that I own.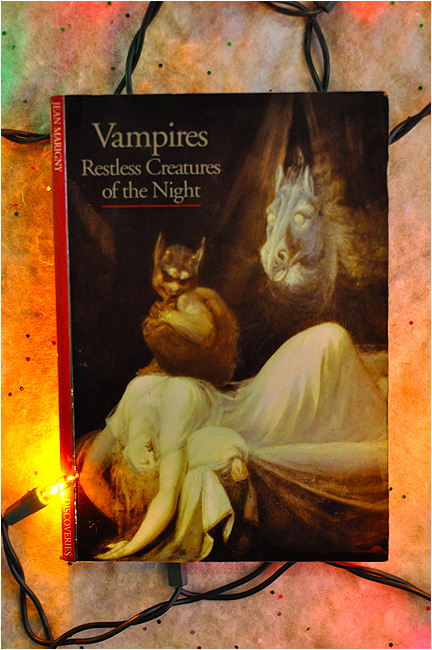 So like, if I read this, I don't need to get caught up on
True Blood
, right? I'm sure this contains all the same pertinent, factual information that the hit TV series shares with its audiences. Keen!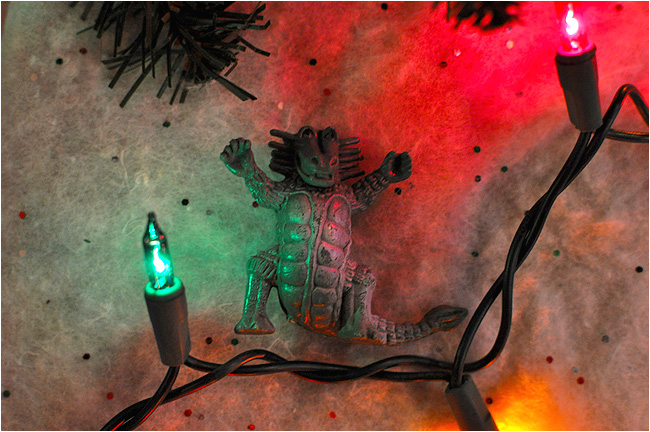 Found this random tiny little figure in the box and he kinda reminds me of the Kraken from
Clash of the Titans
, but with better hair. I'll be sure to introduce him to my M.U.S.C.L.E. figures, as I think they'd accept him as one of their own even though he's not flesh-colored.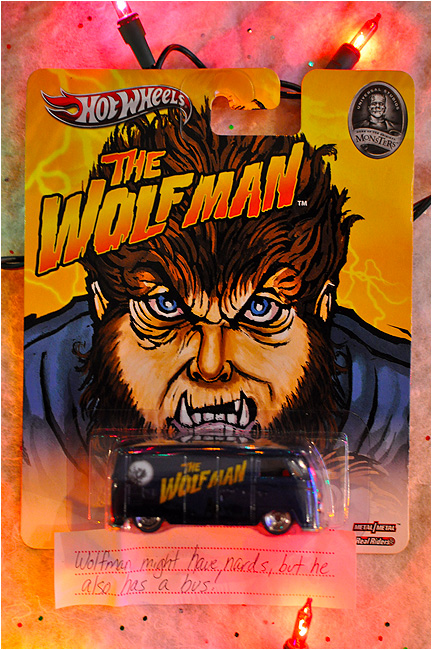 A van to transport the Wolfman's nards in? Sign me up! I actually saw these cars this past Halloween season and made a mental note to pick them up later on. Now that I have one, you've given me the excuse to get the rest of the set. Thankee!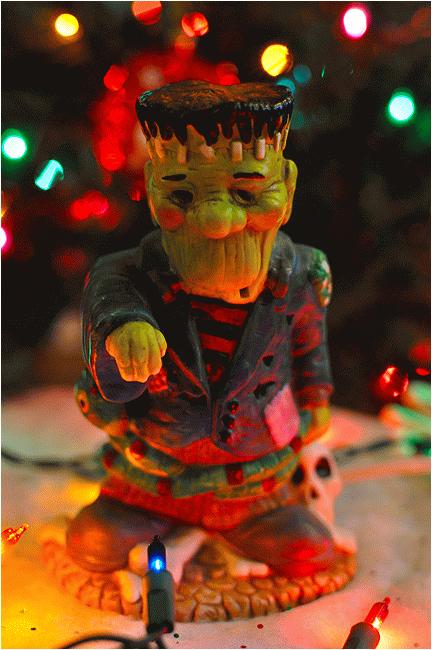 I have no idea where this little Frankenstein's Monster lamp came from (I'd love to hear the story behind it!), but it's absolutely awesome. My favorite thing is that he has a single exposed tooth that lights up. Well that and the fact that he's standing on a pile of bones, has a limp wrist, and there's a snake coiled around his belly. Rarely is so much awesomeness packed into such a small lamp, but whoever made this thing truly pulled off some wonders. Kickass!
Last but certainly not least, I got this fantastic Domo-Kun trooper hat for the winter season! I have a Domo hoodie that this will go with perfectly, and I'll totally wear this around when it gets really cold out. And by really cold, I mean 50 degrees, because when you move to Los Angeles, the nearly constant perfect weather all year long makes your body completely pussified whenever there's a slight climate change.
Thanks again for your seriously amazing Secret Santa generosity, Thanos! I love my gifts and I love the labels you put on them too. Never stop doing that, it makes 'em all the more enjoyable! Merry Christmas!
:xmas1