Here's my haul from forum member sjmck: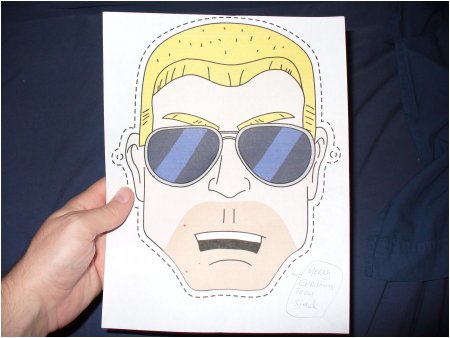 A paper mask featuring the likeness of someone tough.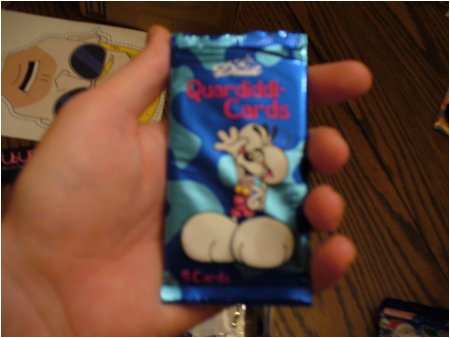 ... Quardiddl cards?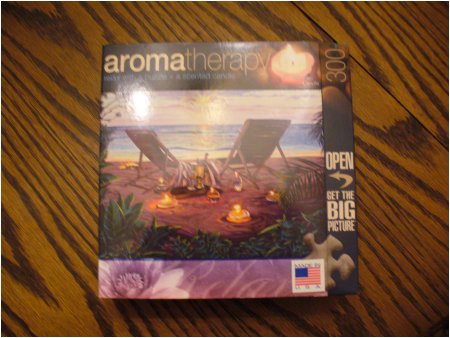 Aroma therapy candles. *sniff* Mmmm.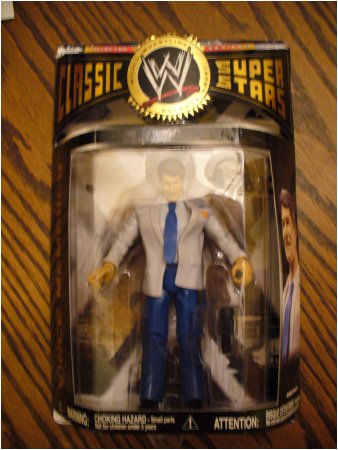 The action figure likeness of Vince Mcmahon, complete with wrinkled rubber sportcoat.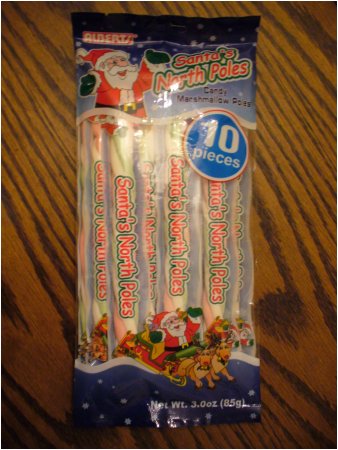 Candy marshmallow "north poles". Can you believe these weren't purchased at Spencer Gifts?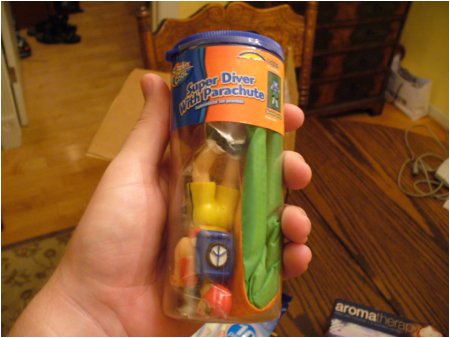 Super Diver, with Parachute! That should make the skydiving much easier.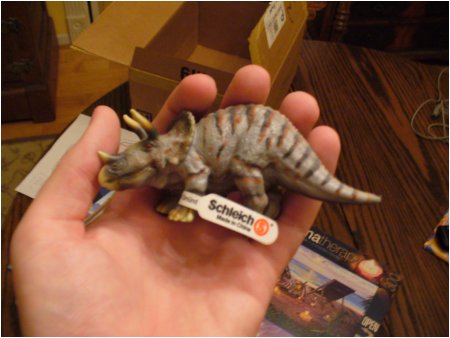 A plastic triceratops by a German company, manufactured in China, and sold in the US! Ah, the global marketplace.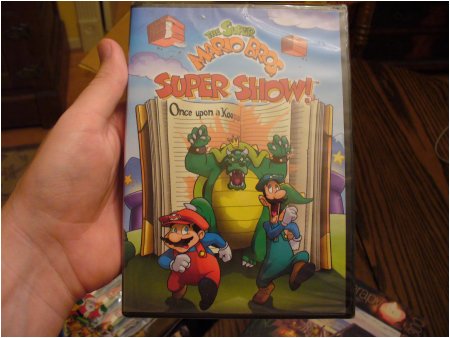 A DVD featuring several episodes from the Super Mario Brothers Super Show.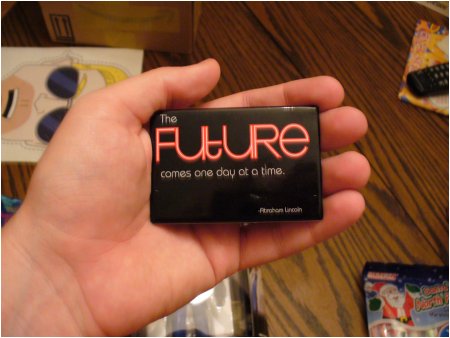 A refrigerator magnet featuring an inspirational message from Honest Abe. But what does he know from magnetism?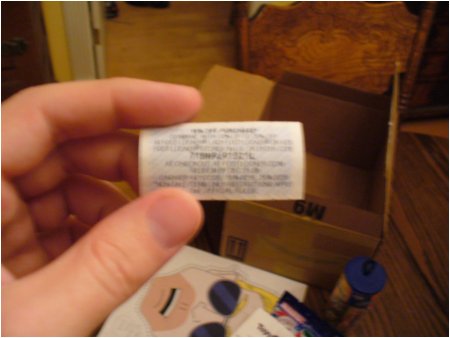 A coupon for 15% off at Footlocker! Joy of joys!!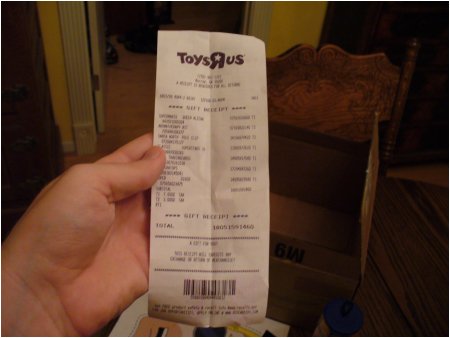 And a gift receipt for the whole bundle, in case I feel like returning all this stuff. Oh, if only it were that simple. You see, not long after I opened the package...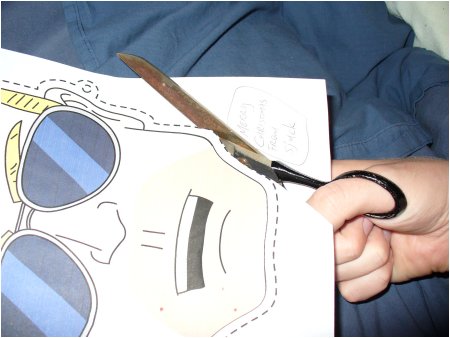 The trouble started...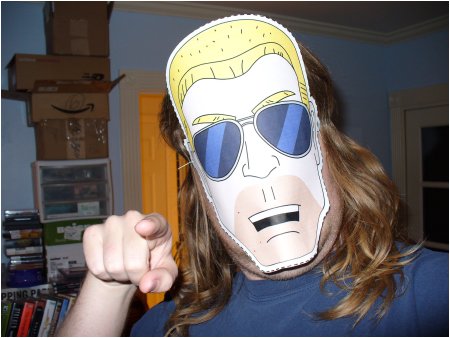 YOU'RE DAMN RIGHT THE TROUBLE IS STARTED, WIMPY! WE'VE GOT A SERIOUS GRUDGE MATCH TAKING PLACE AS WE SPEAK!! IT ALL STARTED MINUTES AGO...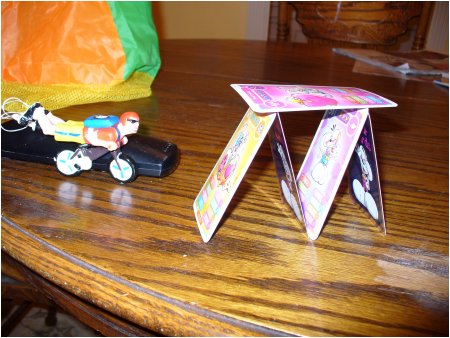 THIS PUNY SKYDIVING CYCLIST WAS FEELING ALLPROUD OVER THE CRAPPY HOUSE OF CARDS HE SPENT ALL DAY ERECTING! HA HA, "ERECTING"! THEN SUDDENLY...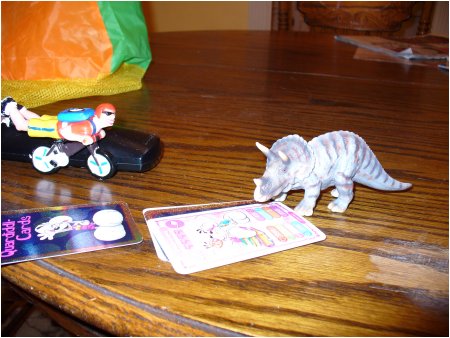 A DINOSAUR WITH A BAD ATTITUDE CAME BY AND WRECKED HIS SITUATION UP GOOD!! NO REMORSE FROM THIS COLD-BLOODED REPTILE!
WELL THAT BICYCLE-RIDING FRUITCAKE DIDN'T TAKE THIS LYING DOWN! HE CHALLENGED THAT DINO TO A NO HOLDS BARRED SMACKATHON! LET'S WATCH, SHALL WE:
"Good evening folks! I'll thank those of you in the front row to not point out how my left eye is slightly higher than my right eye because we've got a great matchup for you tonight. It's a brutal grudge match between two rivals:
"Trike, the home-wrecking, man-eating herbivore, and his archenemy/guy he just met: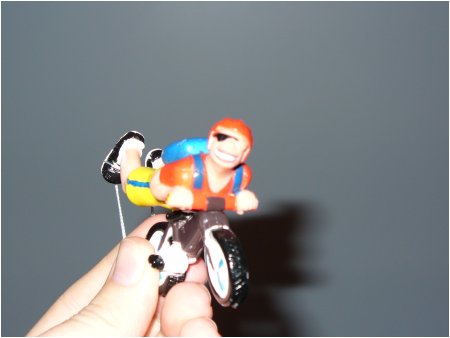 "Patchy, the one-eyed cyclist! He's mad about his home collapsing like a house of cards, and you'd better believe he's going to bring his A-game to this fight!
"Wait, he's disappeared! Where could he have gotten off to in... Look! Up there! He's preparing for his signature move: The Death Dive!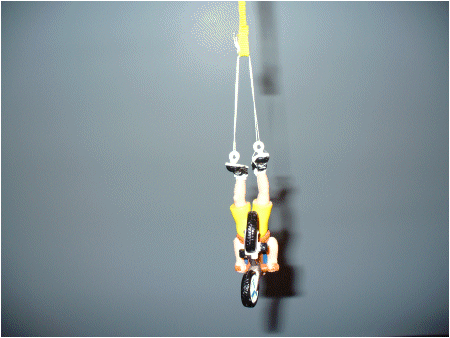 "There he goes! Will this fight be over before it even begins? Find out after a word from our sponsor: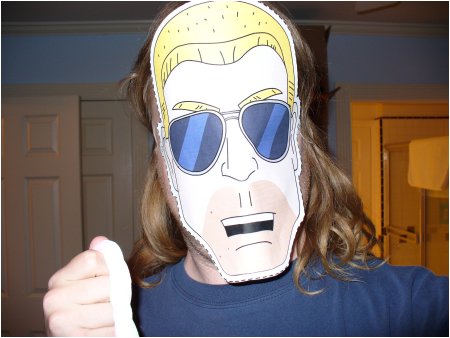 Snap into a marshmallow pole!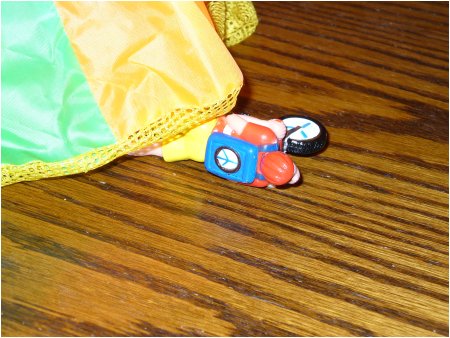 "Ooh, looks like Patchy's aerial maneuver didn't quite pan out the way he had intended.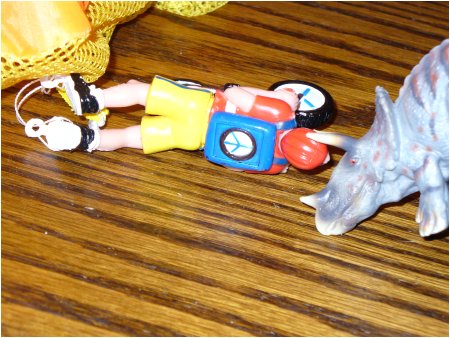 "And there's Trike with the coup de'grace."
Wow, what a match. Wait, what's this?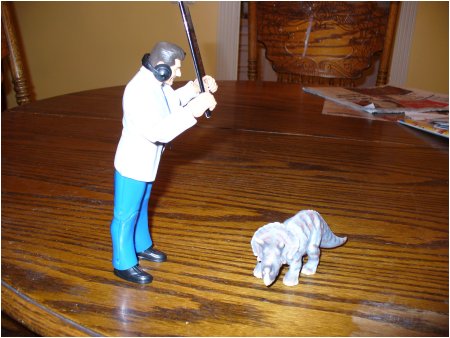 McMahon is sneaking up on Trike with an inspirational magnet!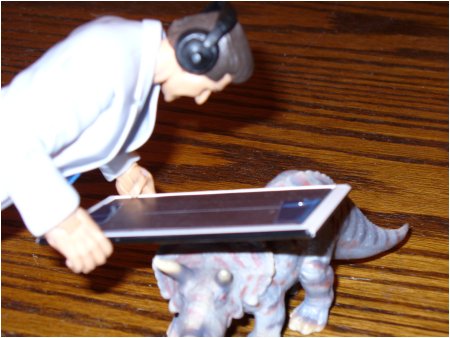 *BAM!*
So it was wrestling that killed the dinosaurs.