It was just an ordinary day for me, Roger P. Finklestein, world renowned horticulturist and fan of advanced trigonometry. Being the creative person I clearly am, I was reading a book to help me balance my life. Too much creativity without any logic could mean I'd never reach my full human potential for greatness. I was just about to move on to the chapter about creating exciting spreadsheets that would make your head spin, when I had a knock on my door. It was the mail man and he had a package for me!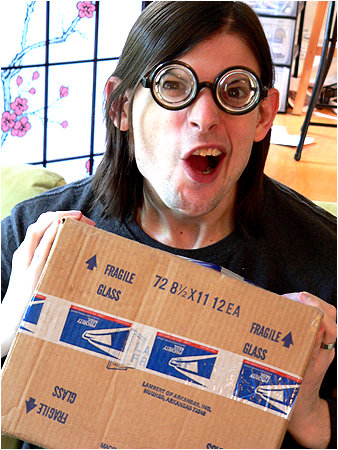 I couldn't believe my eyes! (that reminds me that I need to go to my optometrist and get a more powerful set of glasses) Who would be sending me a package? I thought about contacting the authorities, suspecting it to be Anthrax... possibly sent by a frustrated rival horticulturist who lost to me in a prior competition. Throwing caution to the wind, I decided to go ahead and open it because luck had always been on my side. After all, I was a handsome, successful man... what could go wrong?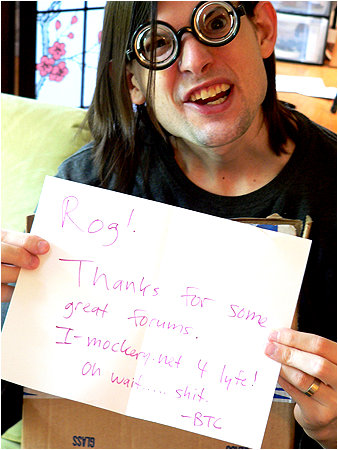 Who would've thought that the tiny side project in my life called "I-Mockery" (the "I" stands for "Iris" - which was my way of mocking those who think the Iris is a superior bulb to the Windflower. As if!) would garner some fan mail for me? BTC (Bigtimecow) sent me a special Christmas gift! A "Secret Santa" gift, if you will!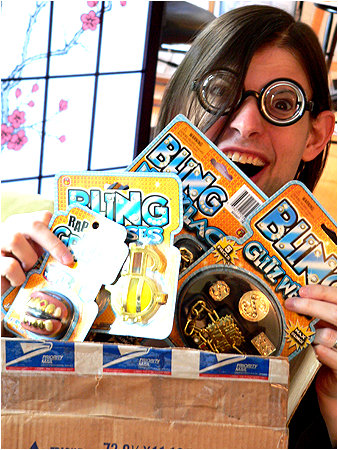 OH MY STARS! It was a bountiful collection of Bling Glitz Wear! I doubt that Fort Knox even has this much valuable gold stored within its vaults! Little did I know that this decidedly celestial change of fortune would alter the course of my life forever!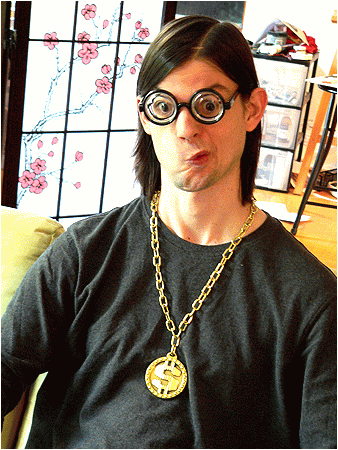 As soon as I adorned my body with all of these newfound golden garment gifts, I felt a transformation taking place. Like a butterfly emerging from it's larval state... I had finally become the man I was destined to be!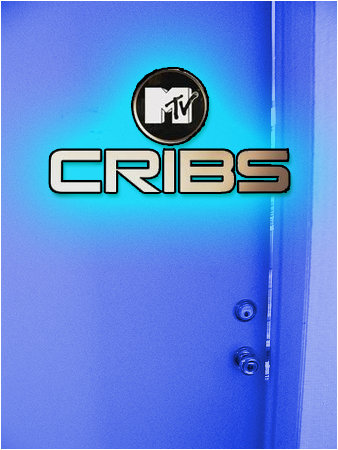 TODAY ON MTV CRIBS, WE VISIT THE HOME OF THE MOST FAMOUS RAP STAR ON EARTH - BIG ROG!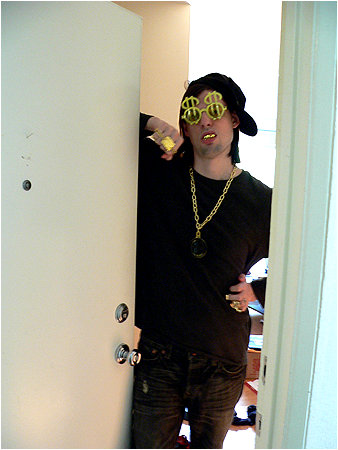 YO, YO, YOOOOOO! WELCOME TO MY CRIB, YA'LL! YO, BE SURE YOU TAKES OFF YO' SHOOZ BEFORE COMIN' INTO MAH CRIB! IF YOU SCUFF UP MY FLOW, I BE SCUFFIN' YO' LIFE, FOOL! WORD.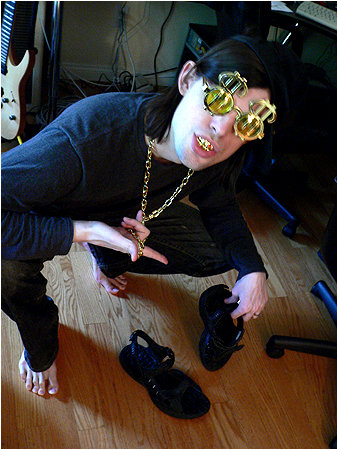 SO THE FIRST THING I GOTZ TO SHOW YOU IS MAH SHOOZ! I KNOW ALL THE OTHER STARS ON CRIBS SHOW YOU THEY SHOOZ, BUT THEY CAN KEEP THEY AIR JORDANS AND PUMPS YA'LL... NONE OF THEM HAS A PAIR O' THESE! THESE BE MY FLOPS!
FLIP FLOPS!
WOOOOOOOORD!
I ALSO GOTS MAH BOOTZ! MAH BOOOOOOOYA-BOOTZ! HONKEYS BE TRYINN' TO BE STEPPIN' IN MY PLACE, SO I BE DYIN' TO BE STEPPIN' ON THEY FACE!
CHECK IT OUT YA'LL! THIS BE MY BIG TAY-VAY! 13 INCHES OF COLOR, MOTHAFUCKAAAAAAAAZ! THAT BE ONE TIGHT SYSTEM, YA'LL!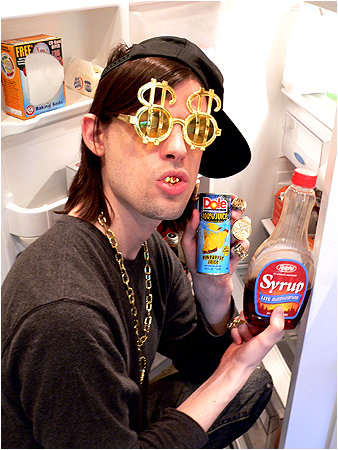 YO, ALL THEM RAPPAZ THINK THEY BE THE HOT SHEEEIT CUZ THEY HAVE CRISTAAAAL AND COURVOSIER IN THEY FRIDGES. PFFT, THAT AIN'T SHEEEIT! IT GOTS ME SOME PINEAPPLE JOOCE AND MAPLE SYRUP BITCHES!
I GOTZ ME SOME WICKED TOILET PAPER TOO YA'LL! THIS AIN'T NONE O' THAT 99 CENT SHEEEIT THAT DON'T LAST BUT A DAY! THIS BE THE NAME BRAND 2-PLY SHIT, YA'LL! 1000 SHEETS PER ROLL!
MAN, FUCK ALL THEM HONKEYS WIT THEY FANCY-ASS RIDES! YA'LL THINK THEM LAMB-O-GEENEEZ AND HUMMAZ CAN OUTMANOOVAH MY RIDE? VISION GATOR SKATEBOARD, YA'LL! THAT BE SOME TIGHT-ASS OLDSCHOOL SHEEEIT RIGHT THERE! I BE GLEAMING THE CUBE, YA'LL! WEST SIIIIIIIIIIIDE!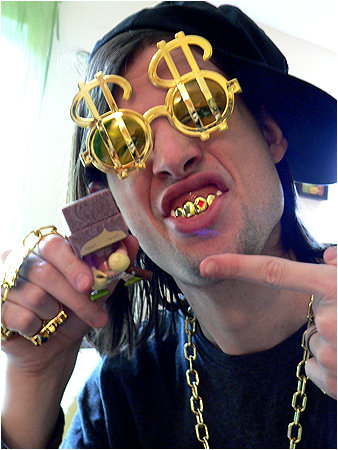 A'ITE, BEFORE I KICK YA'LL OUTTA MAH CRIB, I WANNA GIVE PROPS TO MAH HOMEY, THE B TO THE T TO THE C TO THE BIGTIMECOW! HE GAVE ME MY BLING AND HE ALSO GAVE ME THIS WICKED-ASS BLOCK HEADED TOY. YYYYEAH!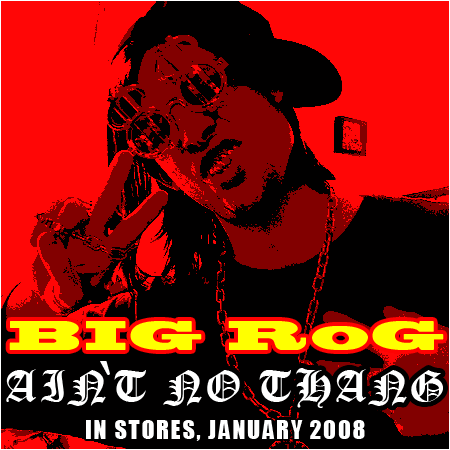 BE SURE TO CATCH BIG ROG'S DEBUT ALBUM, "
AIN'T NO THANG
", DUE OUT IN JANUARY 2008!
CLICK HERE TO LISTEN TO THE FIRST SONG ON THE ALBUM!
ENJOY THE MAD TRAX, YA'LL! WOOOOOOOOOOOOOORD FROM MY CHRISTMAS GRILLZ! PEACE!