This is definitely one of the most random contests we've had here on I-Mockery...

THE "JIG-A-LOO" CONTEST! WIN VIDEO GAME PRIZES!
The creators of
Jig-A-Loo
spray (the "all-around solution in a can") are sponsoring a new contest here on I-Mockery in which you can win a
Jig-A-Loo Prize Pack
(a can of the spray, a t-shirt and a hat)
PLUS
a
$75 gift card to Gamestop.com!
Random? Yes. Awesome? You betcha.
So, for I-Mockery's latest contest, we want you to design a fake print ad for Jig-A-Loo spray that explains one of the many amazing things it can do and how it
makes the world run smoother
. To help explain this better, you gotta check out their amusing commercial:
http://youtube.com/watch?v=gm_4OHCtAOY
So now that you know the kind of humorous mentality they have for their spray, it's time for you to go to town with it and make a kick-ass print ad. You can draw the ad using your own artistic skills or you can Photoshop it using a collage of images to suit your needs.
Either way, this contest will be judged on
creativity
and
humor
.
To help you out with your print ads, we have some graphics you can use:
-
A large version of the Jig-A-Loo Can
-
The Jig-A-Loo Logo
You can also retrieve additional graphics at their web site,
jigaloo.com
And to further assist you, I've created a sample ad so you can get a better idea about what we'll be looking for in your contest entries: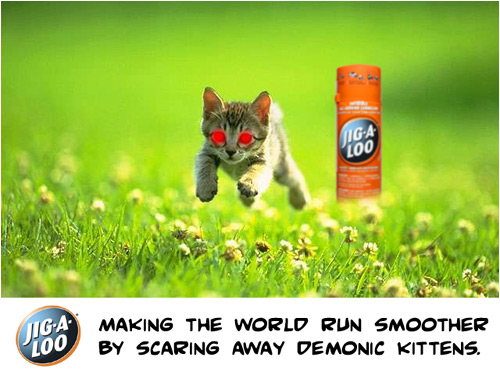 If you have any questions still, feel free to ask.
PRIZES:
1st Place:
Jig-A-Loo Prize Pack with $75 gift card to Gamestop.com!
2nd Place:
Jig-A-Loo Prize Pack with $25 gift card to Gamestop.com!
3rd Place:
Jig-A-Loo Prize Pack!
RULES:
-To participate, you must register an account on these forums (if you don't already have one) and post your entries in this thread.
-Once the contest is over, myself and the other staff members will vote on the entries!
-Entries will be judged on creativity and humor.
-No racist/sexist/adult entries will be accepted, so please keep your entries safe for work.
-Whether you win or not, your entries will be put on display for everybody to enjoy.
-
Enter as many times as you like!
Ok that's it. If you have any questions, feel free to ask. Good luck to all of you and be sure to check out
Jigaloo.com
!
This contest ends 7/18/07.