I-Mockery's latest forum contest of the 2007 Halloween season has arrived!

Continuing our annual "Two Months of Halloween" celebration, we're kicking off our latest contest where you can win one of three horror pals who will keep you company on those cold fall nights. BEHOLD!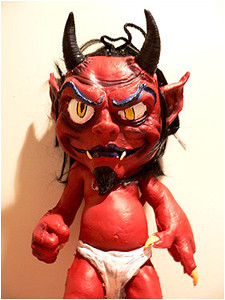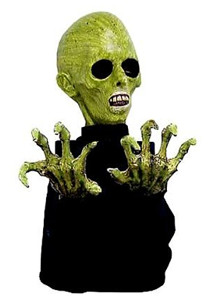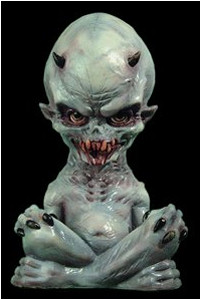 That's right, compliments of
FRIGHT CATALOG
you now have a chance to win one of these kickass monsters that were featured on I-Mockery!
Scratch Zombaby
,
Grimsdyke
, and
Brain Child
! For this contest, we want you to show us how you think any one of these three characters could be integrated with a horror movie. In order to do this,
you must create some kind of horror movie poster using any of these three characters.
for your entry to count. Feel free to use any pre-existing horror movie posters (vintage or modern) to integrate your favorite character with it. But
make sure you give the movie a name too!
As usual, this contest will be judged on
creativity
and
humor
.
To help show you what I mean, I've taken the liberty to whip up a sample horror movie poster of my own using Scratch Zombaby:
Again, this is just a sample, but it should help give you the general idea of what we're gonna be looking for in your entries so that you can come up with some truly great stuff worthy of winning one of those three monsters.
If you have any questions still, feel free to ask.
PRIZES:
1st Place:
Your choice of any of the three monsters!
2nd Place:
Your choice of any of the two remaining monsters!
3rd Place:
You get whatever monster the 1st and 2nd place winners didn't choose!
RULES:
-To participate, you must register an account on these forums (if you don't already have one) and post your entries in this thread.
-Once the contest is over, myself and the other staff members will vote on the entries!
-Entries will be judged on creativity and humor.
-You MUST use at least one of the three monsters in your poster, but feel free to use all three of them if you like.
-Your poster MUST have a new movie title that is related to whatever monster(s) you include with it.
-Whether you win or not, your entries will be put on display for everybody to enjoy.
-
Enter as many times as you like!!
Ok that's it. If you have any questions, feel free to ask. Good luck to all of you and start crankin' out those horrific posters!
This contest ends 10/7/07.
BIG THANKS
to our friends over at
FRIGHT CATALOG
for helping sponsor this!