I-Mockery's first forum contest of 2008 has arrived!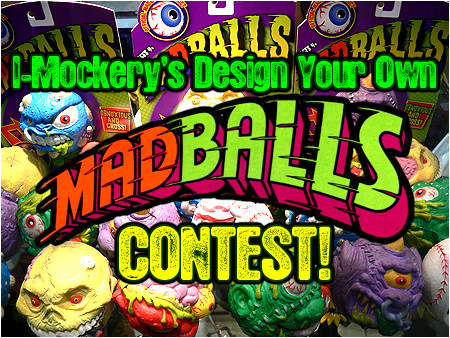 As part of our celebration of the return of Madballs as seen
this article
, we're giving away some of the new Madballs to a few lucky winners! Check 'em out!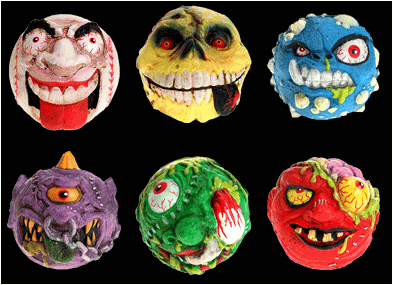 You'll have a chance to win some of these Madballs plus the first place winner will also get the special "
SICK
" edition of the
Slobulus Madball
seen here: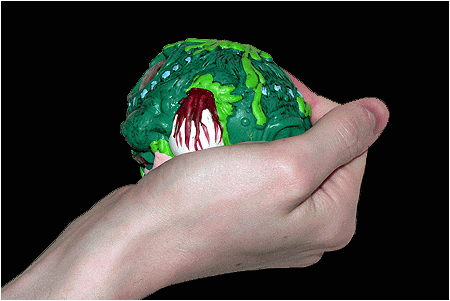 Who wouldn't want a new friend like that to squeeze?
For this contest, we want you to show us what YOU think one of the future Madballs should look like. What if you were in charge of coming up with designs for some new Madballs? What kinds of bizarre creations would you come up with? Would your Madball have a particular theme?
In order to be eligible for one of the prizes,
you must create some kind of new Madball design
for your entry to count. Feel free to use any pre-existing graphics/photos to integrate into the design of your new Madball if you're unable to draw it from scratch or build a model from scratch. Also,
make sure you give your new Madball an original name!
We also encourage you to share any bio info about your new Madball creations.
Your entries can come in one of two formats:
1)
You can physically create a Madball model using your own arts 'n craft supplies.
2)
You can draw concept art of your Madball.
3)
You can Photoshop a Madball with various images you found on the web.
As usual, this contest will be judged on
creativity
and
humor
.
If you have any questions still, feel free to ask.
PRIZES:
1st Place:
The Slobulus "SICK" edition Madball plus your choice of one of the other 3 regular Madballs (Repvile, Bash Brain or Horn Head)
2nd Place:
Your choice of one of the other 2 remaining regular Madballs (Repvile, Bash Brain or Horn Head)
3rd Place:
You will receive whichever one of the 3 regular Madballs still remains (Repvile, Bash Brain or Horn Head)
RULES:
-To participate, you must register an account on these forums (if you don't already have one) and post your entries in this thread.
-Once the contest is over, myself and the other staff members will vote on the entries!
-Entries will be judged on creativity and humor.
-You MUST come up with a custom
look
and
name
for your Madball.
-If you need a refresher on what Madballs look like, check out the I-Mockery article here:
http://www.i-mockery.com/minimocks/madballs-revival
-Whether you win or not, your entries will be put on display for everybody to enjoy.
-
Enter as many times as you like!!!
Ok that's it. If you have any questions, feel free to ask. Good luck to all of you and start crankin' out those new Madballs!
This contest ends 2/15/08.