From acclaimed directors Robert Rodriguez, Quentin Tarantino, Rob Zombie, Eli Roth, and Edgar Wright comes the manliest and most badass movie I have ever seen. You can even see Tom Savini for a split second and in the longer trailer and you can also see psycho Stuntman Mike smash through a cinema's "Now Playing" board with Scary Movie 4 and Wolf Creek on it.
http://youtube.com/watch?v=ZN_ShFSv9...elated&search=
http://youtube.com/watch?search=&mod...&v=7yt6Lv9tOvI
In true grindhouse fashion, the two movies, (Planet Terror and Death Proof), are shown back to back with ads for fake movies in between them.
Planet Terror is a classic zombie movie about a bunch of thieves accidentally releasing zombie gas from a military base and Death Proof is about a car that cannot be destroyed and neither can anyone in the driver's seat.
One of the fake ads is for a movie called They Call Him Machete;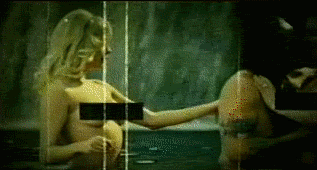 Yeah, it's awesome. Dear Jesus, I hope this doesn't suck.
April 6th.