Jerri Blank, the 46-year-old "boozer, user and a loser"
is about to make her way to the big screen!
Probably one of my all-time favorite shows ever to appear on television, Strangers With Candy is now headed for the big screen. While it only lasted for 3 seasons, the show has quickly become a cult hit. You may also recall I-Mockery's role in getting the original DVDs for this show and the Upright Citizen's Brigade released on DVD. Well now you can continue to support the genius that is Strangers With Candy by checking out the movie when it hits your town! It's actually a prequel to the TV shows, so you'll get to see Jerri Blank's first run in with all your favorite Strangers With Candy characters including Chuck Noblet, Geoffrey Jellineck, Principal Onyx Blackman, Tammi Littlenut and many more! There's also a lot of celebrity cameos in the movie including Philip Seymour Hoffman and Matthew Broderick! Here's some more info on the movie release: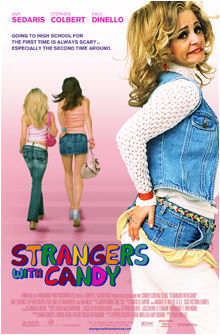 THE STRANGERS WITH CANDY MOVIE PREMIERES:
NEW YORK 6/28/06
LOS ANGELES 7/7/06
IN THEATRES NATIONWIDE JULY 2006!
Learn more about the movie at:
www.strangerswithcandythemovie.com
See some clips from the movie here on YouTube!
You'll also be happy to know that the entire 3 seasons of Strangers With Candy has finally been released on one DVD set. It's a fantastic set that looks like an old Trapper Keeper. It comes with plenty of extras including deleted scenes and never-before-seen director's cuts of two episodes. And now I'm giving away a brand new copy of this spiffy DVD set and poster for free to one lucky winner! As Jerri Blank would say... GOOD TIMES!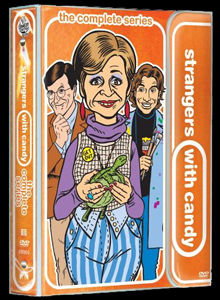 So what exactly do you have to do in order to win this super spiffy Strangers With Candy swag? Simply send an entry email with your full name and mailing address to swc@i-mockery.com and you'll automatically be entered to win! The lucky winner will be announced when the contest comes to an end.
And no, you will not be added to any mailing lists, spam lists, or anything like that. You won't even be added to the I-Mockery mailing list. This is simply a free giveaway that one lucky mofo will get to cash in on.
Sound good enough? You're damned right it does. So go and get your emails sent to swc@i-mockery.com and keep your fingers crossed! The giveaway deadline is July 15th, 2006, so make sure you send in those emails before then!
Good luck to all of you who enter and big thanks to Think Film for supplying us with the Strangers With Candy stuff for this giveaway!
-RoG-
DON'T FORGET TO CHECK OUT THE MOVIE
COMING TO THEATRES NEAR YOU!
NEW YORK 6/28/06
LOS ANGELES 7/7/06
IN THEATRES NATIONWIDE JULY 2006!