I've always been a huge fan of Ecto Cooler, and I'm thrilled to see it finally return this year, in conjunction with the new Ghostbusters movie. After having vanished like a from store shelves over a decade ago, Slimer's trademark beverage had been long overdue for a return. What really surprised me, however, is I recently learned that there are two guys who are even bigger fans of Ecto Cooler than I am. Check out this new documentary about World's Biggest Ecto Cooler Fans, Mort and Gort Torpentine, to see just how much of an incredible impact Slimer's green juice actually had on their lives.

[click here for high quality Ecto Cooler video]
Hope you enjoy the video, as we put a ton of work into it. As always, dropping a comment and sharing the video on your social media accounts is greatly appreciated. Thanks for watching!
Also, if you haven't read my big review about the Return of Ecto Cooler, be sure to check it out for full details on what it's like and where you can find some for yourself!

Over the years, many people have suggested we create an underwater themed pixel poster, so I'm happy to announce that we're finally making it happen! Having released our "8-bit Worlds Collide" and "Pixels in Space" pixel posters, Pox and I decided it was time to take our pixels into the deep blue sea. As always, we wanna give all of you a chance to help create it. It's a blast to see what aquatic ideas all of you come up with each time we do one of these, and we're sure you'll have some fantastic suggestions for this next poster.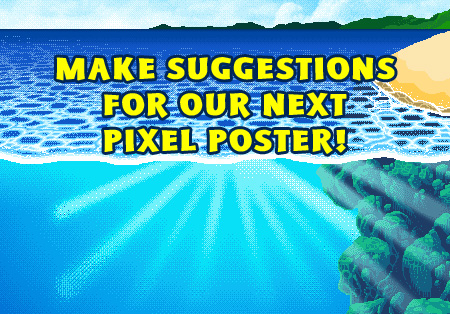 With that in mind, please post your suggestions below for characters, ships, structures, and anything else you'd love to see in our next pixel print in the comments section below - you don't even need a registered account to post 'em! Be sure to make as many suggestions as you can come up with; the more we receive, the more likely it is that we'll include some of 'em on this poster. Also, if you can, please make sure your suggestions have something to do with WATER. It doesn't matter if it comes from movies, television, comics, cartoons, toys, or something else entirely; all we ask is that it has something to do with water such as the ocean, sailing, aquatic life, swimming... you get the idea. To help get your creative juices flowing, here's a small sampling of the happy chaos that can be found on some of our previous pixel prints: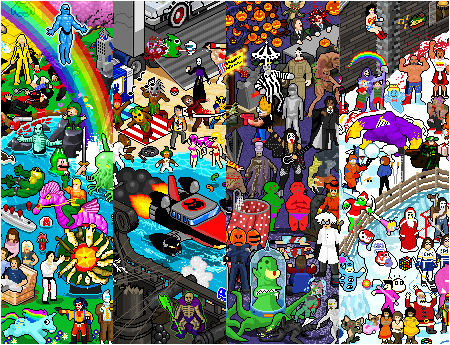 I'm really excited about this next print, as Pox and I have already added some of our favorite ideas into it that we think you'll all really appreciate. Also, for those of you who haven't had a chance to pick up our "8-bit Worlds Collide" and "Pixels in Space" prints, they're still available here. So many pixels, all colorfully arranged on two posters to make your eyes happy forever.
Alright, start posting your suggestions here in this thread and maybe your ideas will end up on our next big pixel print!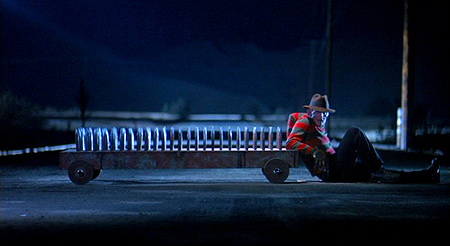 Most of you know how Freddy Krueger is my all-time favorite horror movie monster - whether it was him terrifying people in the first A Nightmare on Elm Street, or making audiences laugh in the later films, I remained a die-hard "Fred Head" throughout. Much like my previous article for Blumhouse, in which I attempted to defend the much-maligned Poltergeist III, I've now turned my attention to what was one of the most poorly received Elm Street flicks. I'm speaking of Freddy's Dead: The Final Nightmare.
While many fans didn't enjoy it, I've always had a soft spot for the sixth installment in which the filmmakers attempted to give the Springwood Slasher one crazy send-off. It's a nonsensical horror-comedy movie chock full o' laughs that never takes itself too seriously, and I think fans would enjoy more it if they could see it that way. What do you think? Check out the article and lemme know what your thoughts on the movie are. Don't forget the power glove!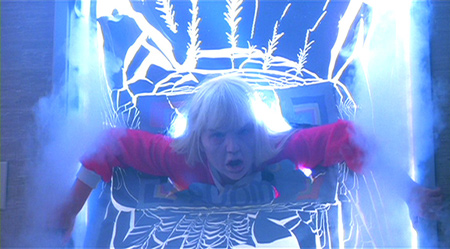 I've always been a fan of the Poltergeist films. The original is an absolute classic, and the sequels, while admittedly not as good, were still entertaining. That said, the third installment was always considered the worst of the original trilogy (and rightfully so), but I still it has merit. Despite some hilariously bad acting and a flimsy storyline, Poltergeist III has a handful of fun scenes and enough creative camera tricks that make it worth watching. With that in mind, I've written a new article for Blumhouse in which I attempt to make a case for Poltergeist III. Hope you enjoy it, and may all skeletons in horror films from this day forward have big, bushy mustaches!

Well here's something different. I was fortunate enough to capture Gollum and Smeagol on video as they debated about whether or not they should watch the new Captain America: Civil War movie. Personally, I thought it was a no-brainer to go see the movie, but Gollum isn't so sure. Check it out:

[click here for high quality video]
Now, when I think of Gollum, there's only one human that comes to my mind: Keith Apicary. I don't mean to insult Gollum like that, as I'm sure he doesn't have anywhere near the kind of pungent body odor that Keith has, but they certainly do look alike. Anyway, this past week, I went over to Keith Apicary's house to play the arcade game Confidential Mission with him. It's a game where you play two secret agents who basically have to shoot everything in sight with their hand guns - including tanks. Totally logical, right? Lucky for you, you can watch the two us prove that we're the worst agents in the history of the world by checking out our new video:

[click here for high quality video]
I'm sure I'll be shooting more Keith's Arcade episodes in the near future, as he's constantly stealing my things and forcing me to come over to his house to retrieve them - but only after I play some old video games with him. Until then, I'll continue to try getting a restraining order approved.
By the way, while Smeagol / Gollum are still deciding on it, I recently saw Captain America: Civil War, and absolutely loved it. I need to watch it again to officially decide where it ranks in against other Marvel movies, but it's waaaaay up there. Such a perfect blend of action, drama, and comedy. It might even be my new favorite Marvel flick. I'd love to talk with you guys about it more, so drop a comment below to let me know what you think of it and let's blab about all the characters and what went down. Also, if you're going to post any spoilers, please be sure to say so beforehand in your comment, just in case somebody reading it hasn't seen the movie yet.
Anyway, hope you enjoyed these latest two videos. Thanks for watching!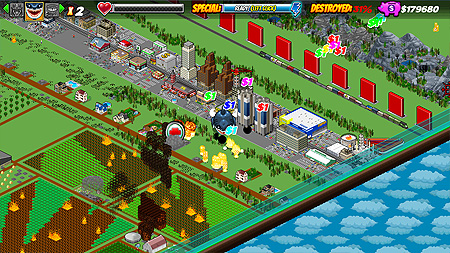 In case you missed the announcement, we recently released a new game for Adult Swim called GODBALL that we spent over a year developing. The best way to describe it is pinball meets Sim City meets Rampage, and we're really happy with how the game turned out. There's even a built-in level editor so you can create your own cities to annihilate! You can learn the full story behind making Godball HERE.
Now for the big update news; when Godball first went live, it was only available for PC users, but I'm happy to announce that we just launched a build for Mac users as well! So download Godball now (it's free!) and destroy some of the most beautiful cities in the world, because that's exactly what an omnipotent being would do in his/her spare time, right? Right.
I really hope you all enjoy Godball, as we put a ton of work into making it happen. If you know anything about game design, isometric style games are not easy to make, so kudos again to Jacob and Pox for working with me to make it happen. Be sure to let us know what you think of Godball once you've had a chance to play it. It takes a lil' while to get acclimated to, but once you learn the game and start upgrading your stats, you'll see just how crazy and chaotic the action can get. Enjoy!

[click here to listen on YouTube]
[click here to listen on iTunes]
In other news, I was recently invited by Brianne and Stacy, the lovely ladies of the Six Degrees of Feature Film podcast, to join them for a discussion about some of my favorite movies involving trucking. Naturally, the discussion led to us talking about flicks like Over The Top, Maximum Overdrive, and Big Trouble in Little China. We also went on to discuss some of my favorite arm wrestling scenes in movies, along with some other fun things, so have a listen if it sounds like something up your alley.