1:33am: My platoon arrives at ground zero: Laburnum Avenue. I can see the fear in their eyes. I'm trying to keep morale high, acting like we'll get out of here alive with those $50 laptops in our hands, but my troops see past my thin veil of confidence. Something cold nestles in my belly.
2:14am: The enemy strikes. I am scoping out our primary target when a car flies out of nowhere. One of my troops, Hanrahan, sacrifices himself by pushing me out of the way. The car splatters him all over the road, and my platoon spends a fruitless ten minutes trying to locate his face. This doesn't improve morale.
2:47am: I am led to believe we have located Hanrahan's face. It turns out to be a flattened squirrel. War is hell.
3:22am: A traitor in our midst. I hear one of the other troops in line whispering something along the lines of "going to the Apple Store and just buying a damned iBook instead of waiting in this fucking line all day long." We've got to keep our wits about us if we have any chance of surviving this madness. Trust nobody!
3:53am: Do I smell donuts? Our rations of powdered cheese and sewer water are running perilously low. I begin to wonder if the malnourishment is driving me mad. I swear I smell donuts. Where are they, dammit? WHERE!?!?
4:08am: The traitor reveals himself. I catch O'Reilly trying to sneak out of formation, making a run for the parking lot. Rather than alert the enemy to our position with heavy artillery, I motion to my squad to throw stealth bricks at the traitor until he is bloodied and dead. Nobody abandons the squad!
5:13am: Reinforcements begin to arrive. Good God — some of these kids are still in diapers, and some of the elderly smell like they could use some. How can I expect these men to fight if they don't even have the strength to hold an iBook in their hands? This is going to be a massacre.
5:37am: Mulder and Jackson ignore my orders and attempt a covert mission, jumping the fence to acquire an iBook laptop before zero hour. A squadron of eldery pantsuit-wearing women rends them to shreds within seconds, and put the fear of God in what's left of my dwindling squad. Never get between a senior and a bargain. It's carnage.
5:58am: A little over an hour until our first tactical strike. We run battle strategies in the cool pre-dawn air: How to maintain proper formations in the fog of war. The morning dew may be cool and refreshing — but it's slippery. I've seen too many good soldiers end up in wheelchairs because of that damned morning dew. I can only hope the rigorous backyard training exercises on my Slip 'n Slide have prepared us for the worst.
6:24am: Everybody is getting extremely anxious. The stench of vomit is burning in my nasal cavities. I'd give anything to smell those donuts again right now. I can't remember what's real anymore.
6:41am: Tragedy. We lose Smitchkins to a pack of ravenous wolves. If we'd chased after him we would have lost the high ground we'd fought all morning to gain. The lives we've lost so far will not have been in vain! We will make it through the gates and secure those laptops!
6:59am: The gates open. This very well may be my last journal entry.Tell my wife I love her and that I died serving god and my country.
CHAAAAAAARRRRRRRRRRRRRRRRRGE!
7:13am: I'm still alive — but at what cost? We push through the enemy's open gates. It is a complete disaster. Soldiers don't maintain formation and trample over each other, grasping at iBooks like rectangular bosoms. The enemy doesn't help matters. One of them throws a baby on the ground in order to secure more arm-room for iBooks. I am unable to stop myself from stepping on the baby. I'll have nightmares for the rest of my life about the squishy sensation of baby beneath my standard-issue military boots from the local surplus shop. My troops are completely scattered. The ones that are still with me have clearly lost any sense of composure, let alone the will to continue fighting. There are some tears. Lullabyes are whispered. We've secured a new position inside the enemy base, directly across from the bunker where the iBooks are being guarded.
8:05am: Son of a bitch! Those iBooks are dug in like an Alabama tick!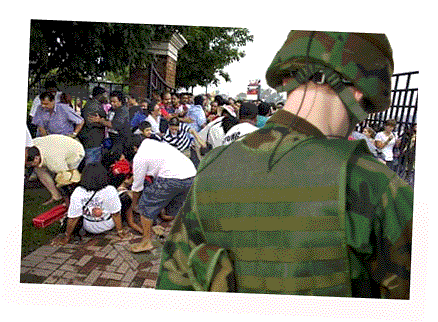 8:48am: I don't know how, but a soldier from another squad just emerged from the bunker with an iBook. He made a run for it, and was home free until he slipped on that goddamn morning dew. Poor bastard landed face-first on the baby, destroying both the iBook and his skull. All that effort for nothing. It's moments like these that can bring tears to the eyes of even the most hardened soldiers of war. More lullabyes.
9:33am: Medics arrive to treat the wounded. I see one treating a wounded soldier who has an iBook clutched to himself. The medic injects the soldier with some kind of sedative and then runs off with his iBook. What is that soldier going to tell his family back home when he returns empty-handed? War makes you realize that humans are animals. Hyenas waiting around for the lions to leave the carcass so we can pick away at the leftover scraps.
10:02am: The sun is now up and we're all exposed under the blistering heat. Much to the dismay of my troops, I stripped completely naked in an attempt to cool off. I wish we could have fought this battle in a nicer place, like near a beach. I swear I'm so hot that I've thought about tearing my flesh off. I'm still considering it.
10:57am: We've made very little progress. I feel like we've been stationed in the same spot forever. How are we going to make our way into that bunker if we can't even move a few inches forward!?
11:16am: More of the troops snap — breaking formation, mumbling to themselves and giving away our position. We had to put down one of the soldiers because he started eating himself. His corpse is cooking in the sun now. It's smelling like sweet donuts to me.
11:20am: I taste a piece of him when the other soldiers aren't looking. Just a little one, but a piece nonetheless. I think I like it. Is that wrong? Probably not.
11:57am: Out of sheer paranoia that my troops will notice someone's been nibbling on the dead guy, I eat the rest of him. If there's no evidence, nobody can point the finger of blame. This is a good idea.
12:14pm: IMPOSSIBLE! They're claiming that there are only but a few iBooks left in the bunker now. Where the hell did the rest of them go!? We were told there were at least a thousand in there!! Everything is falling apart!
12:41pm: I'm almost in! There may only be a few iBooks left, but I'm almost in! Just gotta hold out a little longer and I might make it out of here in one piece WITH an iBook! There may be hope after all!
12:47pm: My lieutenant tries to take my position. I bleed him out on the lawn. Donuts.
1:03pm: EUREKA! I MADE IT OUT WITH AN iBOOK! HAHAHAHAHAHAHA! VICTORY IS MINE!!!!
1:04pm: WHAT THE FUCK!!@#@(#$* THIS PIECE OF SHIT IS BROKE!!!!!!!!!!!!!! THIS IS WHAT YOU GET FOR SERVING YOUR COUNTRY???? THIS IS WHAT YOU GET FOR BEING A GOOD HUSBAND AND A GOOD FATHER???? THIS IS WHAT YOU GET!?!?!? THAT'S IT! I'M GONNA END IT ALL RIGHT HERE AND TAKE EVERYBODY DOWN WITH ME! DIEEEEEEE!!!!!
[Journal ends]