Before we dive into the first mega yard sale of 2005, I suggest you first take a gander at the "45-family mega yard sale of doom" that we attended last year if you haven't already. Done reading that one already? Good. Ok, so the other week I was driving down the road after work and there it was...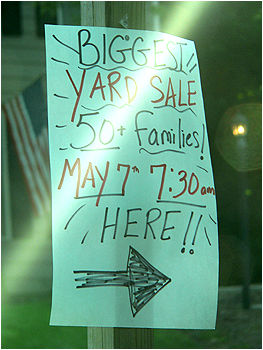 It's the kind of thing that dreams are made of and campfire tales are based on. A yard sale in which 50 families get together to sell the stuff that they couldn't get rid of on eBay and the stuff that Goodwill wouldn't take. How often does one get a chance to look through one family's crap, let alone 50!?!? I was convinced that it was going to be one of the greatest days in the history of mankind. Not only was this amazing Saturday "Free Comic Book Day", it was also the day of the biggest yard sale ever in this area.
So let's get right down to it. Kick back in your chair as I take you on a guided tour of all the crap we came across and had to fight every urge in our bodies to not buy... simply because we can't possibly fill up any more closets with broken toys, board games that are missing pieces, and corny Xmas decorations.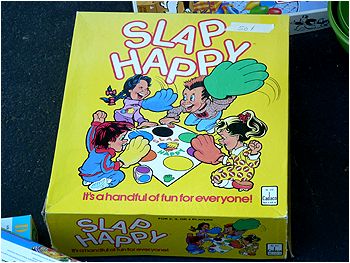 A game called "Slap Happy"... now if that doesn't set the tone for another I-Mockery piece, I don't know what will. All I can say is that if I want to be slap happy, I sure don't have to pay 50 cents at a yard sale to achieve it. But hey, if that's what it takes to get some of you sick bastards off, more power to ya.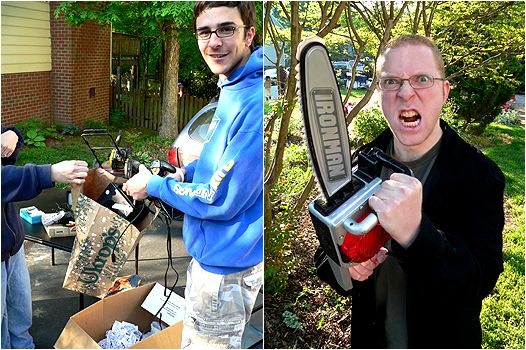 You know that old adage, "the early bird gets the worm," right? Well it's fucking true. I made a point of being at this yard sale exactly when it started, but Proto (that bastard) was running late so I had to wait around for him. And what do we find at one of the first places we visit? Some lucky schmuck buying a Nintendo Gamecube. And the price? Oh you'll love this... 20 goddamned dollars! GAH! I already have a Gamecube, but still, it's the principle of the whole thing. And I know Proto could've used one. He was so enraged by the fact that he had just missed out on it by a few minutes that he busted out a chainsaw that they were selling. Still, that guy managed to get away and we were still empty handed.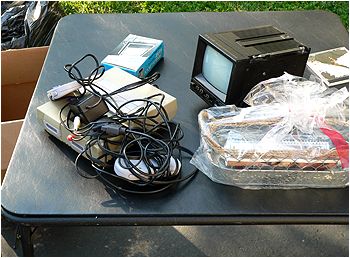 Oh and how nice of him to leave us a Super Nintendo and a portable black and white television set from 300 AD. The SNES is cool 'n all, but we both have 'em already and this one was in pretty piss poor condition. And either way, it sure as hell wasn't a steal like that Gamecube was.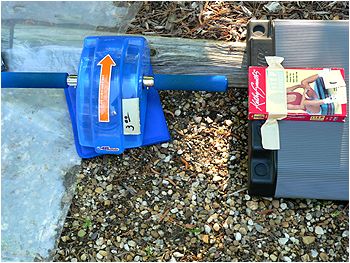 Ah yes, old reliable. There is perhaps nothing more prevalent at yard sales than used exercise equipment. And it's always people who are completely out of shape that are selling them. Perhaps, if they hadn't used the Ab Roller as a doorstop, then maybe they'd have those rock-hard abs they so desire?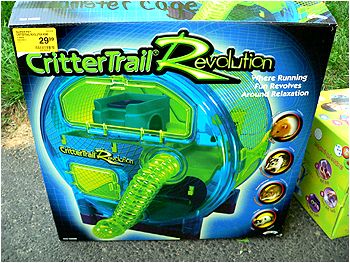 While the CritterTrail Revolution may look like a lottery ball tumbler, it's actually supposed to be an exercise unit for your pet gerbils, hamsters, etc. Upon closer inspection, I'm quite sure that this thing would be a living hell for any animal placed inside it. Not only are there numerous ways for them to get injured inside it, but they don't even have control over the spinning exercise wheel... you do with the help of an external crank. Put something like that in the hands of a child, and you've created the ultimate nightmare for a pet. If I know anything, it's that kids will turn a crank like that as fast as they possibly can, thus abruptly ending the life of whatever unfortunate creature was tossed inside this torture chamber.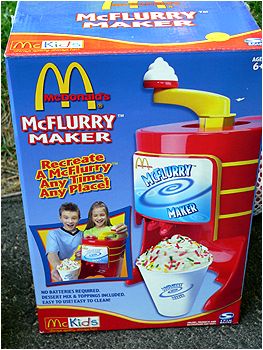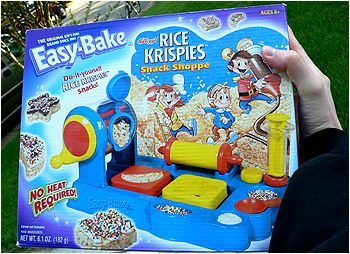 Ah yes, another staple of yard sales are the used "do-it-yourself" food toys that people tried once and quickly realized a) the amount "food" these things produce is less than what most supermodels eat, b) the "food" itself tastes nothing like the original product that it's based on and c) the refill packs you have to buy are nearly impossible to find and when you do find them they cost twice as much as the real food products. If you don't believe me, just check out our in-depth reviews of some of these crappy food kits: [Peeps maker] [Hostess snack oven] [Queasy bake oven]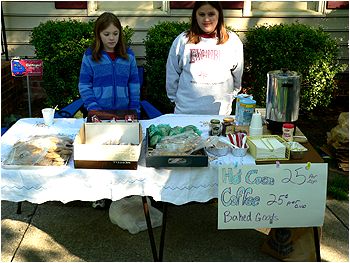 Ah, now that's more like it. Why waste your money on a crappy food kit when you can find some hard-working kids trying to sell some of their own baked goods and drinks? I'm always more than happy to support these kids. On this occasion I went with a cup o' hot chocolate...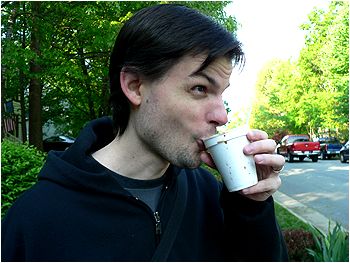 In all honesty, the hot chocolate was very good, but I swear they filled my cup up to the rim, and half of it ended up on the ground as I was leaving their yard. The other half ended up on my jacket.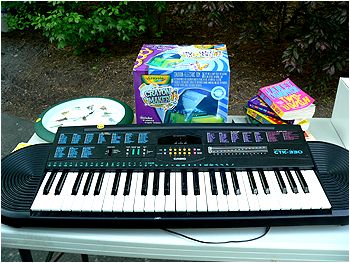 Good ol' Casio keyboards — the ultimate sign of a parent's failed attempt to get their kids interested in playing music. I'd bet money that this keyboard was used by the kid for about a week in which he/she simply pushed the "demo" button over and over and over again until their parents went absolutely mad. Hence, you now see it for sale. Oh and nd that Crayon maker in the background? Just like with the "do-it-yourself" food machines, you're better off just buying a box of crayons instead. Got it? Good.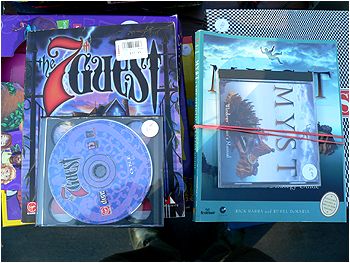 Ah the good ol' 3D games from yesteryear... do you remember how impressive games such as "The 7th Guest" and "Myst" were when they first came out? We had never seen games like those on a computer before. Nowadays, we probably couldn't stand to play them for more than five seconds. Still, there was a much better game to be found...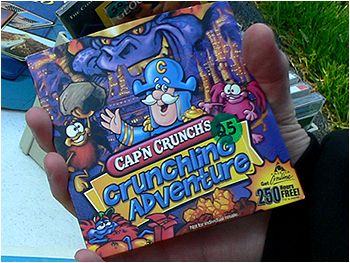 Cap'n Crunch's Crunchling Adventure... now that's a real game that stands the test of time! Sure, when you install the game, you'll probably discover that in addition to the Crunchling Adventure, AOL installed itself on your computer as well. But hey, that's a small price to pay for a cerealtastic adventure, right? Wrong. This game is freeware and there's no need for you to search for a copy of it at yard sales or on eBay. You can learn all about the game and download a copy for yourself right here!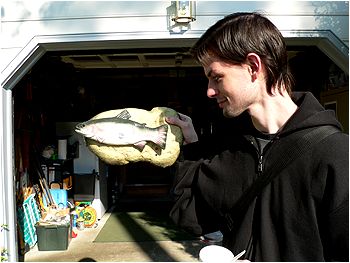 You know you're at some hillbilly's house when you find one of the infamous Talking Bass novelty items. I pressed the play button on this thing and it started singing "Louie Louie" for about 5 minutes straight. It wouldn't even stop when I tried turning the power off and it was quite obvious that I really pissed off the people who were selling it by making it play that song again. Still, I've always wanted to buy one of these Talking Bass fish so I could hack it to sing some Slayer songs. And what else did I find at their yard sale?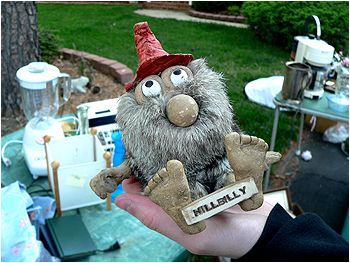 I TOLD YOU THEY WERE HILLBILLIES!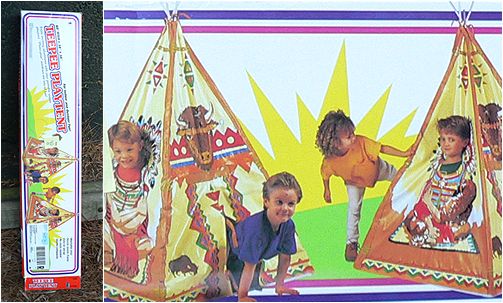 What better way to help the white children of America a lesson about Native Americans than with a genuine Teepee Playtent! Surely they'll see the error of their ancestors ways and when these lil' caucasians grow up, they'll make sure the Native Americans get their land back. Bless you Teepee Playtent! Bless you!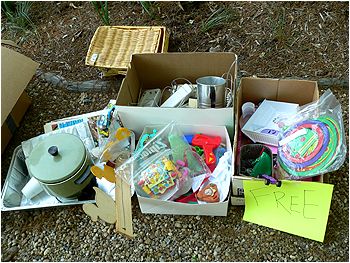 Whoah, now here was something I hadn't seen before. A yard sale in which there was an area set aside for "free" stuff! Sure, most of it was useless crap such as old pots that still had food caked onto the inside of 'em, but there was still something good to be found these boxes! Behold: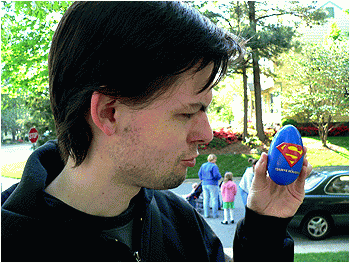 Superman. Silly Putty. Super Putty! That's right, within this blue egg was the most powerful putty in the universe. Either that, or somebody really fucked up Superman big time and shoved his remains in here. Either way, IT'S MINE NOW AND I DIDN'T PAY A DIME FOR IT!
WHAT OTHER GOODIES DID WE FIND
AT THE 50-FAMILY YARD SALE?
CLICK HERE TO FIND OUT ON PAGE 2!
---
help support I-Mockery by supporting our sponsors:

---
Running a big site like I-Mockery takes a lot o' time and costs moola too.
Want to help show your support?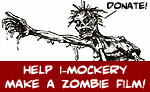 DONATE TO OUR ZOMBIE MOVIE!
Come talk about this piece & more on our Message Forums!