by: -RoG-
The other week, I was looking around on Amazon.com and I accidentally stumbled onto an exclusive Halloween item of theirs that I simply couldn't even believe was real. I was so simultaneously bewildered and curious that I had to order it immediately out of fear I was having a weird fever dream. Well, I'm happy to report that it was no dream, for this item has just arrived. So what is this mysterious item I'm speaking of? It's Amazon.com's exclusive Haunted House Monster Bucket!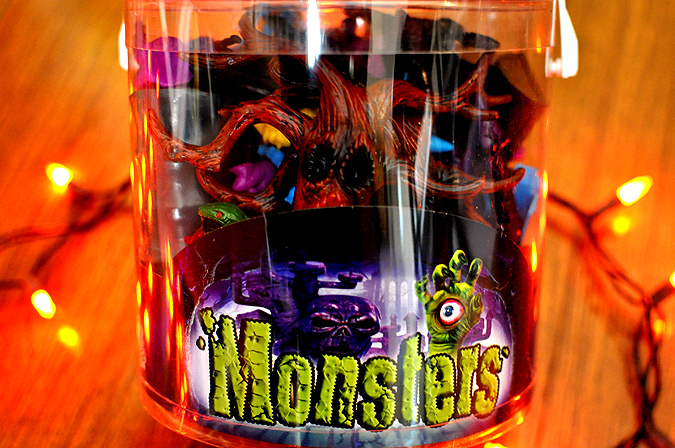 It's a 62-piece bucket of monster oddities produced by a toy manufacturer company in China by the name of Hing Fat, and sold exclusively on Amazon. According to Amazon, it contains "Haunted trees, castle with skull, wizards, ghouls, mummies, casket fiends, ghouls, and more". Now I know that already sounds pretty great, but when actually see these things (especially the larger items), you won't believe your eyes.
And speaking of things you won't believe, how about that imagery on the top lid of the bucket? Yes, the "Monsters" logo itself is pretty fantastic, what with the green eyeball hand emerging from a font that someone went crazy with the Photoshop bevel filter on. But look behind it! That, my friends, is clearly a ripoff of Castle Grayskull. It's slightly different, sure, but there's no denying that they took some heavy inspiration from Masters of the Universe with that particular illustration.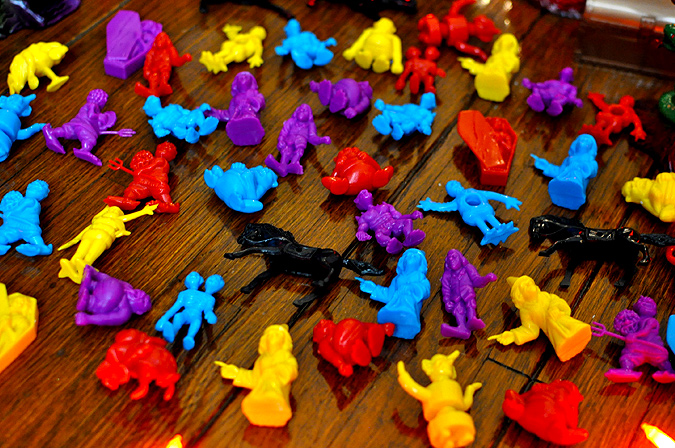 I dumped out the contents of the bucket and was immediately convinced I couldn't have possibly spent my $14.99 on anything more worthwhile in this world. All of the figures are the same quality as your standard army men figures, but it's their designs and the additional playset items that truly set this bucket of Halloweeny horrors apart. I did take the time to do a full count, and it was indeed 62 pieces as advertised. Maybe it's because this is a generic brand set of mysterious origins, but I guess I just didn't believe that they'd be so accurate with that count. I should also note that each figure has anywhere from two to four color varieties, so while you get some repeats, it's a very nice mix. So with that in mind, let's take a closer look at each individual monster figure, and then we'll move on to the glorious playset pieces they included in the bucket.
Since I want to ease you into the madness that is this set, I'll begin with these standard witches (or perhaps they're wizards, based on the Amazon description?). Either way, I like how they're pointing to the side as if to say, "I'm with stupid."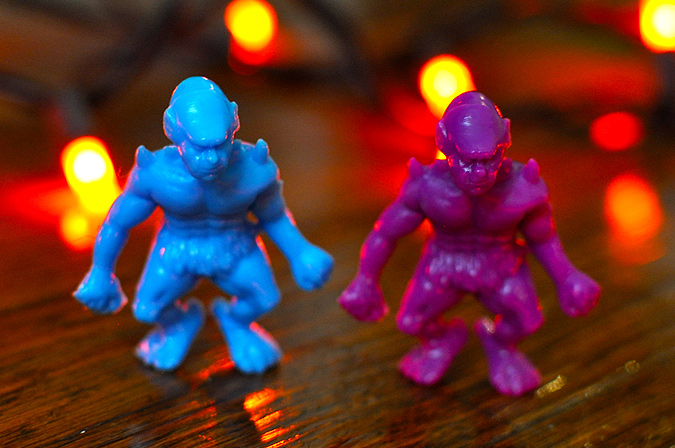 I'm gonna go ahead and call this fella "Tippy Toes Goblin", if for no other reason than it's a true balancing act to get him to stand up since they have him standing on his toes. Maybe he stalks his victims by tiptoeing into their homes late at night? Another interesting note is that the front of his lower torso is covered by a furry loincloth, but if you turn him around, it's nothing but goblin ass. You know, I've been writing articles for roughly 18 years now... and I don't think I've ever typed out the phrase "nothing but goblin ass" before. On one hand, this is great, because I can check it off my bucket list; on the other hand, this article has nowhere to go but down from here.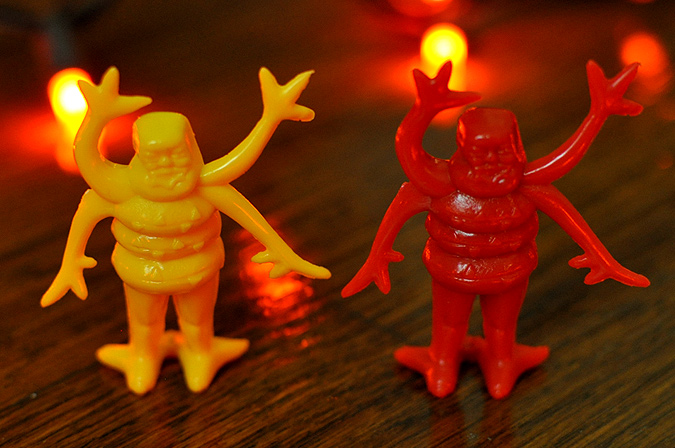 This odd fellow looks like a hybrid of Santa Claus, Goro, the Michelin Tire Man and a duck. Also, I'm pretty sure he was snacking on Doritos while doing jumping jacks or something strenuous, cuz they appear to be all over his chest.
On a semi-related note, did you know that the Michelin Man's official name is Bibendum? Knowledge is power, my friends.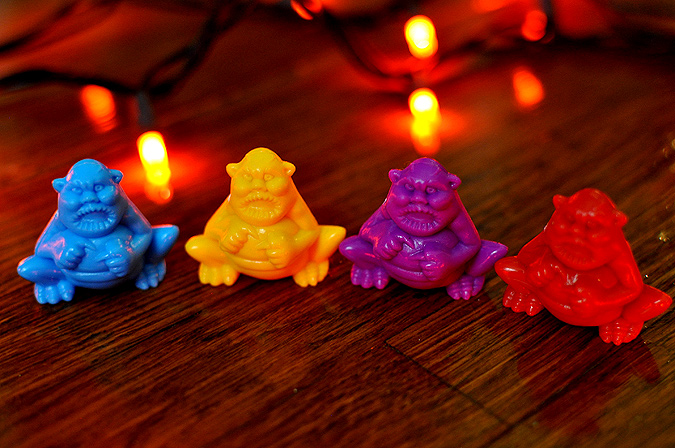 Now this is what I can only describe as the Buddha Goblin. He's got a really odd mouth though, and it appears to be inspired by one of those random socket wrench bits you'd find at Home Depot. Actually, maybe they're onto something here! Maybe Home Depot should release a line of Halloween-themed tools this season. I dunno about you folks, but you can bet I'd be first in line to pick up a haunted hammer.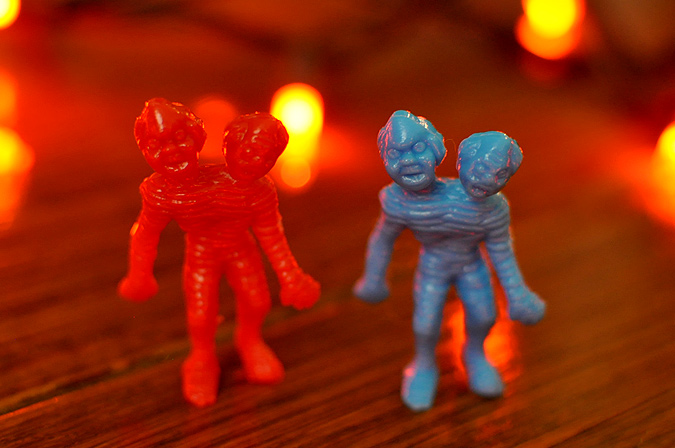 Here we have the dreaded two-headed mummy. I'm guessing they ran out of gauze to cover each head and had to use what was left to cover the wider upper torso. It's a real shame too, because I'm pretty sure these two would much rather have their faces covered up with gauze, as they kind of resemble that zombie baby from Dead Alive. I bet they even enjoy dining on ears in custard. Gross.
I don't know much about this coffin creeper, since it's really just one solid piece of plastic and we're only getting a glimpse of it emerging from that stone coffin. That said, this is definitely one of my favorite figures in the set, if for no other reason than it resembling the goblin from the "Nightmare at 20,000 Feet" segment from Twilight Zone: The Movie.
Now it appears the Buddha Goblin has traded in its socket wrench bit mouth for a forked tongue and an even larger belly. Forked tongues are fine 'n all, but come on Buddha... you had something truly original with that socket mouth. Or perhaps this is Buddha Goblin's cousin, the Sideshow Troll. If that's the case, then I fully endorse this addition to the family.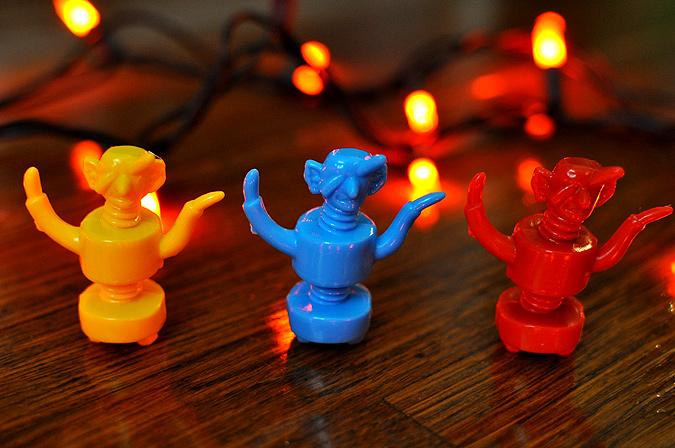 Alright, we've officially gone off the rails here now. If you have any idea what the hell is going on here, or what this creature is supposed to resemble, by all means feel free to chime in down in the comments section below. It's like some nuts & bolts were fused with pool noodles and Quark from Star Trek: Deep Space Nine. It's like another horrible Brundlefly fusion accident all over again. I mean, christ... this creature can't possibly want to keep on living. It's face is even being punctured by a smaller noodle, going in one eye socket and out the other. If anything deserves to be euthanized, it's this.
I'm pretty sure this is the happiest of all the monsters in the set. And why shouldn't he be? He appears to have a starfish for a bowtie, an arm lined with chainsaw teeth, a pair of duck feet, and of course... a giant gaping hole where his stomach used to be located. Also, I'm not sure, but those are either extra organs on his upper chest, or slices of pizza. Either way, this is one monster who knows he's bringing a lot to the table, so he has every reason to be happily waving at us all.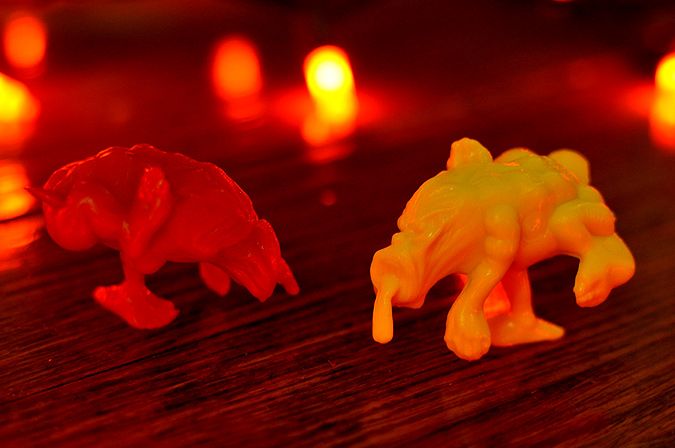 I feel like these monsters were the result of a bad toy mold that didn't turn out whatever they were intended to look like. But, rather than trying to recreate the molds to improve the design, they threw these "toys" into the monster bucket and called it a day. I honestly can't tell if it's supposed to be a mutant anteater or just some random creature barfing up mucus. Eh, let's just settle on calling it "blob of plastic", as that's the most accurate description.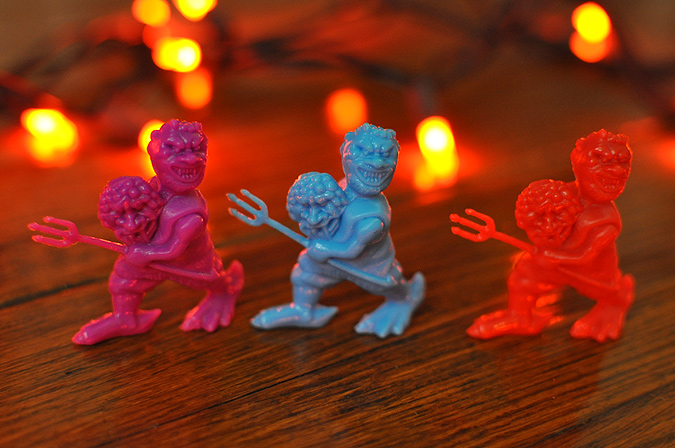 Now here's a little devil demon who's truly proud of his work. Whether his work was beheading an enemy which he then turned into a shield, or he's merely showing off a head sculpture he created in an after hours art class, I'm aok with this guy. After all, he's bold enough to wear what appears to be swimming flippers on land, so that's gotta count for something.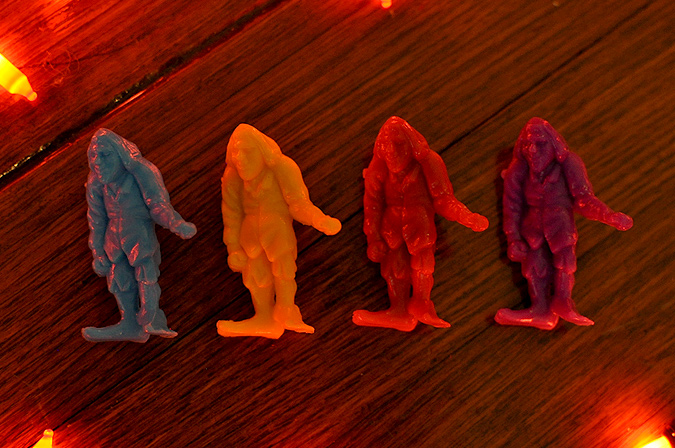 Uhh... is that Benjamin Franklin!? I mean, the guy did some monstrous things during his lifetime what with the slave trade 'n all, but I don't think giving him ragged clothing and a slight hunchback qualifies him to join the ranks of monsters. I should also note that I simply couldn't get these ones to stand up on their own no matter how many times I tried. So perhaps the real monster isn't ol' Ben here... it's the toy designer who didn't think it'd be necessary for him to be able to stand.
Alright, now that we've covered all of the figure varieties that came with the set, let's move onto the other pieces: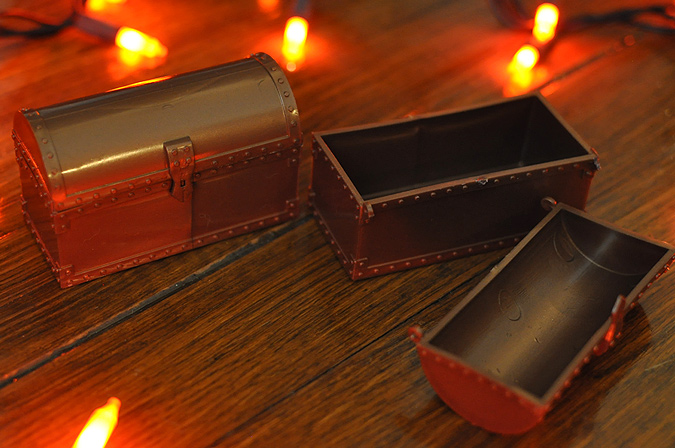 First up we have these treasure chests. While there's no treasure in them, you can fill them with several figures. Of course, they're made poorly, and the hinges were busted on each one. I'm also not sure what oversized treasure chests have to do with the story of these monsters, but hey... maybe you internet fan fiction writers out there can seize this opportunity!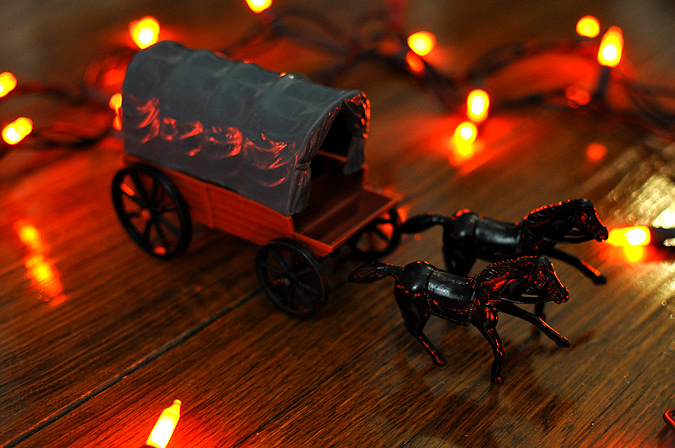 And, for some reason, we also get a set of black stallions and covered wagons. I think I'm starting to see the whole picture here. This is one of those classic "mutants-in-the-wild-west-trying-to-recover-their-lost-gold" tales. You know, that old tale.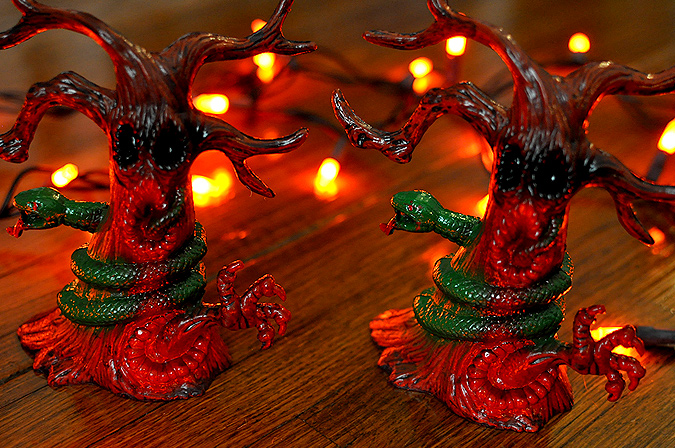 And now we're down to the final two pieces in the set, which are by far the greatest of all. First up, we have this amazing pair of haunted tree monsters. I love how each of the trees have a classic Mr. Bill "oh noooo!" expression. Then again, I guess if I were a tree monster and a boa constrictor got confused and decided to try squeezing the life out of me, I'd probably find a way to make a similar expression, despite it being quite difficult to do when your skin is non-pliable bark. Seriously though, these are truly some of the greatest generic monster set pieces I've ever seen. They are only perhaps exclipsed by our last one:
HOLY CRAP! You can't tell me that's not a thing of absolute beauty! It's like Snake Mountain and a haunted house had sex and gave birth to this hybrid beauty. Glorious! I absolutely adore everything about this, from the random green paint coloring and the off-kilter haunted house/castle parts protruding from the skull, to the grubby red eye socket and the single missing tooth. The colors, the design, everything about this is perfection! Between this and the set of trees, there's no doubt in my mind that this entire Monster Bucket set was money very well spent.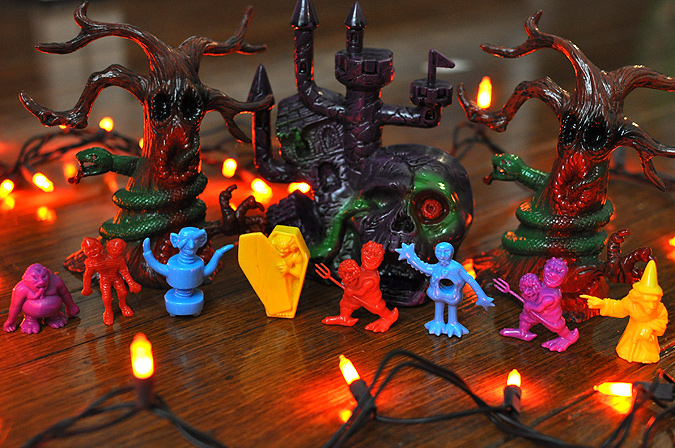 And just to give you a sense of scale, here's all the main figures along with those three amazing set pieces together. My friends, these aren't going to stay in that bucket. No, no, no... these generic toys have managed to earn a coveted place of honor on my toy shelves. Well done, Haunted House Monster Bucket!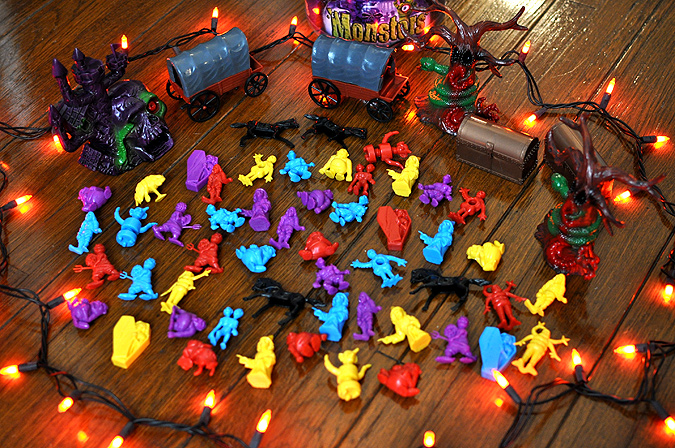 As you can see, I made out like a bandit with the Haunted House Monster Bucket. Between the wide variety of crazy monster figures, along with the amazing trees and purple skull castle, I consider it one of my greatest accidental discoveries of Halloween 2015. May the Halloween gods smile upon all of you with the same good fortune this season.
p.s.: If you actually wanna buy the Haunted House Monster Bucket, I'd appreciate it if you use this link to do so, as it may give me enough Amazon cash to one day buy some pumpkin spice dental floss on their site. Well, one can dream...
UPDATE: The bucket is now strangely out of stock on their site. Hopefully it'll be available again soon!
Have any questions or comments about this piece?
SHARE YOUR THOUGHTS IN THE READER COMMENTS SECTION BELOW!