by: Roger Barr
This past weekend, we attended the third annual Arcade Expo 3.0 out in Banning, California. Some of you probably recall our coverage of the inaugural Arcade Expo 2015, as the extremely impressive three-day event was the largest arcade & pinball gaming exposition in Southern California. Just to refresh your memory, Arcade Expo is located in a whopping 40,000+ square foot space and now houses over 1100 games. The event returned once again this year, with more rare pinball machines and arcade games than ever before, including one that's been on my bucket list to see in person for ages.
The following pages contain photos of all the pinball, arcade, and general gaming fun from the 2017 Arcade Expo. Hope you enjoy this latest trip back to a time when arcades ruled the world!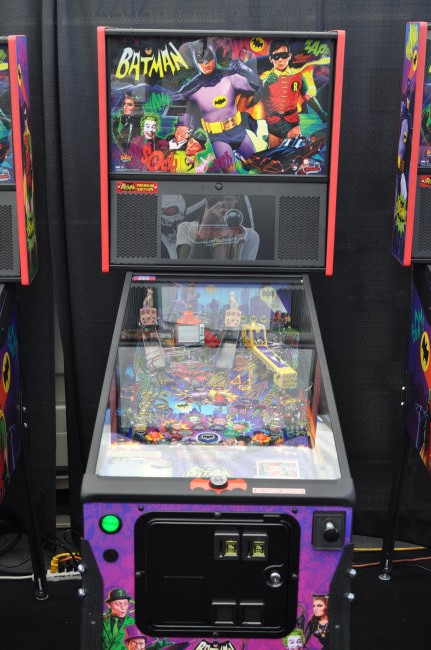 Starting things off, they had a new outside area setup under tents, and we got to
try out the new Stern Batman pinball machine based on the classic 1960s TV series.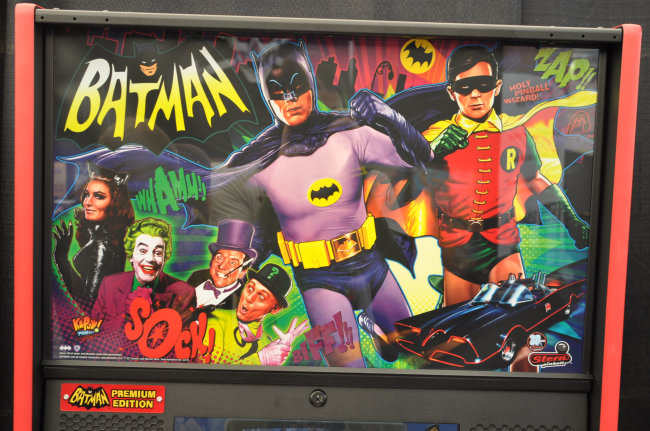 As you can see, they kept the spirit of the show alive in the backglass.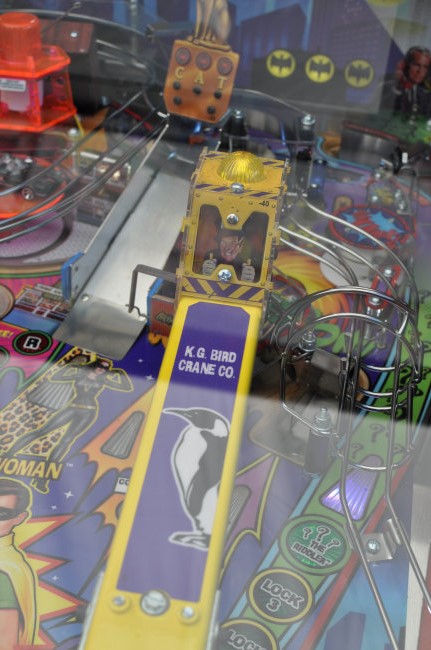 Giving the Penguin a crane that actually moves in the game was a brilliant addition.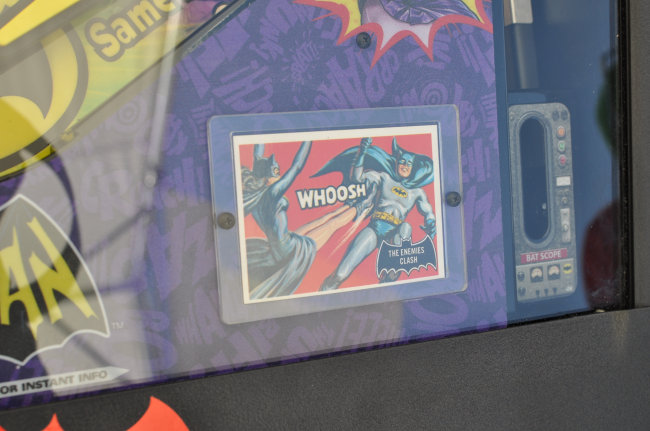 Another thing I love about the game, they actually include old Topps Batman trading cards in it!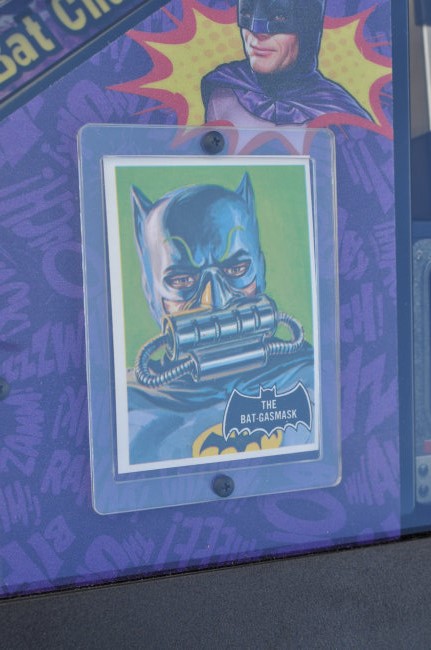 Seriously, how can you not love that Norm Saunders artwork.
Also, I want a Bat-Gasmask.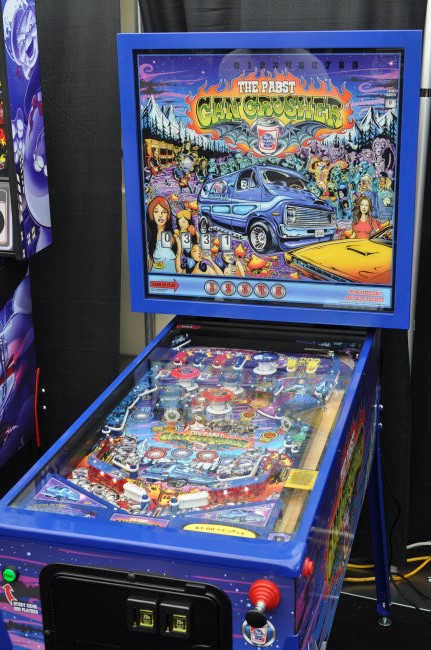 Some promotional Pabst "Can Crusher" pinball game. We skipped it.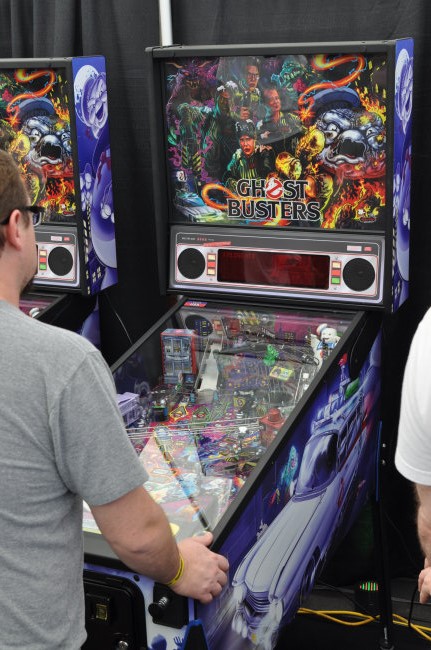 The new Ghostbusters game was quite nice too.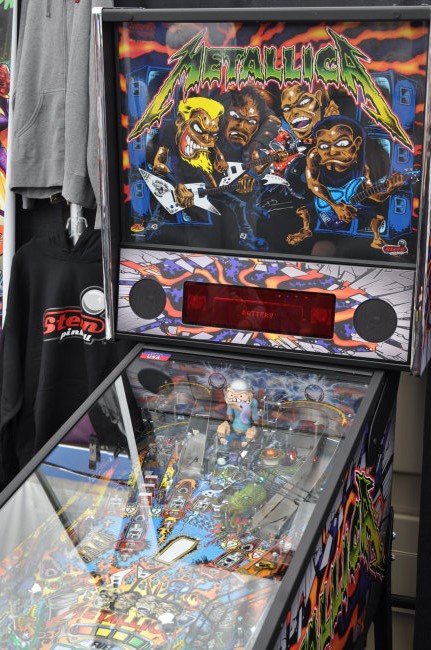 Guess it's no surprise that Metallica got a pinball machine too.
Personally, I'd rather have a Megadeth one so I can play while listening to Tornado of Souls.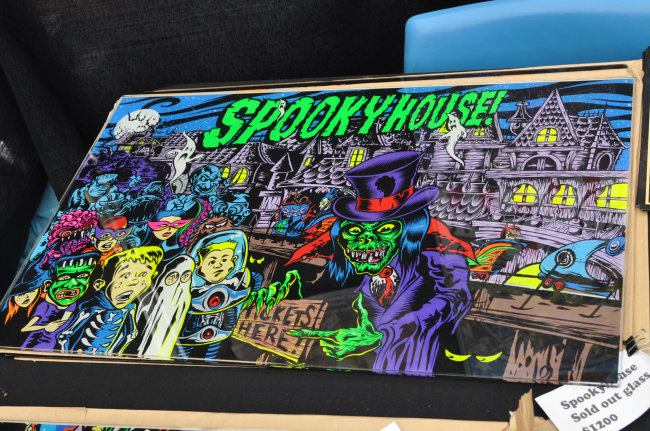 This is a backglass for an unproduced pinball game called "Spookyhouse" by Donny Gillies.
While he was working on it, he got hired to work on the Metallica pinball machine along with others.
Unfortunately, he no longer has plans to continue making this game, which is a damn shame,
because a new, original horror-themed pinball game is FAR more interesting than the Metallica one.

Bigfoot from the White Water pinball machine!

Various pinball machine supplies. Who wouldn't buy a pinball for a buck?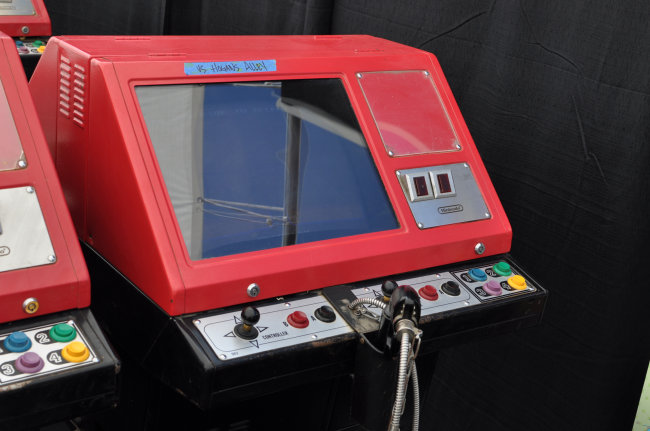 On the other side of the outer area, there were a handful of Nintendo Vs. System cabinets.
I hadn't seen a functioning one of these in quite some time. This one had Hogan's Alley on it.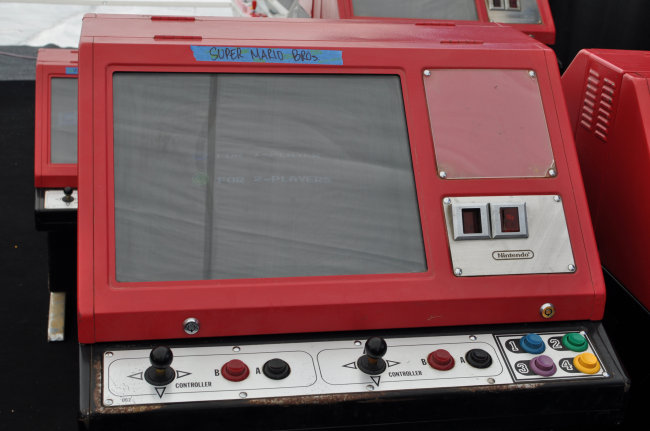 Unfortunately, due to the bright sun outside, it was reeeeeally hard to see the games on the screens.
To their credit, they put them inside a tent, but it was still far too bright, as you can barely see Super Mario Bros here.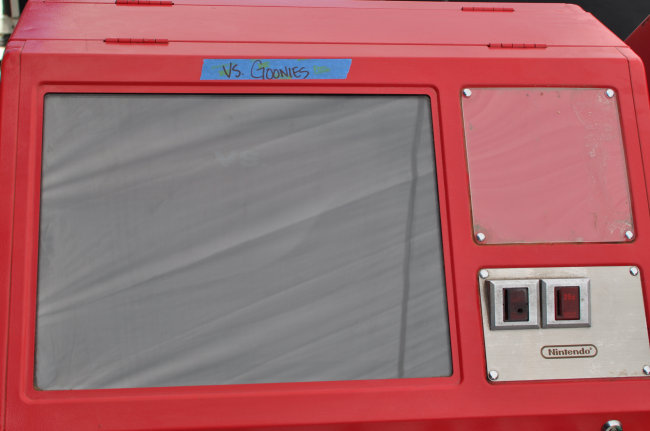 Same for The Goonies.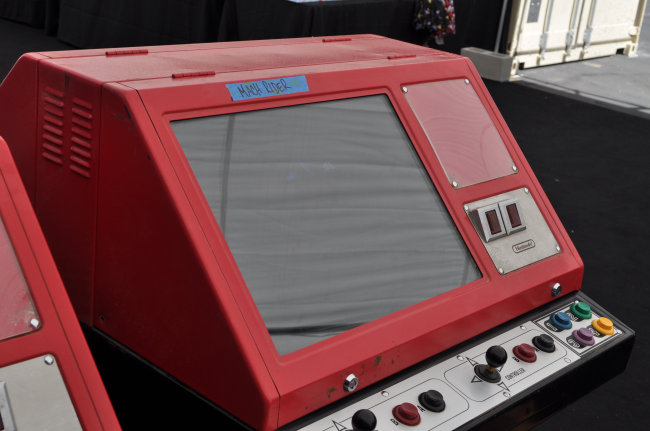 Same for Mach Rider.

Ice Climber was the only one positioned decently enough that we could play through a stage while squinting.
Here's hoping they bring these machines indoors next year so people can actually play 'em.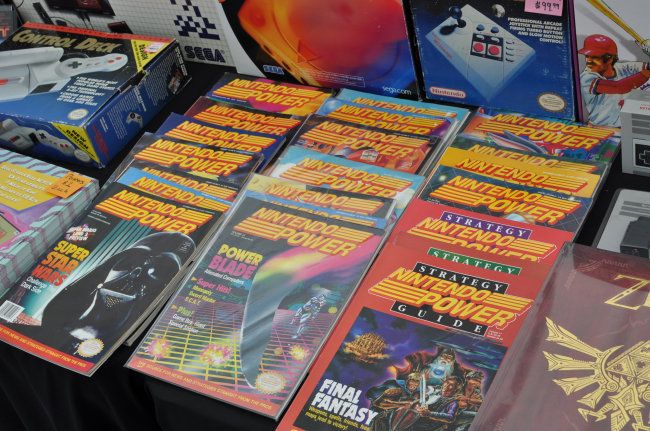 Can't go wrong with classic Nintendo Power issues.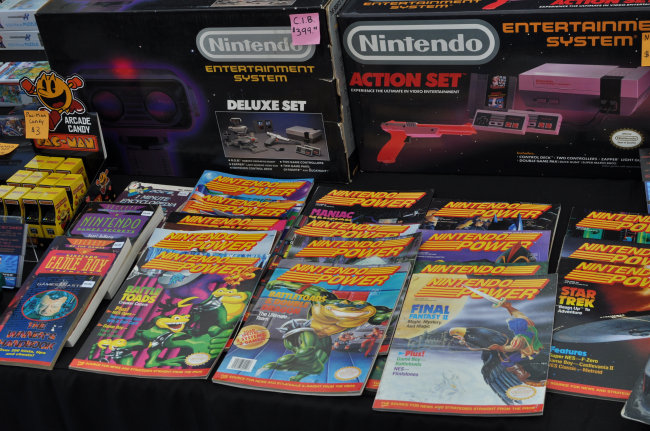 Even better, the original Nintendo Entertainment System Deluxe Set and Action Set!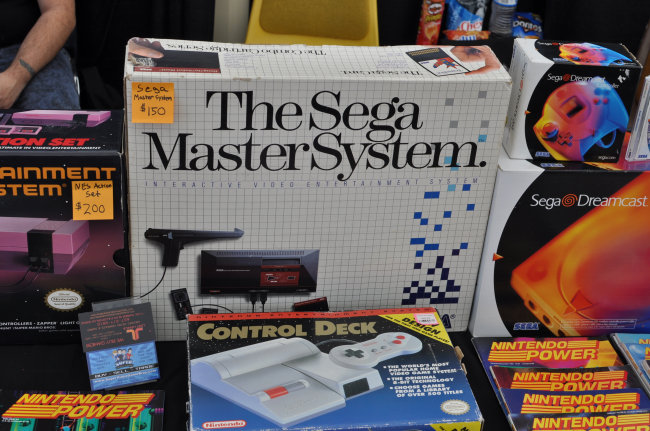 I'll always have a soft spot for the Sega Master System. Needs those rad 3D glasses too.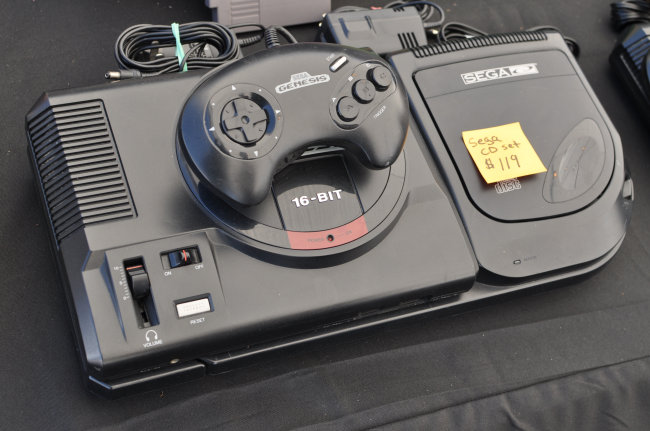 And here's the Sega Genesis along with the Sega CD.
(I always preferred the look of original Sega CD that sat beneath the Genesis, but it did break down more often.)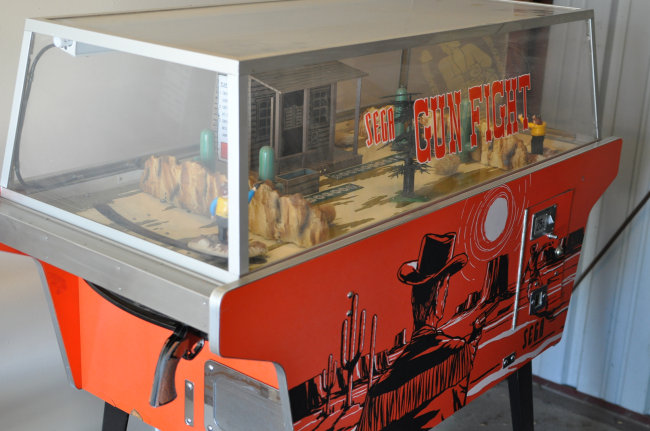 One of our favorite mechanical games from previous years, Sega Gun Fight, was sadly out of order.
The cowboys even had their hats completely blown off. Hope they can repair it for next year.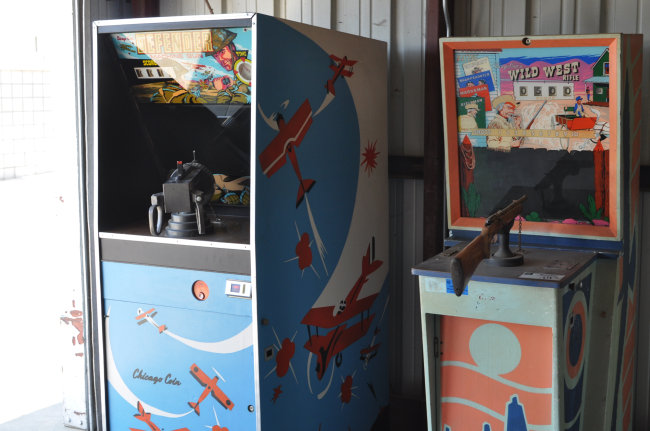 Defender and Wild West Rifle shooting games.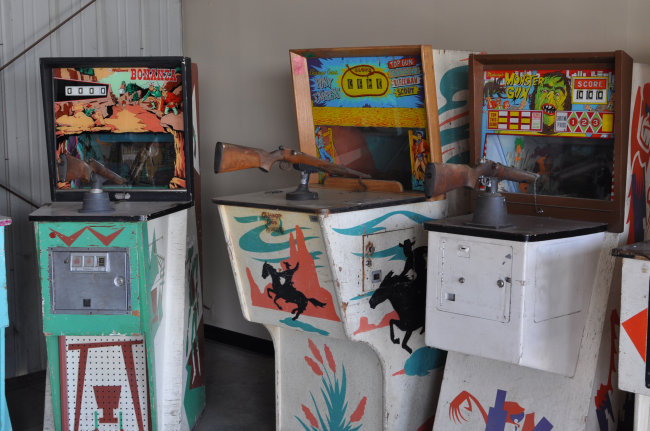 Some more classic shooting games, including Monster Gun!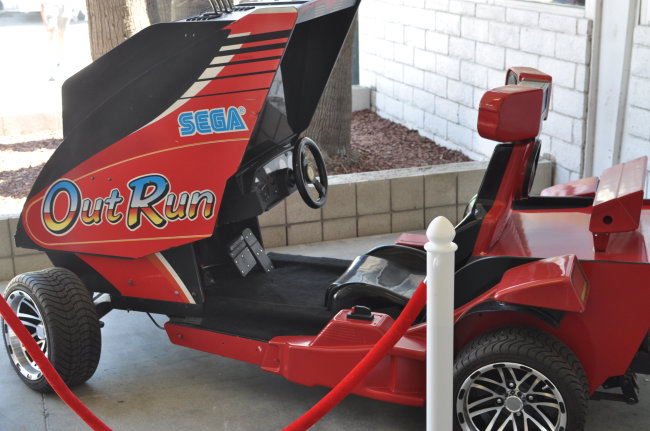 The only version of Sega's Out Run arcade game that you can actually take out for a drive.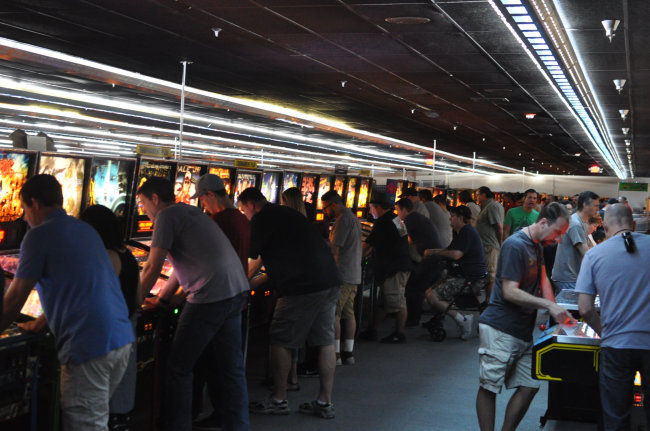 When we headed inside, we decided to check out the pinball machines first this time around.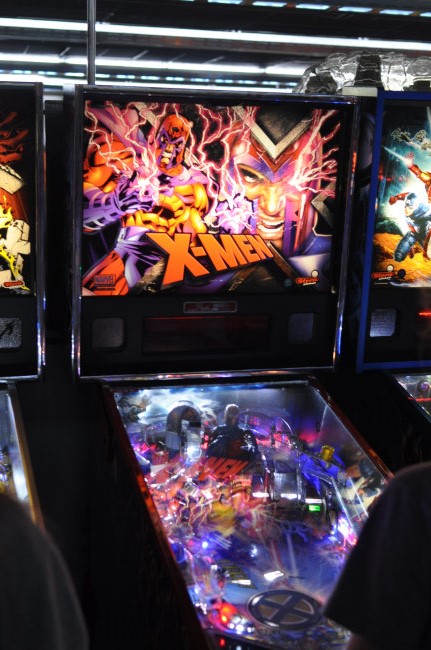 The X-Men limited edition Magneto pinball machine. Only 250 of these were produced.
Hey, if anybody can help control where your pinball goes, it's gotta be Magneto.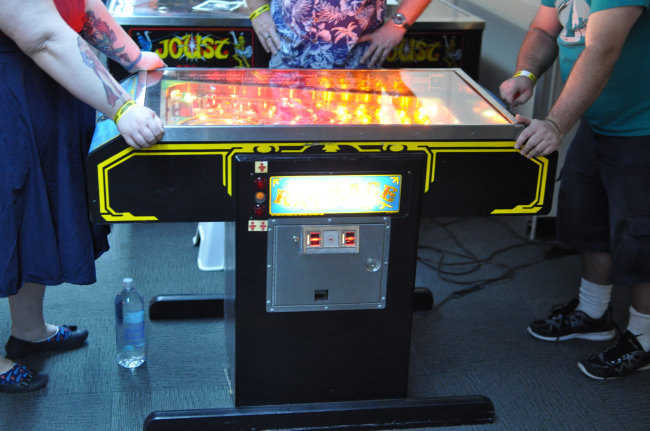 Here we have a rare game called Rat Race by Williams.

It's a lot like those wooden labyrinth games, where you tilt the playfield to control where the ball goes.
Really cool to see it in action!
There are still more Arcade Expo photos to see!
Click here to continue onward to page 2!