by: Protoclown
I must hate myself. That's the only explanation for this, because it's time for another installment of PAIN! Just in case you were operating under the incorrect assumption that Attack of the Clones (or Send in the Clones as a friend of mine more aptly calls it) is in any way a better film than the first prequel, let me assure you that you are terribly mistaken. There is less Jar Jar Binks, true, but there is more than enough other stupidity to make up for it. In fact, in some strange way, this one is almost worse. After the first prequel, Lucas could have listened to the backlash and changed course to steer the second movie straight and true; instead he chose to boldly go careening off the rails about as fast as humanly possible.
Again, like last time, I've broken the list apart into five things I like and five things I hate about the movie. I hope you appreciate what a challenge this is on both levels. Finding five good things is damn near impossible, and narrowing the bad list down to a mere five is like choosing which of my children get to come on the escape pod and which ones have to die.
Five Things I Like About Attack of the Clones:
If you previously thought there actually were five good things about this movie, I cordially invite you to watch it again, because I had to stretch my brain to its limits in order to come up with these five (and one of them was almost the two seconds of "droid football" you see on one of the monitors in the background at the nightclub on Coruscant. The nightclub with no music. Has George Lucas ever been in a nightclub?). Anyway, here they are, in no particular order:
Anakin has already creeped out Padme and made her uncomfortable with his lusty stares a couple times at this point in the movie, but when they share dinner together on a passenger liner to Naboo and he tells her that she's just as beautiful as he remembered from his dreams, she looks up and has this genuinely disturbed "um, what the fuck?" look on her face as she realizes that she's likely been the sole subject of this Tatooine boy's dirty, dirty doin'-the-nasty dreams for the past decade or so. It's also easy to imagine that Natalie Portman is honestly reacting to hearing the script being spoken aloud.
2. "The name of the killer is..."

Okay, so most people wouldn't exactly consider this a good thing about the movie, but it amuses me so much that I'm putting it on my likes list. Obi-Wan and Anakin have just captured the assassin who tried to kill Padme (and what a hard working assassin, by the way--she stuck a glass tube into a droid and sent it to do the job, which the bad guys could have gotten any street bum to do for the price of a drink or maybe a single cigarettesorry, "deathstick"), and she is just about to reveal the name of the man who hired her when suddenly--a poison dart out of nowhere totally stabs her in the neck and kills her! This old cliché never ever fails to crack me up whenever I see it in a movie. It's just so ridiculously cheesy you have to love it. If only the rest of the movie had such endearingly cheesy moments.
3. Slave I in Action

After seeing this super cool looking ship do nothing but float around in some garbage and lift off of a landing pad in The Empire Strikes Back, it was pretty cool to finally see the ship actually doing something a little more exciting than pulling out of a parking space. And as expected, Fett has all kinds of devious weapons and gadgets loaded on board the thing. I just hope that after young Boba (ever notice how stupid that name sounds when not paired up with the last name?) grows up and inherits the ship for himself, he doesn't scream "Fiyah!" every time he shoots the blasters at someone. Because that would really be kind of awkward.
4. Anakin Gets Dissed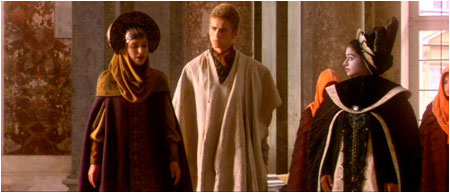 When Anakin and Padme arrive on Naboo, they talk to the current elected (what the fuck?) queen about the political situation, and the same old advisor fart Sio Bibble (see my Phantom Menace list) asks Anakin, the "master Jedi" for his opinion on the whole matter. Without even a glance in his direction, Padme waves her hand and dismisses him, saying "Oh, Anakin's not a Jedi, he's just a Padawan learner" and keeps going on like he's not even there. It's a great moment because it mirrors a lot of what the audience is feeling at that point, wishing that someone would tell Anakin to sit down and shut the fuck up.
5. "This party's over!"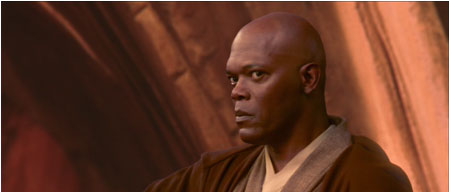 This is the single best (and most quotable) moment of the whole movie right here. Mace Windu sneaks up on Count Dookie while he's watching his prisoners about to be executed, and ignites his lightsaber right at Jango Fett's neck. Then, with a no nonsense glare he just looks at Dookie and calmly says "this party's over" right before the rest of the Jedi attack. Why is this so awesome? Because it's not even Mace Windu saying it. It's totally Samuel L. Jackson saying it, and everyone knows it. He's not even trying to be in character for that moment. Does that line sound remotely like something Mace Windu would say? No. But does it sounds like something Sam Fucking Jackson would say? You'd better believe it. If only he had been a little more himself and a little less Mace Windu in other scenes, he might have been able to save these movies. Jar Jar wouldn't have made it through the first one, I can tell you that. You know how Jar Jar and Mace Windu were in the same place at the same time a couple times and nothing happened? Now just imagine Sam Jackson meeting Jar Jar for the first time. It's a very different result, isn't it?
Five Things I Hate About Attack of the Clones:
There are just so many bad things about this movie. You and I could be here all night, discussing them over a few beers, but since this is a website and not really real time that would be kind of weird. Still, any time one thinks about this movie, there should probably be alcohol involved, so make sure you liquor yourself up before continuing, because it's about to get even uglier. Yes, that 900 lbs of hairy, mole-covered, boil-riddled, buck-toothed movie I've been talking about was the pretty one. I'm about to introduce you to its ugly cousin.

Again, despite the number of bad things about this movie, I have narrowed it down to five that I wish to discuss. That's not to say that these are the only ones, or even the worst--they're just the ones I feel like talking about. But don't you think for a second I didn't consider the atrocious acting that Lucas somehow managed to get out of otherwise decent actors, the dialog that just rolls off the tongue like it's on square wheels ("around the survivors a perimeter create!"), his blatant anti-smoking "deathstick" commentary, Obi-Wan not just interacting with but hugging a goddamned cartoon character, every single "romantic" scene in the movie, Threepio's annoying antics and god-awful puns, and the whole Droid Factory, which is the most blatant and gratuitous sequence I have ever seen inserted into a movie solely with a mind toward the inevitable video game tie-in, and more. I could never forget these things. Never forgive, never forget. I wear this armband for a reason, after all. So here are the ones I did choose to discuss:
1. Pinball Yoda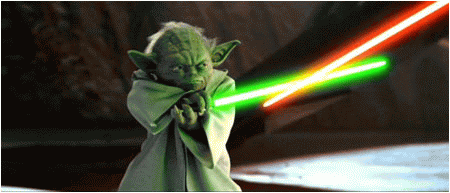 Ah yes, I can already hear the sound of a thousand fanboys crying out in anger, as if they were suddenly pissed off, so I'm sure many will disagree with me here. Judging from the reactions of others in the theater, this moment was a fanboy's wet dream given reality--finally getting to see Yoda dueling with a lightsaber. Unfortunately, the only way he could effectively use his lightsaber against a full grown opponent involved jumping and bounding around like a frog on methamphetamines, and the end result, while it apparently wowed much of the audience, looked utterly ridiculous. Combine his absurdly unrealistic cartoon bouncing with his grunty battle cries and the fact that he's fighting a nearly 90-year-old man and it just doesn't get much funnier than that. On top of that, having Yoda resort to a common sword fight sort of undermines his whole zen attitude from The Empire Strikes Back. It would have been much more in line with the established character for Dookie to draw his lightsaber and then have Yoda scoff and say "I don't need a lightsaber. Bitch." And then drop a big chunk of metal on his getaway ship. It would have been far more badass than seeing him pouncing around like some kind of feral circus performer, and it actually would have prevented Dookie from getting away, which, silly me, I thought was the goal here.
2. So I Guess This Means Boba Fett Sucks

Ah, what a terrible disappointment it is when we finally see the true origin of one of the coolest looking, most mysterious characters in the original trilogy. Sometimes it's best to just leave certain things undefined, and this was obviously one of those times. Finding out that Boba Fett was a clone of bounty hunter Jango Fett was a bit of a let down, especially when he gets his head unceremoniously chopped off by Mace Windu with almost no effort spent. Still, I guess it's better than being killed by a blind man with a stick (yes, I said "killed" and any of you who bring up those shitty books again and tell me he survived the Sarlacc will never know the touch of a woman, I promise you), so the original has one-up on the clone there. The only thing that could have redeemed Jango Fett's death would have been if his head had fallen from the helmet with a sickening "plop" as young Boba picks it up on the abandoned battlefield. Talk about a scarring experience.
3. Killing Tusken Raiders is Hot

Okay, so evidently you can act all creepy and weird around Padme all you want, and you still have a chance with her, as long as you confess to murdering a bunch of innocent women and children at some point. Apparently that gets her a little moist. But hey, she was a queen after all, and elected or not, you don't get to stay queen without rolling a few heads. I'm just sayin'. And don't even give me that "they're not people" argument, because some people said (and sadly some still do) the same thing about minorities in the past. And what's the other name for Tusken Raiders? Sand People. Yeah, that's what I thought. You would think that this sort of thing might raise a red flag with someone you're considering starting a relationship with, but instead of being like "Uhhh...I have to go" and then stealing the ship and leaving Tatooine like a reasonably sane person, she's just maybe a little into it. Yeah, it's a relatively short time after this that she's confessing her love to him.
4. Obi-Wan is Stupid, Really, Really Stupid

Here, George Lucas insults not only one of his previously most respectable characters, but his entire audience, by asking us to believe that Obi-Wan Kenobi was just outsmarted by a child. Obi-Wan traces the poisoned dart left by the bounty hunter to a world called Kamino, but when he tries to look it up in the Jedi library, he comes up with nothing. All of the nearby systems are still reacting to the gravitational pull as if it's still there, and yet, there is a big blank spot on the map where it should be. So he goes to see Yoda, interrupting his "youngling" (and if you can actually say that word without vomiting all over yourself, you have no soul and god hates you) class, to present this problem, and in about two seconds one of the kids is like "Uh, maybe someone deleted it from the map? You fucking dumb bitch." And thus, Obi-Wan gets shown up by a child, in front of a room full of children, while Yoda spews forth some sickening Hallmark card interior about how "truly wonderful the mind of a child" is. Good work with the detective skills there, Obi-Wan. Maybe you should just join the kids playing with some Duplo blocks and let little Timmy there take up your quest instead.
5. Dookie and Palpatine's "Plot"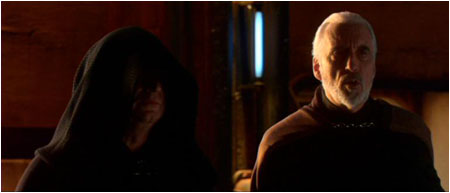 Count Dookie (and you just bite that quivering lip, fanboy, because he will always be Count "Dookie" to me) and Palpatine's moustache-twirlingly evil plan is so unbelievably stupid it makes my head hurt just thinking about it for more than a few seconds. So basically Dookie puts together a Separatist movement to secede from the Republic, and meanwhile Palpatine is trying to get the Republic to vote on creating an army (wait, they're a galactic, system-spanning republic don't have a fucking army?), but the Senate won't have anything to do with that (but they are all too happy to vote on giving Chancellor Palpatine supreme emergency powers, with which his first planned action is to create an army--does that make any fucking sense whatsoever?). So anyway, Palpatine either knew about the Clone Army all along and was making a tremendous leap of faith by hoping that the Jedi would discover it based on a simple poisoned dart (which is a setup he never could have planned) so the whole thing would conveniently look like their idea, or he had NO IDEA it existed and the Jedi found it and were like "Surprise! Here is an army that we kind of have now!" and Palpatine was like "Oh, goody! That saves us several years time of recruiting and training". Considering that the clones all have secret programming to kill all the Jedi buried within them, I'm going to say that he probably knew about the clones, even though they were apparently ordered by a Jedi who died sometime between Episodes I and II (and don't you love how in that ten years the cloners patiently wait to be contacted again and don't try to send along a bill or call a galactic collection agency to get the money they're owed).
Then of course we find out that OOoooOOOOoooh, Dookie and Palpatine were in league the whole time! Because Dookie is actually Palpatine's Dark Side Old Man Bitch or whatever the fuck. Yawn. And Palpy really wants to pit his new clone soldiers against his own secret robot soldiers because "it would probably be like a really cool fight and stuff". So the bad guy is basically fighting himself? Are you fucking kidding me? As my brave friend Sam, who I have been making rewatch all of these with me observed, it would have been much more effective if Dookie was actually a third party in league with neither the Sith nor the Jedi, and that his warning to Obi-Wan about Palpatine had been in earnest. Then when Obi-Wan was like "fuck off, I'll never join you" because he didn't trust him, it would have been a tragic turn and the Jedi would have been the ones who fucked themselves over, thus making their plight a damn sight more interesting than this childish, morally black-and-white drivel.
There you go. And if you disagree with any of this and have the nerve to stand up and defend this movie in front of a jury of your peers, by all means, post a comment in the thread below and wrongly tell me how wrong I am. And lest you mistakenly recall Episode III not being as bad as the first two and think I am going to go easy on it, just you wait until you have seen that movie through my eyes in a couple months. I'll set you straight.
Have any questions or comments about this piece?
SHARE YOUR THOUGHTS IN THE READER COMMENTS SECTION BELOW!