***WARNING***
YOU MUST BE 18 YEARS OR OLDER TO ENTER
THIS SECTION OF I-MOCKERY.



IF YOU ARE 18 YEARS OR OLDER
CLICK HERE TO ENTER "BITCHES IN HEAT"
FOR SOME HOT ACTION LIKE YOU'VE NEVER SEEN BEFORE!
OR
IF YOU ARE UNDER 18, CLICK HERE TO RETURN TO I-MOCKERY
---
Running a big site like I-Mockery takes a lot o' time and costs moola too.
Want to help show your support?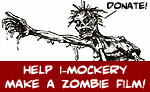 DONATE TO OUR ZOMBIE MOVIE!
Come talk about this piece & more on our Message Forums!
click here for more minimocks!

---


[Minimocks] [Articles] [Games] [Mockeries] [Shorts] [Comics] [Blog] [Info] [Forum] [Advertise] [Home]


Copyright © 1999-2007 I-Mockery.com : All Rights Reserved : ()
No portion of I-Mockery may be reprinted in any form without prior consent
We reserve the right to swallow your soul... and spit out the chewy parts.