Williamsburg. It's not exactly the most exciting place in the world. In fact, unless you have a passion for cannonballs or wig-making, it can be downright prosaic. Having gone to college there for a while, believe me I know. I would actually drive back down to Richmond each day (which is a far cry from Action Central, U.S.A.) just to get away from Williamsburg for a few hours.
Still, there is one really cool attraction to be found there, and that is the internationally-themed Busch Gardens. One minute you're surrounded by riverdance music in Ireland and the next minute you're stuffing your face with bratwurst in Germany... only to puke it all out on a rollercoaster shortly after. Sure they don't feature all of the countries that I'd hope to see... such as Ethiopia. It could be a wonderful area of the park where they don't serve any food whatsoever. And when you consider the wretchedly overpriced food that they normally dish out at theme parks, that really wouldn't be a bad thing.
While being able to go on a tour from country to country is fine 'n dandy, the real attraction at Busch Gardens comes in October. Yes, they have some rollercoasters that are definitely noteworthy, but it's their Howl-O-Scream festival that really makes a trip to the park worthwhile. They really go all out come Halloween every year, and I finally got to check it out this month...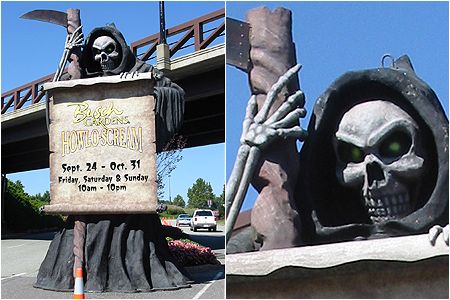 As soon as I arrived at the park around 11am I was greeted with a massive Grim Reaper statue. This thing towered over all of the cars, and I gotta say the attention to detail that went into it was pretty friggin' impressive. If this was any indication of what I could expect inside the park, then this was gonna be one hell of a day.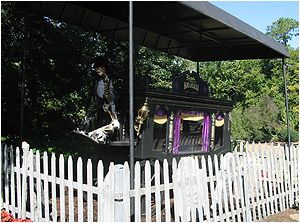 After parking our car in "Italy", which look exactly like "America" or "Walmart", we hopped aboard a train which brought us into the park. The old conductor dude ran through his speech about how the weather was perfect and how we couldn't have picked a better day to visit the park. One of the first things I took notice of was a fenced-in coach in a graveyard that was being driven by a skeleton. And while that was a cool enough prop, the tombstones on the ground were the real eye-catcher.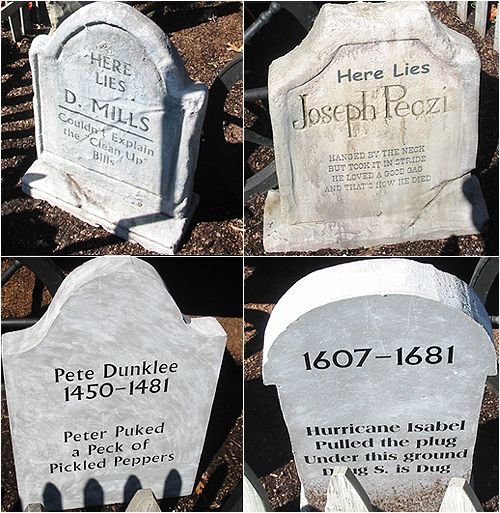 It was at this point that I realized I was either in for a really long day, or they were just getting the crappy stuff out of the way first. "Peter Puked a Peck of Pickled Peppers" Now what kind of loser would use pickles and alliteration to make a joke? Gotta love the Hurricane Isabel one too since our region was hit really hard by it. Way to create those gags that the locals can really relate to! This was definitely worth the trip!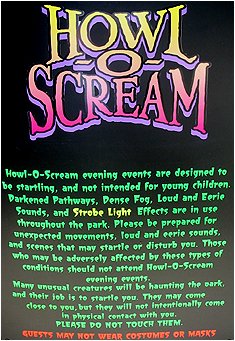 Before entering the park, I had to check out the warning sign that everyone else was ignoring. I particularly liked the "those who may be adversely affected by these types of conditions should not attend Howl-O-Scream evening events" line. I always thought that the whole point of a truly good Halloween even was to have the crap scared out of you. It was also nice to know that the "unusual creatures" haunting the park wouldn't attempt to rape me. Well, at least not on purpose. With that in mind, I wasn't planning on raping them either... no matter how much the undead turned me on.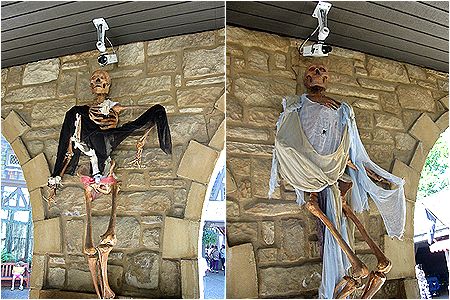 Once the security guards were done checking through my bag for weapons, drugs, and my own stash of food that would save me from having to spend $20 for a shitty sandwich, I proceeded through the ticket check area. I was awestruck when I saw the skeletons they had hanging underneath the security cameras. Was this perhaps a warning to anybody who dared an attempt at sneaking into the park? Could this be their fate? Whatever the case may have been, these were some badly dressed skeletons. I'm pretty sure the skeleton on the left died without any pants and only a pink ribbon to cover his genitalia.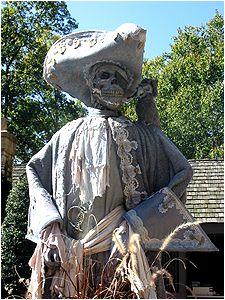 And then right there before me, in the "Piratical Purgatory" section of the park, stood the majestic skeletal statue of a mighty pirate captain. The statue just commanded respect and was a worthy homage to the greatest pirates ever. Unfortunately, this pirate captain must've had the most flamboyant crew in the history of mankind. Either that, or somebody at Busch Gardens misread "piratical purgatory" to be "piratical purgaytory". Don't believe me? Just look at what lurked right around the corner...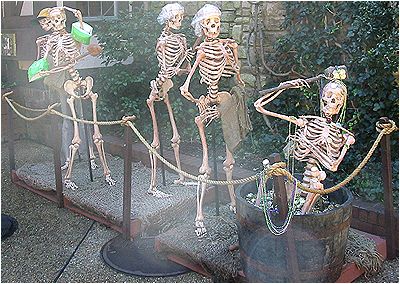 NAKED GAY PIRATES
BATHING IN JEWELRY!
They don't call it Howl-O-Scream for nothing kids. It was bad enough that they had poles going directly into their rectums, but to my amazement, this was merely the beginning of the most tawdry display of skeletons on earth...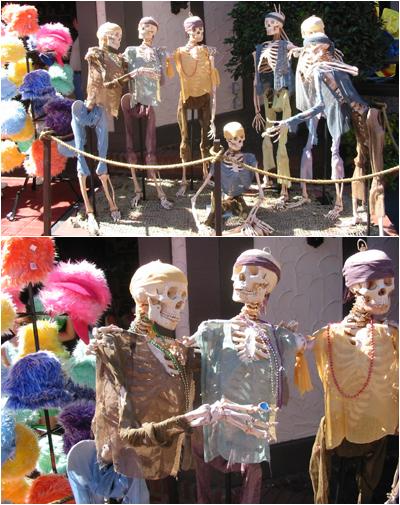 PIRATESTITUTES!
There they were, standing on a street corner next to a rainbow assortment of hats, flaunting their gaudy jewelry and trashy clothes like they were god's gift to lonely sailor skeletons. Could this be what skeleton pirates were truly like?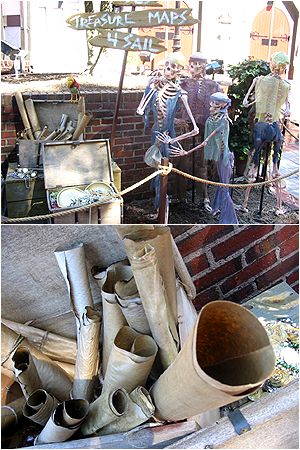 While they may not be able to spell "treasure maps for sale" properly, pirate are still fully capable of ripping your rich ass off. Upon closer inspection of the treasure maps, it was quite clear to me that they weren't maps at all, but simply rolled up pieces of old brown paper with nothing written on them! Dirty pirates... you just can't trust 'em.
Eugh, more skeletal sexual innuendo. The clothes and headbands that made them look like homosexual aerobic instructor rejects were bad enough. So was it really necessary to have phallic items placed so close to their groins too? Hah! You think that's bad???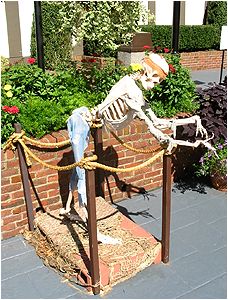 OH COME ON NOW!
THAT'S JUST GOING TOO FAR!
After having my eyes raped by the piratical purgaytory, I decided to move onward in hopes that the scars would eventually heal. Granted, it was highly unlikely that I'd see anything more horrific than those pirates. I mean, it's not everyday that you see a bunch of characters that you always thought were peg-legged, backstabbin', sea-sailin' swashbucklers get represented as peacockish prostitutes with poles in their rectums. One-Eyed Willie must be rolling over in his watery grave.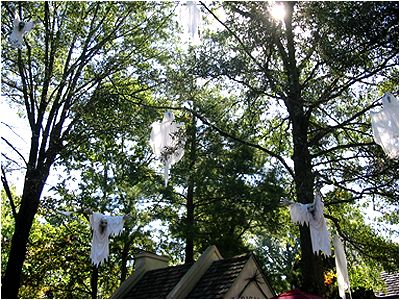 Well, I can't say that all the ghosts in the trees looked too scary. Then again, it was still morning and I had just seen Gaybeard the pirate and his cohorts. However, it definitely shows the kind of effort they were putting into this thing when you see that some of the ghosts were easily 40-50 feet up in the air or higher. It had to suck to be the person responsible for climbing the trees to get the ghosts way up there. Especially since they probably pay people in plastic doubloons and funnel cakes.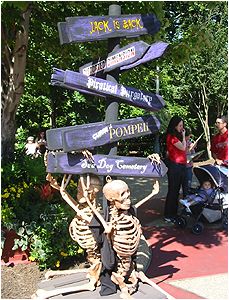 These signs were scattered all over the park, but it only served as a teaser of things to come because all of the spooky events wouldn't get going until 6pm... so there was plenty time left to wander aimlessly around the park. First stop was Doctor Rot, the local dentist.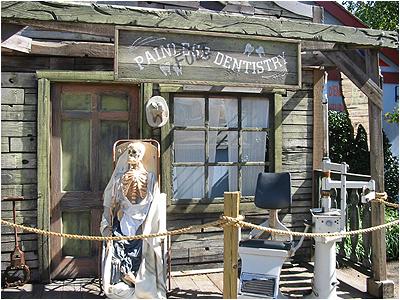 Notice how Doctor Rot changed the sign to say "painfull" instead of "painless"? Yo doc, it's "painful" with one L ok? I guess Doctor Rot might've made it through dental school, but whether or not he made it through basic English is another issue entirely. Sadly, he was nowhere to be found. I could only hope to see the good doctor later on that night.
It may not have been dark out, but that didn't stop this Halloween gift shop from having their smoke machine smoke machine cranked to the max. I found it ironic that they would sell costumes in Busch Gardens, yet their warning sign strictly says "Guests may not wear costumes or masks." Eh, I guess it doesn't matter since most of the items were your run-of-the-mill Halloween novelties that you can find in just about any basic Halloween shop for way less. They did have a cool little box that screamed when you opened it, but the batteries were low so the voice was distorted. I swear it sounded like a pissed off Gary Coleman was trapped in there. Looking back on it now, I should've bought it... but Gary wasn't worth 5 bucks to me.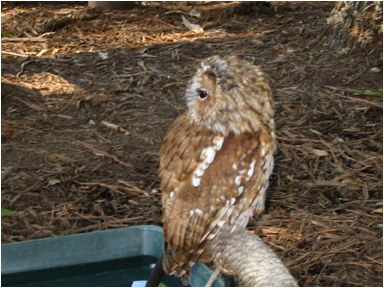 And here he is... THE HAUNTED OWL OF HOWL-O-SCREAM! Actually, he was just one of many helpless birds that had their legs tied to the ground with rope. It was pretty depressing to look at, and I swear he was so miserable that he was turning his neck around so far only in hopes that it would eventually snap and end his life. Then again, maybe he became a bloodthirsty Were-Owl anytime there was a full moon... so perhaps the restraints were necessary after all.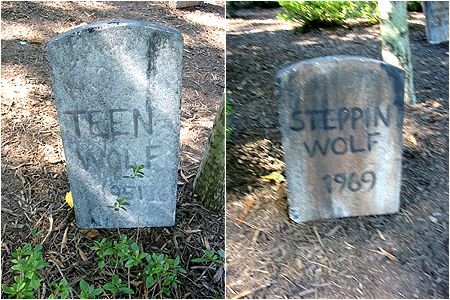 Holy shit, nobody told me Michael J. Fox died! Why wasn't I informed!? Oh wait, maybe they actually meant Jason Batemen from "Teen Wolf Too". That's fine... screw him. I won't even bother commenting on that Steppenwolf... er... "Steppin Wolf" grave. I'm still trying to pretend it was a figment of my imagination — along with the piratestitutes.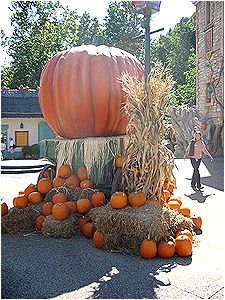 There was definitely no shortage of pumpkins at Busch Gardens, they were all over the place. And then there was this giant one out in the middle of the street. There were no signs near it and I couldn't see any real reason for the giant pumpkin to be there other than for tourists to gawk at it while pickpocketers had a field day.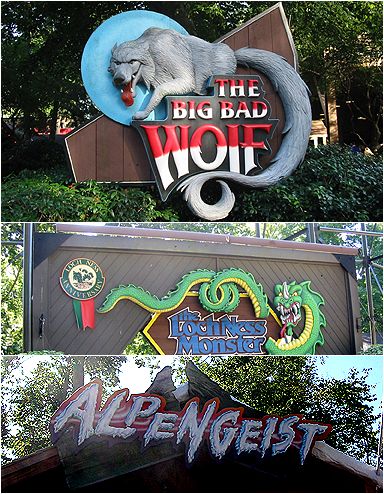 The park only has four roller coasters, but they were all top notch rides: The Big Bad Wolf, The Loch Ness Monster, Alpengeist, and Apollo's Chariot. Out of the four, i'd have to say Alpengeist was my favorite. Not only was there a big nest of angry hornets at the top of the first big hill which was an unexpected scare, but it made my intestines feel like they were in my throat on a few of the wild turns. And as far as rollercoasters go, I think that's a good thing. The Alpengeist also had this photo opportunity display: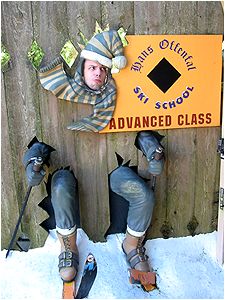 If you didn't want to fork out way too much money for a low-quality photograph of you wetting yourself on the rollercoaster, you could take your own picture here. Granted I haven't gone skiing in quite a while, but I'm not that rusty and I would certainly have a better sense of fashion. At the very least, I'd look better than those pirate skeletons from earlier.
And what about the prizes? A theme park's not a theme park without tons of crappy prizes for you to win as long as you spend your life savings!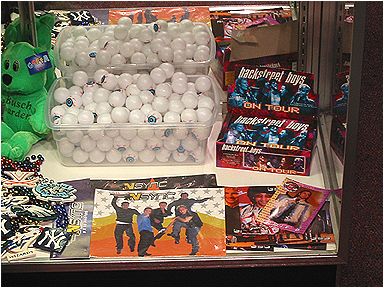 Oh yeah! That's what I'm talking about! Backstreet Boys on Tour trading cards? N*Sync booklets? Sign me up! After playing several games of skeeball, I ended up walking away with 3 eyeballs and two sets of fangs. I should've just walked out with the skeeballs and sold them on the black market. Little known fact: if you crack open a skeeball, you'll discover that it has tasty 90-year old scotch stored in the center. So just remember that the next time you toss them back into oblivion in exchange for those Backstreet Boys trading cards.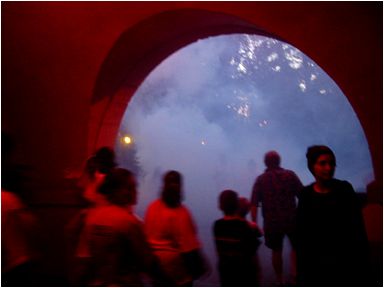 After nearly choking on the three eyeballs which I was sure I could fit in my mouth, I decided it was time to head back outside. And it was finally starting to get dark out, because some big smoke machines were blasting the crowd. Either that or somebody finally had the sense to set that display of piratestitutes on fire.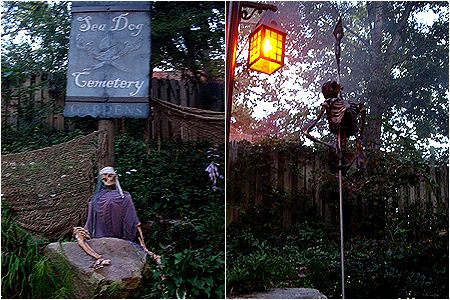 The Sea Dog Cemetery was already starting to look fairly spooky, even if one of those damned gaudy pirates was hanging out underneath the sign. At least someone was good enough impale one on a spear. Maybe the other pirates will see that and take it as a warning to shape up or ship out. Maybe... but not likely. The sun was setting and my stomach was starting to growl at me. Apparently spending all day on rollercoasters and eating funnel cakes with soda just wasn't enough to keep it quiet. So I was off to get some extremely bad amusement park dinner and then head out into the night to see what ghoulish scares awaited me!
WILL HUNGRY ZOMBIES RISE UP TO EAT ME ALIVE?
WILL I TURN INTO A WEREWOLF IN THE MOONLIGHT?
WILL I SURPRISE YOU WITH A COMPLETELY UNRELATED PAGE ALL ABOUT THE WONDERS OF INSTALLING YOUR VERY OWN GARBAGE DISPOSAL IN 10 EASY STEPS?
CONTINUE TO PAGE 2 TO FIND OUT!
---
help support I-Mockery by supporting our sponsors:

---
Running a big site like I-Mockery takes a lot o' time and costs moola too.
Want to help show your support?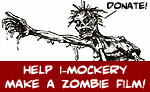 DONATE TO OUR ZOMBIE MOVIE!
Come talk about this piece & more on our Message Forums!
click here for more minimocks!

---


[Minimocks] [Articles] [Games] [Mockeries] [Shorts] [Comics] [Blog] [Info] [Forum] [Advertise] [Home]


Copyright © 1999-2007 I-Mockery.com : All Rights Reserved : ()
No portion of I-Mockery may be reprinted in any form without prior consent
We reserve the right to swallow your soul... and spit out the chewy parts.