by: -RoG-
They say a picture is worth a thousand words, but what words are worth a thousand pictures? Comic-Con. From humble beginnings way back in 1970 to the mega-media monstrosity that it is today, the San Diego Comic-Con has come one hell of a long way and it seems to get more packed every year. And as the convention attendance continues to grow exponentially each year, it would seem that my photo galleries of it are growing in a similar manner. Last year, I brought you guys a gallery of over 300 photos covering all the latest games, toys, and crazy costumes I came across at the 2008 convention. This year, that number has been surpassed once again... and by far. I hope you've got some time on your hands because we took OVER 1000 PHOTOS and they're all spread out over 28 pages in this giant piece! You won't find a larger collection of Comic-Con photos anywhere else!
In addition to all the photos, I-Mockery had a booth at Comic-Con for the first time this year which was awesome because it marked two anniversaries: it was the 40th anniversary of the San Diego Comic-Con and the 10th anniversary of I-Mockery (well 13 technically if you count the years the site was online before we finally registered a domain name). We had the entire I-Mockery staff at the booth and it was extremely busy the entire time as people came to try out our new game demo, check out our merchandise, and of course... wear pickle hats. As busy as we were, whenever somebody left the table on a break, we made sure they left with a camera so they could capture footage of all the Comic-Con madness for you guys to see. Please keep that in mind too as some of the photos are nice and others are a little blurry (what can I say, some people just don't know how to operate a camera).
As always, it's my intention to help give those of you who weren't able to attend the Comic-Con an extremely in-depth look at what was there. In other words, if you couldn't attend the 2009 San Diego Comic-Con, viewing this gargantuan gallery of photos should be the next best thing. Once again, these pics are in no particular order... dumped onto the site from 3 different cameras, so please excuse any similar/duplicate photos that appear in the pages. I'm just unloading all of them on you along with a few comments about each one. Hope you enjoy 'em all!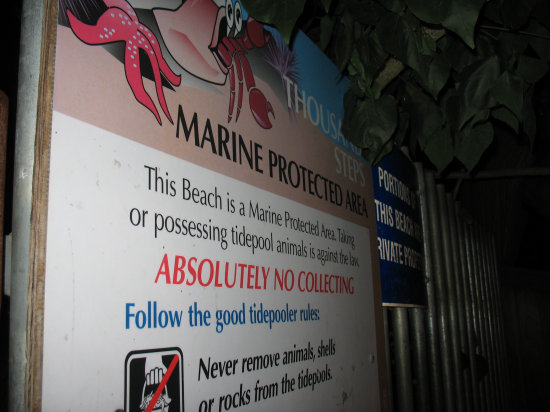 On our way to San Diego, we drove down the Pacific Coast Highway and decided to stop near
the Thousand Steps beach area in Laguna and we followed the "good tidepooler rules".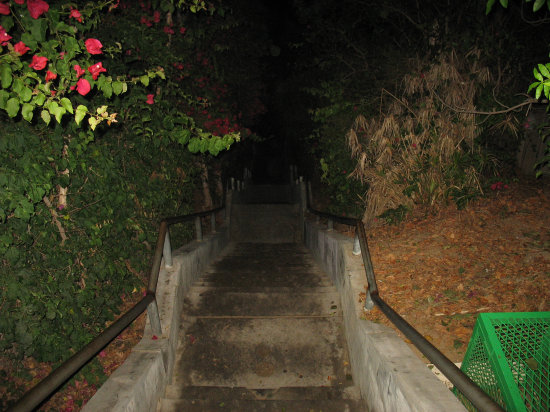 I didn't count 'em, so let's just assume there were a thousand steps down to the beach.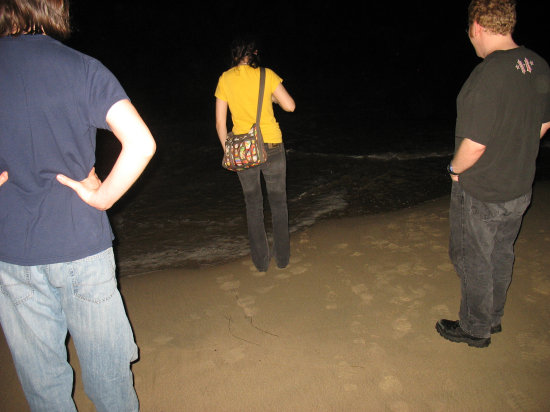 Re started playing the "run away from the crashing waves" game and it proved to be quite infectious as we all joined in.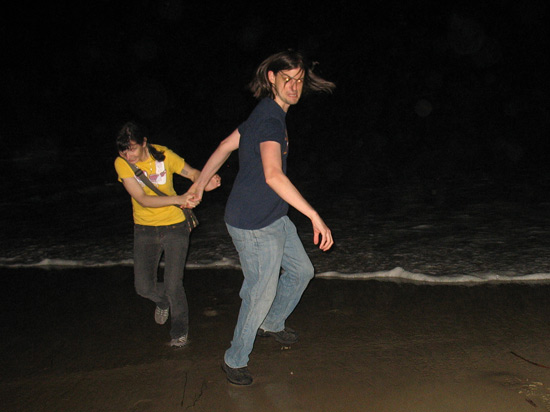 Apparently, running away from crashing waves brings out my inner demons.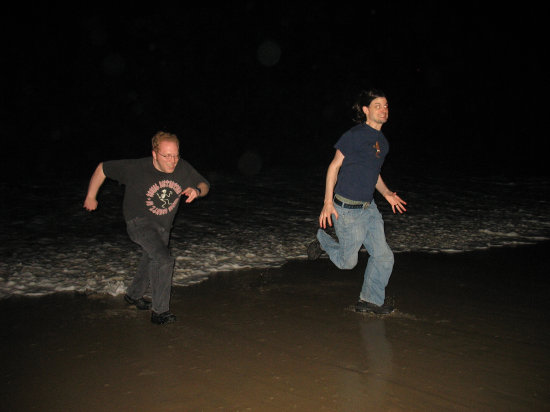 Protoclown and I ran with all our might!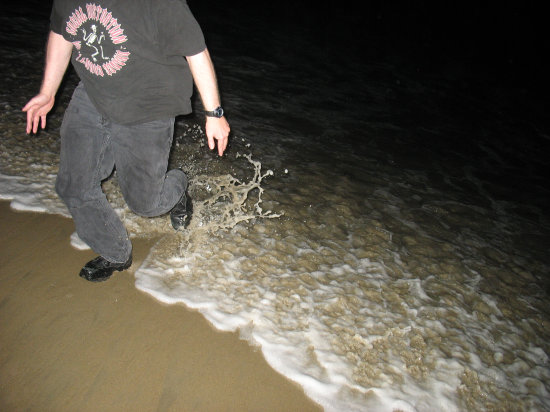 Sadly, the ocean had its way with him... and his pants.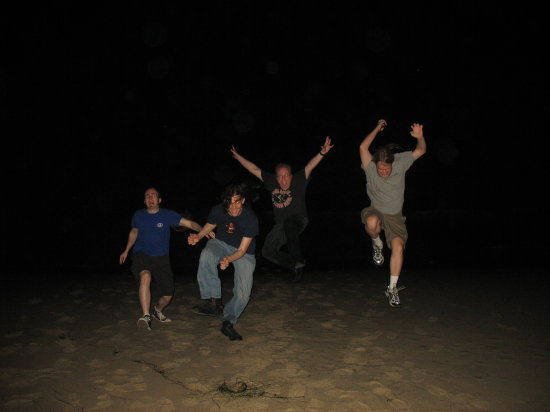 Attempt #1 of 500 to get a late night shot of us all jumping in the air at the same time.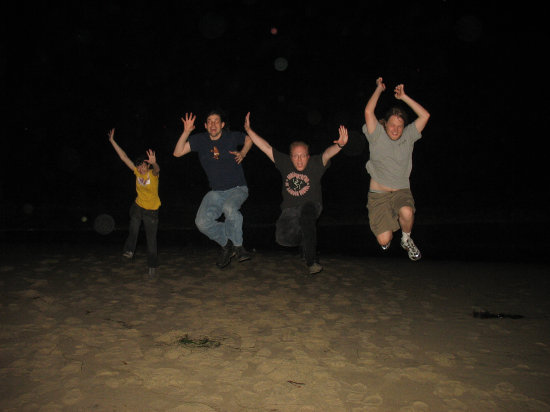 And here was the last of 'em. Ok guys, time to kick the sand off our shoes and head down to San Diegoooooooo!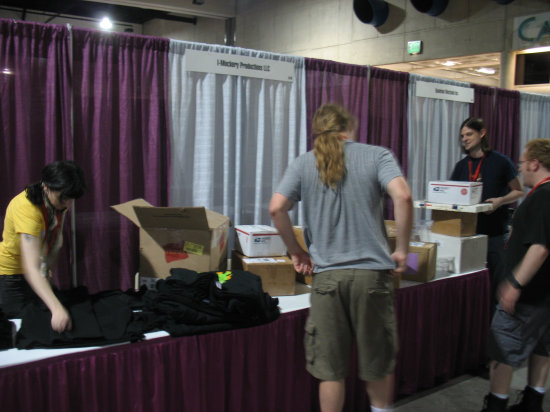 We arrive at our booth space and start to unpack and sort through all of the new I-Mockery merchandise.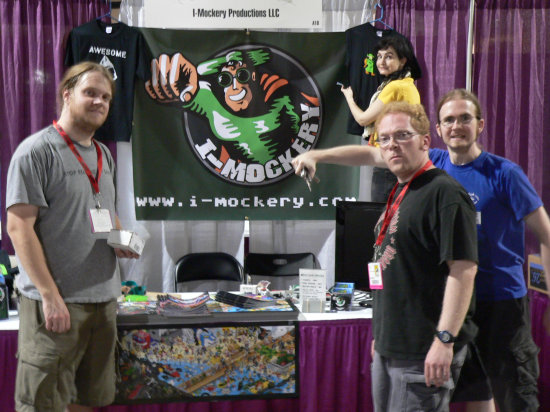 Hooray! The booth was pretty much ready to go and Military Messiah decided to celebrate by stabbing Protoclown.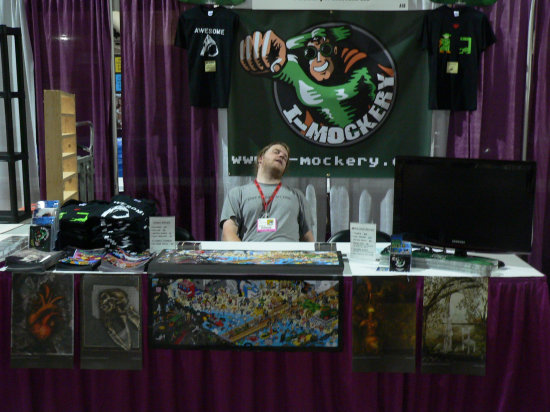 Dr. Boogie came up with another way to celebrate.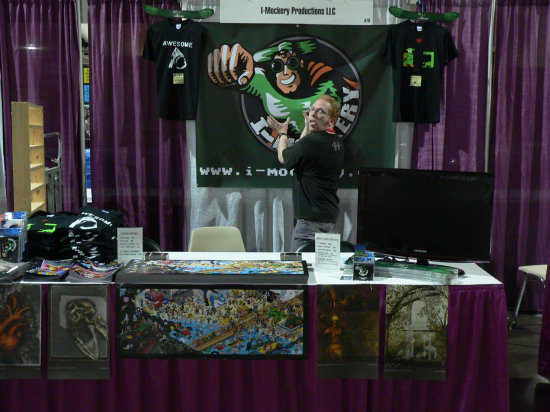 Protoclown checked our I-Mockery logo for cancer lumps. You never can be too safe!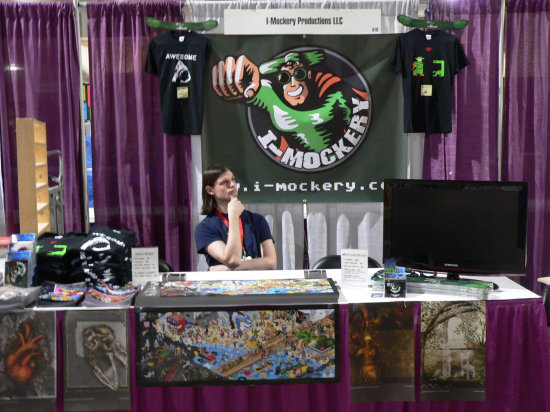 I dreamed of what I would do with the billions of dollars we'd make when Comic-Con started in a few hours.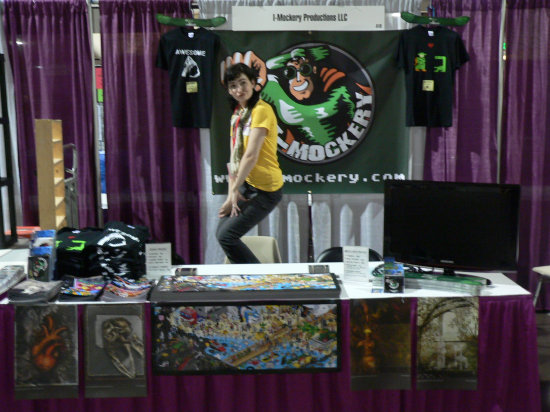 Re practiced the poses she would use to lure people to our booth. Rawr!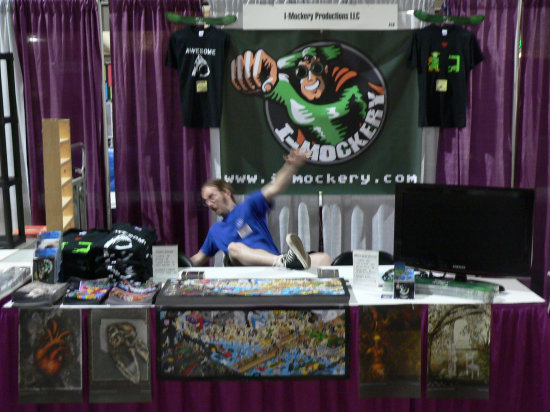 Military Messiah has balance issues.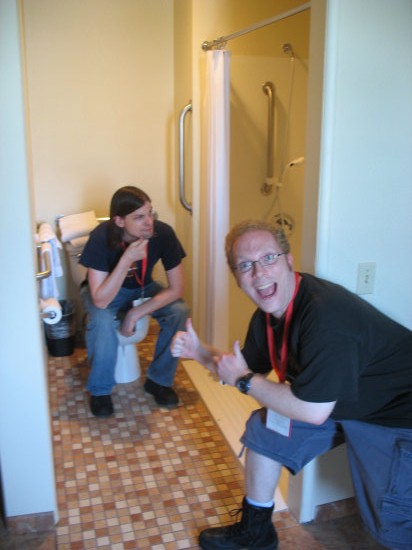 After we finished setting up our booth for preview night, we headed back to the hotel to check in.
To our amazement, the manager put us in a handicapped room because he thought we'd appreciate the extra space.
What he didn't count on was our lack of appreciation for the handicapped bathroom which had no door! We like each
other 'n all, but not enough to watch anybody take a shit. So yeah, we switched to some other rooms immediately.
Also, if they can use the pictured shower curtain, I'm pretty sure handicapped people can use bathroom doors too.
And so it was time for "Preview Night" at Comic-Con to commence, so here are the photos from all 5 days at the convention: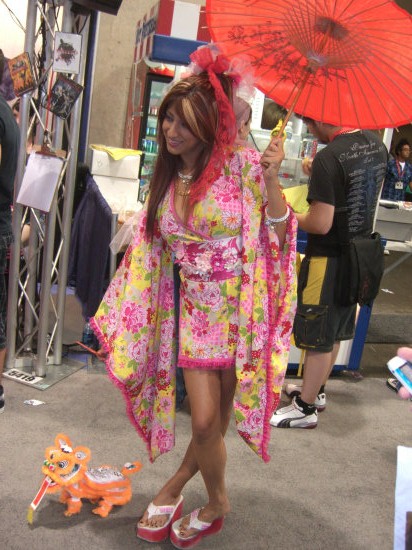 You can close the umbrella, it's not gonna rain in here lady.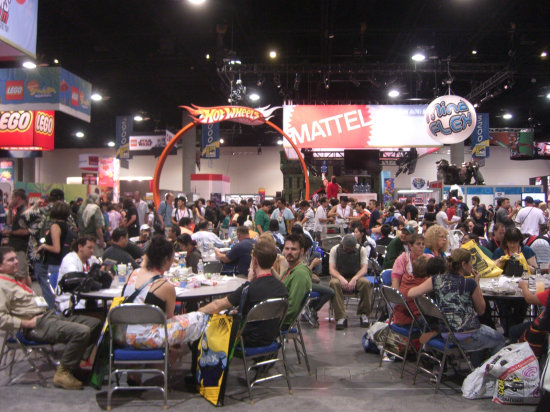 Within minutes, people are already tired and taking breaks at the tables. That's just sad.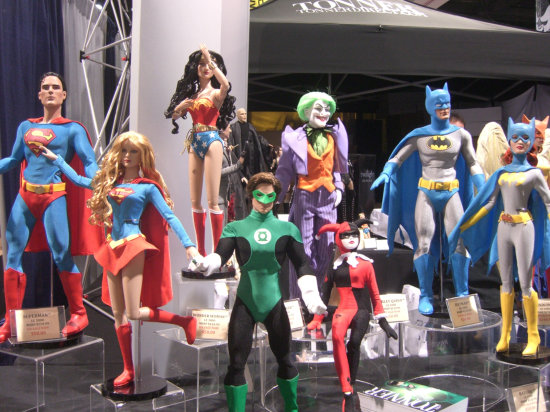 The first set of many superhero toys to come.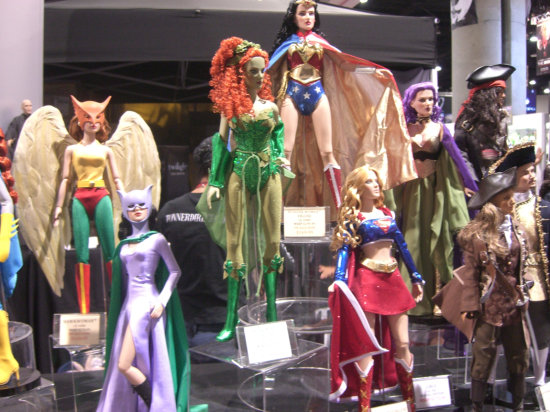 More superhero toys...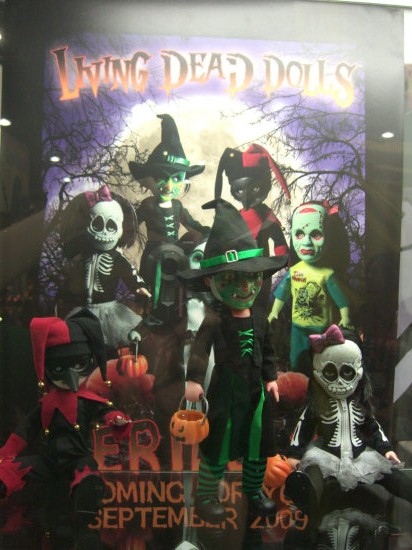 The latest batch o' spooky Living Dead Dolls.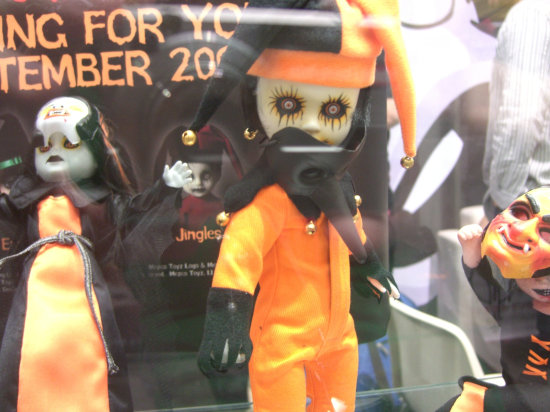 Spooky?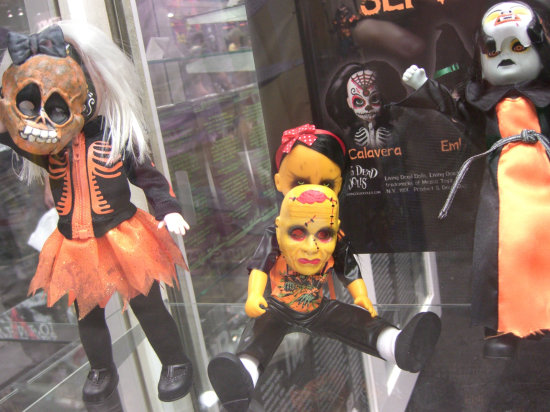 Spooky?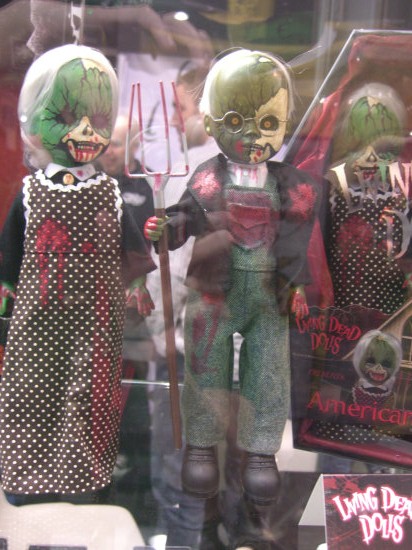 Ok now that's gotta be the best Living Dead Dolls set ever.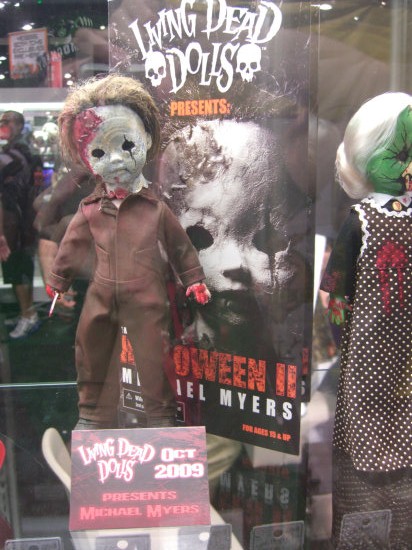 It's most likely far cooler than the movie will be.

Th figures in this lil' Cinema of Fear horror series were fantastic!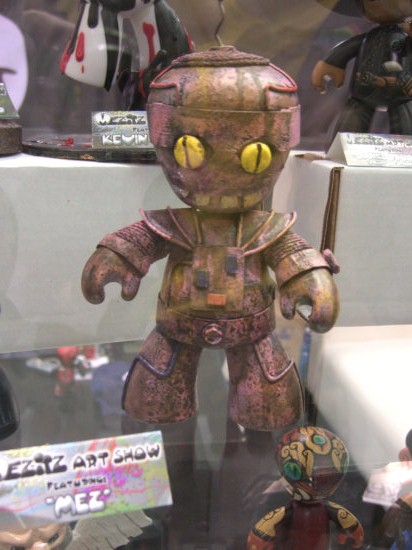 Robot? Alien? Robalien?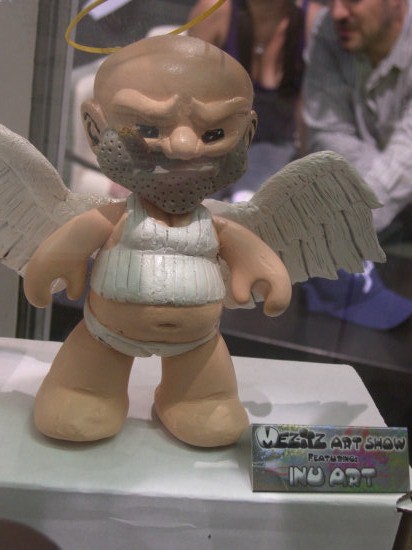 Yeah, I think that's pretty much how we all picture angels.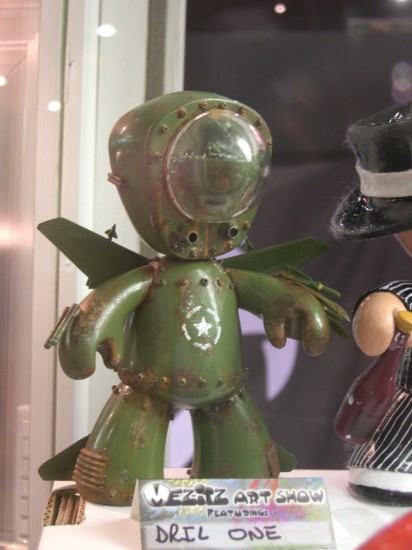 Looks like a hybrid of an action figure and an old World War bomber.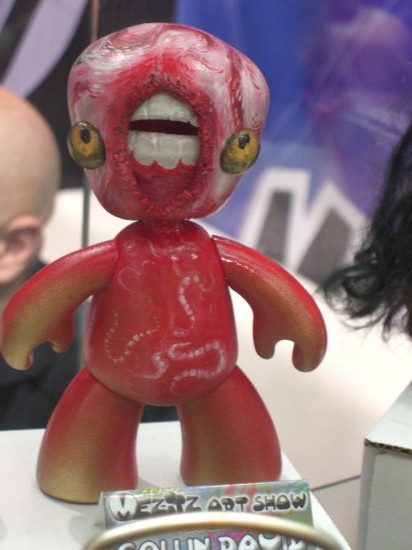 Go on... give him a kiss!
There are still many more
2009 San Diego Comic-Con photos to see!
Click here to continue onward to page 2!