by: -RoG-
They say a picture is worth a thousand words, but what words are worth a thousand pictures? Comic-Con. From humble beginnings way back in 1970 to the mega-media monstrosity that it is today, the San Diego Comic-Con has come one hell of a long way and it seems to get more packed every year. While the convention seemed even more packed this year, I was understaffed at the I-Mockery booth with Max Burbank, Protoclown and Dr. Boogie unable to attend this time around. I did have my buddy Nick (programmer of many fine games found here on I-Mockery) and his brother-in-law Darby to help out much of the time, and of course, Re and some other friends were around too. Still, I wasn't able to get away from the booth quite as much... primarily because I wanted to be there the entire time as we debuted a custom arcade cabinet for our upcoming "Abobo's Big Adventure" parody web game. Does this mean we didn't find the time to snap a ton o' photos to tantalize your eyeballs? Hell no.
Last year, I brought you guys a gallery of over 1000 photos covering all the latest games, toys, and crazy costumes I came across at the 2009 convention. This year, I'm happy to report that we have right around 1000 photos again, so I hope you've got some time on your hands, because they're all spread out over 20 pages in this giant piece. As always, you won't find a larger collection of Comic-Con photos anywhere else, so I hope it proves to be worth the wait once again!
I-Mockery had the same booth space as last year and it was even busier this time around with our new game on an arcade cabinet drawing in people's attention. We were extremely busy the entire time as people lined up to play the latest Abobo demo, check out our merchandise, and of course... score some more pickle hats. As busy as we were, whenever somebody left the table on a break, we made sure they left with a camera so they could capture footage of all the Comic-Con madness for you guys to see. Knowing how busy I was gonna be, I always arrived at the convention extra early every day before it opened to the public for the sole reason of walking around snapping as many photos for you guys as I could.
As always, it's my intention to help give those of you who weren't able to attend the Comic-Con an extremely in-depth look at what was there. In other words, if you couldn't attend the 2010 San Diego Comic-Con, viewing this gargantuan gallery of photos should be the next best thing. Once again, these pics are in no particular order... dumped onto the site from 3 different cameras and a phone, so please excuse any similar/duplicate photos that appear in the pages along with varying image quality. I'm just unloading all of them on you along with a few comments about each one. Hope you enjoy 'em all!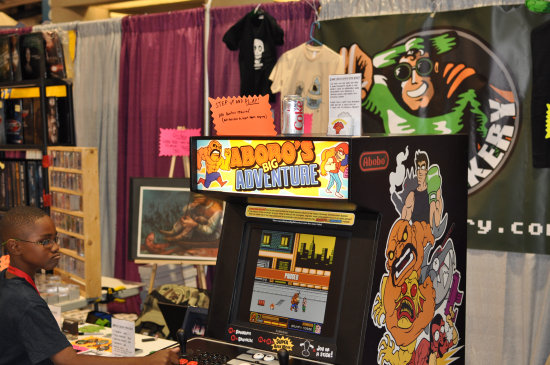 A young lad cautiously approaches the Abobo's Big Adventure cabinet,
unaware of what brutal beatdowns Abobo has in store for him.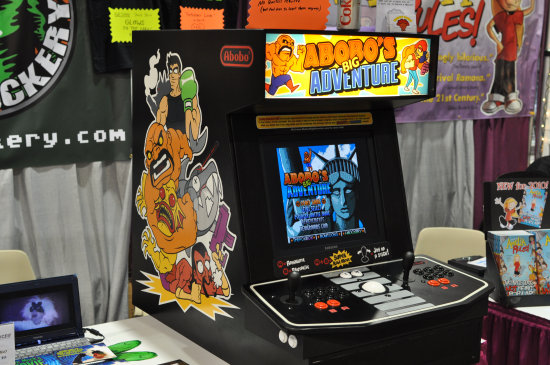 A nice shot of the completed Abobo's Big Adventure custom arcade cabinet. Oh so pretty!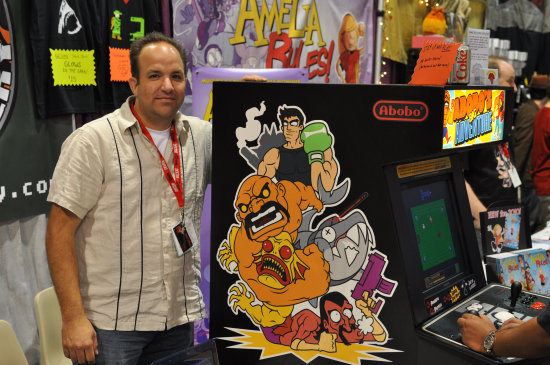 This is Darby. He was nice enough to build the cabinet for us from scratch.
Hell of a good carpenter, that guy. Thanks again for doing such a great job on it!
(Also, a huge thanks to Jeff Bandelin for the badass art!)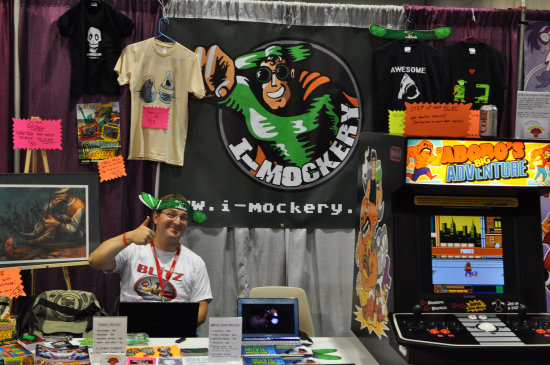 Nick gives the ol' thumbs up and I-Mockery is officially ready for the 2010 San Diego Comic-Con to begin!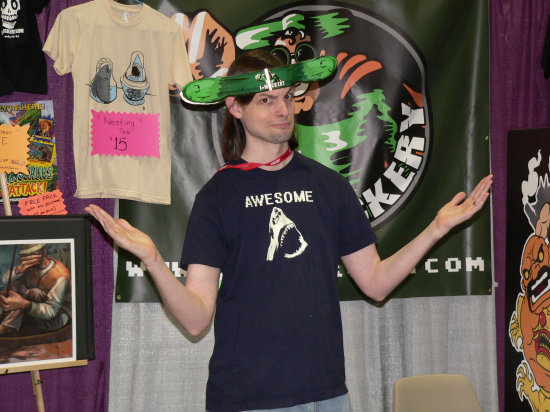 Let's get this show started!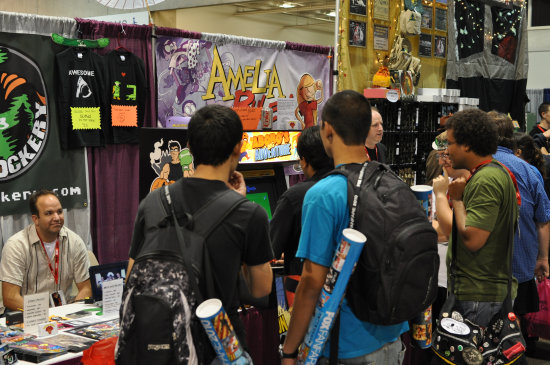 The crowds formed quickly around Abobo. I guess he has a lot of sex appeal.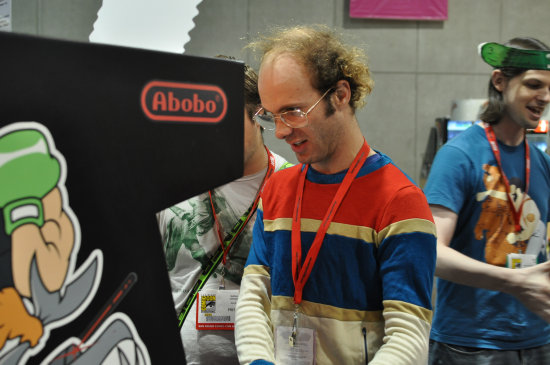 Keith Apicary (from "Talking Classics") tested his retro gaming skills on Abobo's Big Adventure cabinet.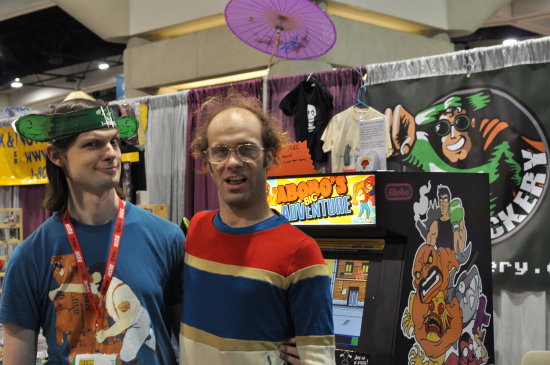 Yeah... we're studs.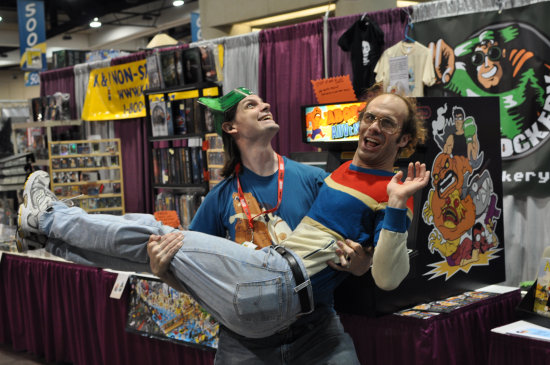 Sorry ladies, Keith and I don't need you... for we've found each other.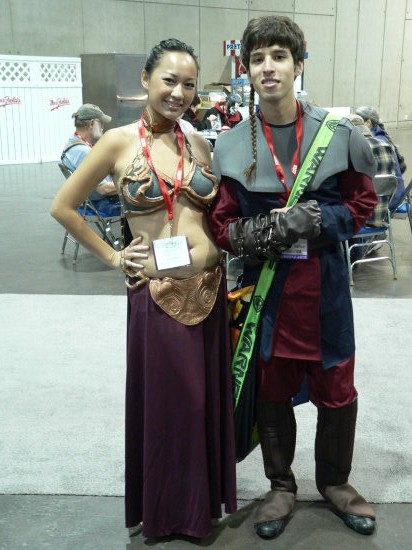 Speaking of ladies... it's not Comic-Con without some Slave Leia sightings.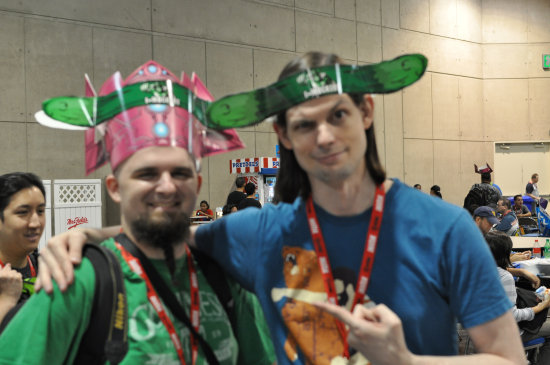 I think this was the first guy to score a pickle hat at Comic-Con and he put it on top of his Galactus hat. Awesome.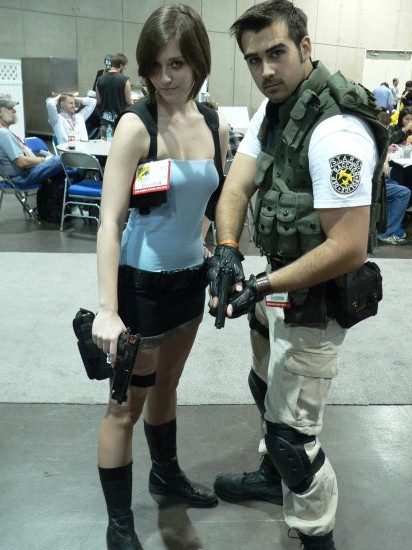 Gotta love these Resident Evil costumes.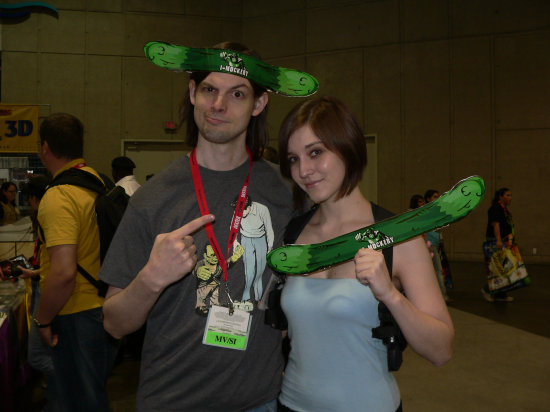 Turns out she's a big I-Mockery fan thanks to Domo-Kun's Angry Smashfest and other games,
so who am I to turn down a request to pose for a photo with a cool and foxy dame like that?
May the pickle hat help you in your quest to kill more zombies!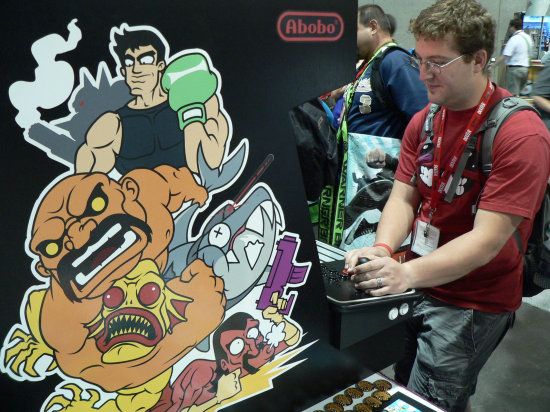 Nick plays his own game before heading out to a panel. Jeez, stop hogging it already and let somebody else play!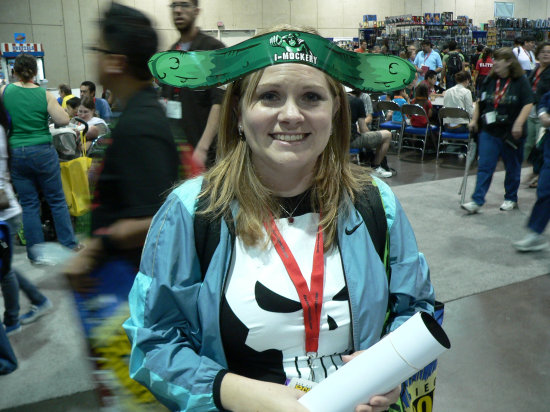 She threatened to punish me if I didn't give her a pickle hat and I wasn't about to take any chances.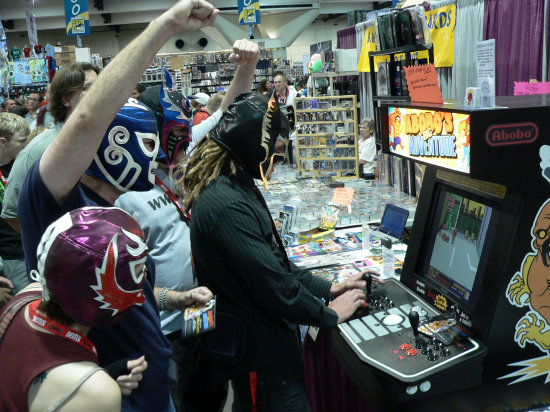 These luchadores were super excited to watch one of their own take control of the mighty Abobo.
Viva la Lucha Libre!

They sure did take a while deciding on what they wanted to buy too.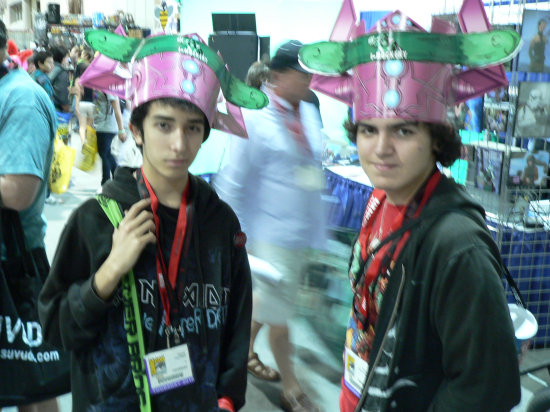 I think the Galactus Pickle Hat hybrid is really catching on.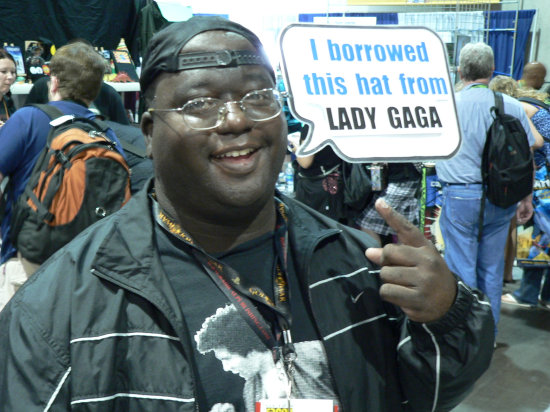 Ok... so what?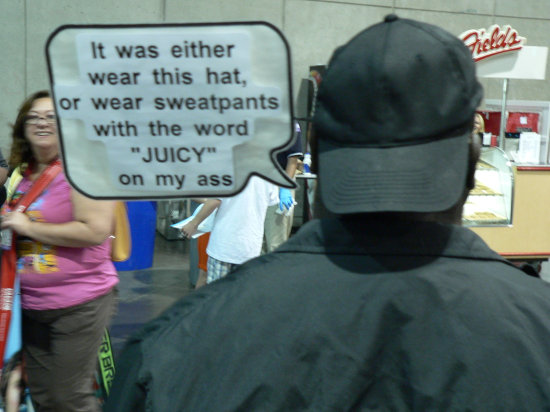 Oh, well in that case, allow me to be the first to say that you chose wisely.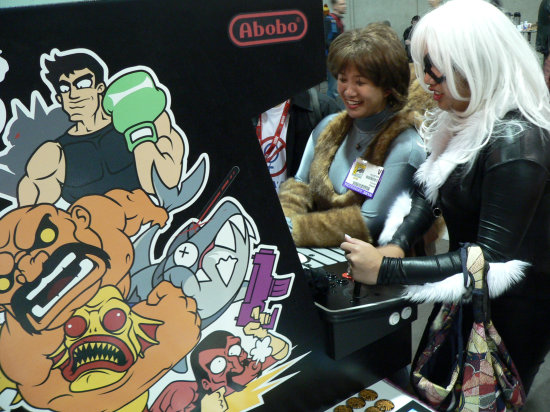 Abobo attracts all kinds.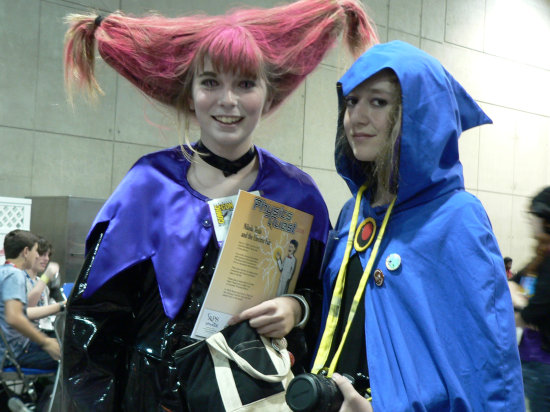 Who is the invisible puppet master controlling her crazy hairdo?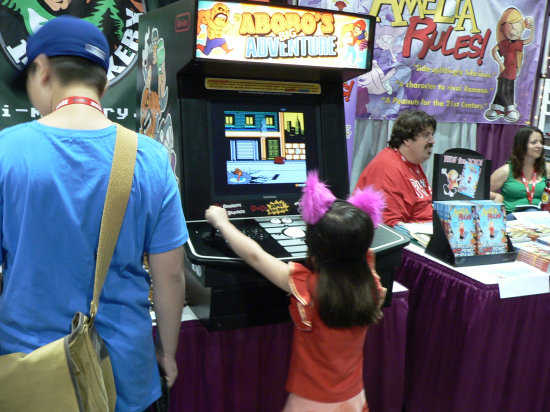 This little girl stood on her tippy-toes and yanked on both joysticks for a solid five minutes.
Still, I think she made it farther than many people did in the demo.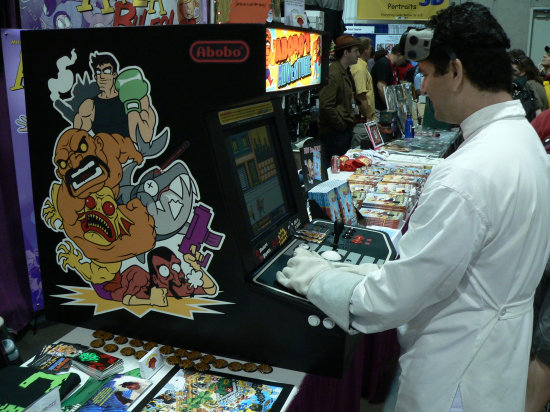 Even Doctor Horrible took time out of his nefarious schedule to play a game.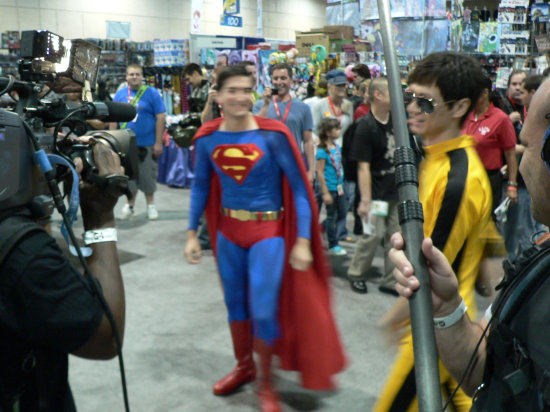 Superman vs. Bruce Lee. Whoyagot?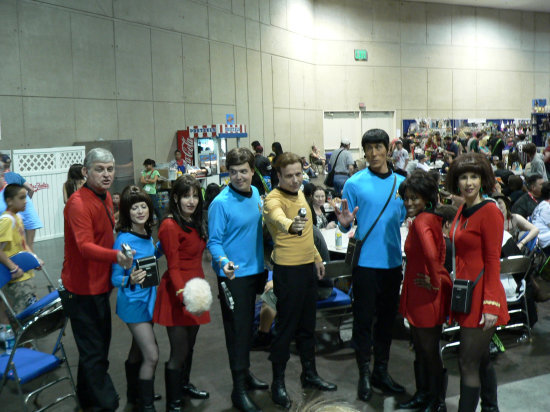 The classic Star Trek cast, back at Comic-Con once again.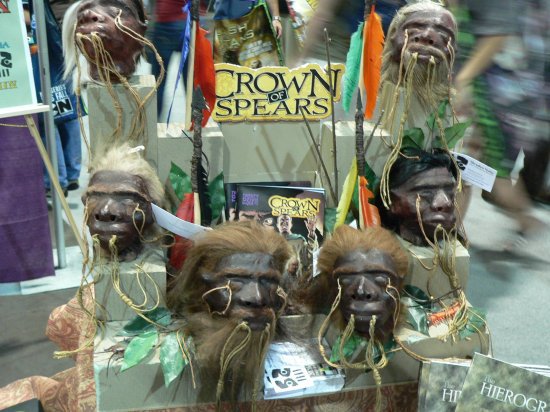 Finally, somebody decided to sell shrunken heads at the convention. Support indie headhunters!
There are still many more
2010 San Diego Comic-Con photos to see!
Click here to continue onward to page 2!