by: -RoG-
They say a picture is worth a thousand words, but what words are worth a thousand pictures? Comic-Con. From humble beginnings way back in 1970 to the mega-media monstrosity that it is today, the San Diego Comic-Con has come one hell of a long way and it seems to get more packed every year. With Re and Nick at my side along with some other great friends lending a hand, I-Mockery had its busiest year ever at Comic-Con. Not only did we have three new levels, four new boss fights and some new cinematics to show off on the custom Abobo's Big Adventure arcade cabinet, but we also had all three pixel posters on display for the first time ever, including the debut of our new Halloween one! People who played the game and beat a boss even won free Abobo masks and buttons. We were also at a new location (booth #E10 in the 600 aisle) with some fantastic new neighbors and more foot traffic than ever before. With all these distractions going on at our own booth, one would think we wouldn't have time to bring you another huge gallery of photos. Yes, I can see how one would think that... but one would be absolutely wrong.
Last year, I brought you guys a gallery of over 800 photos covering all the latest games, toys, and crazy costumes I came across at the 2010 convention. This year, I'm happy to report that we have another 800+ photos again, so I hope you've got some time on your hands, because they're all spread out over 25 pages in this giant pictorial piece. As always, you won't find a larger collection of Comic-Con photos anywhere else online, so I hope it proves to be worth the wait once again!
We were extremely busy the entire time as people lined up to play the latest Abobo demo, check out our merchandise, and of course... score some more pickle hats. As busy as we were, whenever somebody left the table on a break, we made sure they left with a camera so they could capture footage of all the Comic-Con madness for you guys to see. Knowing how busy I was gonna be, I always arrived at the convention extra early every day before it opened to the public for the sole reason of walking around snapping as many photos for you guys as I could. Re took a ton of photos as well, so a huge thanks to her for getting some amazing shots throughout the week.
As always, it's my intention to help give those of you who weren't able to attend the Comic-Con an extremely in-depth look at what was there. In other words, if you couldn't attend the 2011 San Diego Comic-Con, viewing this gargantuan gallery of photos should be the next best thing. Once again, these pics are in no particular order... dumped onto the site from 3 different cameras and phones, so please excuse any similar/duplicate photos that appear in the pages along with varying image quality. I'm just unloading all of them on you along with a few comments about each one. Hope you enjoy 'em all!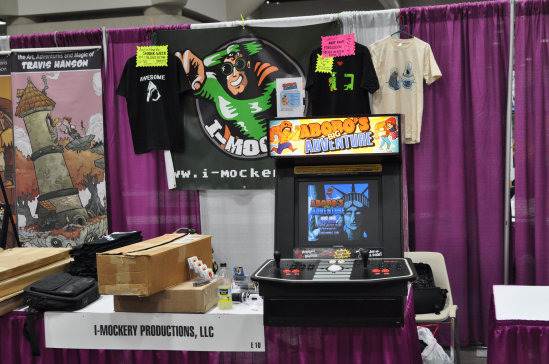 The custom Abobo's Big Adventure cabinet is ready to go, but we still have to get the rest of the booth set up.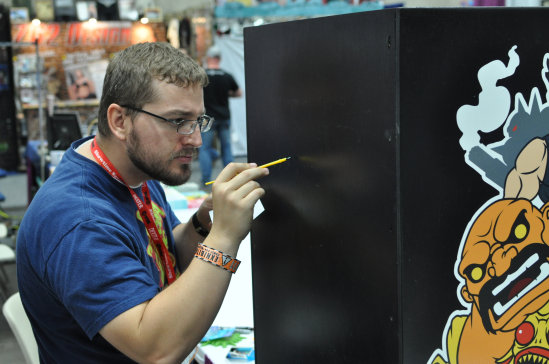 The cabinet always gets a few dings during transport, so Nick comes prepared with some extra paint for touch-ups.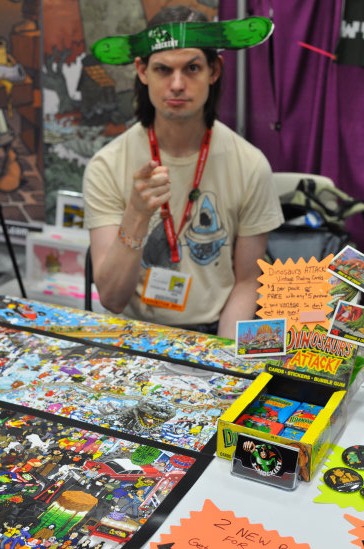 Alright, we're ready to rock!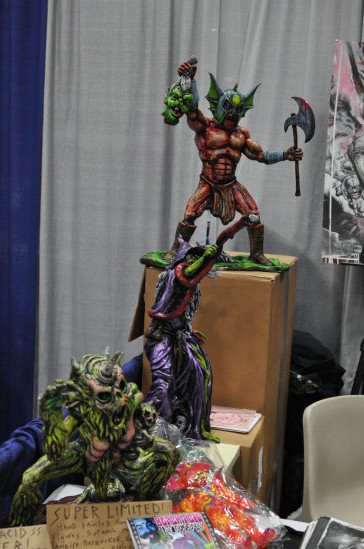 You know something is super limited when the sign is written on a piece of a cardboard box.
Wait, maybe it's the packaging that was super limited, not the cool statue.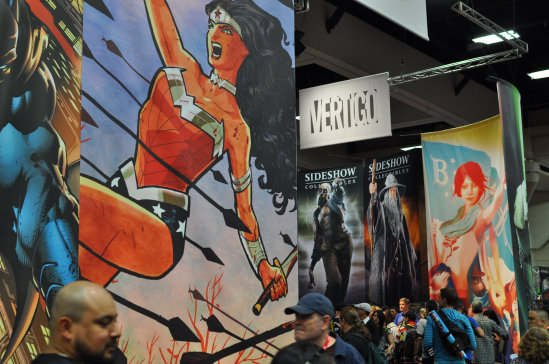 Wonder Woman dodges arrows with raaaage.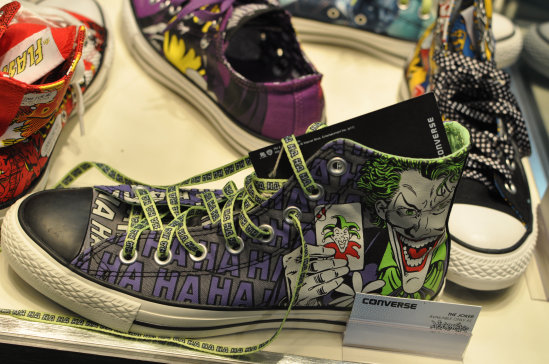 These new Converse sneakers featuring the Joker are pretty fantastic, right down to the "HA! HA! HA!" shoelaces.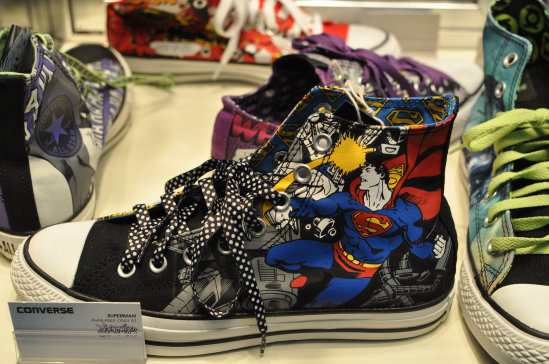 Due to the skin color, I thought it was Bizarro at first. I'm sure you can imagine my disappointment.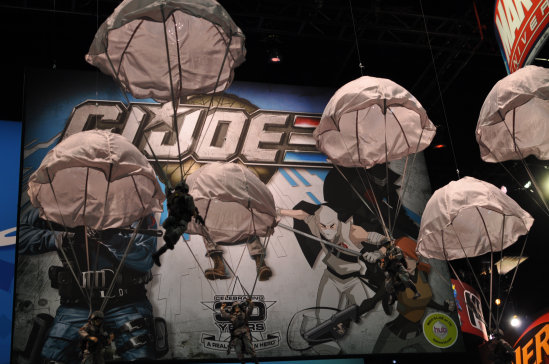 For their sakes, I hope those parachuters land before Storm Shadow slices them to pieces.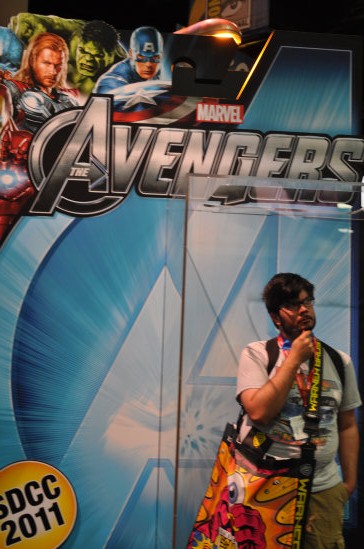 You too can become a human action figure at Comic-Con.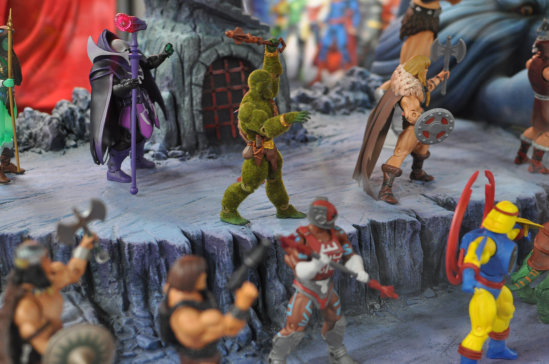 Another large Masters of the Universe display.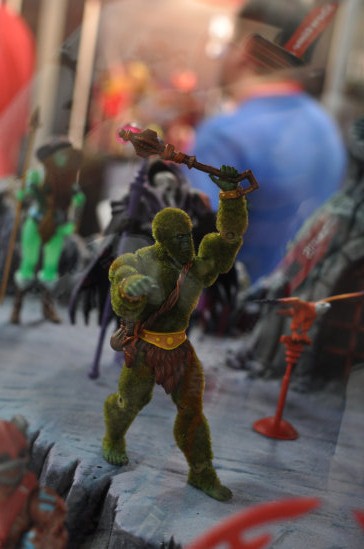 Moss Man looks almost simian here.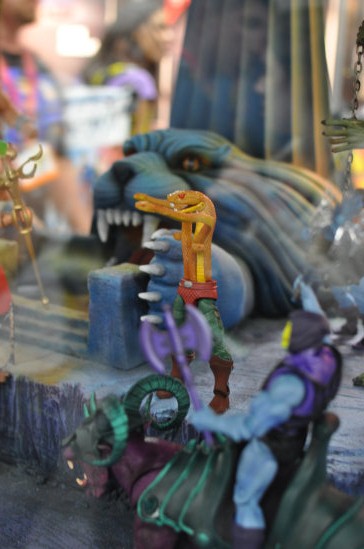 Skeletor and Panthor hanging out in Eternia.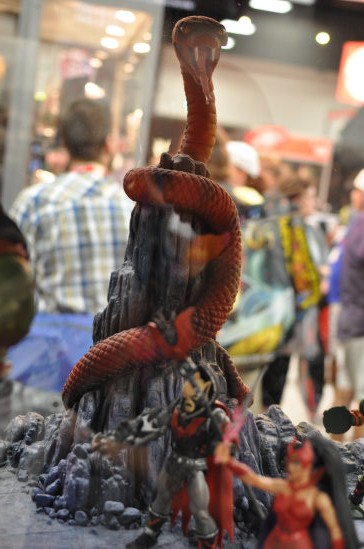 Ok, so Snake Mountain isn't exactly built to scale here. It's more like Snake Hill, but it still looks cool enough.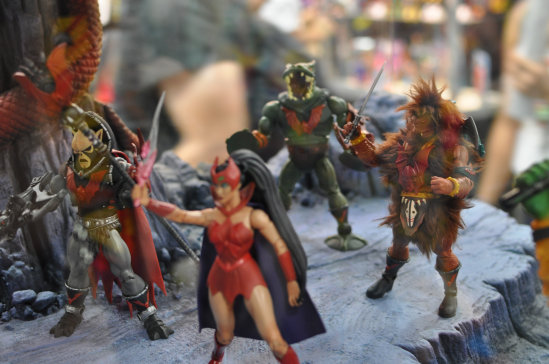 The Horde!
(note: if you want to quickly ruin your Grizzlor figure, just put him through the Slime Pit like I did as a child.)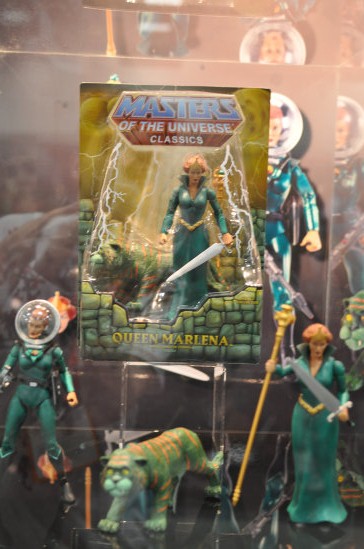 I don't recall Queen Marlena kicking much ass in the original cartoon, but she appears to be prepared for battle now.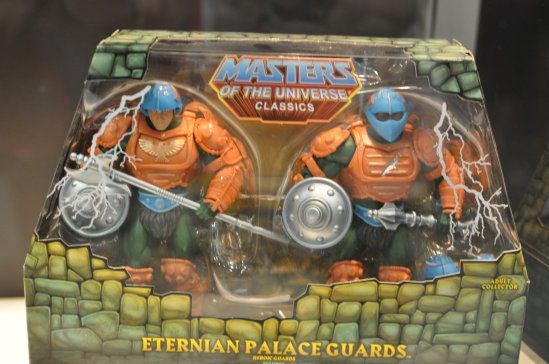 Eternian Palace Guards: the "red shirts" of the Masters of the Universe.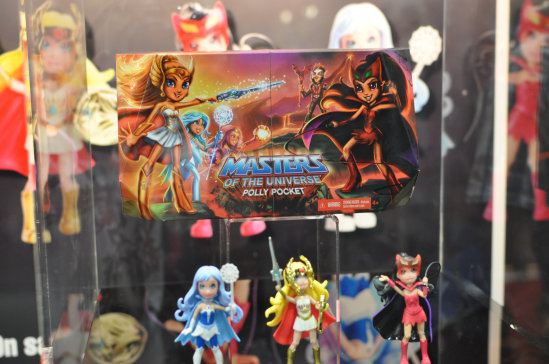 Never thought I'd see a Polly Pocket version of Masters of the Universe, but it certainly works for She-Ra.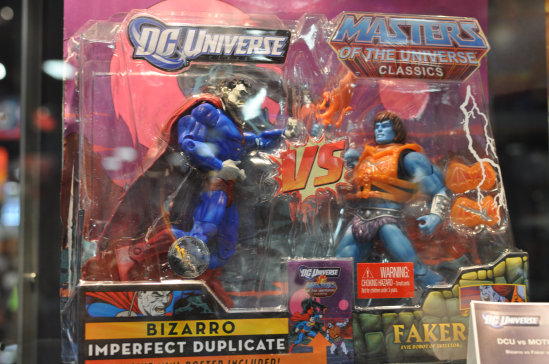 Bizarro vs. Faker? DC vs. MOTU? Awesome! My head asplode.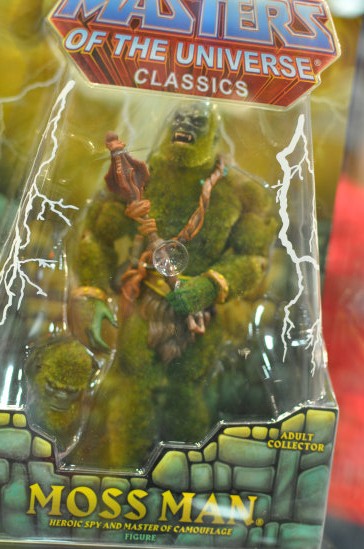 Now there's his normal head. Apparently you can switch out the simian one.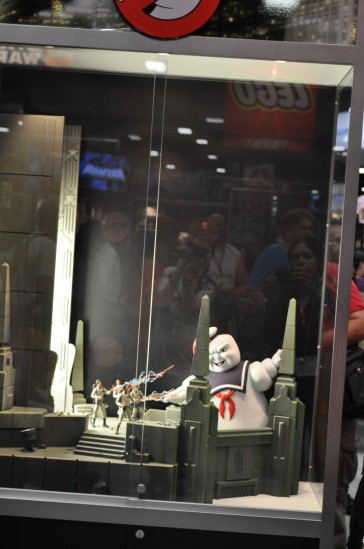 The Stay Puft Marshmallow Man scene was easily one of the best displays at Comic-Con this year.
There are still many more
2011 San Diego Comic-Con photos to see!
Click here to continue onward to page 2!
Jump to page:
[1] [2] [3] [4] [5] [6] [7] [8] [9] [10] [11] [12] [13] [14] [15] [16] [17] [18] [19] [20] [21] [22] [23] [24] [25]