by: -RoG-
They say a picture is worth a thousand words, but what words are worth a thousand pictures? Comic-Con. From humble beginnings way back in 1970 to the mega-media monstrosity that it is today, the San Diego Comic-Con has come one hell of a long way and it seems to get more packed every year. With Re, Nick, and Matt at my side along with some other great friends lending a hand, I-Mockery had its busiest year ever at Comic-Con BY FAR. Not only did we finally have the completed full version of Abobo's Big Adventure playable on a custom arcade cabinet, but we also had all of the "Four Seasons of Pixels" posters on display for the first time ever, including the debut of our new spring-themed one! In addition to that, we unveiled three brand new t-shirts and had a huge Abobo standee that towered over everybody as it stood atop our arcade cabinet, drawing in hordes of 8-bit gaming fans and more from far away. We were at the same location (booth #E10 in the 600 aisle) with some fantastic neighbors and I think it's safe to say we've found our sweet spot at Comic-Con. With all these distractions going on at our own booth, one would think we wouldn't have time to bring you another huge gallery of photos. Yes, I can see how one would think that... but one would be absolutely wrong.
Last year, I brought you guys a gallery of over 800 photos covering all the latest games, toys, and crazy costumes I came across at the 2011 convention. This year, our booth was more swarmed than ever before and we were insanely busy, but I'm happy to report that we still managed to snap over 500 photos from the 2012 convention. With that in mind, I hope you've got some time on your hands, because the photos are all spread out over 20 pages in this giant pictorial piece. As always, you won't find a larger collection of Comic-Con photos anywhere else online, so I hope it proves to be worth the wait once again!
We were extremely busy the entire time as people lined up to play the Abobo game, check out our merchandise, and of course... score some more free stickers & promotional cards. As busy as we were, whenever somebody left the table on a break, we made sure they left with a camera so they could capture footage of all the Comic-Con madness for you guys to see. Knowing how busy I was gonna be, I always arrived at the convention extra early every day before it opened to the public for the sole reason of walking around snapping as many photos for you guys as I could. Re took a ton of photos as well, so a huge thanks to her for getting some amazing shots throughout the week.
As always, it's my intention to help give those of you who weren't able to attend the Comic-Con an extremely in-depth look at what was there. In other words, if you couldn't attend the 2012 San Diego Comic-Con, viewing this gargantuan gallery of photos should be the next best thing. Once again, these pics are in no particular order... dumped onto the site from 3 different cameras and phones, so please excuse any similar/duplicate photos that appear in the pages along with varying image quality. I'm just unloading all of them on you along with a few comments about each one. Hope you enjoy 'em all!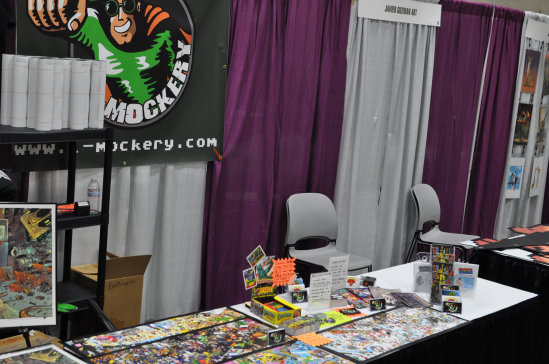 Finished setting up some of the merch, but still waiting on the shirts and our Abobo's Big Adventure arcade cabine to arrive.
Guess that means it's time to go exploring around the convention for a bit!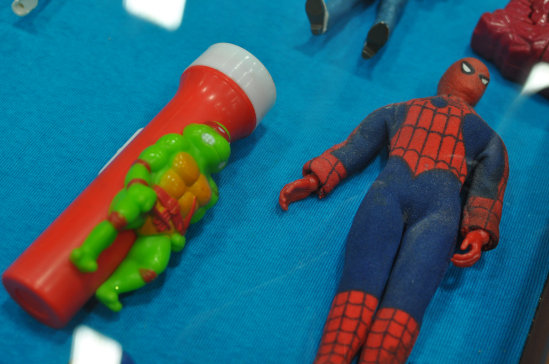 Spider-Man isn't interested in saving Raphael from being permanently affixed to a flashlight.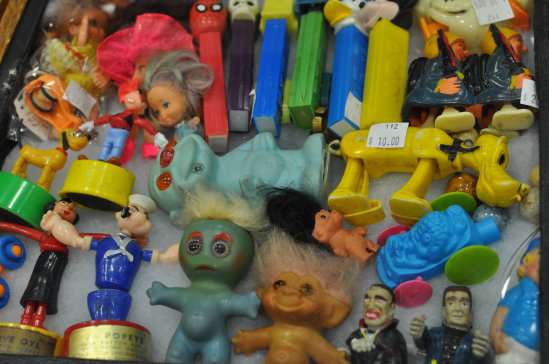 Pez dispensers, trolls, monsters, Popeye & Olive Oyl statues, and more.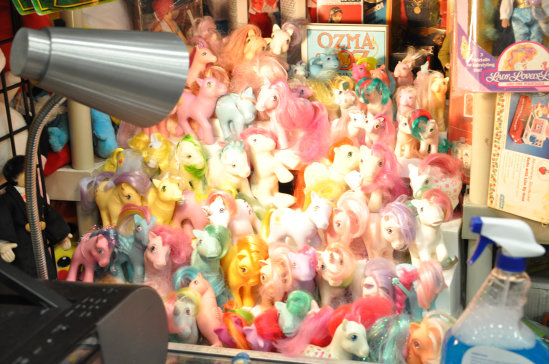 That looks like a fine way of melting a large collection of My Little Pony toys. Friendship is magic melting!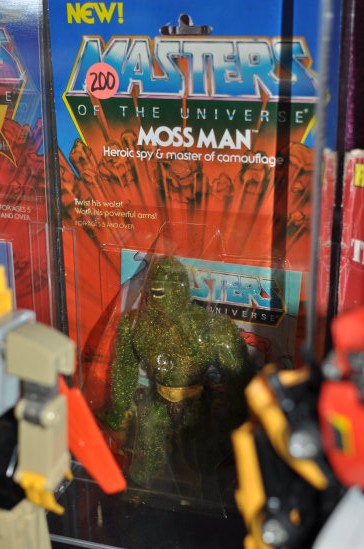 Moss Man in his original packaging! Anybody have $200 I can borrow?
Eh... it's okay. He's probably not worth that much.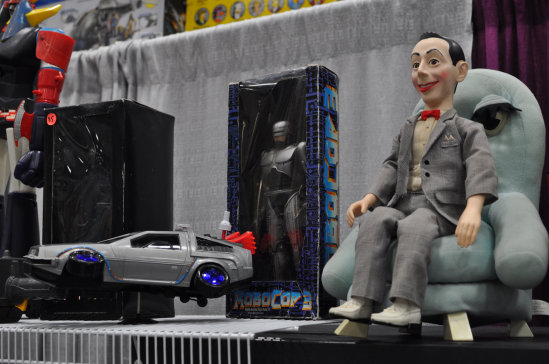 Pee-wee Herman, Robocop, and the DeLorean from Back to the Future.
Sounds like an awesome movie in the making to me.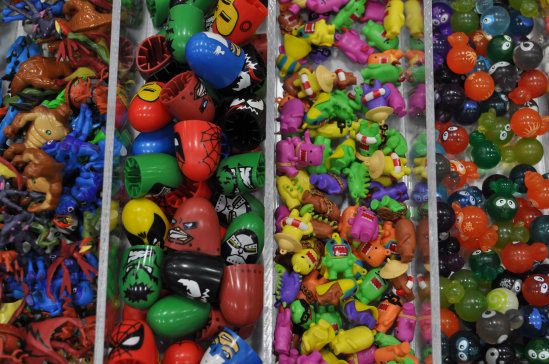 Miniature toys, including tiny Domo-Kun figures, were in abundance as well.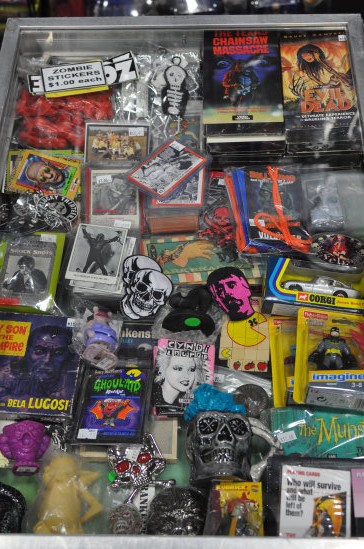 Horror VHS tapes, Cyndi Lauper trading cards, Ghoul-Aid packets, and more. What's not to love about this display case??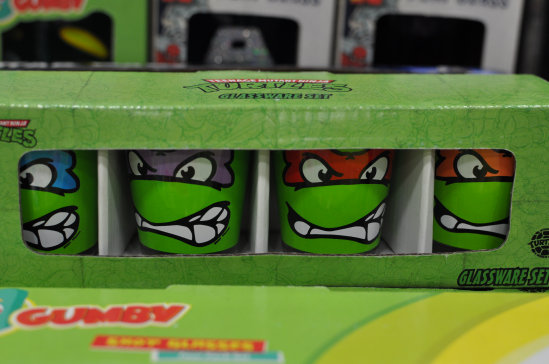 Teenage Mutant Ninja Turtle shot glasses for your booze... or ooze.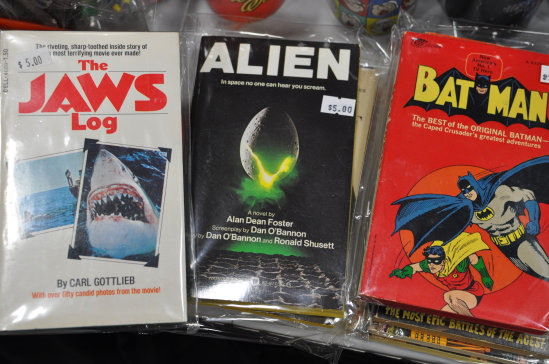 The Jaws Log, Alien, and Batman paperbacks. I heard the movies were better.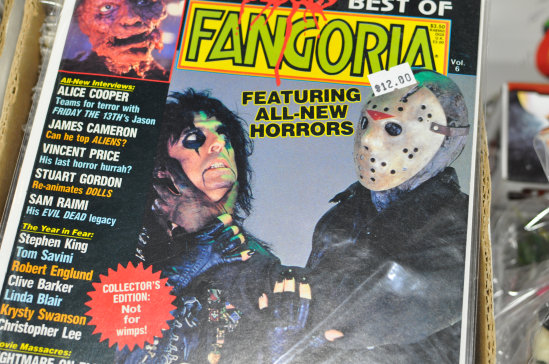 Jason Voorhees vs. Alice Cooper?
I love Alice Cooper 'n all, but my money is on Voorhees in this battle.

Super Naturals were an incredibly awesome toyline featuring ghost-like characters with hologram bodies.
They just don't make 'em like they used to.

Need a badass t-shirt? Comic-Con has you covered as always... though they're definitely overpriced at some booths.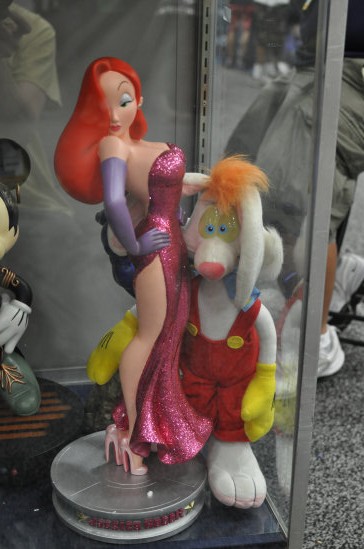 Roger and Jessica Rabbit. What, no other characters from the film? I guess they were put in "the dip".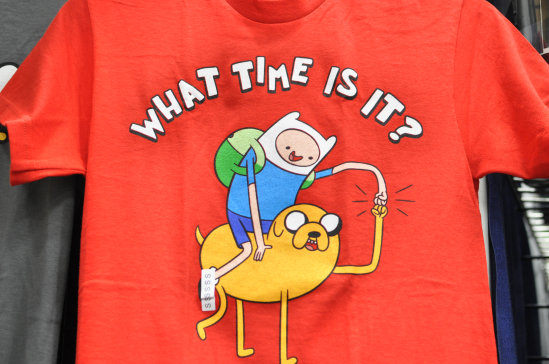 Adventure Time!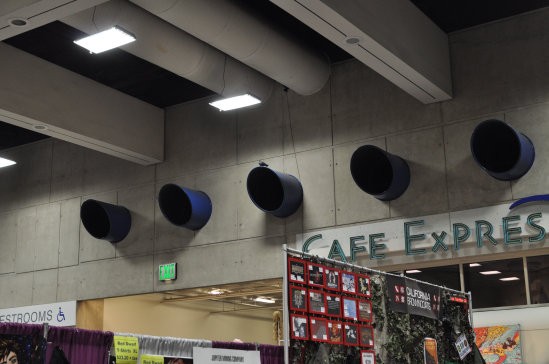 A pigeon made its way into the convention center and found a nice perch for itself right above the cafe. Smart!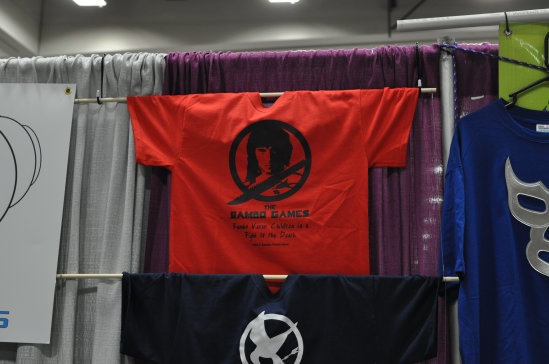 The Rambo Games > The Hunger Games.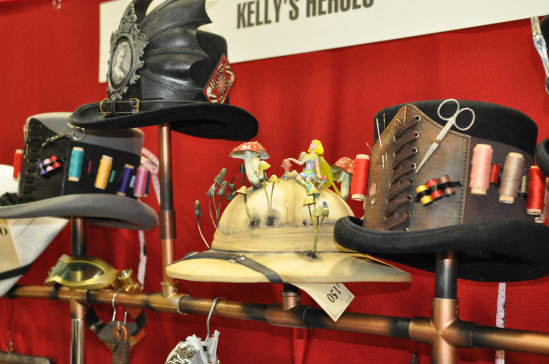 Steampunk attire is getting weirder every year. A safari hat with mushrooms sprouting from it? That's a new one to me.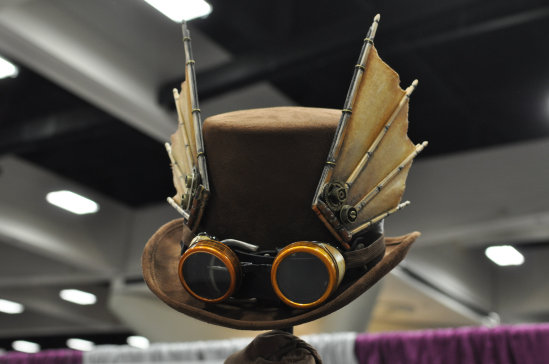 How about a hat that can fly?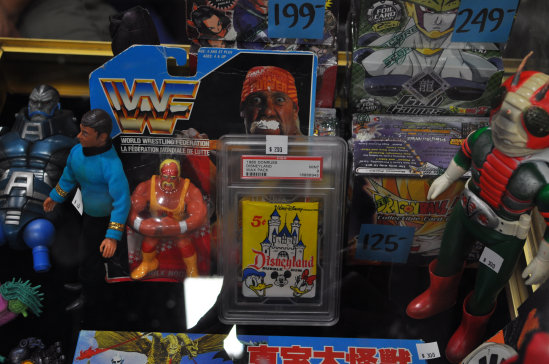 Bones from Star Trek, a Hulk Hogan WWF figure, Disneyland trading cards, and more.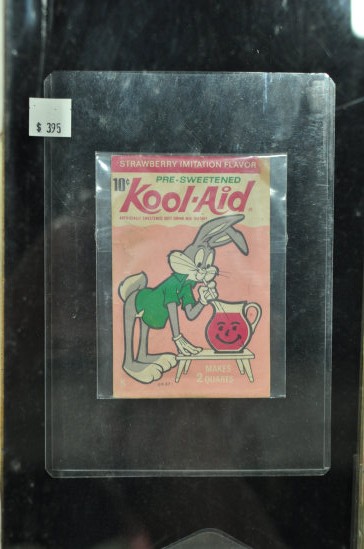 $395 for a packet of Kool-Aid? I can go to my local grocery store and buy one for only twenty-five cents.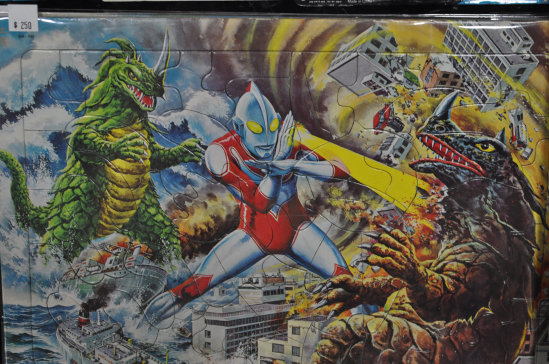 Ultraman kicking ass and taking names... and destroying entire cities in the process.
There are still many more
2012 San Diego Comic-Con photos to see!
Click here to continue onward to page 2!
Jump to page:
[1] [2] [3] [4] [5] [6] [7] [8] [9] [10] [11] [12] [13] [14] [15] [16] [17] [18] [19] [20]