by: -RoG-
We haven't heard from Count Pop for a few years now, and that's always far too long to wait for a glimpse of everybody's favorite monster superstar. After his last freaky flea market fright fiesta, Count Pop went on yet another intergalactic rockabilly tour, proving he's the biggest boppin' vampire in the entire universe. A music superstar who actually travels alongside all the stars in space. Being the only web site on the planet that he grants exclusive ongoing documentary rights to, Count Pop contacted us to let us know that he would be returning in grand fashion for Halloween 2012. When we asked him why, he said it was because he decided that more places here in Los Angeles needed to get into the Halloween spirit, and he was just the guy to help make that happen.
We're absolutely honored that he has chosen us to follow him around once more to document his excursion so everybody can see just how he spreads the Halloween cheers and fears to a city full of his peers. So we now proudly and humbly turn you over to Count Pop, just outside the staging grounds for his latest Halloweeny adventure. Take it away Count!
HOW'S IT GOING, MY HOOTIN' TOOTIN' HALLOWEEN HEPCATS!? IT'S YOUR OLD PAL, COUNT POP - THE MOST ROCKIN', BOPPIN', & POPPIN' ROCKABILLY VAMPIRE THIS SIDE OF THE TRIPPY DRIPPY MISSISSIPPI! I'M HERE WITH MY HAIRY HAMBURGER HELPER FROM HELL, WEREWOLF POP! TOGETHER, WE'RE GOING TO FIX THIS GRITTY CITY WITH A LIL' HALLOWEEN DECORATING DITTY! BUT BEFORE WE CAN DO THAT, WE NEED TO GO SHOPPING FOR SUPPLIES THAT PLEASE OUR EYES, THIGHS, AND ALL THE HALLOWEEN HEPCAT GIRLS 'N GUYS!
WE FOUND AN ENTIRE HALLOWEEN HEADQUARTERS STORE THAT YOU CAN BUY FOR JUST 99 CENTS! DON'T WORRY, WE'RE GENEROUS POPSTERS, SO WE WON'T BUY THE WHOLE STORE SO PEOPLE CAN BUY HALLOWEEN TREATS NO MORE! WE'LL JUST BUY SOME OF THE BEST DECORATIONS SO WE CAN MAKE THIS LOS ANGELES CITY LOOK KOOKY, SPOOKY, AND PRETTY!
HEY! BEFORE WE GO INTO THE HALLOWEEN HEADQUARTERS, DO YOU WANNA HEAR A JOKE? OF COURSE YOU DO!
QUESTION: WHERE DO BOPPIN' VAMPIRES LIKE GO TO SLEEP AT NIGHT?
ANSWER: AT HALLOWEEN BEDQUARTERS!
HAHAHAHAHAHAHAHAHAHAHAHAHAHAHAHAHA!!!!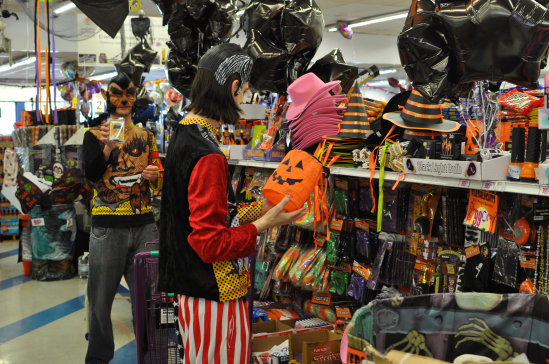 THEY SURE DO HAVE A LOT OF HALLOWEEN DECORATIONS IN THIS STORE! IF YOU DON'T HAVE HALLOWEEN DECORATIONS OF YOUR OWN, YOU CAN JUST BUY A TENT AND SET UP CAMP IN THEIR HALLOWEEN AISLE AND INVITE SOME POPTACULAR PEOPLE TO PERUSE YOUR PUBLIC PROPERTY! THAT'S A TIP FROM THE OL' POPSTER THAT YOU CAN TAKE TO THE BANK AND CASH IT IN FOR A MOUTHFUL OF CANDY CORN DELIGHTS - OR AS WE MONSTERS OF SPOOKTACULAR ROCKABILLY BOPS CALL 'EM - CANDY CORN DE-FRIGHTS!!!
DID YOU KNOW THAT ENTOMOLOGISTS ARE SENT TO 99 CENT STORES TO STUDY BAGS OF HALLOWEEN INSECTS BEFORE THEY'RE GIVEN THEIR ENTOMOLOGY DIPLOMAS AND CONGRATULATORY DISCOUNT COUPONS TO TO IHOP - THE INTERNATIONAL HALLOWEEN ODDBALL PALACE!?!? IT'S TRUE! RUBBERY CREATURES LIKE SPIDERS, CENTIPEDES, AND SNAKES GIVE THE OL' POPSTER THE JIMMY LEGS, THE SHAKES, AND THE QUAKES! NOW YOU KNOW HOW YOUR POPPIN' PAL PATENTED HIS POPULAR DANCE MOVES!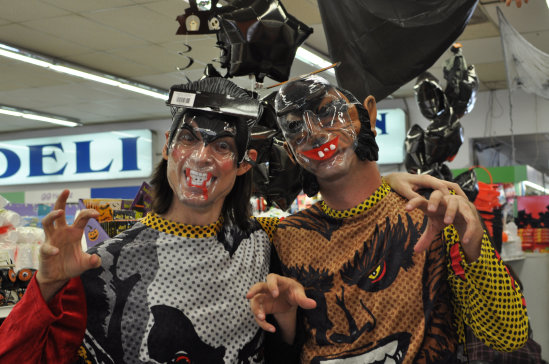 HEY CAN YOU GUESS WHO IS BEHIND THOSE TWO GROOVIE GHOULIE MASKS? I'LL GIVE YOU A HINT: ONE OF THEM IS THE MOST ROCKIN', POPPIN', BIGGEST, BOPSTER VAMPIRE TO EVER USE HUBBA BUBBA LIQUID MUMMY SLIME FOR AN EYEWASH... AND THE OTHER RHYMES WITH BAREWOLF SLOP! GIVE UP? IT WAS ME, COUNT POP, AND WEREWOLF POP ALL ALONG! REMEMBER WHAT THE POPSTER ALWAYS PROCLAIMS: TREATS ARE NEAT, BUT TRICKS GIVE THE REAL KICKS!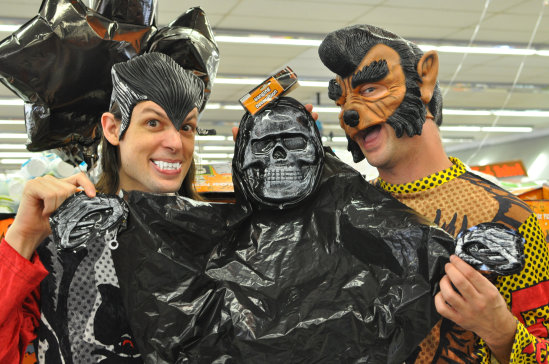 LOOK WHAT WE FOUND! IS IT A GHOST? IS IT A TRASH BAG? NO! IT'S BOTH! WE'RE HIPPITY BEEP BOPPIN' HAPPY TO HOST OUR NEW FRIEND 'TIL THE END, THE TRASH BAG GHOST! HE'LL MAKE A ROCKTACULAR DECORATION FOR SOME LUCKY LOS ANGELES LANDMARK!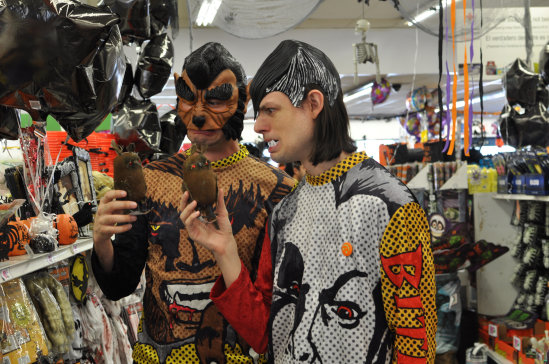 THE LOG LADY ON TWIN PEAKS ONCE TOLD ME THAT THE OWLS ARE NOT WHAT THEY SEEM! IF THEY ARE NOT WHAT THEY SEEM, THEN WHAT ARE THEY!?!? I ASKED THEM WHAT THEY WERE, BUT THEY JUST SAT THERE STARING BACK AT ME WITH THOSE RED EYES THAT LOOK JUST LIKE TASTY CINNAMON TRICK-OR-TREATS THAT THE POPSTER LOVES TO EATS! SEEMS TO ME THAT THE LITTLE BROWN OWLS ARE MUTES, BUT THAT'S OKAY, AS LONG AS THEY DON'T PUT THEIR SONY WALKMAN'S ON MUTE WHEN THEY'RE LISTENING TO COUNT POP'S GREATEST HITS ON HIGH DEFINITION AUDIO CASSETTE TAPES WHICH ARE THE LATEST TECHNOLOGY TO TAKE THE MUSIC UNIVERSE BY STORM WITH THE POWER OF THE FRANKENSTORM!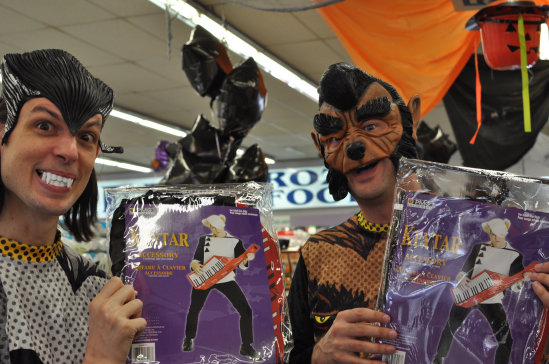 JUMPIN' JUBILICIOUS JACKPOTS! WE JUST SCORED THE GREATEST HALLOWEEN ACCESSORY DECORATION IN THE ENTIRE DOLLAR STORE! KILLER KEYTARS! AS YOU PROBABLY KNOW, THE POPSTER'S BAND CONSISTS OF 400 KEYTARISTS AND A POPTASTIC PLATYPUS-MAN THAT I MET AT A SIDESHOW CIRCUS WHO PLAYS A MEAN JAW HARP!
DID YOU KNOW THAT THE ART OF THE KEYTAR DATES BACK ALL THE WAY TO 1592 WHEN THE SAMURAI CREATED THEM TO LULL THEIR ENEMIES INTO A TRANCELIKE STATE BEFORE THEY WOULD STRIKE THEM DOWN! MOST BOPSTERS AND POPSTERS DON'T KNOW THEY WERE SUCH DEADLY WEAPONS, BECAUSE NOWADAYS THEY'RE SIMPLY CELEBRATED AS THE GREATEST MUSICAL INSTRUMENTS IN THE HISTORY OF HISTORY! STILL, IT'S GOOD TO KNOW WHERE THEY CAME FROM! YOU LEARN SOMETHING IMPORTANT EVERY DAY WITH COUNT POP!!!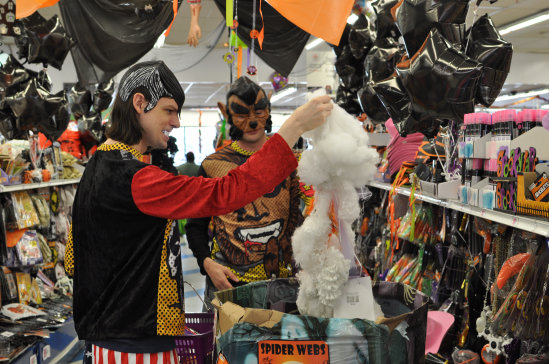 WHAT'S BETTER THAN ROB SCHNEIDER DRINKING APPLE CIDER FROM A HANG GLIDER? A GIANT VAT OF WEBS MADE FROM SOME SUPER SPOOKY KOOKY SPIDERS! LOOK AT ALL THIS STUFF! THERE'S EVEN SOME ORANGE COBWEBS IN THERE! THAT HAPPENS WHENEVER A SPIDER DRINKS TOO MUCH ORANGE LAVABURST FLAVORED HI-C. IT'S THEIR FAVORITE DRINK, BUT IT TURNS THEIR WEBS ORANGE. THAT'S OKAY THOUGH, BECAUSE THE SUGAR IN THE WEBS ATTRACTS OTHER BUGS SO THE SPIDERS END UP HAVING SOMETHING ELSE TO SNACK ON! DOUBLE THEIR PLEASURE, DOUBLE THEIR FUN!
THERE WAS A SCENE IN "POLICE ACADEMY 5: ASSIGNMENT: MIAMI BEACH" WHERE TACKLEBERRY GOT TANGLED UP IN AN ORANGE SPIDER WEB, BUT THEY CUT THE SCENE AND REPLACED IT WITH HIM TELLING A SHARK TO LEAVE THE SWIMMING AREA NOW MISTER! YOUR POP PAL HERE THINKS THE DIRECTOR SHOULD HAVE COMBINED THE TWO SCENES SO THE SHARK GOT TANGLED UP IN THE ORANGE SPIDER WEB AND TACKLEBERRY HAD A GOOD LAUGH ABOUT IT WITH ALL THE OTHER OSCAR WINNING ACTORS FROM THAT GREAT MOVIE!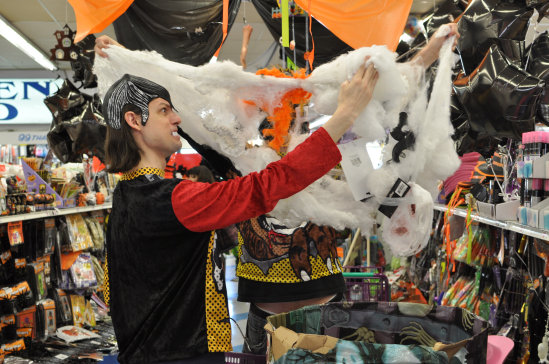 THESE SPIDER WEBS SURE DO STRETCH OUT! IF YOU HAVE A HAPPY HOBO PAL WHO IS COLD ON THE STREETS WITH NO ROCKABILLY BEATS, YOU CAN GIVE HIM A SPIDER WEB BLANKET TO WARM HIS BONES AND SQUELCH HIS MOANS SO HE HAS THE STRENGTH TO CALL A CHUM ON THE PHONE AND GET A LOAN! REMEMBER KIDS, THESE WEBS AREN'T JUST FOR CELEBS!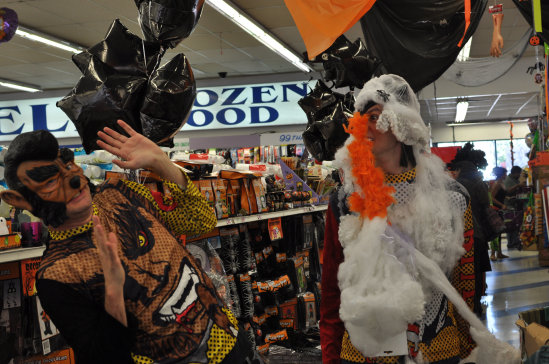 THEY'RE ALSO FOR INTERPLANETARY SUPERMODELS WHO WANT TO SHOW THE UNIVERSE JUST HOW POPTACULAR THEIR SENSE OF HALLOWEEN FASHION IS! JUST LOOK HOW MUCH GROOVY OL' WEREWOLF POP LOVES IT!
I THINK WE HAVE PLENTY O' PERFECTLY POPLICIOUS HALLOWEEN DECORATIONS! LET'S CHECK OUT NOW BEFORE THEY DECIDE TO HANG OUR HANDS AND FEET FROM THE CEILING! OH WAIT, THOSE AREN'T REAL! I BET THEY'RE JUST AIR FRESHENERS! IT'S IMPORTANT TO KEEP YOUR AIR FRESH YOU KNOW! SOMETIMES THE AIR LIKES TO CHOW DOWN ON A BIG BAD WOLF BEAN BURRITO AND WASH IT DOWN WITH SOME CLAM CHOWDER! WHEN THE AIR HAS A MEAL LIKE THAT, IT'S BEST TO HAVE AN AIR FRESHENER HANDY! NOTHING SMELLS FRESHER THAN SEVERED LIMBS DANGLING FROM YOUR CEILING! LOOK AT ME! OL' COUNT POP IS STILL PUTTING MARTHA STEWART TO SHAME AFTER ALL THESE YEARS OF CHEERS AND FEARS!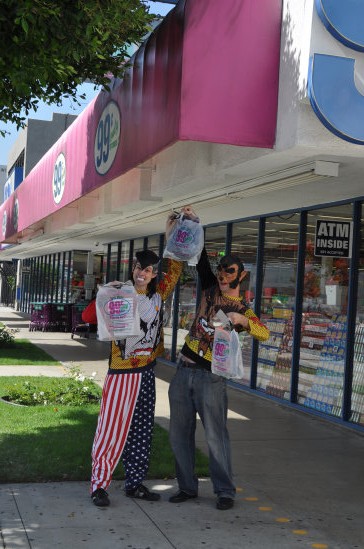 ALRIGHT! IT'S TIME FOR A DAY OF PLAY BEFORE A NIGHT OF FRIGHT! WE HAVE OUR PREMIUM HALLOWEEN DECORATIONS THAT ANY OTHER PLACE WOULD CHARGE 1.76 TRILLION DOLLARS FOR, SO YOU KNOW WE HAVE THE TOOLS AND ROCKABILLY MOJO TO TURN THIS CITY OF LOS ANGELES INTO THE CITY OF LOS HALLOWANGELES! SO GET READY HALLOWANGELES, BECAUSE YOUR FAVORITE POP IS OFFICIALLY READY TO BOP!
Oh but there's still much more!
CLICK HERE TO CONTINUE TO
PAGE 2 OF COUNT POP'S STORY!