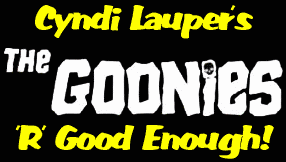 by: -RoG-
Man, just typing out Cyndi Lauper's name brings a flood of great 80's memories back to me in an instant. With her kooky hairstyle(s) and clothes, she truly embraced what the decade was about... kooky hairstyles and clothes. Then there were her hit songs. "Girls Just Wanna Have Fun" made many a guy wish they could be a girl... and through extensive surgery, some of those guys later achieved that dream. "Time After Time" showed us how sad it can be for a gal to leave her hubby... even if he is a bum living in a trailer park. And, "She-Bop" was an instant classic as it had kids dancing and singing along... not knowing it was a song about masturbation. Good times, good times...
These songs and others proved that Cyndi Lauper was one of the most interesting musical personas to come along in ages. Still, I can't help but feel that one of her songs has been overlooked. Her "Goonies 'R' Good Enough" tune is easily, in my opinion, the best song she ever created. Insanely catchy and it was the theme song for one of the greatest movies ever, The Goonies. Yet, when you ask most people about their favorite Cyndi Lauper song, they don't even remember this one. Even worse, most people haven't seen the SPECTACULAR two-part video that was created for it. An all-star cast of actors, wrestlers, and even hibachi chefs makes this video a must-see. So kids, take your J-Lo videos and shove 'em up your ass... cuz it's time for a look at what REAL music videos are made of.


"HE KNOWS WHERE THE TREASURE IS!"
Her "Mom & Pop's Gas Shop" was being forced to close, and "them cheatin' creditors" were about to slap them with an eviction notice. Captain Lou Albano looks at a large picture of "Great, Great Grandfather Captain One-Eyed Pegleg, Booze-Guzzlin' Mean Lou Albano". If that isn't the greatest pirate name in history, I don't know what is. Anyway, Lou talks to the photograph explaining that if he only knew where his great pirate grandfather's secret treasure was, he could pay off the creditors and save the gas station.


FREE COOKIES WITH GAS. FREE COOKIES!!!
Yes folks, you read correctly. "Free Cookies With Gas". As you can imagine, this video made every future stop for gas in my life a complete let-down, for I have NEVER received free cookies at a gas station. Next, a big limo pulls into the station and they're all excited about getting some filthy rich customers. The limo is extra cool, because it has the same schnazzy lift-up doors that you'd find on a DeLorean. But who is in the limo? Why it's Rowdy Roddy Piper, one of the evil creditors! But there's more!
It looks as though he's got Cyndi's family in a camel clutch, because he's come to personally deliver the eviction notice. That bastard sheik doesn't care about the little guy, he just wants to expand his empire and wear ridiculous looking boots... all at the cost of "Lazy Americans".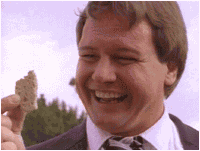 COOKIE!
Piper laughs at the free baked cookies and tells Cyndi's mom, "Now why don't you go inside and bake yourself a suitcase!" I swear I'm getting flashbacks of "Piper's Pit" every time he makes one of these cracks.

Captain Lou gets pissed, and soon enough him and Piper are in one of their infamous unintelligible verbal disputes, shaking their heads ferociously. Piper tears off Captain Lou's "smiley face" button and compares it to his own "sad face" button. He then tosses the smiley face to the ground and stomps on it. I'm guess that the message here is that we're witnessing a true battle of Good versus Evil. Or maybe a true battle of hippies versus manic depressives? It's hard to say...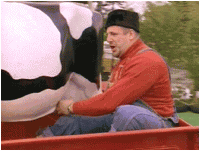 MILKY MILKY MOO MOO!
As if Captain Lou, Rowdy Roddy Piper, and the Iron Sheik weren't causing enough of a ruckus, Nikolai Volkov (the Iron Sheik's old tag-team partner) appears in the back of a pick-up truck, pretending to milk a fake cow and singing the Russian national anthem. Once again, I'm sure there's a deep message behind this somewhere, but I'll be damned if I can figure it out. But why stop there? Let's throw some more absurdities into this musical mix of mayhem!


HIBACHI CHEFS!
From out of nowhere, a group of hibachi chefs wheel their table in front of the free cookies stand and begin to work their hibachi magic. Why hibachi chefs? Your guess is as good as mine. We then get a quick glimpse of the gas station's slogan, "You haven't had GAS until you've had Mom & Pop's". Now, I'm not really one for buying into advertising slogans... but considering what we've already witnessed, I'm inclined to believe every word of this one.

Next up, Cyndi feeds the fake cow some milk while Nikolai has his head polished by one of the other attendants. Unfortunately, this sale isn't going to be enough to save the station, for Captain Lou and his wife are already packing up the place. I'm not sure, but I think I saw a few tears dripping from his rubber bands. :(

Cyndi goes inside to start packing up more of their things, and to her shock, she finds a hidden cave behind the picture of "Great Great Grandfather Captain One-Eyed Pegleg, Booze-Guzzlin' Mean Lou Albano". God, I love saying that name. Great Great Grandfather Captain One-Eyed Pegleg, Booze-Guzzlin' Mean Lou Albano! Ok, I'll stop. This brings up an interesting question though. Did they not notice the cave when they originally hung the picture up in the station? Well, when you have hibachi chefs running rampant about your station, I suppose it's easy to overlook such things. Without any light or spelunking gear, Cyndi bravely enters the amazingly well-lit "hidden" cave.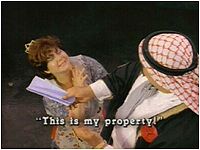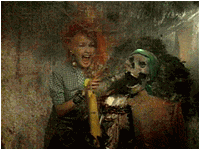 Back outside, Cyndi's mom pleads with the Iron Sheik but he just laughs in her face and proclaims, "this is my property!" Maybe if she complimented his infamous curved-toe boots, he would have mercy on her? Nah, I doubt it, he'd probably just kick her a few times for the hell of it. Cut back to the cave, Cyndi comes upon a (literally) hair-raising pirate skeleton who loves to sing. After she, and her hair, are done freaking out for a good 30 seconds, she grabs the map from the skeleton and moves onward.

Then all of a sudden Cyndi runs into The Goonies. They're all standing in a cave, each with one of the letters from "Goonies" on their shirts. Andy is not in the video for some reason. Perhaps she took a ride up on Troy's Bucket after all eh? Stupid slut. Well, they gave her extra letter to Chunk, who now sports both o's in the "Goonies" name. Get it? He's fat, thus they figure he can fit 2 letters on his chest. Hilarious. No really!

Before they have a chance to really look over their treasure maps, they are ambushed by a green sea hag and evil pirates! But these aren't just any pirates, it's Rowdy Roddy Piper and the gang, all dressed up in pirate gear!

Apparently, they didn't have a big enough budget to hire some extra actors, so now these wrestlers are playing the roles of bloodthirsty creditors and bloodthirsty pirates. Yes, they are existing in two places at once, but you and I will just pretend we didn't notice that, ok? So, they capture all of the Goonies, but Cyndi escapes and runs off deeper into the cave. Of course, the Iron Sheik is still outside having fun smacking around Captain Lou's wife with that eviction notice. He's a class act, that sheiky one.
Being the brilliant pirates that they are, they ask a skeleton where that wench, er... Cyndi Lauper is. I guess it was a magic skeleton, because it was kind enough to tilt its head in her direction. So where was she hiding?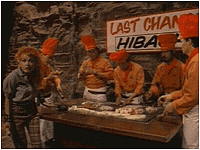 AT THE LAST CHANCE HIBACHI GRILL!
Those crazy Japanese chefs will do anything to reach a potential customer... this apparently includes setting up shop deep inside a hidden cave. Hey, ya gotta appreciate that kind of dedication.

Cyndi what? Lopa? Oh, another stereotype. Awesome. I'm not sure what that guy said before "Cyndi Lopa", but I'm pretty sure he's pissed that she ate some hibachi food without paying for it. But, she's gonna pay alright... she's gonna pay!


"Save me Steven, save me!"
As you can see, Cyndi is trapped on the same infamous log from The Goonies where the Fratelli brothers slipped and smashed their crotches. Quite possibly the most memorable crotch-smash of all time. Unfortunately, there are no crotch smashing scenes in this music video. Cyndi cries out loud begging for Steven Spielberg to tell her how to get out of this mess. Then Spielberg appears, mullet and all, only to tell her that he has no ideas. Judging by his recent films, I'm not surprised.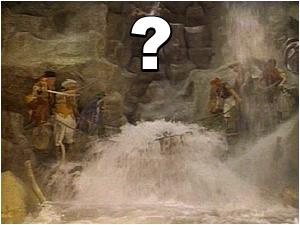 Will Cyndi get out of this jam or is she about to be sent to a watery grave? Well, back in the 80's we had to wait for MTV to air part 2 of this video... but you lucky spoiled little bastards only have to click to go to the next page to see what happens.
CLICK HERE FOR PART 2 OF CYNDI LAUPER'S
"THE GOONIES 'R' GOOD ENOUGH" VIDEO!
---
help support I-Mockery by supporting our sponsors:

---
Running a big site like I-Mockery takes a lot o' time and costs moola too.
Want to help show your support?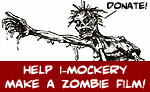 DONATE TO OUR ZOMBIE MOVIE!
Come talk about this piece & more on our Message Forums!