Who let the dogs out? No seriously, who the hell let them out? I buried all five of 'em in the back yard last month, and yet here they sit at my doorstep, begging for a bone. Why can't they eat each other's bones anyway? After all, that's all that's left of 'em at this point. I swear I... oh... heh... hello there. What's that you say? You're here for a story? Who the hell are you to come to my house and make demands of me!? HUH!? Well, since you've already dragged your muddy (and bloody) shoes in here and ruined my fine carpet, I might as well tell you a story. Last time, myself and the other I-Mockery staff members abducted your brains with another Halloween "Select Your Destiny" story, "Video Game Voodoo!" This year, we've got another story for ya. But this isn't gonna be one o' them fancypants stories where everything is hunky-dory and everybody is all starry-eyed 'n completely in love with one another. No. This here is gonna be a story that will make you wish you were never born so your life wasn't one long build-up to hearing about such an atrocity. Don't like the sound of it? Tough. You're in my house and I've locked all the doors and boarded up the windows, so sit down, shut up and listen!
For those of you who are unacquainted with these stories, allow me to give you a quick refresher on how these "Select Your Destiny" things work. YOU get to determine what happens to your character in the story. For example: if you choose to have your character "try to win a staring contest against the angry-looking swordfish" and it ends up killing you, it's your own damned fault for making such a stupid decision. If you haven't already read them, you might also want to check out some of our previous "Select Your Destiny" stories from yesteryear in our Halloween Collection.
This year, we've returned with a story so agonizingly brutal to your brain that it will cause you to feel claustrophobic in an open field on a beautiful summer day. Why did you volunteer for this? Do you enjoy anguish? Do you crave suffering? Is whistling while you work simply not enough to help you get through the day? Seriously, what's wrong with you!? You must be one of those truly screwed up people who thinks they can actually derive pleasure from pain. Well, if that's true, you're in for a whole lot of pleasure because this story jam-packed to the brim with pain! It's time for you to dive headfirst into our 2009 "Select Your Destiny" Halloween masterpiece...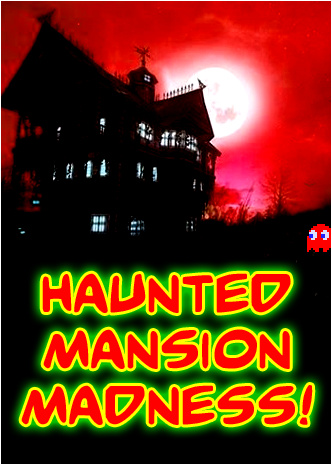 "HAUNTED MANSION MADNESS!"