by -RoG-
America. A country that yearns for glee. We want to be hap-hap-happy all the friggin' time. So how can we possibly be happy all the time? Well, we look for a thing called "closure" when it comes to any of the bad things in our life. Right now they're out hunting for that Osama Bin Laden bad guy, because his capture/death will be "closure" for many of the families of the September 11th attack victims. Well, I've never been big on the concept of closure. I'm sentimental about everything, whether it was good or bad. Unpaid parking tickets and bills? Sure it might be nice to have "closure" on them, but I'd rather just keep them here and not pay them off. I'll enjoy the sentimental feelings that swell up inside me when I look back on a parking ticket from 5 years ago.

So what does any of this have to do with G.I. Joe? Well my friends, even I must admit that there are SOME things in my life that do need closure. There were plenty of events in my childhood that left their negative mark on me in one way or another. But there is one moment in "G.I. Joe: The Movie" that really cut me to the bone.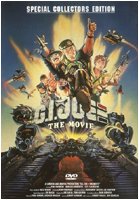 A great movie with one severe problem.
The moment I am referring to is of course when Duke ALMOST got killed. I don't think I've ever met a single person on earth that ever really liked Duke. I can't think of anything redeeming about Duke. In fact, you know what? I always have and always will hate Duke with a passion. Maybe he was just too much of a "whitebread goodie goodie" for my tastes. "Maybe there were better people suited to be the leader of the G.I. Joe forces. Maybe he was secretly operating an underground giraffe sex ring. Whatever my reason for hating him may be, it doesn't really matter. What matters is that he didn't die when he should have... when he was supposed to die! So allow me to recap the G.I. Joe movie for you to explain my disgust with Duke's near-death experience.

THE BEST MOVIE INTRO EVER!
First off, the G.I. Joe movie starts off with what is probably the best intro to a movie you will EVER see: The huge battle that takes place on the Statue of Liberty between G.I. Joe and Cobra! I can't even begin to count how many times I've replayed just that intro alone! And the music, my god the music was perfect! "Armies of the night, evil taking flight! COBRA (COBRAAAAAAAAA!) COBRA! (COBRAAAAAAAAA!)" It doesn't get much better than that folks. So with an amazing intro like that to start off the movie, we all knew we were in for one hell of a time. Basically the movie is all about how Cobra wants to get a hold of the "B.E.T." (Broadcast Energy Transmitter or Black Entertainment Network? We may never know.) in order to ripen a bunch of spores in outer space that could fall to earth and turn all of us into mindless zombies. The kind of thing that seemed perfectly reasonable when we were kids. Well, it still seems perfectly reasonable to me, but I've got issues.

Anyway, Cobra and the Joes battle throughout the movie until one big scene where Cobra bring the "Cobra La" (also known as "Cobra La La La La La La La!") to join them in the fight for the BET. The Joes got their asses beat by the Cobra La in this battle. Cobra gets the B.E.T., but that doesn't even seem to matter. Why? Well, Serpentor fights with Falcon, another character I never liked whose voice was done by Don "Miami Vice" Johnson. And just when he's about to kill Falcon with one of his poison snake javelins, Duke steps in to "save the day"...
---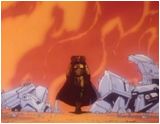 Uh oh, Serpentor looks PISSED!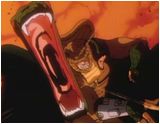 "DIE ARROGANT EARTH SCUM, DON JOHNSON! THIS I COMMAND!"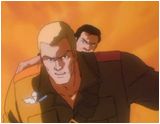 "Don't worry Falcon, even though I hate you and your
cocky attitude, I'll take a snake in the heart for ya!"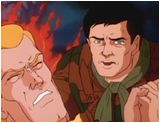 "Duke, you dumb honkey you! You forgot to leave Scarlett
in your will! That's the only reason she was sleeping with you!"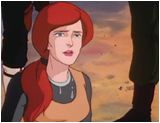 "You mean I slept with that idiot all for nothing!?!?"
---
YES!!!!!!!!!!!!!!!!!!!!!!!!!!!!!! DUKE IS DEAD!!!! RIGHT????? WRONG!!!!!!!!
Although Duke took a poisonous snake javelin RIGHT THROUGH HIS HEART, he is NOT dead. Apparently in the world of G.I. Joe, not only do soldiers fight with weapons that shoot pink lazers, but when you have a poisonous snake jammed through your heart... it doesn't kill you. It just puts you in a temporary coma. Great, that's just fuckin' great. I tell you what, you bring me the guy who did the voice for Duke (for all you trivia freaks who are dying to know, it was Michael Bell) and I will shove a poisonous snake directly through his heart and we'll see if he lives or goes into a coma. Do we have a deal?
And even if it wasn't a snake through the heart, if Duke and Serpentor just got in a fight, who do you think would win? Serpentor was the genetic product of some of the worlds most deadly people. Duke was probably the genetic product of his unemployed, white trash father on a lonely night with a little too much whiskey and an abused daughter. Serpentor clearly had the advantage here folks. Duke would have died one way or the other in the movie. Besides, any idiot that would take a snake in the heart for a hotshot jackass like Falcon DESERVES to die.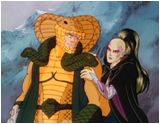 Serpentor.
He had the outfit and the attitude that got him all the exotic women.
He could also beat Duke's sorry little "All-American" ass.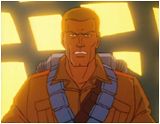 Duke.
"Golly Gee, I could sure go for some 'All-American' apple pie!
Did I mention I have raging hemorrhoids? YO JOE!"
Well the truth is, Duke was originally supposed to die. According to the editor/writer Buzz Dixon: "We were aiming for a PG rating, and I finally got permission from Hasbro to do something we had never done in the series: Kill off a character. Since Duke and Lt. Falcon were going to be revealed as half-brothers, and since Duke was being phased out of the toy line, I decided to kill Duke off as the final impetus that turns Lt. Falcon into a real Joe (Falcon, btw, was originally supposed to be General Hawk's son). The scene was animated and, if you watch the visuals and don't listen to the soundtrack, it's obvious Duke dies."*

That's right folks, Duke really should have died. But a lot of parents complained to Hasbro when they killed off Optimus Prime in the Transformers movie, so Hasbro decided that the G.I. Joe movie had to be edited so that Duke didn't die. We were denied the death of Duke simply because Hasbro didn't have the balls to ignore a few whiny parents and kill off an annoying character that they were phasing out anyway. Pfft!

Well, in the end of the movie the good guys win, because there's no way in hell that the writers were gonna let the bad guys prevail. Us kids just couldn't deal with a "hard blow" like that now could we? I don't know about you guys, but when I was a kid I was SICK of seeing G.I. Joe always winning every single battle against Cobra! But even worse, we find out towards the end of the movie that Duke was coming out of his coma and he was gonna be A-OKAY!

Zippity frickin doo dah! Duke is gonna be A-OKAY! Boy, that really makes my day. You know what? I've had it. I can't look back on that movie anymore without doing something about this. The time has come folks. The time has come to KILL DUKE. And since they let him live in the movie, I'm gonna have to kill him myself. This might be the only way you and I will ever get any closure on this issue. So I now proudly present to you, THE DEATH OF DUKE:
---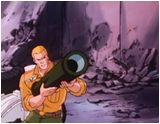 "Say guys, do you think I could fit this cannon up my ass?"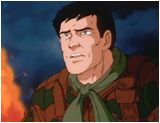 "Oh god, he's doing it again. I think I'm gonna vomit."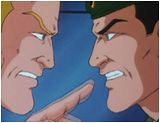 "Listen mister! When I say I can fit that cannon up my ass, I mean it!
Don't believe me? Well I'm gonna prove it right here and now!"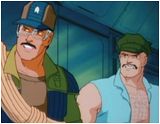 "That's it Duke... we've had it with your constant bullshit!"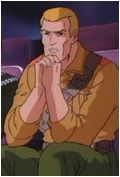 "Dear lord, please show them that I'm really a great guy. An 'All-American' buddy!
Show them that they don't need to kill me, but instead wish they were keen as I am!"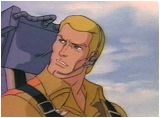 "I mean really! I used to be a Telemarketer! People love me!"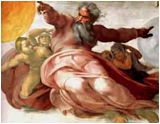 "Shut the hell up you annoying, ass-kissing, little prick! Nobody likes you!
In fact, once you're dead even I'm gonna kick your ass too!"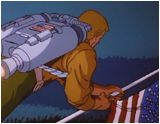 "Hey, that's not nice, Lord! I'm gonna go fly the American flag
around our country to raise everybody's spirits. Then maybe
we can all learn to love and care for each other! YO JOE!"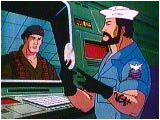 "Chill my bones with Davy Jones! I just found one of Duke's CD-ROM
discs and it's loaded with child pornography! That bastard must pay!"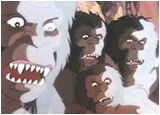 "RAARRR! MONKEY PEOPLE ASK DUKE FOR BANANA! DUKE NO GIVE US BANANA!
DUKE GIVE MONKEY PEOPLE BLOCKS OF SOY! BLOCKS OF SOY TASTE BAD!
DUKE MAKE MONKEY PEOPLE MAD! MONKEY PEOPLE WANT TO KILL DUKE! RAARRR!"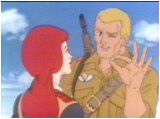 "My 'Little Mr. Winky' is THIS big! Impressive, huh Scarlett? YO JOE!"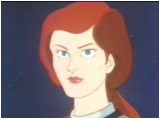 "Enough is enough! Snake Eyes, will you PLEASE kill Duke for us?"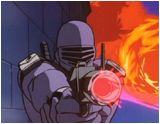 "GLADLY! You know Duke, I've been a mute all of these years.
I kept my mouth shut when I saw you and those poor, helpless farm animals.
I looked the other way when you sold those nuclear missiles to Iraq.
But now, I just can't take it anymore. I'm coming out of "mute-hood" to tell you this:
YOU ARE ONE DEAD HONKEY SON-OF-A-BITCH!
*BLAM!* *BLAM!* *BLAM!*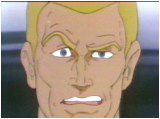 "EUNGH! What the!? Snake Eyes! You blew 3 huge holes right in my chest!
Say, it kinda tingles like the time I let a goat lick my...*THUMP*"
---
YES! IT HAS BEEN DONE. YOU SAW IT HERE FIRST.
I HAVE KILLED OFF DUKE. WE NOW HAVE CLOSURE!!!
Whew, that felt damned good. Now, on one last semi-unrelated side note, was it me or did the real-life Sgt. Slaughter not look NEARLY as buff as the one in the G.I. Joe cartoon? I'll let you decide for yourself...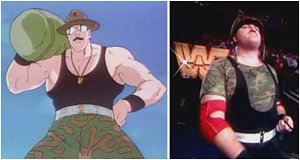 One is strong, chiseled, and ready to kick ass.
One is a flabby WWF guy that wears military attire.
Guess which is the REAL life Sgt. Slaughter!
---
WANT SOME MORE G.I. JOE HUMOR? NO PROBLEMO!
CHECK OUT THE LOST PUBLIC SERVICE ANNOUNCEMENTS!
---
Running a big site like I-Mockery takes a lot o' time and costs moola too.
Want to help show your support?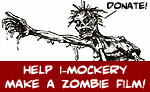 DONATE TO OUR ZOMBIE MOVIE!
Come talk about this piece & more on our Message Forums!
click here for more minimocks!

---


[Minimocks] [Articles] [Games] [Mockeries] [Shorts] [Comics] [Blog] [Info] [Forum] [Advertise] [Home]


Copyright © 1999-2007 I-Mockery.com : All Rights Reserved : ()
No portion of I-Mockery may be reprinted in any form without prior consent
We reserve the right to swallow your soul... and spit out the chewy parts.