by: -RoG-
Good ol' Dokken. What a name! Founded by Don Dokken, Dokken (the band) was a major influence in the 80's heavy metal scene, and while they weren't as blatantly reliant on "glam" as bands like Poison, they were often still unjustly lumped together in the same genre. Dokken had plenty of hit singles such as "Into The Fire" and "The Hunter", but for my money, it doesn't get any better than the titular "Dream Warriors" single they released in 1987 for the A Nightmare on Elm Street 3: Dream Warriors movie soundtrack. The third Elm Street film has always been a fan favorite (my personal favorite is the fourth in case you were wondering), and I'm sure having Dokken peforming its theme song didn't hurt matters.
In addition to horror movies, this was also a great time to be watching MTV before it became a bastion of bad reality shows. Freddy Krueger was definitely MTV's favorite horror icon, and he'd host various specials on there from time to time. Well, sure enough, Dokken wanted in on some of that Freddy fandom, so they made a video for their "Dream Warriors" single and you couldn't turn on MTV without seeing it at least five times in a 24 hour period. And for some kids, who weren't allowed to go to the theaters to see such a scary film like Elm Street 3, MTV's music videos were the next best thing. Let's not forget, for all of its modern faults, this is still the network that introduced us to some of our favorite classic horror-themed music videos including Michael Jackson's "Thriller" and Rockwell's "Somebody's Watching Me".
To kick off our 2008 Halloween season here on I-Mockery, I want to take a closer look at Dokken's "Dream Warriors" music video. It brings back many memories for me, particularly all the good ones from when Freddy-mania reaching its zenith.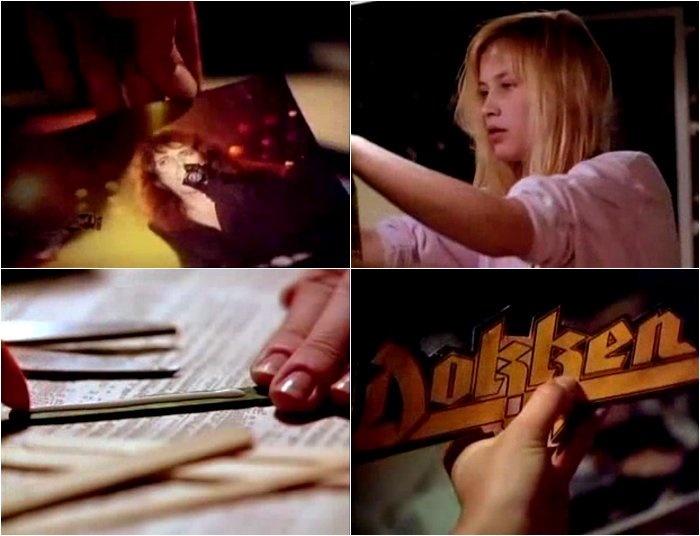 One thing you could count on with any music video from this era was, if the song came from a movie soundtrack, the video itself would have plenty o' footage from the movie itself. Dokken's "Dream Warriors" video was no exception to the rule, but they did find a way to have some fun with it. Rather than just show a hamfisted mix of the band performing and clips from the Elm Street film, they reworked it so that the two seemed to go hand in hand.
As you can see above, it starts off with the star of the third Elm Street film (well, other than Freddy), Patricia Arquette in her first role, as Kristen Parker. Just like in the third film, she's up late at night doing some arts and crafts to help her stay awake... because we all know what happens when she falls asleep. Only different is, in this video, she's not just pasting together old popsicle sticks... she's clearly using some Dokken fanzine materials as well! But to build what?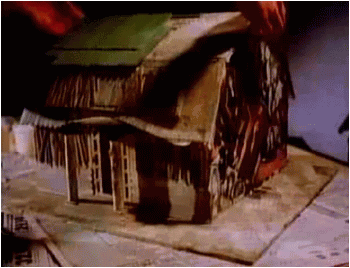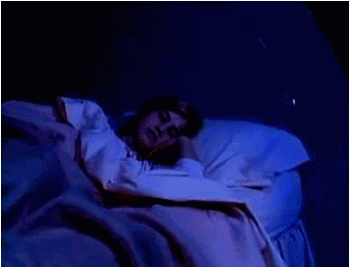 Oh shit! It's the house that FreddyMetal built! Man, that would've given the Elm Street movies a completely different feeling if the cameras swooped around to the back of Freddy's actual house only to reveal that it was adorned with nothing but Dokken memorabilia.
Well, it seems as if building that Dokken house wasn't exciting enough, because the next thing you know, Kristen is sound asleep in her bed. But in the dream world, she can only remain at peace for but so long before Fred... er... the thrash-o-rific guitars of Dokken awaken her from her slumber! Naturally, she awakes to find herself at Freddy's front door with some kids singing that infamous "One, two... Freddy's coming for you." nursery rhyme.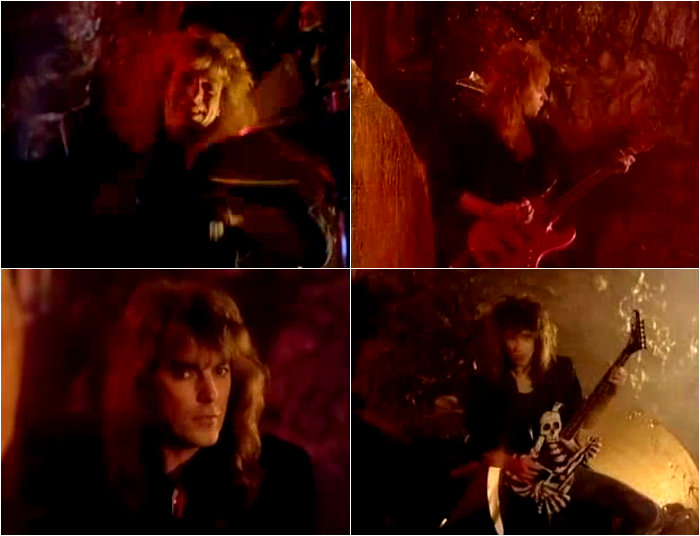 As Kirsten makes her way up into Freddy's house (or "Crib" for all of you kids who've had the unfortunate displeasure of growing up on post-90's MTV), we get our first glimpse of Dokken's band members. I particularly like how they show one of the little girls and they do a crossfade to the face of Don Dokken as he sings, "I lie awake and dread the lonely nights!" He already looked effeminate enough back then, was cross-fading him with a little girl on a tricycle really necessary? Apparently so. Gotta love that skeleton guitar (skulltar?) as well...rock them bones, Dokken! They also appear to be playing in some sort of underground lair... but isn't that where all metal bands come from? Heavy metal bands aren't born... they're mined and then brought to the surface.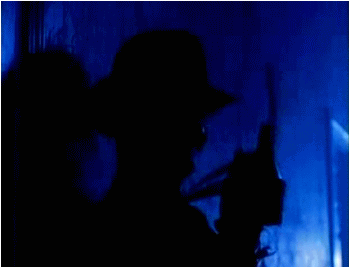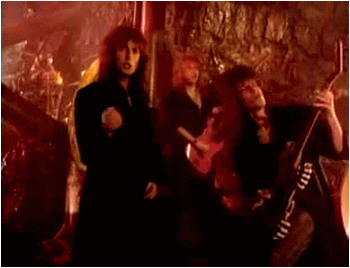 Once Kirsten is inside his house, we finally get a real glimpse of Freddy... albeit a shadowy one of him making one of his typical "come hither" gestures with his razor-fingered glove. And that's right about when Dokken kicks into the rockin' chorus, "We're the dream warriors, don't wanna dream no more! We're the dream warriors, and maybe tonight... maybe tonight youll be gone!"

Can you feel the metal? Can you feel it coursing through your veins? Do you feel them bones on that fine axe shaking you to your core? Can you picture long romantic walks on the beach with guitarist George Lynch as he makes pouty faces at you to show just how emotional he really can be underneath all that hair? I bet you can... oh yes, I bet you can.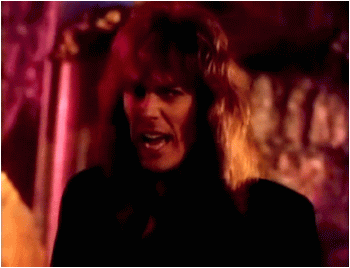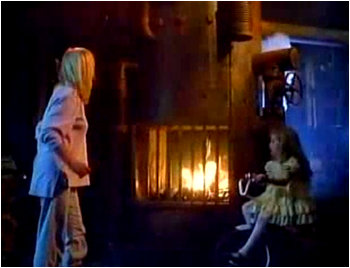 And speaking of emotion, look at the raw, unadultered FURY of Don Dokken. I sure hope he's on Kirsten's side, because if he's not, she should probably worry more about him than Freddy. Think about it. If you were being stalked by two people, one named Fred and one named Dokken, who would you be more fearful of? DOKKEN. That's who.
Anywho, down in Freddy's basement/boiler room, Kirsten and the tricycle girl look into a piping hot furnace and as the flames rise we see not just the charred bodies of his many child victims but...

...Dokken's drummer pounding away on his bones! Kirsten can do nothing but look on in horror as he smashes those drums while the fires of hell continue to burn around him. Why? Because he's a dreeeeeeeaaaam waaaaaarioorrrrrrr!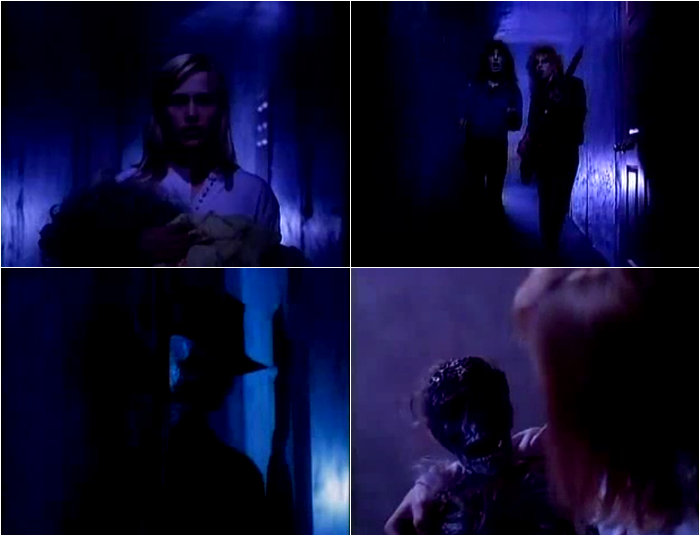 The little girl then informs Kirsten that "Freddy's home..." so she picks the girl up and makes a run for it, only to be stalked in a shadowy hall corridor by Dokken's two lead men. The horror... THE HORROR! We also see Freddy peek out for a quick laugh as Kirsten notices that the little girl she was carrying has now turned into a burned lil' skeleton. Guess this means she's not fit to work in a daycare center.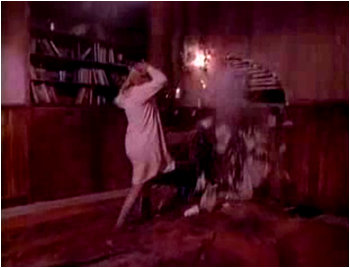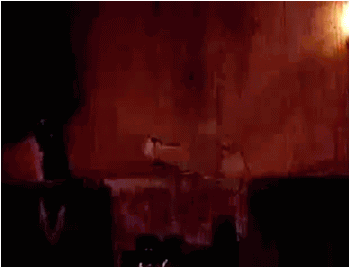 Next, we cut to what is probably the most famous scene from Elm Street 3, when Freddy takes on the shape of a giant snake and tries to eat Kirsten. Only difference is, in Dokken's music video, it's not a giant snake that comes bursting out of the wall to scare the hell out of her... it's George Lynch and he's here to rock her world with a slashtastic solo!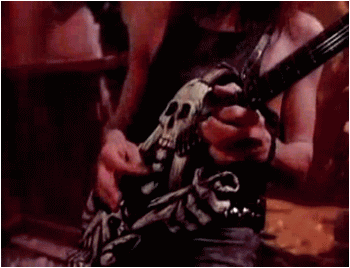 My favorite thing about the solo, other than the fact that he just came bursting through the drywall, is Kirsten's gradual acceptance of it as being awesome. At first, she looks completely bewildered and possibly nauseated by George's solo, but by the end of it, she's all smiles and he continues to blaze away on them bones. Well, she's all smiles until...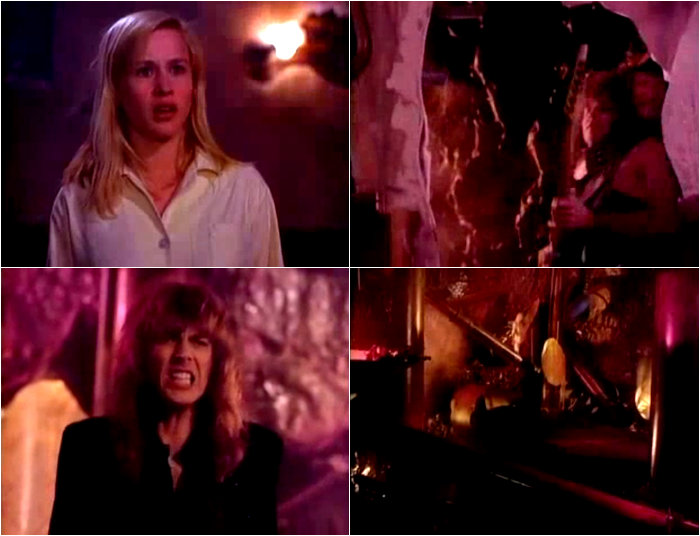 Freddy pulls him back into the wall! Oh no! Somebody save him from Freddy so he can live to thrash again! Come on Dokken, use your metal powers!Now Kirsten has made her way down to the cave-like area, which looks a lot like the place where Freddy had Joey suspended over a firepit by those nurse tongues in the actual movie. Seems like a perfectly good place for a final showdown, don't ya think?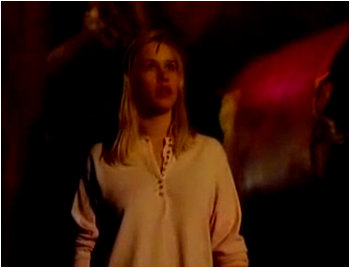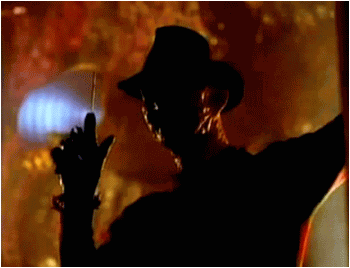 And there he is, all four fingers of gory razored glory, and he's ready to collect another soul. But before he can cut Patricia Arquette's acting career short, he's gotta go through a more powerful force than Nancy or Alice or any Elm Street movie heroine he's ever faced before! He has to go through the ultimate powerhouse...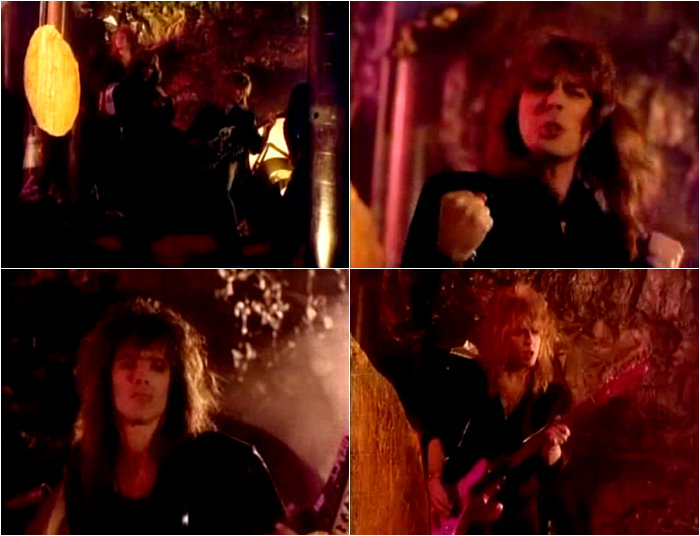 DOKKEN!
It looks like George somehow escaped Freddy's claws, because he has rejoined the band and is rockin' away. I guess what they're trying to say here is that, when separated, the band members of Dokken can't defeat Freddy... but when their powers are combined? They are indestructible. No! Wait! They're more than indestructible... they're DREAM WARRIORS!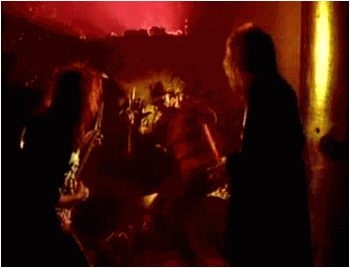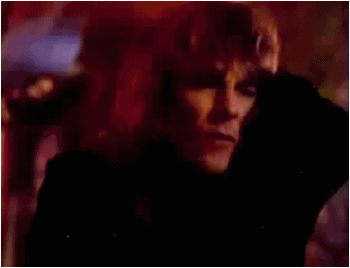 With all the hair-flinging, fist-pumping emotion he can muster, Don Dokken's high-pitched shrills bring Freddy to his knees! He may have metal on his fingers, but Freddy's simply no match for the real metal mastery of Dokken! Try to cover your ears all you want Fred... there's no way you're gonna block out this heavy metal storm!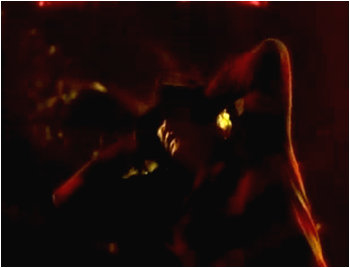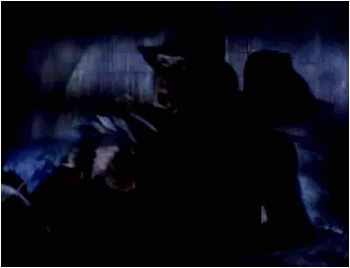 Sounds like one hell of a dream for Kirsten eh? Well guess what? It wasn't her dream at all! It was Freddy's dream! Yeah, you heard me right... FREDDY HAD A NIGHTMARE! I know, I know... I just blew your miiiiiiiiiind maaaaaaaan. But that's because I'm a Dream Warrior too. Foreverrrrrrrrrrr, foreverrrrrrrrrrrrrrrrrrrrr!!!!
Have any questions or comments about this piece?
SHARE YOUR THOUGHTS IN THE READER COMMENTS SECTION BELOW!