Being in Los Angeles for over a year now, I had heard lots of good things about Universal's "Halloween Horror Nights" event from last year. This year, however, they were stepping things up quite a bit by creating three brand new mazes that were tailored to three of the biggest horror icons: Freddy Krueger, Jason Voorhees and Leatherface. Experiencing the bloody worlds of three of my favorite horror movie monsters all in the same night? When I was given press access to the opening night at Universal Studios, you can imagine how quickly I jumped at the opportunity to see how well they could bring these big screen baddies to life here in the real world.
What I didn't expect was the addition of the Eyegore Awards "Scaremoney" taking place on that same night. I was notified that this event would be hosted by none other than Michael Berryman and they would be honoring a variety of people who've worked in horror movies. Michael Berryman alone was more than enough to get me to head out to the red carpet for the start of the awards show, but there was a whole lot more going on that night as you'll soon see.
The following pages contain over 100 photos from both the 2007 Eyegore Awards "Scaremoney" and "Halloween Horror Nights" at Universal Studios in Los Angeles. For those of you who couldn't be there, this should give you a really good idea of everything that went on that evening and hopefully it will inspire you to make a trip out this October to check out "Halloween Horror Nights" for yourself. Believe me when I say that it's definitely an event no horror fan should miss out on!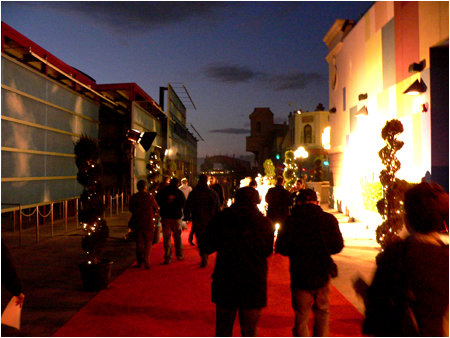 As we headed down the red carpet to the press area, it was already getting dark and the weather was just a bit chilly. It felt like we were back on the East coast again.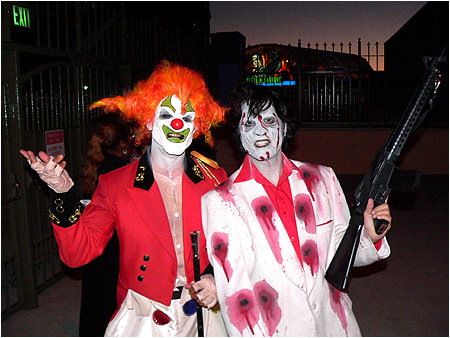 The Scarface Zombie and Jack were both there to welcome us at the gates.
And yes, I did say hello to his little friend per his request.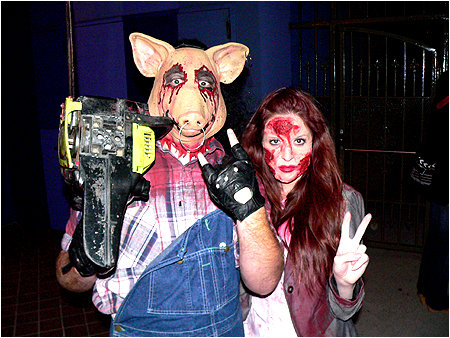 The psycho chainsaw pig is saying "rock on" and the zombie girl is saying "peace".
I'm not sure what their message here was.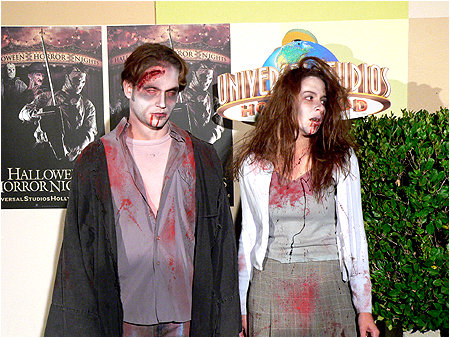 These two zombies did their best to entertain the press
while we waited for the celebrities to show up.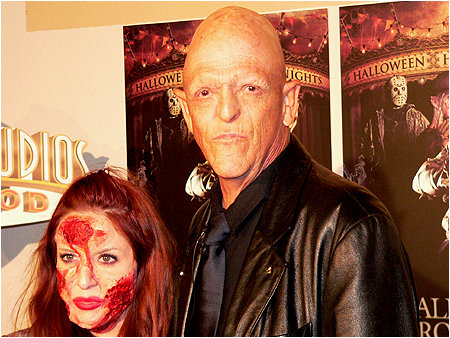 Michael Berryman is lookin' sheek!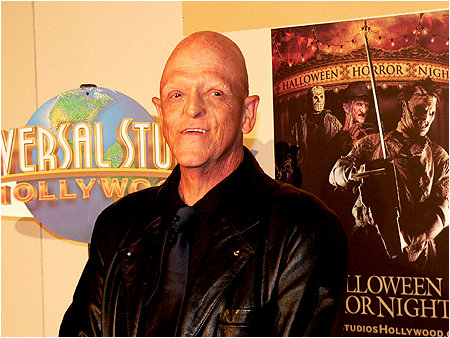 Michael Berryman is happy!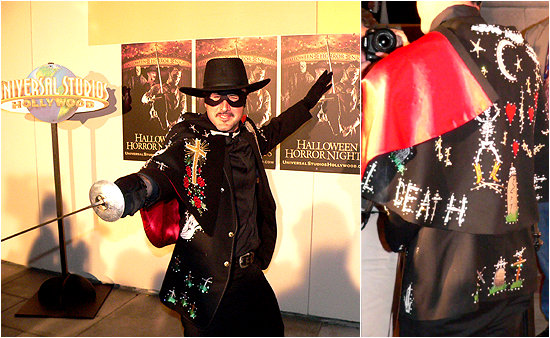 David Arquette showed up in a truly awesome Zorro outfit with a Day of the Dead
theme on it. I don't know who designed it for him, but I WANT THAT COSTUME.
Now being the only true journalist there who wasn't a member of the paparazzi hoping to get a nipple slip shot from one of the celebs, I asked them the questions that were really on everybody's minds. For example: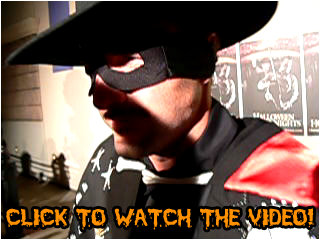 Click above to watch this video clip where I help everybody learn
the real inspiration behind David Arquette's "Zorro" costume!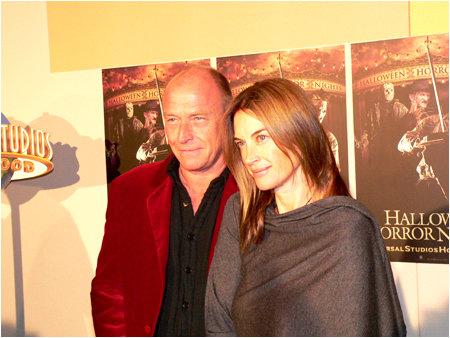 Corbin Bernsen (from The Dentist) and his wife Amanda Pays both showed up.
Corbin wasn't getting an award that night, but it was cool they both came.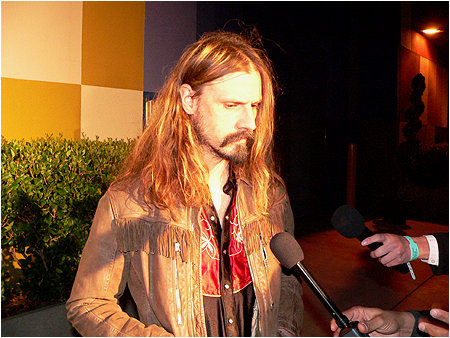 Rob Zombie was a happy camper as usual.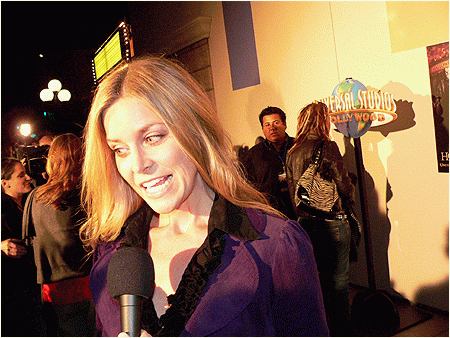 Sherri Moon Zombie made sure that we all knew she had long flowing blonde hair.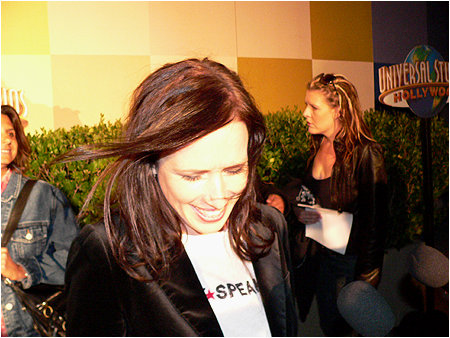 Shawnee Smith (from the Saw movies) had to be one of the friendliest,
most down-to-earth people at the entire thing. She also explained how her own
movies basically disgust her and she's scared to watch them because of the gore.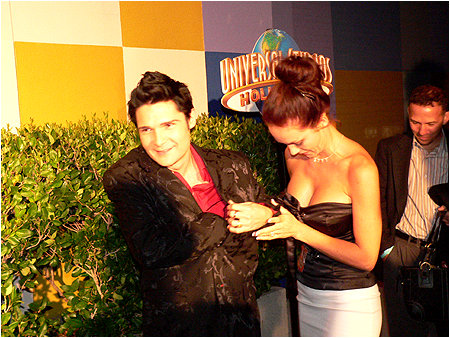 Don't worry ma'am, they're not falling out... yet.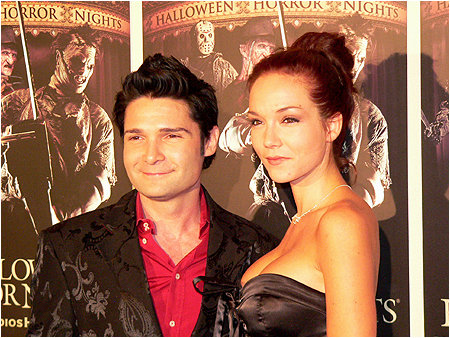 Corey Feldman and his wife Susannah Sprague seemed to be hounded by the press
the most. He was really nice about it though and was posing with all the fans for pictures throughout the evening, so kudos to everyone's favorite Frog brother!
Once again, I since nobody else would ask, I felt it was my duty to give Corey Feldman a tough question about what might have been the most important movie in his career thus far...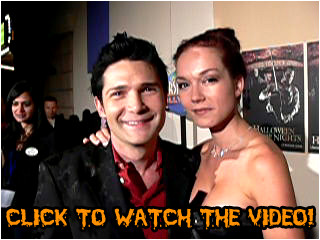 Click above to watch this video clip where I get Corey Feldman to
share his thoughts about how "Blown Away" was treated at the Oscars!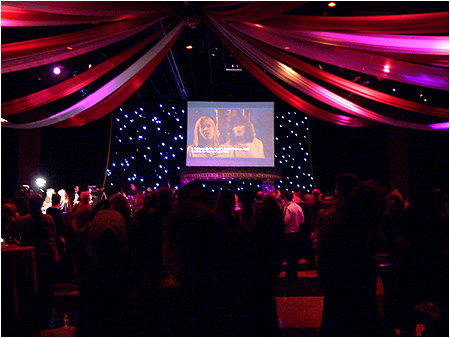 After the press was done getting their snapshots and interviews, we all made
our way inside for the Eyegore Awards "Scaremoney" show and the after party.
It was a real nice set up and they had a "circus freak" theme going on in the room too: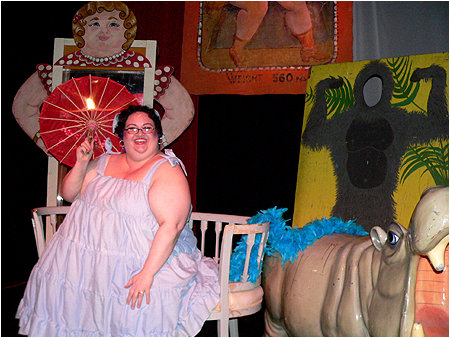 It's not over 'til the fat lady sings, and I'm glad she wasn't singing
because I was having way too much fun for this thing to be over with!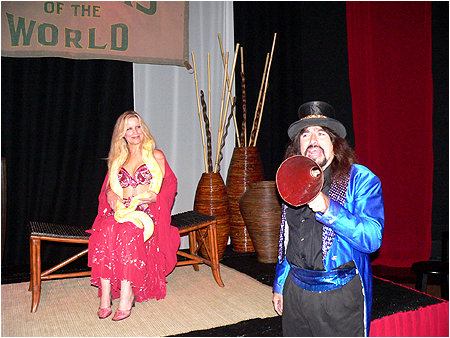 The snake lady!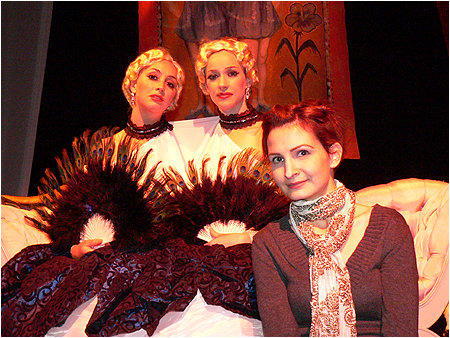 Re poses with the conjoined twins!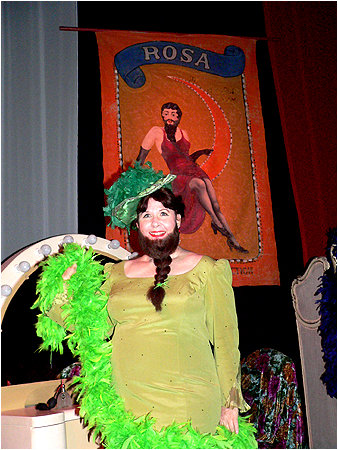 Rosa the bearded woman!
the only person there who shaves with both men's and women's razors.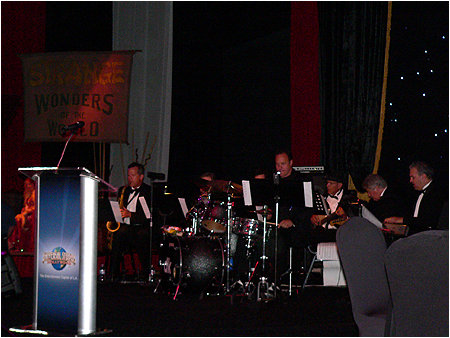 I know a photo of the house band isn't the most exciting thing to see, but I
had to include it simply because they played their own renditions of some classic
horror theme songs that were absolutely fantastic. I wish they had CDs of that
music to sell on hand because I would've been the first one in line to buy one.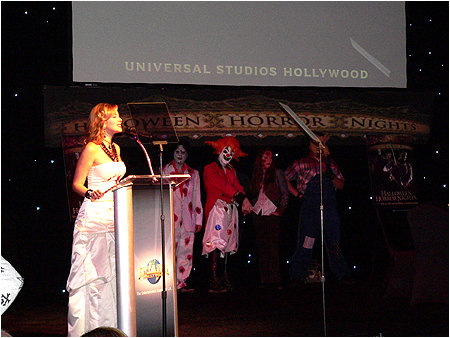 Some woman in an elegant gown provided a stark contrast to the horrific characters in the background as she introduced Michael Berryman as the first Eyegore Award winner.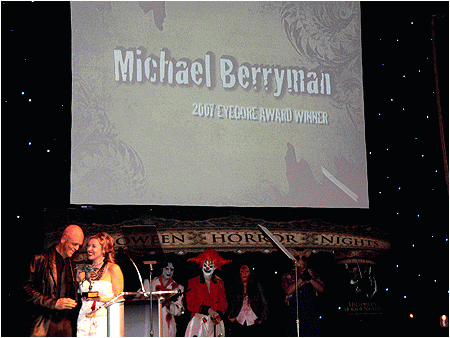 After receiving his Eyegore Award, Berryman prepared to head up the rest of the show.
Will blood rain down on all of us making
this simultaneously the most horrifying
and awesome awards show ever?
Click here to find out on page 2 of the
Eyegore & Halloween Horror Nights pics!
---
help support I-Mockery by supporting our sponsors:

---
Running a big site like I-Mockery takes a lot o' time and costs moola too.
Want to help show your support?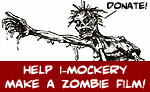 DONATE TO OUR ZOMBIE MOVIE!
Come talk about this piece & more on our Message Forums!