by: -RoG-
Universal's Halloween Horror nights has kicked off once again, but this go around they changed things up quite a bit. In more recent years, they've featured A Nightmare on Elm Street, Friday the 13th, and the Texas Chainsaw Massacre as their main attractions. For 2009, however, they've focused on a completely new line-up: Halloween, Child's Play, Saw and My Bloody Valentine. Definitely an odd mix of horror flicks to base your main attractions on to say the least, but the real question was could they hold a candle to the horror mazes of yesteryear? Well I guess you'll have to join me on this photographic tour of the opening night event to find out.
Before we get to those new attractions, we first had the chance to attend the 2009 Eyegore Awards and any of you who watched the most recent episode of Doc Mock's Movie Mausoleum saw some our interview footage from the red carpet. We spoke with a variety of people in "the biz", including the legendary make-up and effects guru Rick Baker who was receiving an award that night. So take a look at this photo gallery of what went down at the Eyegore Awards and then join me for a tour of the all new mazes of Universal's Halloween Horror Nights!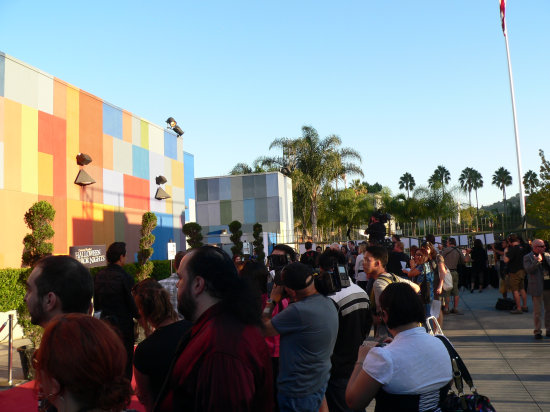 Members of the press await the arrival of the various celebrities.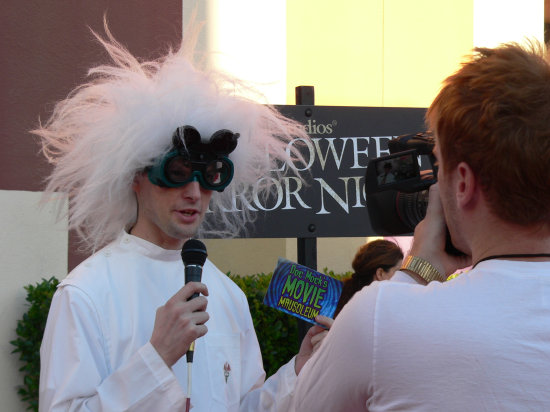 Doc Mock introduces people to Universal's Halloween Horror Nights.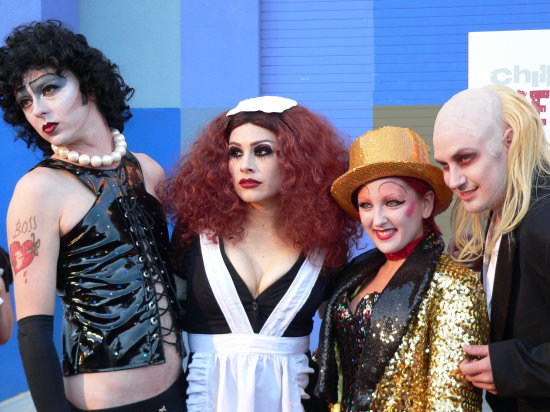 Members of Rocky Horror were wandering around the red carpet the entire time.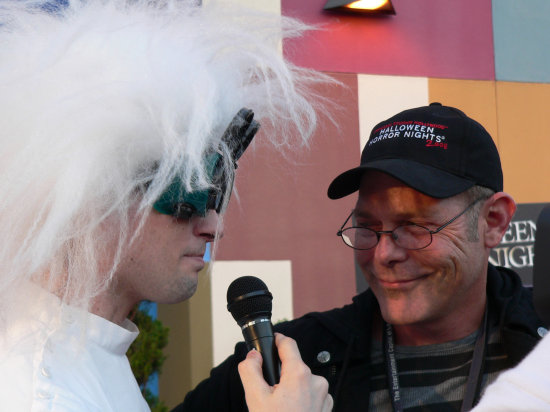 Doc Mock interviews the brilliant creative director of Universal's Halloween Horror Nights, John Murdy.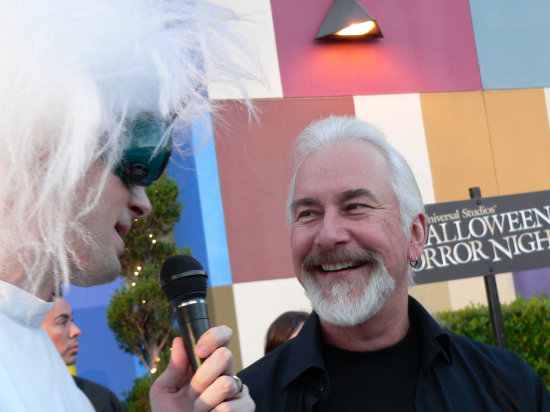 Meeting Rick Baker was quite the honor and he even showed
concern for Doc Mock's raspy voice by offering him a throat lozenge.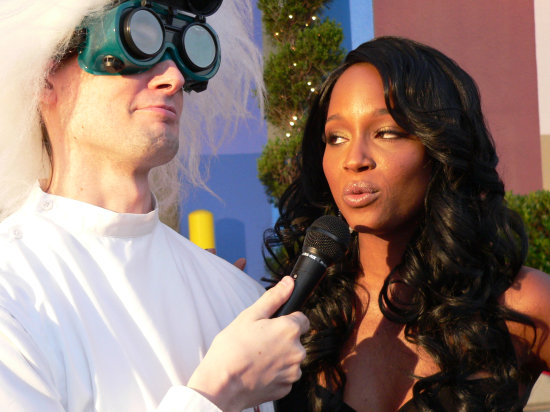 Tanedra Howard was a great sport, though unwilling to give Doc Mock her digits.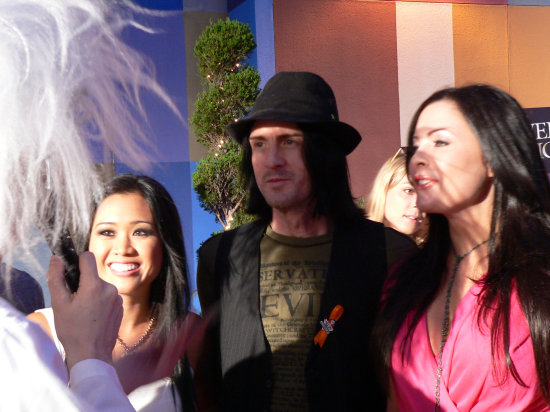 Doc Mock speaks with Ogre (yes, of Skinny Puppy) and his fellow cast mates from 2001 Maniacs: Beverly Hellbillys.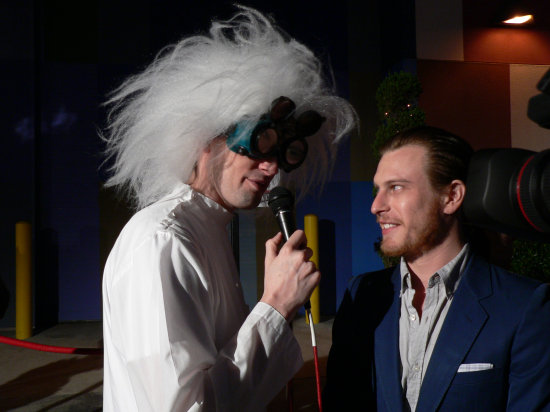 Noah Segan was quite a nice guy for somebody who was receiving the Eyegore award for "Best Villain".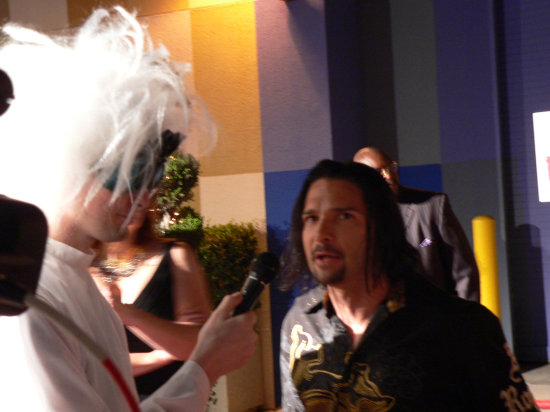 Corey Feldman was hosting the Eyegore Awards once again and promoting a new web series he was doing.
Sadly, it's not based on incredible movies such as The 'Burbs, License to Drive, Gremlins, or even Blown Away.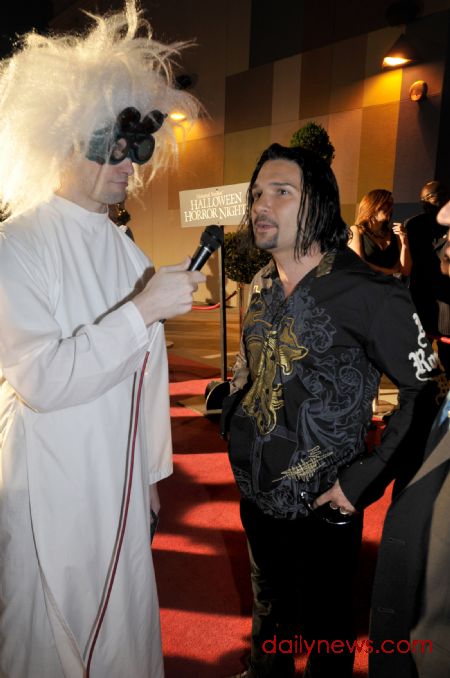 One Southern California paper, The Daily News, even included a photo
of Doc Mock interviewing Corey with their coverage of the event. Keen!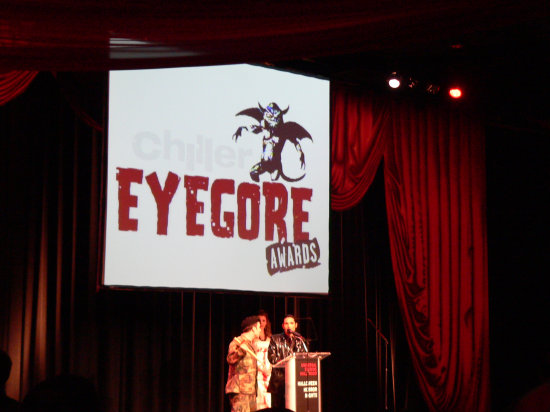 Presenting at the Eyegore Awards show.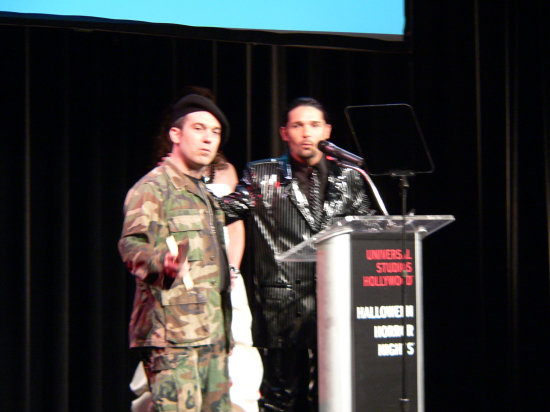 The Frog Brothers back in action. One of them sure had a shiny suit!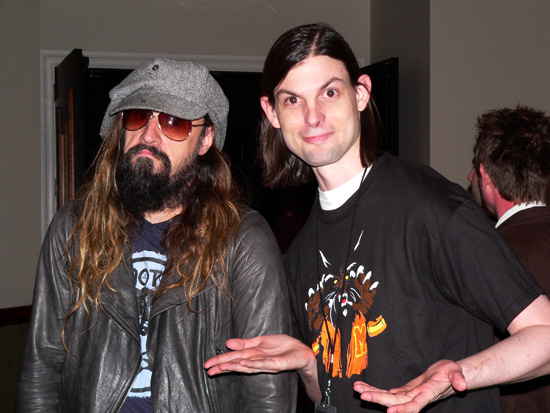 Rob Zombie is always very, very happy to pose for a photo.
BTW Rob... Fievel the mouse called and wants his hat back.
And after meeting Grumpypants McDoogle, it was time to head on out for all the fun of Halloween Horror Nights!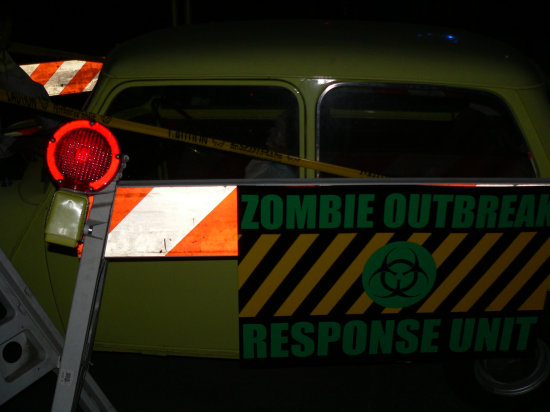 You'd think they'd have better "response unit" cars for a zombie outbreak.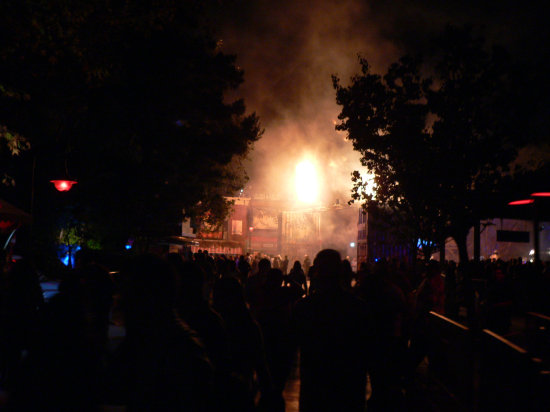 When you walk into a horror-themed park and you see huge flames like this right away,
it's fairly safe to assume that the rest of the night is going to be a damned good time.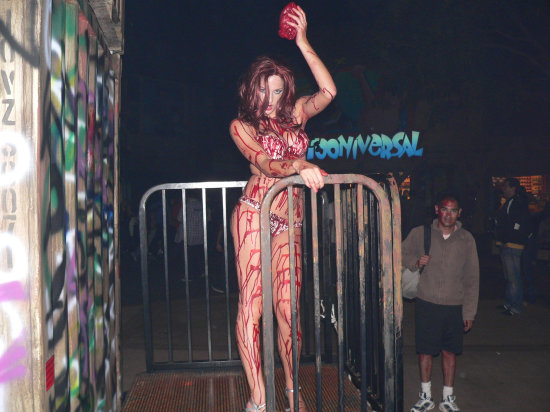 Replacing the dancing Krueger girls of last year were these even
more scantily-clad ladies dripping brainy blood upon their bodies.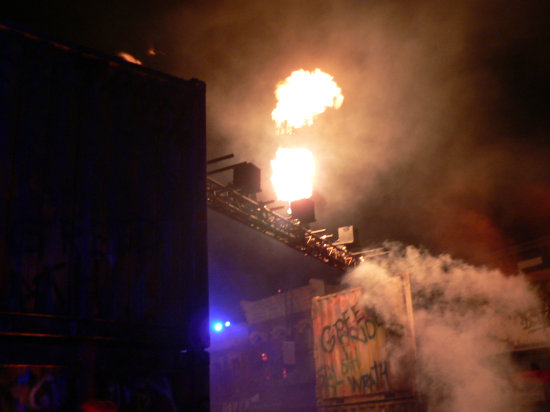 FIIIIIIIIIIIIRE!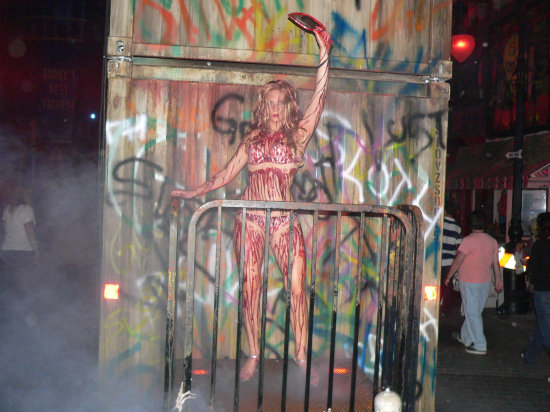 She had a mirror to check herself out with. Guess she wanted to make sure she had enough blood on.
Don't worry lady, I think you've got enough on ya.

Beware the stilted devil dude!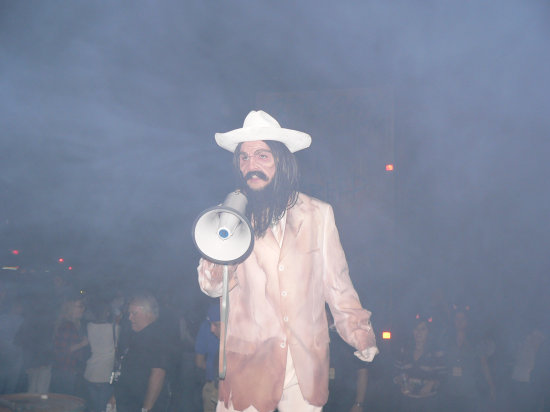 I guess when you have huge fires and dancing bloody women nearby, you're gonna need a
megaphone if you want a chance at competing with them for the attention of the onlooking crowds.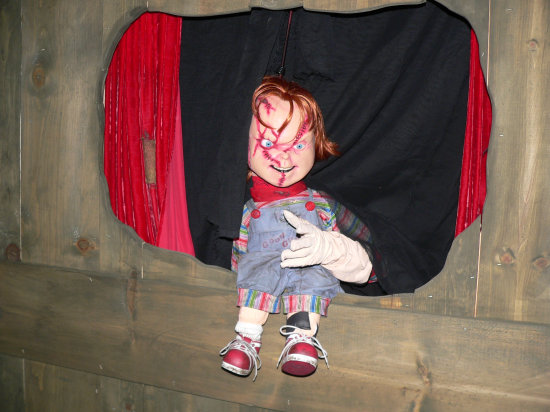 Chucky was all too eager to ridicule anybody who entered his domain.
There's still more Halloween Horror fun to see!
Click here to continue onward to page 2!