by: -RoG-
Universal's Halloween Horror nights has returned for another fun-filled Halloween season, and they've changed up the park mazes once again. In 2009, they had mazes based on horror films such as Child's Play, Saw and My Bloody Valentine, and my personal favorite... Halloween. This year, they brought back A Nightmare on Elm Street and Friday the 13th into the mix, but they were based on the lackluster remakes. They also added Chucky to the always entertaining tram ride, and they created a brand new maze based on House of 1000 Corpses. Admittedly, I'm not a fan of most modern horror remakes, so I was skeptical about those mazes. And while I didn't care much for Rob Zombie's first film (always liked the sequel far more), I did think it would be perfect source material for a horror maze at. So once again, we were left wondering if these new attractions would hold a candle to the horror mazes of yesteryear. Looks like you'll have to join me on this photographic tour of the opening night event to find out.
Before we get to those new attractions, we first had the chance to attend the 2010 Eyegore Awards and Doc Mock was on hand for Doc Mock's Movie Mausoleum to interview all the celebrities on the red carpet. Doc spoke with a wide variety of people in the horror biz including Christopher Lloyd, Sid Haig, Derek Mears, Corey Feldman and more! So take a look at this photo gallery of what went down at the Eyegore Awards and then join me for a tour of the all new mazes of Universal's Halloween Horror Nights!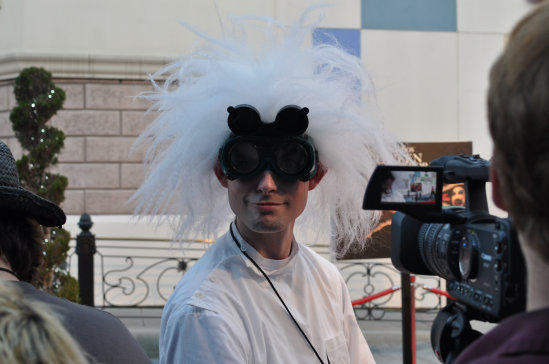 Doc Mock is all set for his 2010 Eyegore Awards & Halloween Horror Nights red carpet coverage!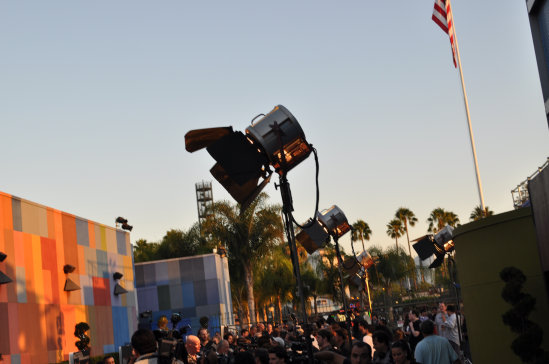 Press crowds swarmed the red carpet well in advance of the talent arrivals.
I think it's because there was a rumor that free water would be distributed since it felt like it was a thousand degrees out.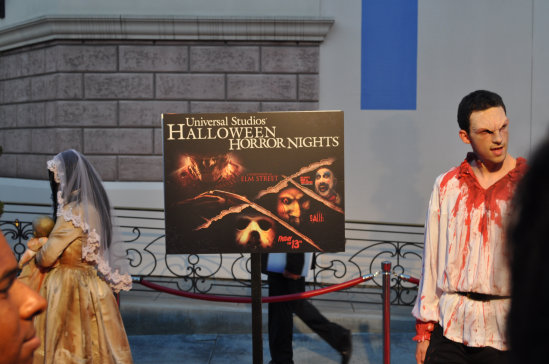 Vampires wandered about the red carpet while we waited.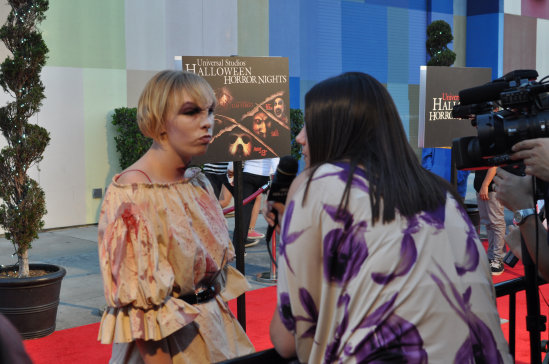 No, she's not a snack. Bad vampire lady... BAD!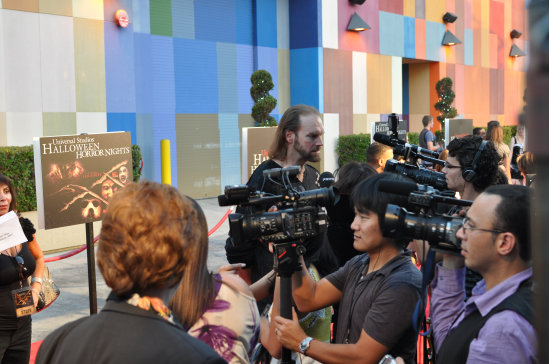 Tyler Mane (aka: Michael Myers) is a giant. I think I saw him eat a member of the press when nobody else was looking.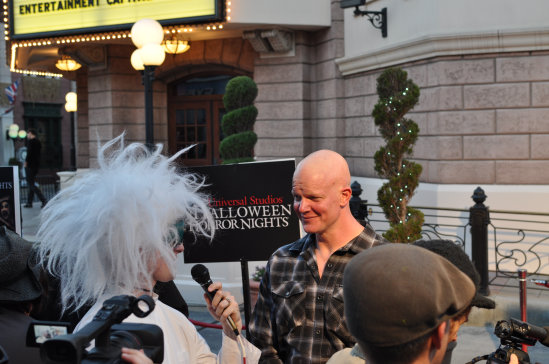 Derek Mears is a pretty big guy as well, but he didn't dare try to eat Doc Mock.
That's an impressive display of self-restraint, since Doc's hair is rumored to taste like delicious cotton candy.

Doc Mock talking with Courtney Gains, who has a new video game coming out, and also played Hans Klopek in The 'Burbs!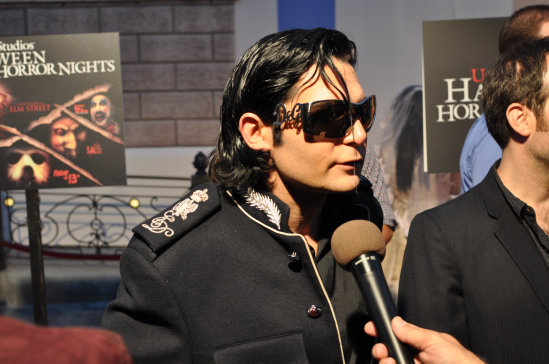 Lost Boy, Corey Feldman... still the worst Michael Jackson impersonator out there.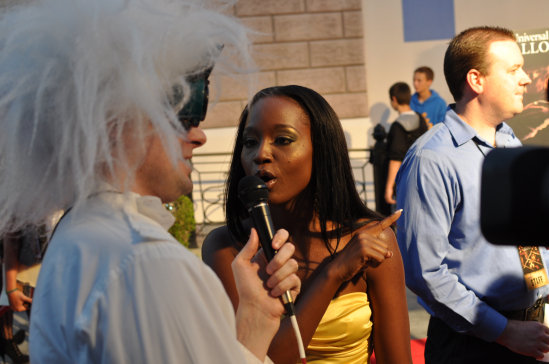 Even though he stood her up, Tanedra Howard still has a huge crush on Doc Mock.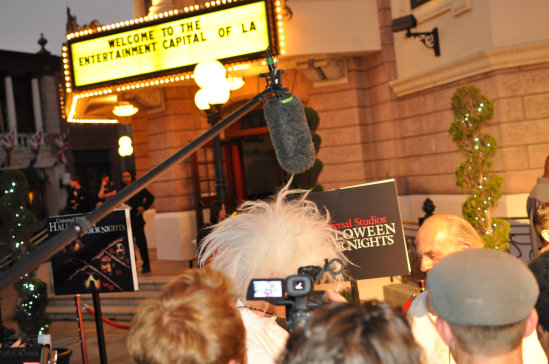 All of a sudden, the press swarmed around Doc Mock. And why?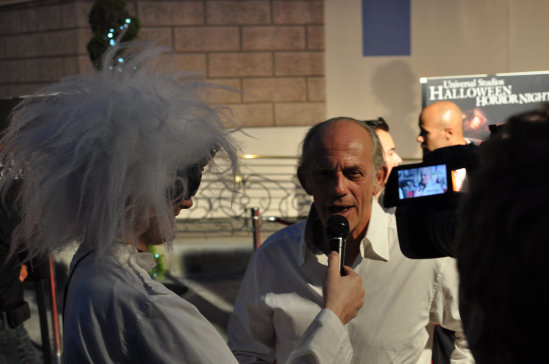 Because he was interviewing his doppelganger - Christopher Lloyd!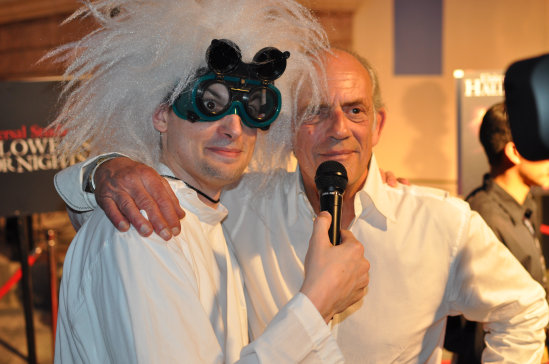 Doc Mock and Doc Brown... together at long last.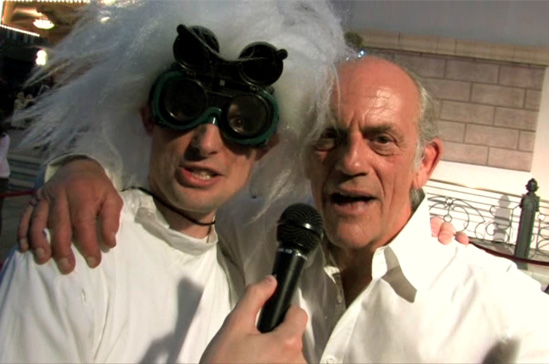 FRIENDS 4EVAR!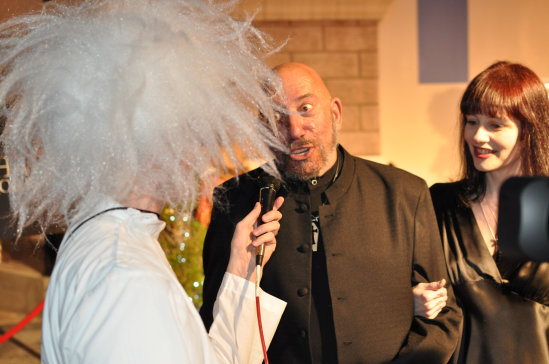 Sid Haig and his wife are seriously some of the nicest people in the world.
It's always good to see nice people achieving that level of success, because you know they truly appreciate it.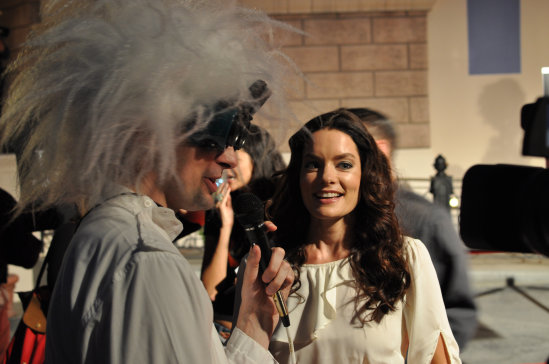 Gina Holden was there to promote the new Saw 3D film. She has reallllllly nice eyes, and this photo doesn't do 'em justice.
For her sake, I hope they don't get poked out in the next Saw flick.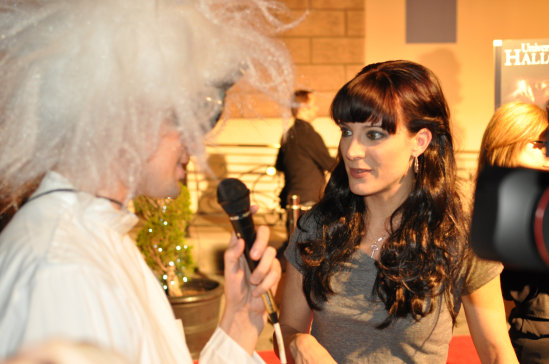 Calico Cooper, daughter of Alice Cooper (aka: my favorite zombie hobo)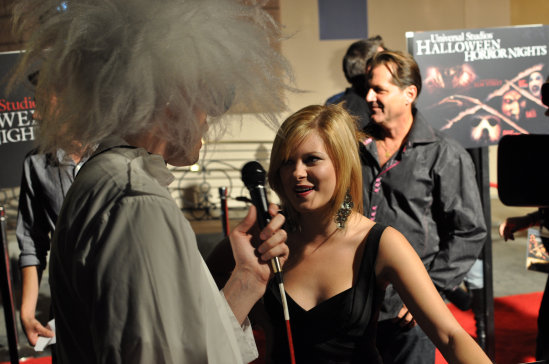 Doc Mock chatting it up with Tracey Fairaway of the new Hellraiser flick.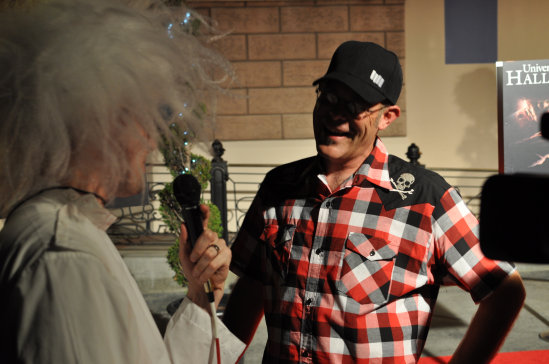 John Murdy, the Creative Director of Halloween Horror Nights, always excited to see how people are going to react
to his latest mazes. He was particularly enthusiastic about the "3D Zombievision" in the House of 1000 Corpses maze.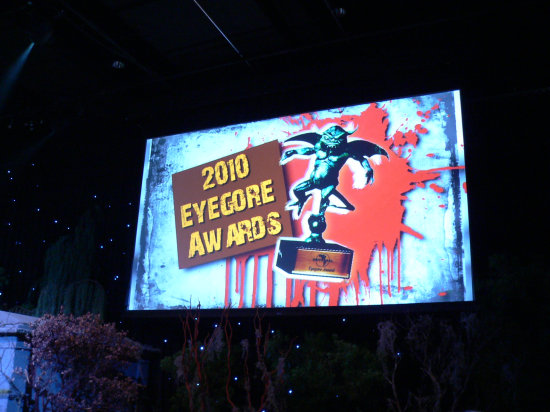 With the red carpet interviews concluded, the 2010 Eyegore Awards were ready to go.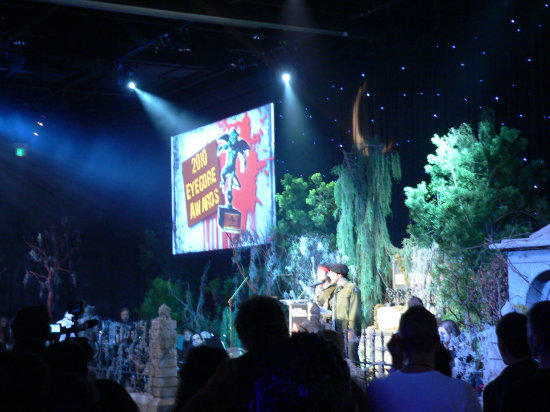 It all kicked off with the original Frog Brothers making some bad jokes about
how they were going to be hunting for bloodsuckers in the audience.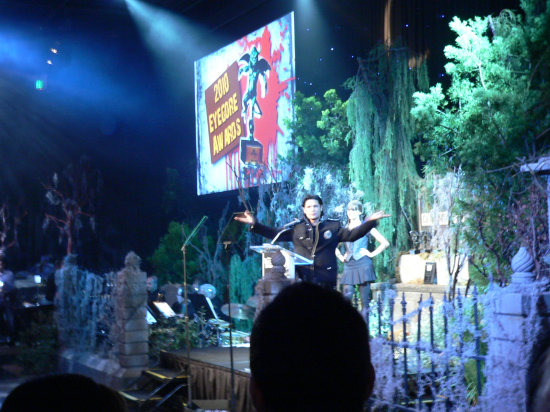 Then Corey changed back into his Michael Jackson inspired uniform to proceed with the actual awards.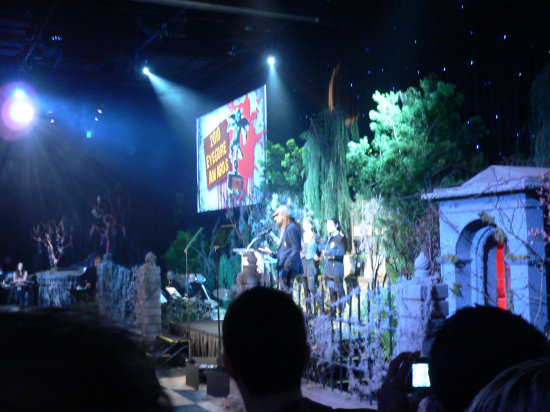 Rob Zombie came up to present Sid Haig with the lifetime achievement Eyegore Award.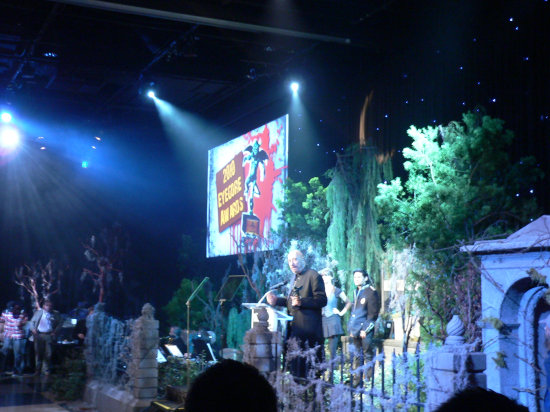 Sid Haig gave a very touching and poignant speech - quite uncommon for the Eyegore Awards.
I have even more respect for the guy now and hope he continues to get great character roles.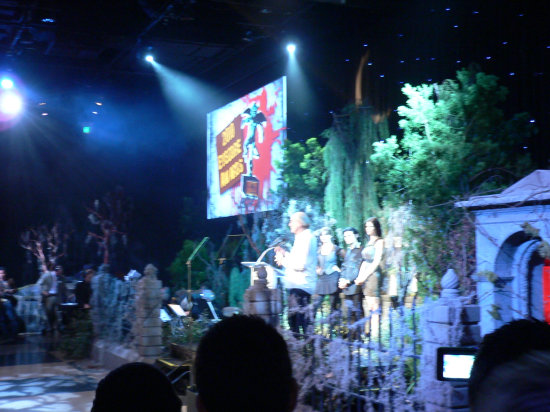 Christopher Lloyd also received an award, but was a bit out of it that night. He actually left his award up on stage
because he thought it was a prop that he wasn't supposed to keep! I think all the attention overwhelmed him a bit.
Such a friendly guy though, and he was a good sport about taking some kids through the horror mazes afterwards.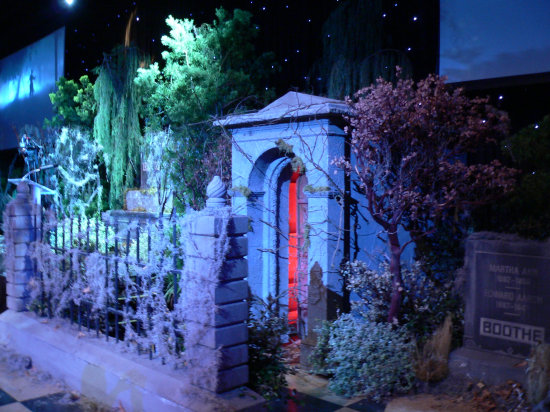 I gotta say, as bad as the opening Frog Boys "comedy" was, they really went all out on the set design for the
Eyegore Awards this year. They've honestly never looked better, so kudos to whomever pieced it all together!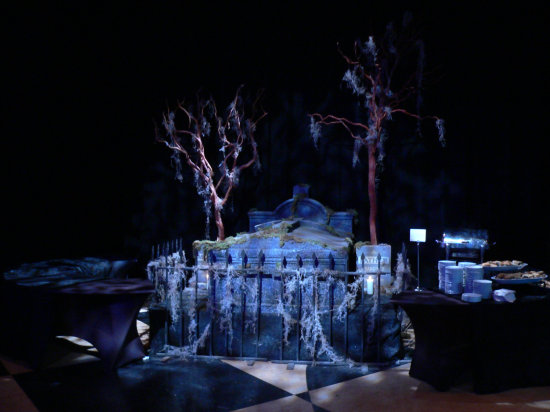 What better place to grab a snack than near a tomb covered in moss and cobwebs.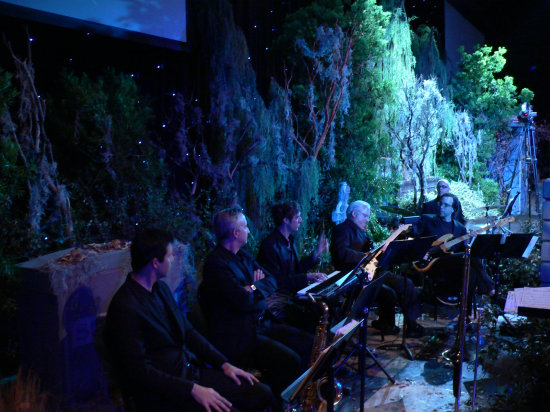 Even the band was tucked away in a spooky little nook behind an iron fence.
I guess what I'm trying to say is I want the inside of my house to look just like this.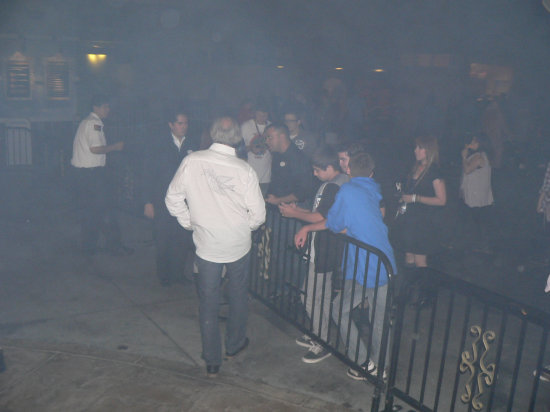 And once the Eyegore Awards ended, we tagged along with Christopher Lloyd to head out into the first maze:
House of 1000 Corpses!
There's still more Halloween Horror fun to see!
Click here to continue onward to page 2!