by: -RoG-
Universal's Halloween Horror nights is back once again to scare LA residents this Halloween season and they've added some great new mazes to their ever changing haunt. In 2010, they had mazes based on horror films such as A Nightmare on Elm Street, Friday the 13th, and more. This year, the new maze additions included The Thing: Assimilation, Hostel: Hunting Season, Alice Cooper's Welcome to My Nightmare, and La Llorona: Villa de Almas Perdidas. They also added Ghost Face from the Scream films to the big tram ride along with a bunch of fake horror movie scenarios with names like "Stab" and "Meatstalk: Summer of Blood".
Before we get to all of the new attractions, we were invited to attend the 2011 Eyegore Awards once more and Doc Mock was on hand for Doc Mock's Movie Mausoleum to interview all the celebrities on the red carpet. Doc spoke with a wide variety of people in the horror biz including Thomas Jane, Derek Mears, Calico Cooper, Sid Haig and more! So take a look at this photo gallery of what went down at the Eyegore Awards and then join me for a tour of the all new mazes of Universal's Halloween Horror Nights!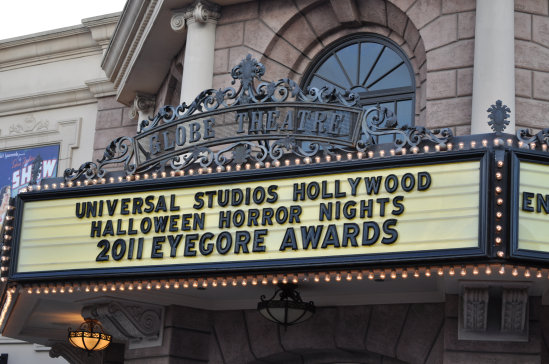 We arrive out in front of the 2011 Eyegore Awards.

Doc Mock prepares for the onslaught of interviews about to come his way.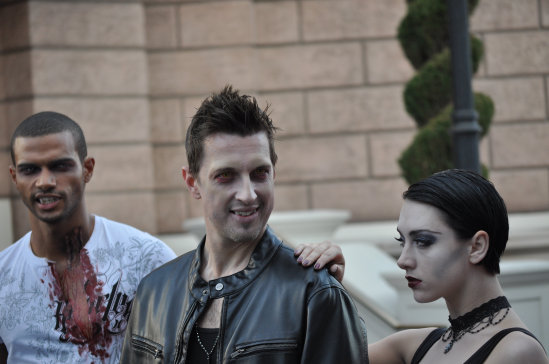 These vampires who were slowly pacing up and down the red carpet the entire evening and thought they were all that.
(Inside scoop: they weren't.)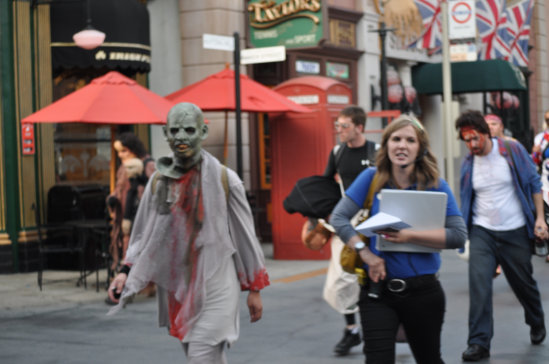 A virtual parade of maze actors walked right on by us as to get ready for the festivities.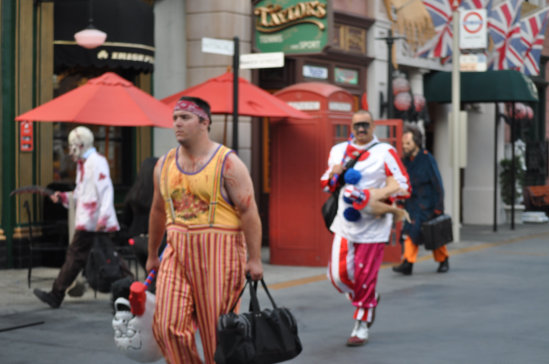 Nope, that doesn't kill the illusion at all.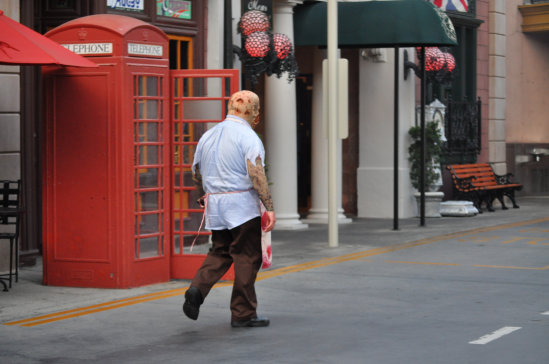 So that's why phone booths still exist... zombies don't have cell phones!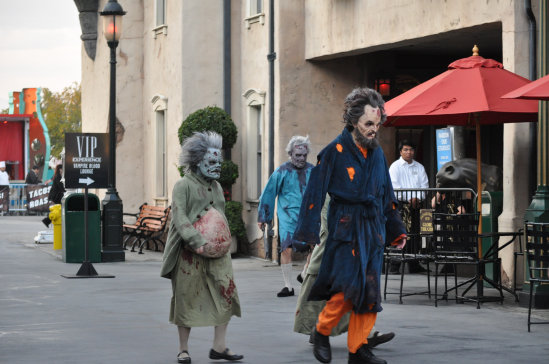 Another happy, undead couple with a little one on the way.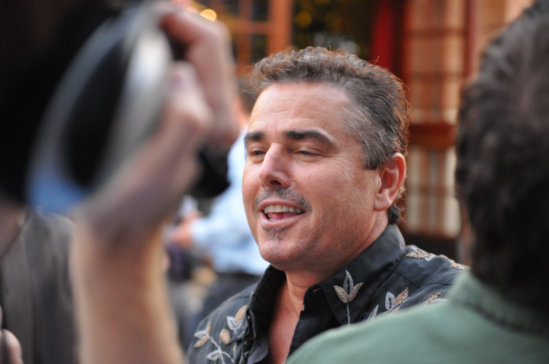 Christopher Knight of the Brady Bunch wasn't even on the guest list, but he was the first one to show up on the red carpet.
Yeah, I'm sure you're just as shocked as I am that he had nothing better to do.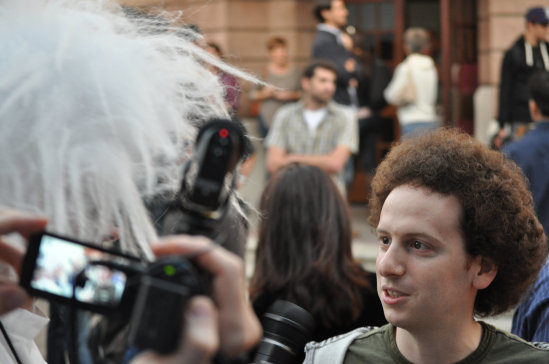 Josh Sussman (from Glee) spoke with Doc Mock and wondered if his hair would look like that when he got older.
Probably, Josh... probably.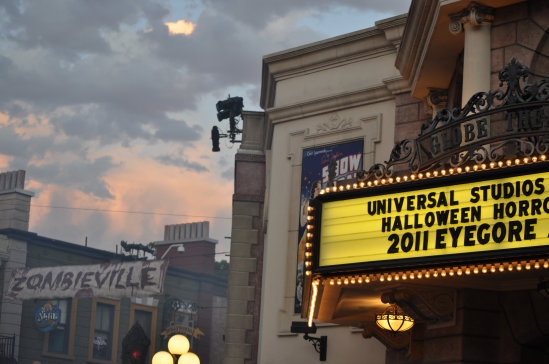 As the sun started setting, it started feeling a lot more like a Halloween event.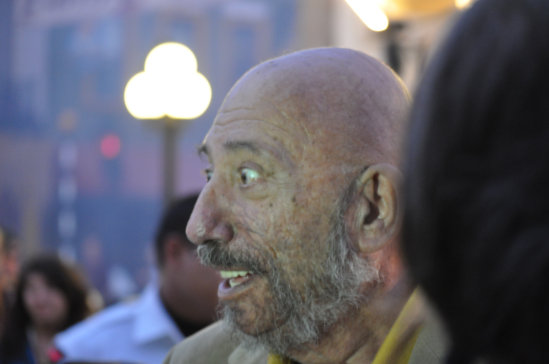 Sid Haig showing up didn't hurt either.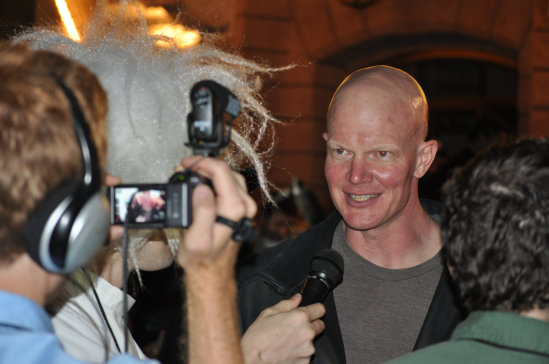 The always incredibly friendly Derek Mears (aka: Jason Voorhees) speaks with Doc Mock.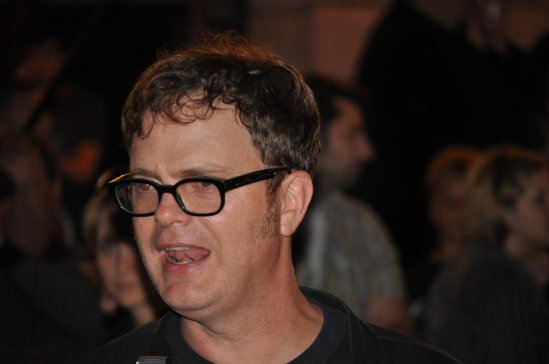 Rainn Wilson sees Doc Mock and runs away immediately.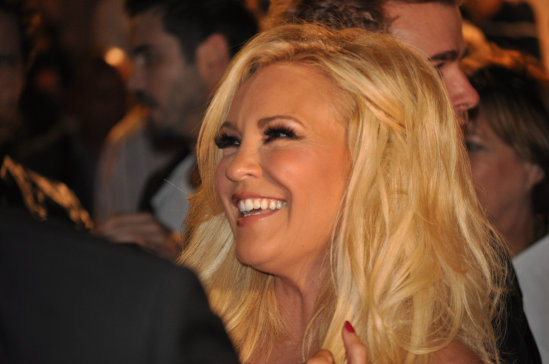 Bridget Marquardt apparently loves horror.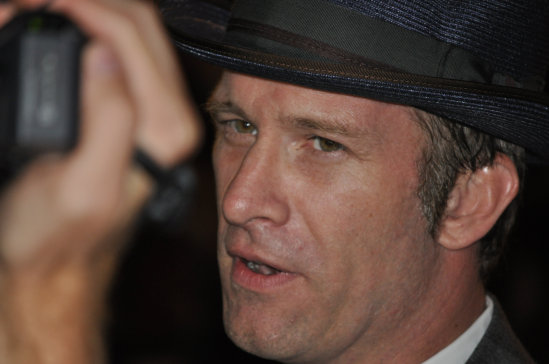 Hung star Thomas Jane was nice enough to stop by and talk with Doc Mock.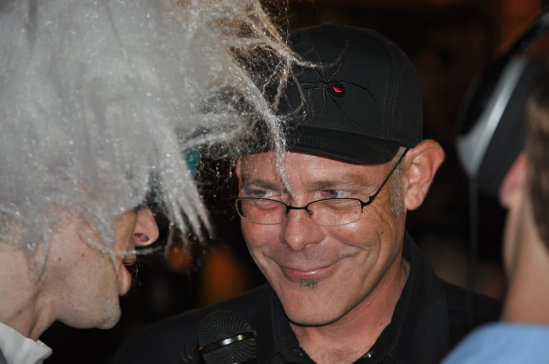 The brainchild of Halloween Horror Nights himself, John Murdy. Gotta love that black widow cap.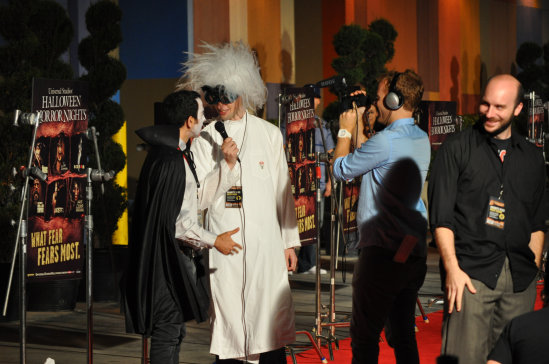 Doc Mock reunites with an old friend - Count Dracula from Doc Mock's Halloween Special!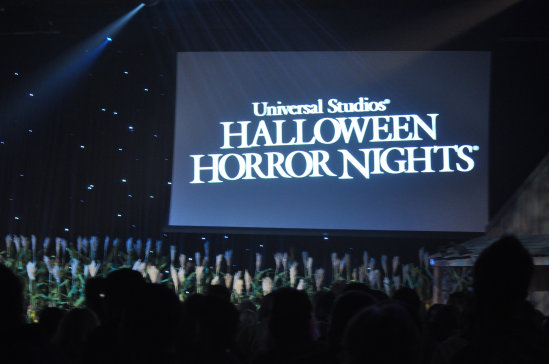 After the celebrity interviews were done, we headed inside for the
2011 Eyegore Awards and found corn stalks lining the entire building.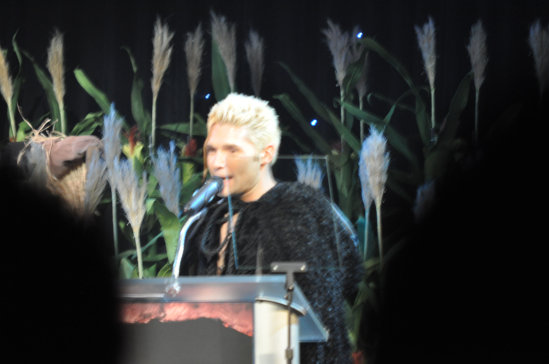 Corey Feldman hosted the show once again and, not breaking with Eyegore tradition, his jokes continued to fall flat.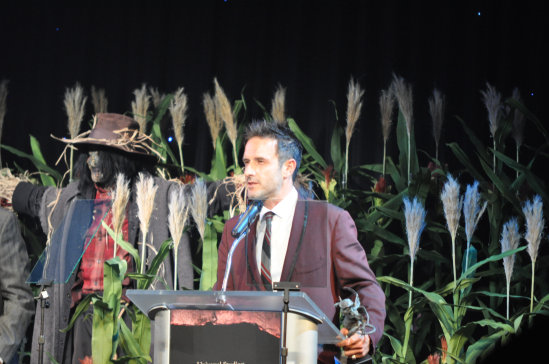 David Arquette accepted an Eyegore award for his work in the Scream film franchise.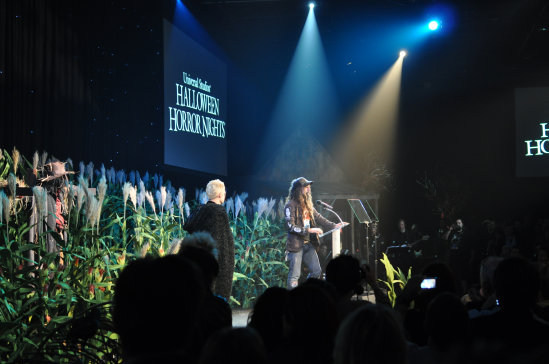 Rob Zombie showed up to give an award to Rainn Wilson.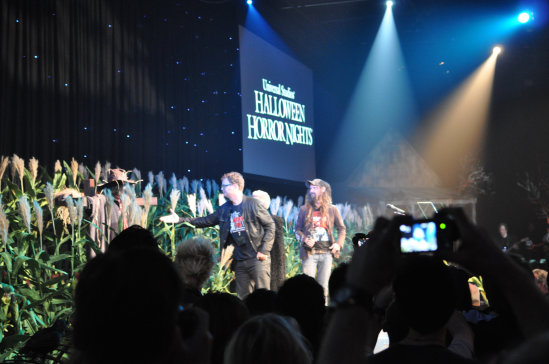 Rainn even thanked Mr. Scarecrow for the honor of being an Eyegore award recipient.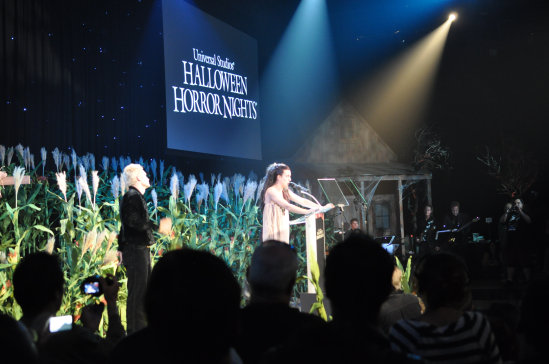 Calico Cooper introduced her father...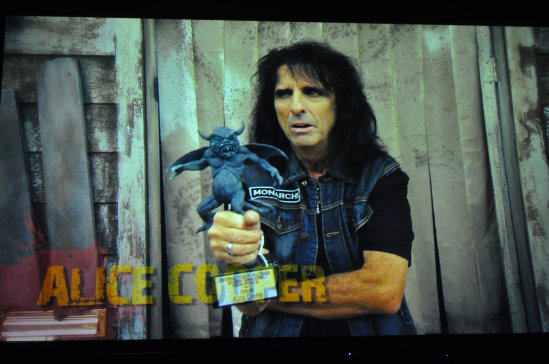 ...but Alice Cooper sadly couldn't be there in person since he was on tour in Australia.
After the Eyegore awards concluded, everybody stuffed their faces with free hors d'oeuvres and drinks while the house band continued to play. Once our gullets were completely filled, we headed out into the night to experience all the new mazes of Halloween Horror Nights in hopes that something would scare us enough to induce vomiting. Please excuse any blurry photos as the mazes were very dark in most areas and we were being chased by various monsters. Anyway, here's what went down: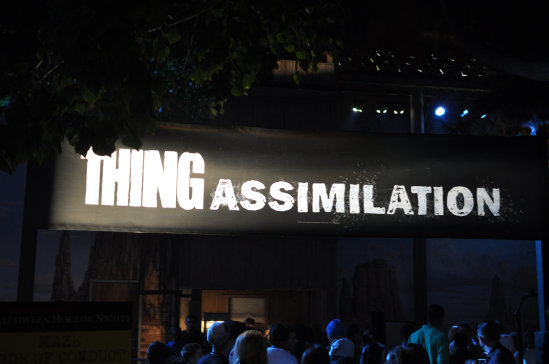 The maze we and many other fans were most excited about checking out was The Thing: Assimilation.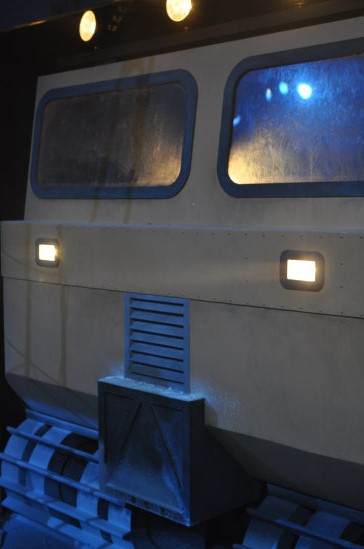 An arctic snow truck was parked out in front of the maze.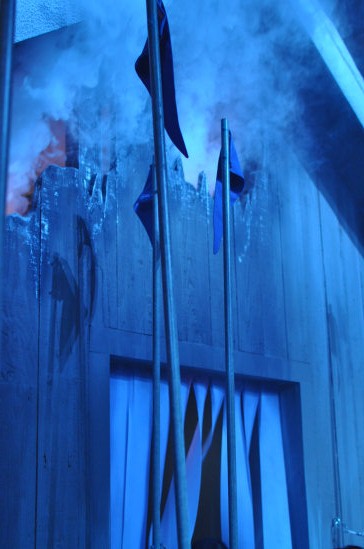 Looks cold to me.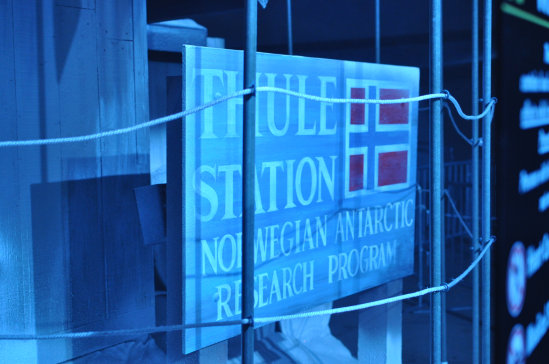 A sign for the Norwegian Antarctic Research Program Thule Station.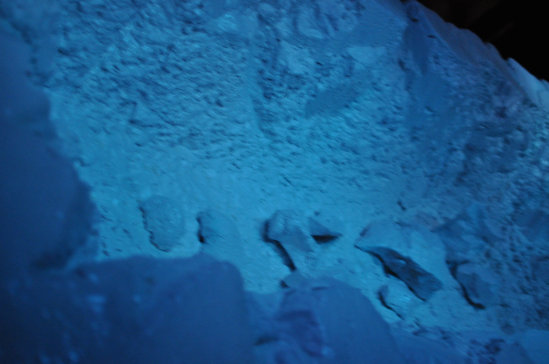 The first thing you see when you enter the maze is a huge chunk of ice with a block cut out of it.
Hmmm, I wonder what could've been in there?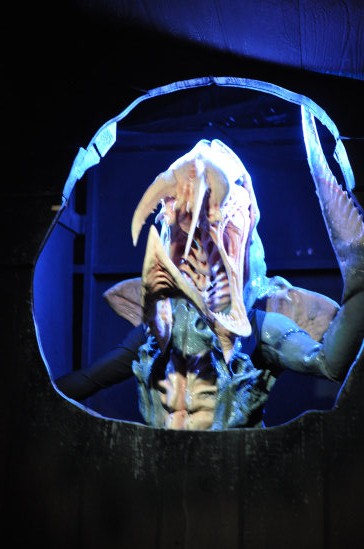 Oh, that's probably what it was.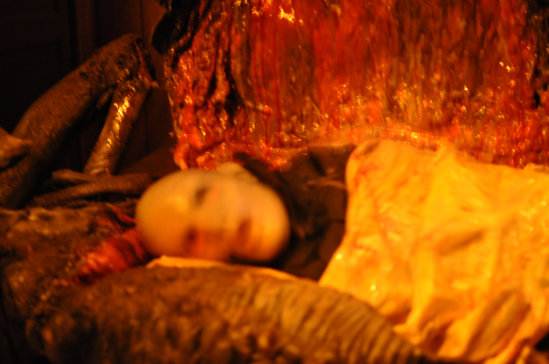 Shhh... he's napping inside a bunch of guts... let's not disturb him.

See? Even hideous monster mutations wear parkas when it's cold out.

Awww. Somebody ruined a perfectly good dog cage... and a perfectly good dog.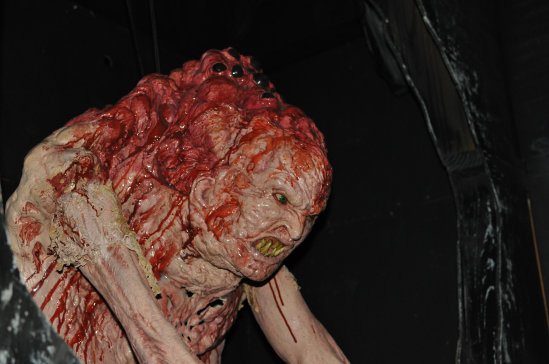 He must work out... check out those back muscles!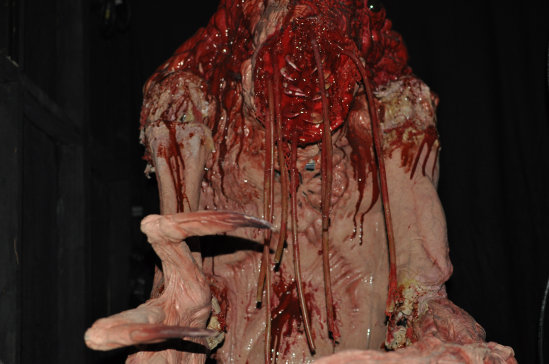 I'm not even sure what we were looking at here, but that's kind of the point of The Thing, right? Right.
There's still more Halloween Horror fun to see!
Click here to continue onward to page 2!