by: -RoG-
While attending ScareLA this year, I was invited to check out a Halloween haunt called Field of Screams, located in Lake Elsinore in the Inland Empire. Having never been there in the past, I decided to get in touch this year and take them up on their offer. After all, if you build it... I will come. They had five all new mazes this season, and since I'll take any excuse to go on a little road trip for a new Halloween experience come October, my friends and I jumped in the car and off we went. The following pages will treat you to some of the spooky sights we saw at Field of Screams: The Haunted Stadium. Stick around to the end and you'll get to experience a video walkthrough of some of our favorite mazes! Enjoy!
Disclaimer: Due to low lighting, it was hard getting good photos in some areas, so please excuse the occasional blurriness.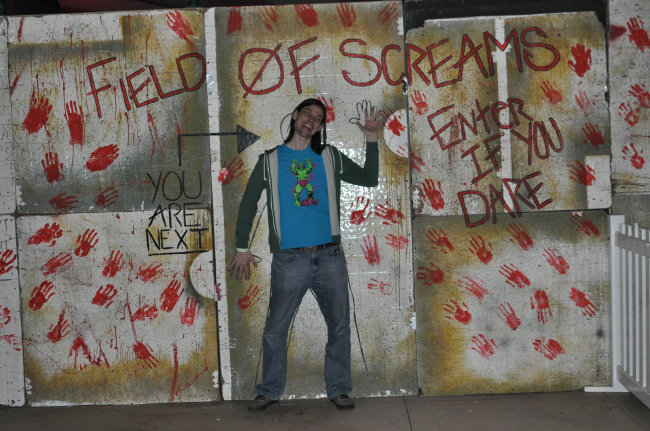 Arriving at the front gates, I dared to enter, but not before taking advantage of their photo op.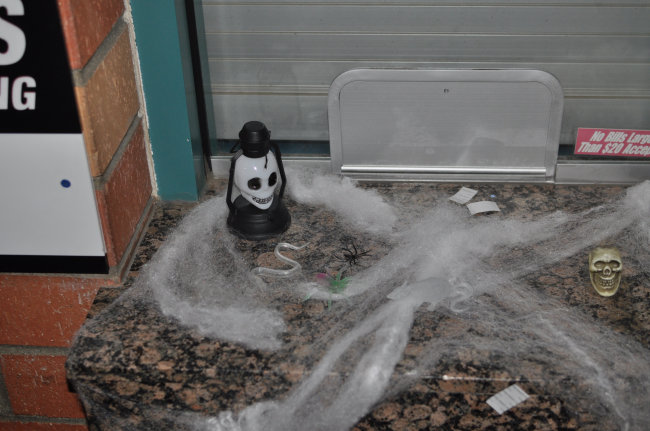 Also, I noticed the counter to the right of where we picked up our tickets had some cheap Halloween decorations.
Thankfully the haunts inside were much higher quality than this.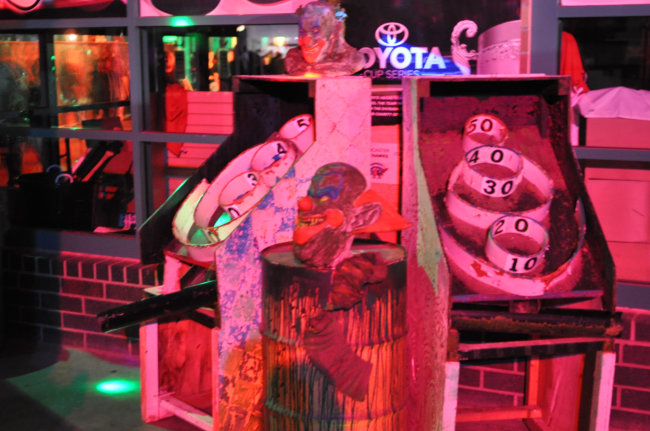 Loved this bloody clown skee ball prop... I only wish they were functional so we could play it will shrunken heads.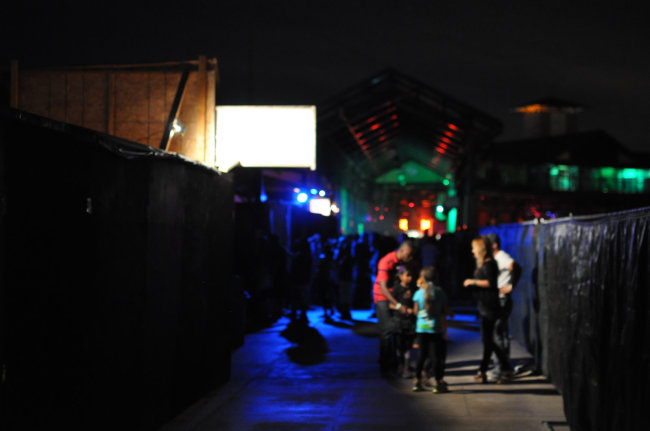 One of the interesting things about the haunt is that it takes place entirely inside a minor league baseball stadium walkway.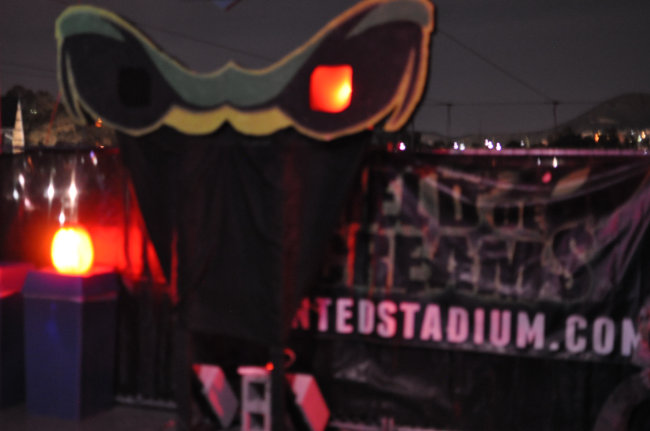 And what is perhaps a crazy coincidence, that sinister looking set of eyes is actually the official Storm Stadium team logo,
so it really seems like the place was destined to host a haunted Halloween attraction like Field of Screams!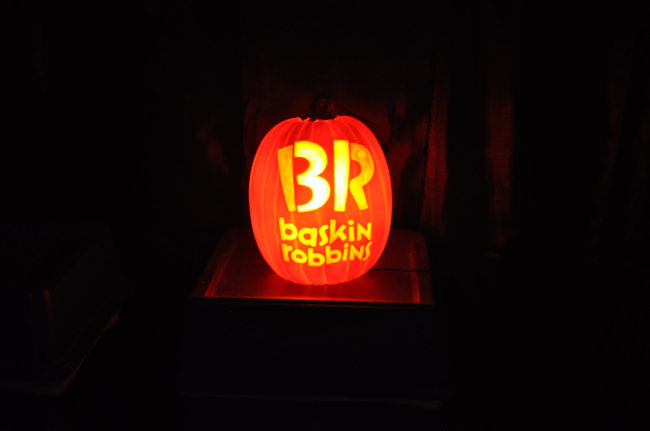 Oh, and I guess the event was sponsored by Baskin Robbins. So there's that.

I was informed this was a sign from one of their old mazes, though they still had some clowns wandering around.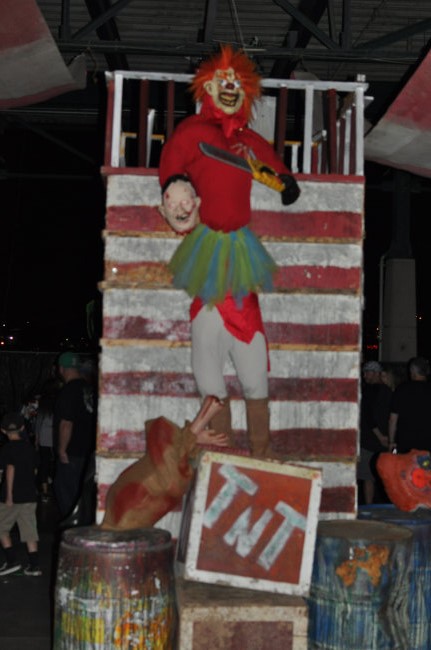 See what I mean?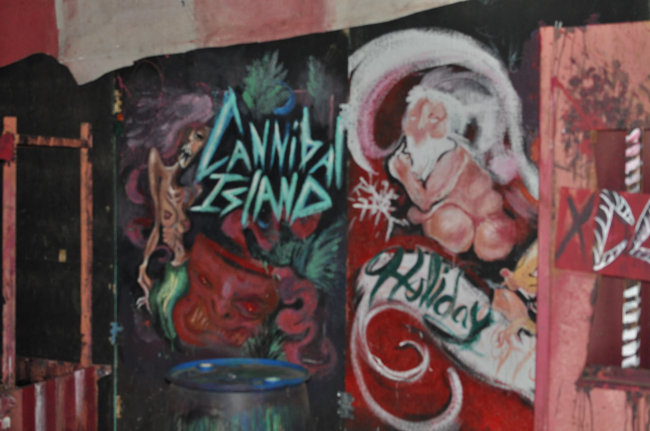 Gotta love those hand-painted promos for their new haunts. And who knew Santa wears a thong?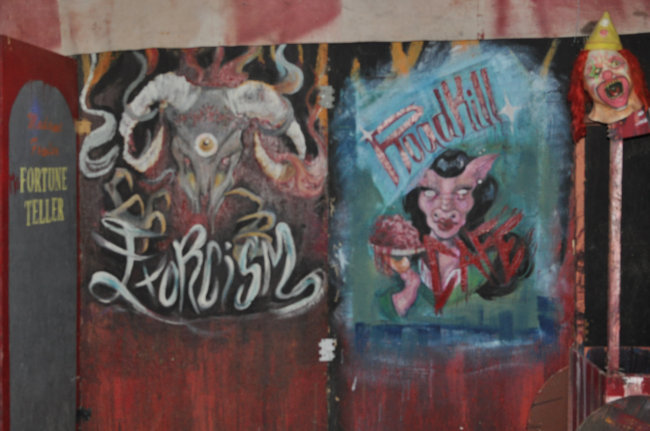 More hand-painted promos.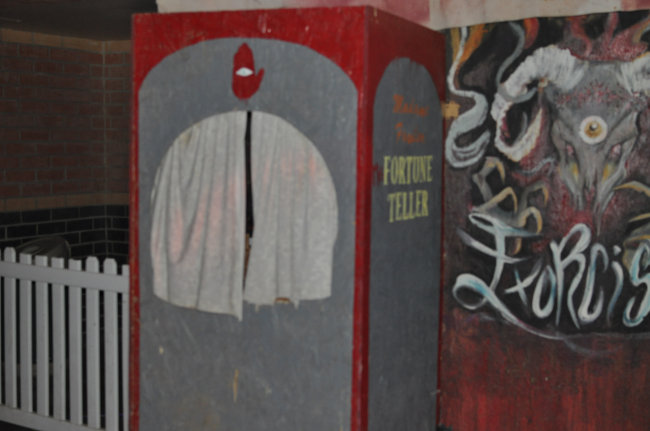 There was a fortune teller booth too, but I was told they were understaffed that night due to some unrelated
event taking place in town. It's alright... I'm sure I'll still find my bike in the basement of the Alamo.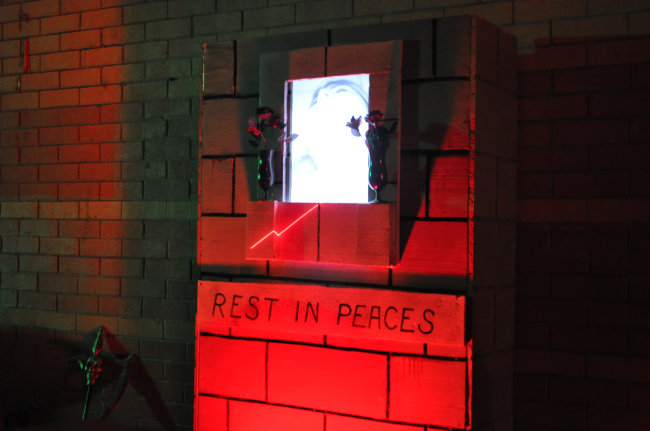 A mini-attraction was the "Rest in Peaces" coffin ride.
They basically stick you in a coffin and try to scare you while everyone outside gets to watch your reactions on a TV screen.

Before making it to the actual mazes, there were some fun monsters walking around, including this zombie skeleton guy.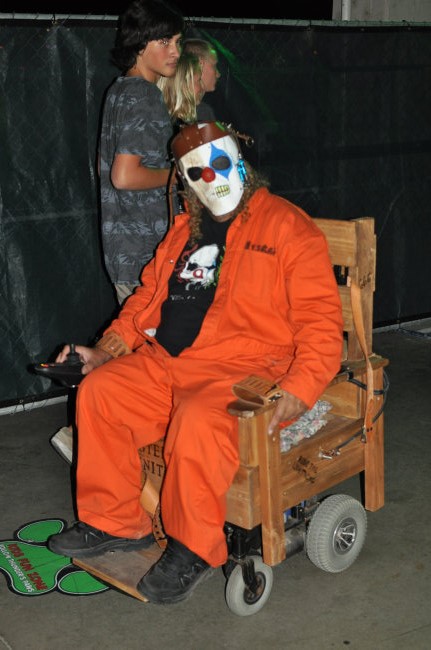 Of all the monsters, this guy was my favorite by far. His wheelchair was converted into an electric chair.
He even gave me a ride on it.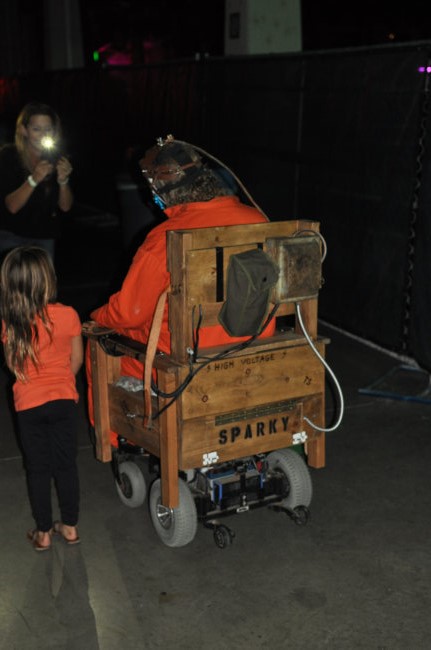 I don't know what his name was, but the chair said "Sparky" so let's go with that. Sparky, I love you.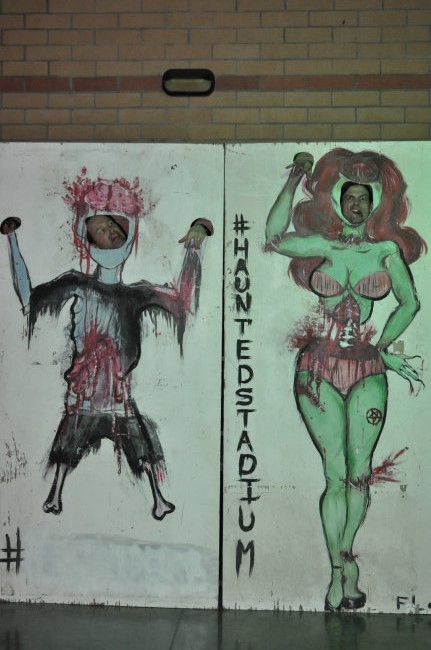 We make a cute couple, don't ya think?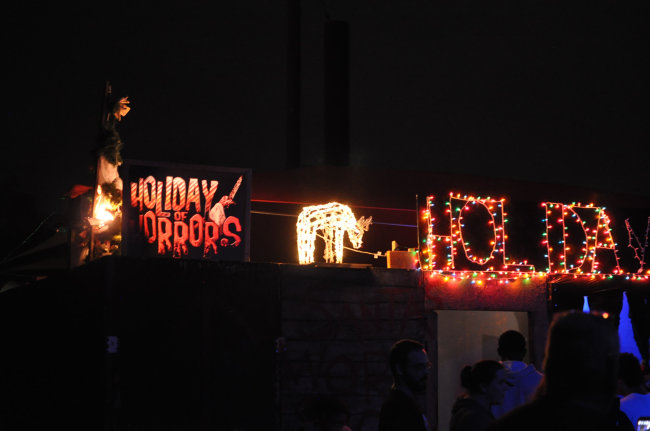 First on our list was the Holiday of Horrors maze, which despite its Christmassy exterior, promised to
cover a wide range of holidays including St. Patrick's Day, Easter, 4th of July, and Valentine's Day as well.
Also, much like the earlier promos, all the walls in this maze were hand-painted.

The psychotic elves were all too happy to let us into the mazes. Loved 'em!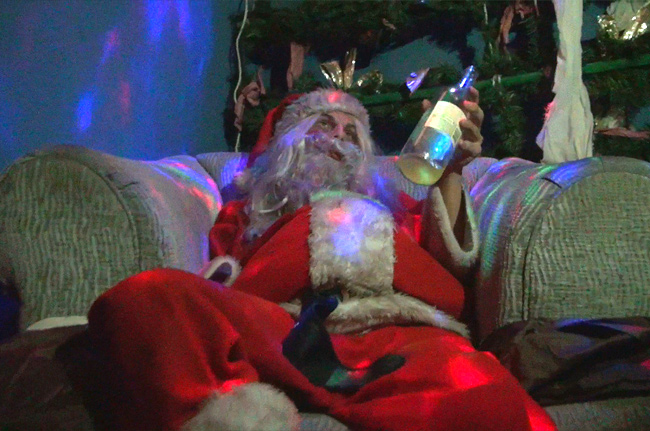 Posing with this drunken Santa for a lil' photo op reminded me of our visit to the
"Not So Merry Holiday Haunt" at Sinister Pointe a few years back. Good times.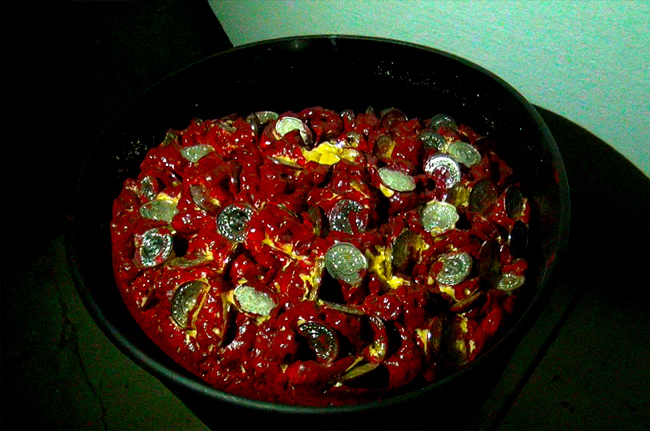 The pot of gold at the end of the St. Patrick's Day rainbow needs a good rinse off.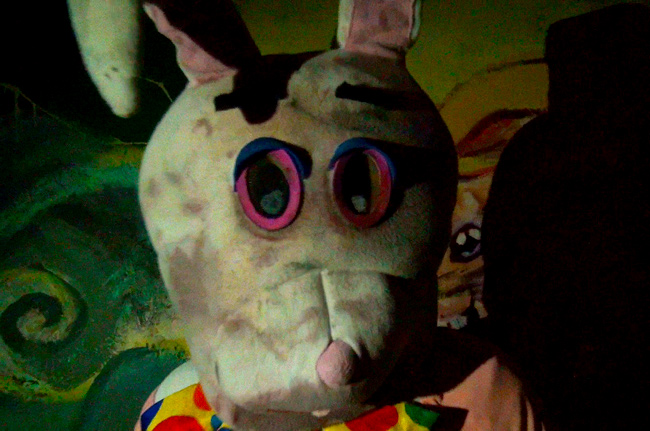 Peter Cottontail was silently stalking us in the Easter portion of the haunt.
Be sure to read on to the end of the article for a FULL video walkthrough of the Holidays of Horror maze!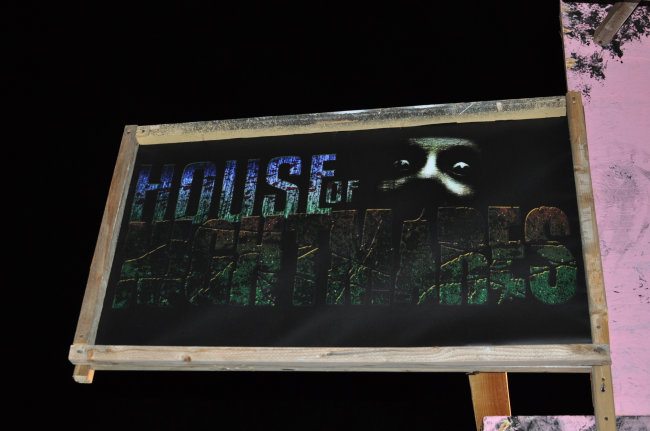 Next up was the House of Nightmares maze.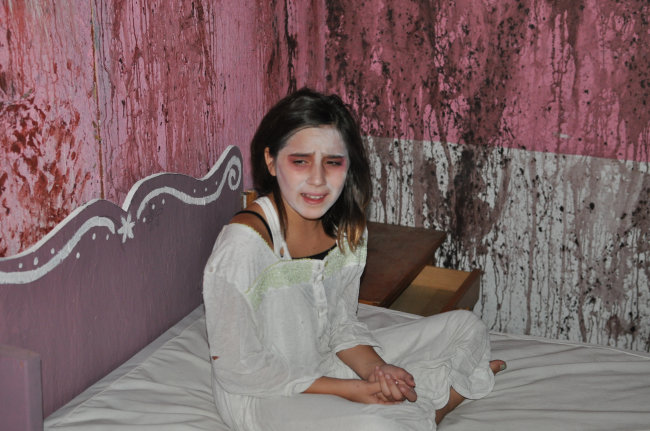 The maze featured a variety of terrified little girls in their bedrooms...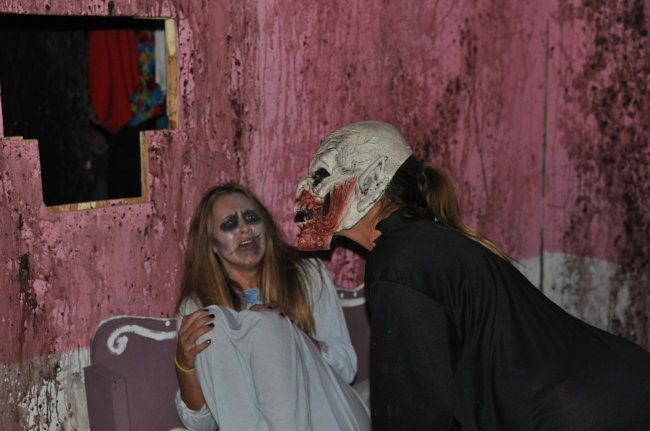 ...and I gotta give 'em credit, because these girls really went all out when it came to their acting.
They were screaming at the top of their lungs all night long. Well done!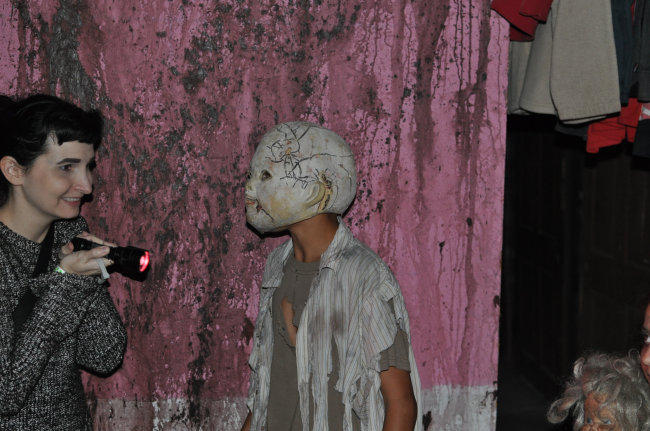 Another unique thing about this maze is they gave us flashlights that would only turn on at specific times! Very cool idea.
And look here, Re just made a new friend!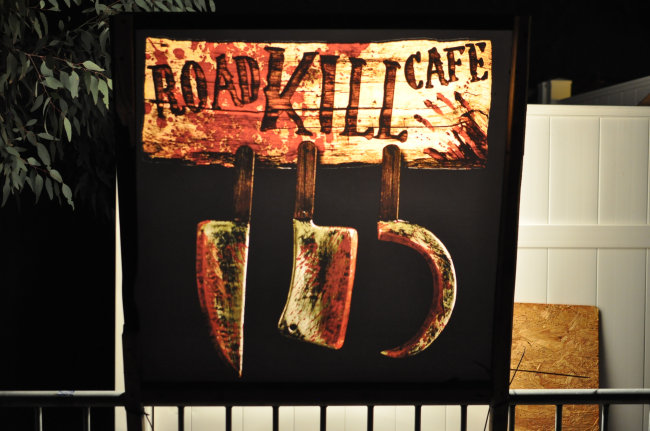 The next maze on our list was the Road Kill Cafe.
There's still more Field of Screams fun to see!
Click here to continue onward to page 2!