by: Protoclown
Masters of the Universe was never my favorite cartoon growing up, but of all the cartoons I enjoyed as a child, it's by far my favorite to go back and watch now, even with its bad animation and excessive use of stock footage. Although I never recognized it as such when I was a child, in retrospect I always remembered the cartoon as being extremely homo-erotic.
Even so, I was ill-prepared for what awaited me when I went back to watch some old episodes in recent years. It wasn't just a little gay, but shockingly, awesomely so, and I doubt such a children's cartoon would get on the air these days (though I hear that in one of the new Transformers cartoons the "Mini-cons" transform and fly into the larger Transformers' butts, but that's another story). I just don't see how any adult can watch the show without thinking "Wow, these guys are all totally fucking each other."
Discussing which "Masters" characters may have been gay is like discussing which members of Wham! were flying the rainbow flag—there's just no real point in it. But we can analyze the characters and find out which ones were the most gay. And that's what we're going to take a look at here. I sincerely hope that no gay readers are offended by this, as it's not my intention to make fun of being gay at all, but rather to point out how awesome the Masters of the Universe franchise is for reveling in its over-the-top out-of-the-closet gayness. Now, obviously not all of you are going to agree with this list, but let's face it: trying to pare this down to a mere ten characters is no easy task, and unfortunately, I had to leave a few people behind, because there's always someone gayer out there.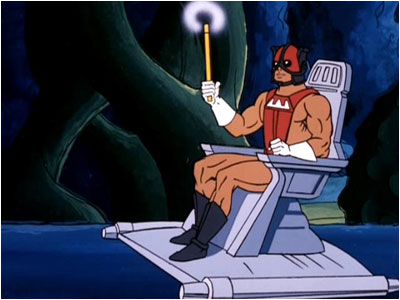 #10: Zodac
Zodac wasn't in many episodes of the show, and he wasn't even from Eternia—he was a "cosmic enforcer", and while his exact planet of origin is unknown, it's obvious from his lack of pants that wherever it is, it must be pretty gay. Fortunately this mode of dress has proven popular on Eternia, allowing him to blend in with the locals undetected as an alien outsider. What little clothing he does wear bears a strong resemblance to a "gimp suit", and his white gloves suggest a primness and sense of style that he takes pride in.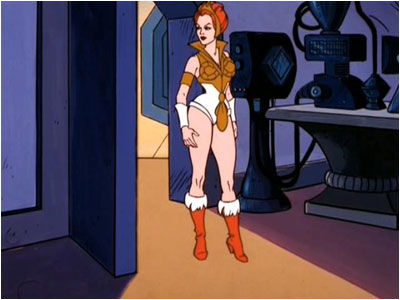 #9: Teela
It was a hard choice for me deciding whether Teela or Evil-Lyn belonged on this list, but in the end I had to side with Teela's tomboy warrior over Evil-Lyn's sinister spellcaster. She may wear a tiara, which is decidedly feminine, but her flipped up collar strongly suggests that she wants to be accepted as one of the "cool guys". Her lack of pants is also a common fashion among Eternian men. She also has a stern demeanor that identifies her not so much as a straight dominatrix type, but rather as a lady who likes to go "mumbling in the moss", if you know what I mean.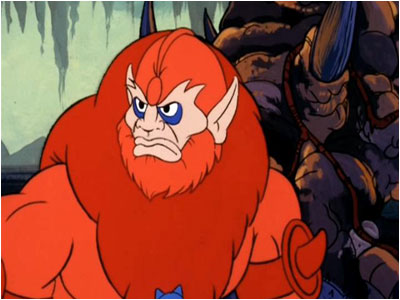 #8: Beast Man
Beast Man represents the burly, hairy "Bear" community with his presence on this list. What man of Eternia doesn't want to snuggle up and enjoy his furry, pillowy buttocks for resting his weary head (among other things)? Beast Man is the wildly savage, untamed animal that so many men of Eternia want to have a crack at "breaking", and he's a stallion in the sack, or so I hear.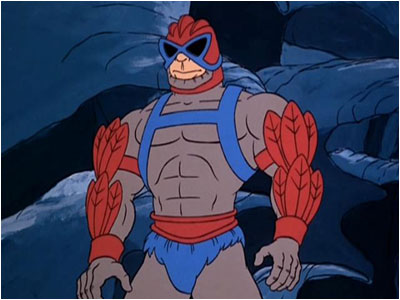 #7: Stratos
You can immediately tell by a quick glance at his flamboyant apparel that this guy is dressed and ready for a surprise Gay Pride Parade at a moment's notice. Should such a parade happen to come through on his watch, he and his frilly arm feathers will be ready to participate. He also has an Amish-style beard, but ain't no Amish I ever seen what got arm feathers. That's all I'm saying.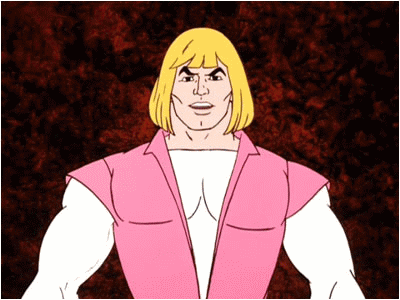 #6: Prince Adam/He-Man
Of course this list would be incomplete without the inclusion of Prince Adam AKA He-Man himself. With his predilection for pink shirts and Prince Valiant haircut, it's really no surprise to anyone that Prince Adam is a bit of a Sissy Britches. On top of that, he can magically transform into He-Man, the pinnacle of male perfection on Eternia, who's always up for a little Bum Fun. If it was possible, he would totally travel through time and have his He-Man self fuck his Prince Adam self like on that episode of Outer Limits or Twilight Zone or whatever the hell it was. You know what I'm talking about.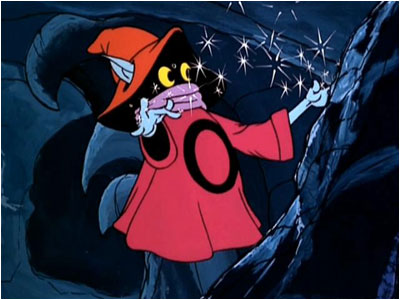 #5: Orko
While most of the gay denizens of Eternia represent manly, tough stereotypes, Orko represents the more effeminate Queen, who isn't so much a formidable physical presence, but he more than makes up for that in spirit and imagination. He's the prissy, comic relief—perhaps not lusted after in the same way as the others, but adored by all nonetheless. And let's just say that thing on the front of his robe that looks like the letter "O" ain't supposed to depict the letter "O".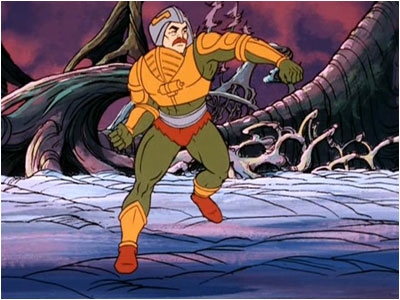 #4: Man-At-Arms
Nobody else rocks the handlebar moustache like Man-At-Arms, and for that reason alone he belongs on this list. He's the mentor and trainer of King Randor's forces, and he looks like the kind of guy that everybody likes to call "Uncle". The kind of uncle who likes to stand right behind you and approvingly "pat" you on the "back" repeatedly for a job well done. As part of his training regimen, he spends a lot of time wrestling around in the mud with the troops.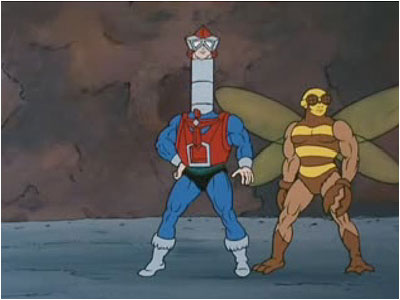 #3: Mekaneck
The guy's fucking neck extends. Do I really need to go any further with this? If this doesn't make him the most popular belle of the ball, I don't know what else possibly could. On Eternia that kind of talent would make him a King—nay, dare I say, a god. Who else can boost their partner's self-esteem the way this guy can? "Oh ho! Looks like I'd better extend my neck another foot for this job!" And gag reflex? Fucking forget about it. Not a problem. Not even on the radar.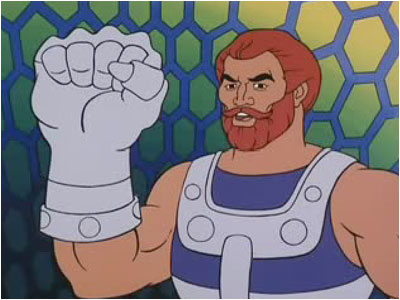 #2: Fisto
There's absolutely no doubt that whoever is in a relationship with Fisto is going to be the bitch, no ifs ands or buts about it. This guy is basically a lumberjack with a giant metal hand, and his name/power combination borders on obscene. He just screams "premise to gay porno, and one of those weird pornos where they try to incorporate sci-fi elements into the plot". There's no way a guy like this doesn't know most of the men of Eternia biblically, and this character certainly explains why all the guys run around like they're riding on a saddle and stand in such wide stances.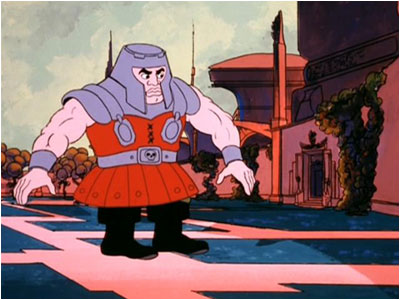 # 1: Ram Man
As far as I'm concerned, it doesn't get any gayer than Ram Man. The guy is stocky, or "husky" if you prefer, built like a tank, and yet he proudly wears a skirt because he doesn't give a fuck what you think. His special power is that he springs forth (light in the loafers) and bashes the shit out of things with his fucking head. But just look at the guy. His armor makes him look like a walking buttplug for crying out loud. And his name gives you all the information you need to know: "Ram Man". What does he enjoy doing with his spare time? "Ram Man". Sure, I suppose he could "ram" the ladies, but not like this. Not like this.
Have any questions or comments about this piece?
Email Protoclown