by: -RoG-
Ghostbusters II is one of those movies that just had a lot of bad luck, and as a result, most people forgot about it or never even saw it to begin with. Sure, the first Ghostbusters movie was better; but as far as sequels go, part 2 was still pretty damned entertaining in my book. You also need to take into account that when it came out, it was sandwiched right in between Indiana Jones and the Last Crusade and Batman - the top two grossing movies of 1989 which roughly brought in a combined $450,000,000! And since both of those movies came out within a month of Ghostbusters II, it wasn't going to be a film that a lot of people remembered strongly in the long run (even though it was still one of the highest grossing films of the year).
Well, I think it's high time we give Ghostbusters II the credit it deserves. It's not perfect, but so what? What is? It's simply a really fun, silly movie, and far better than 90% of other big franchise sequels. No need to overanalyze it, just sit back, laugh and enjoy. To help further drive my point home, I've created this list of the top 10 things (in no particular order) that I really liked about Ghostbusters II.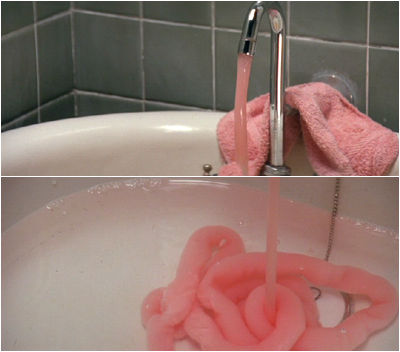 #1: The Slime Tub!
If there's two things that definitely go together, it's a tub and slime. Dana starts running a bath so she can wash her kid, Oscar, but while she has her back turned, pink slime starts pouring out of the faucet instead of water. When it hits the water it starts looking like a string of intestines. But not gross intestines. More like, intestines that you'd want to give a big hug to because they look like they're filled with cotton candy instead of poop.
Well, the tub continues to fill with the pink slime until it becomes, a pink monster!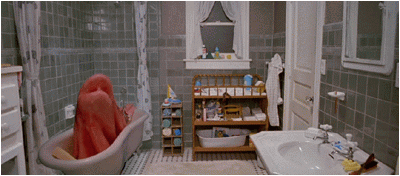 Dana runs away, of course, but come on... look at that thing. It just wants a friend. Wherever you are out there, tub slime monster, just know that I would've hung out with you instead of running off in a panic. If anything from the Ghostbusters II deserved to have a spin-off series, it's gotta be you. One question though, how do you make that porcelain tub bend like rubber instead of shattering when you move? Neat trick!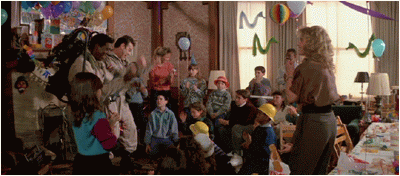 #2: The Birthday Party Dance!
The Ghostbusters have been through some hard financial times and, as a result, resorted to performing at birthday parties for kids. Now when I say that, you'd think they'd bring a captured ghost with them, release it and then catch it again in front of all the kids for a rockin' good time. No sir. They do something far better. They do the Ghostbusters Dance - swinging their arms up and down while singing the theme song. Of course, when Ray and Winston shout "Who ya gonna call?", the spoiled little brats respond with "HE-MAN!" Which leads to Ray referring to them all as "yuppie larvae". For the record, I WISH I could have Dan Aykroyd and Ernie Hudson come dance at my birthday party. So if any of you can make that happen, I'd be most appreciative.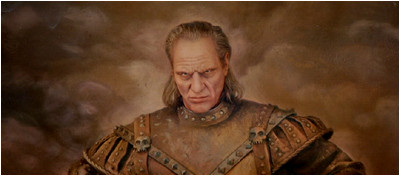 #3: Vigo!
Ok, let me just say right now that I friggin loved Vigo. Everything about him was pure hilarity. The way he spoke about himself was absolutely brilliant. It was never just plain old "I command you!" - it had to be something more. "I Vigo, the scourge of Carpathia, command you!" Brilliant. Plus, according to Egon, Vigo was also known as Vigo the Cruel, Vigo the Torturer, Vigo the Despised, and Vigo the Unholy.
And what about his introduction? Vigo's floating head appears inside the painting of himself and says, "On a mountain of skulls, in the castle of pain, I sat on a throne of blood! What was will be! What is will be no more! Now is the season of evil!" My friends, that right there is how every goddamned metal album should start before a single note is even played. But the hilarity doesn't end there. Vigo's entire body emerges from the painting in the final battle and...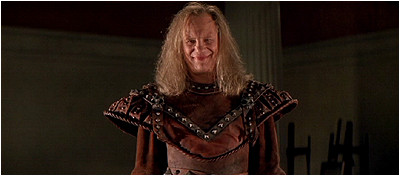 TRESUMME! OOO LA LA!
WHOAH-HO-HOAH! Who's the pretty princess? You are, Vigo! Oh yes you are! It looks like somebody went to the salon before their final showdown! Seriously, it's as if his hair took on a life of its own when he emerged from the painting. Vigo, with your utterly classic self-congratulatory declarations of pure evil, studded shoulder pads, and amazingly voluptuous hair... I salute you!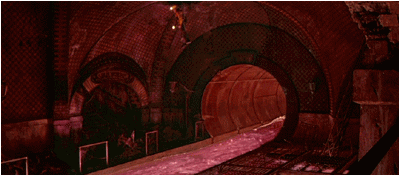 #4: The River Of Slime!
If there's one thing Ghostbusters II had no shortage of, it was slime. Nothing demonstrates this fact better than the river of slime flowing underneath the city. This wasn't just some plain old slime that came from the grocery store vending machines either. No, this stuff was hardcore slime - full of various colors, luminescent qualities, bubbles and some chunky textures. What more could you ask for?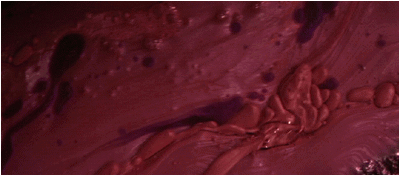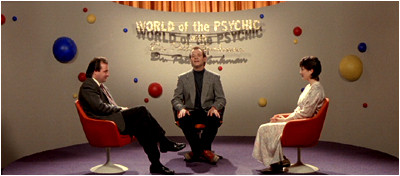 #5: World of the Psychic!
While Ray and Winston are dancing at children's birthday parties, Peter Venkman is now the host of a TV show called "World of the Psychic." His guests are complete frauds, delusional, or both. Watching Venkman listen to their tales about when they believe the world is going to end is classic, but it's the upcoming episode of the show that I really wish we could see: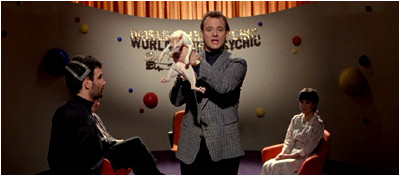 "Next week on 'World of the Psychic'... Hairless cats. Weird!" Come on! Tell me this isn't a show you would watch every single day if it really existed. I just wanna see how they can tie-in hairless cats with a show about psychics. That right there is "Must See TV." Can't go wrong with Venkman's "Until next time..." signoff message either: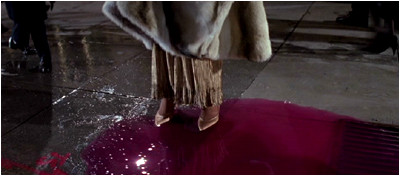 #6: The Angry Fur Coat!
As the river of slime levels eventually break through the surface of the city streets, it begins to seep out through every nook and cranny in the ground. When this one snooty rich lady wearing a real fur coat walks through one of the slime puddles, the slime awakens the creatures in her coat.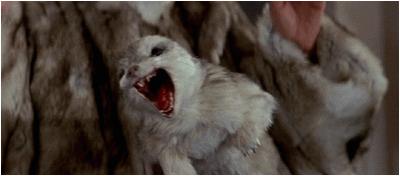 Awwwww! The animals burst from out of her fur coat and screech with rage while she freaks out. After wrestling with the animals for a little while, she finally rips off the coat and throws it on the ground.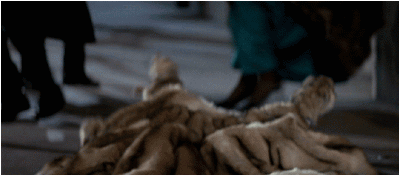 The angry fur coat then scurries off into the night, never to be seen again. I like to think that if you live in New York and listen closely enough... amidst all of the hustle and bustle of the busy streets, you can sometimes hear the coat still scampering wildly around the city scaring the bejesus out of the pedestrians.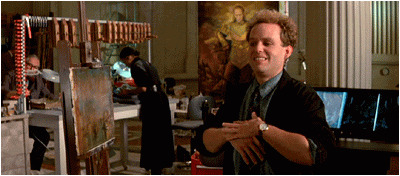 #7: Dr. Janosz Poha!
Hell, his name alone should be enough to sell you on the guy, but Janosz makes for a great, witless minion under the spell of Vigo. He's played by Peter MacNicol, and most people probably recognize him from his role on Ally McBeal, but I still say that his performance as Janosz was the apex of his career. The extremely exaggerated accent, the clumsy mannerisms, and his constant awkward hitting on Dana easily make his character one of the most unforgettable ones of the film.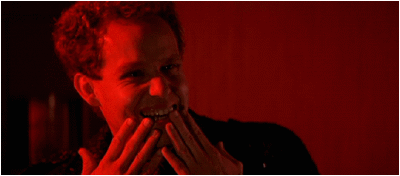 In the end, Vigo's spell over Janosz is broken by a blast of positively charged slime. While it's fantastic watching him wake up and say, "Why am I drippings with goo?", I would've preferred to see him square off against Louis Tully (Rick Moranis) for the ultimate in clumsy nerd guy battles. You just know that would've been incredible!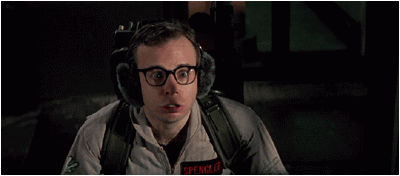 #8: Slimer's Cameo!
Let's face it, people probably would've rioted in the streets if Slimer didn't make an appearance in the Ghostbusters sequel. Even I would've uprooted my chair from the floor and thrown it right through the screen if he wasn't in it. Slimer is simply the best of the Ghostbusters ghosts because he lives by his own rules. While all the other ghosts and monsters seem to be helping Vigo cause chaos throughout the city, Slimer is just there doing his own thing. In this case, he decided to drive a bus and give Louis Tully a ride to the museum so he could help out his buddies.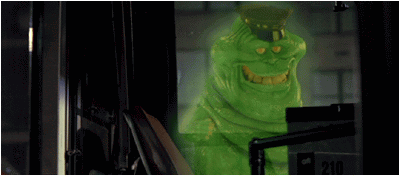 I've still got my old "I've Been Slimed!" Ghostbusters button, and hope that some day Slimer will give me a lift to wherever I happen to be going. Rock on Slimer, rock on.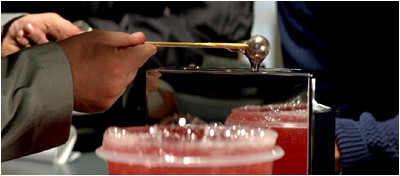 #9: The Dancing Toaster!
After Ray and Egon discover that the slime not only reacts to negative energy, but also to positive energy, they conduct some experiments with it. The best experiment however, is when they fill a toaster with the slime and play Jackie Wilson's "Higher and Higher" on the radio. And then it happens.
The toaster begins to dance. A dancing toaster! If that right there isn't worth the price of admission, I don't know what is, folks. If you pause the movie during this scene, you can actually see the little mechanical spring legs popping out which is how they made the toaster move dance like that. Considering all of the tie-in merchandise they made for Ghostbusters II, I'm surprised nobody ever tried to cash in on the dancing toaster phenomenon. But hey, it's not too late people. I'm sure one of you has the means to mass produce these things, and I'll be the first guy in line ready to buy one if you do. Make it happen!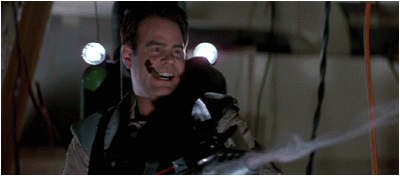 #10: NES Advantage Liberty!
When the Ghostbusters' proton packs fail to crack the slime shell that's covering the museum, they decide to use something with a bit more power. So what do they do? They go to the Statue of Liberty and spray the inside of it with positively charged slime and start playing Jackie Wilson's "Higher and Higher" over some loudspeakers so that they can walk Miss Liberty over to the museum. Don't ask how that works, it's science. But how are they going to control where the statue works? Oh they've got that covered too.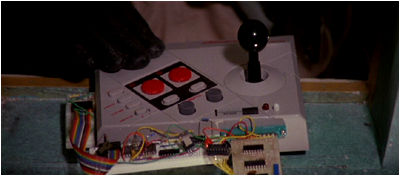 They hack a NES Advantage controller from the Nintendo Entertainment System so that it's connected with the slime. Now they can steer her wherever they want! GENIUS!
They then walk her through the city, stepping on a police car in the process, break through the slime shell on the museum with a mighty swing of Miss Liberty's torch and save the day. Explain to me again why so many people didn't enjoy this movie?

Honorable mention goes to the passengers of the Titanic returning home.
And there you have it. If you still don't like Ghostbusters II after reading this article, I might have to just come to your house, kick your door down, and douse you with some positively-charged slime.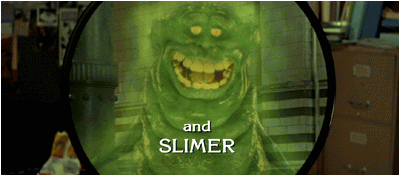 Have any questions or comments about this piece?
SHARE YOUR THOUGHTS IN THE READER COMMENTS SECTION BELOW!