by: -RoG-
As Halloween approaches each year, I know some of you have come to depend on me to test out all the latest candies for you in advance so you know which ones to hunt for and which to avoid like the plague. Oh sure, nobody gives a damn if ol' RoG has to have his stomach pumped due to a sugar overload, just as long as he reports the Halloween candy news. And here I thought we were friends. Well, lucky for you, I've been collecting candies over the past 2 months and am ready to report.
Before we get started, however, I'm sad to say that I have some absolutely horrible news... the Wonka candy company has discontinued their Count Wonkula Bloodberry Donutz! Yes, the same candy donuts which received my vote for the best Halloween candy two years in a row! We need to band together and email the Wonka company to let them know that we want our chocolate donutz candies back and we want them bloody!
Also, if you haven't ready my past Halloween candy coverage from 2005, 2006 and 2007, make sure you do because many of the candies from those years are still in production. Except for the Bloodberry Donutz. Damnit. Alright, let's get started!
Brach's Milk Maid Chocolate Caramel Candy Corn


For people who can't stand traditional candy corn (something I'll never understand), Brach's is once again offering up a variety of flavors. Their Milk Maid Chocolate Caramel Candy Corns are pretty good. If you've ever had Rolo's chocolate caramels, then these are basically the same thing. The chocolate flavoring is definitely stronger than the caramel, but it's a nice balance between the two tastes.



out of 5 floating eyeballs
Brach's Milk Maid Caramel Candy Corn


If the previous ones don't do the trick for you, perhaps these ones will. The caramel flavor takes the center stage here, but it competes with the standard candy corn flavor so much that you often think you're eating regular candy corns. They're not bad by any stretch, but I'd recommend going with the chocolate caramel variety if you want a real departure from the norm.


out of 5 Phantasm Sentinel Spheres
Wonka Sweet Tarts Spooky Jelly Beans


I've never been the biggest fan of jelly beans, but I'm diggin' these Sweet Tarts Spooky Jelly Beans. Granted, there's nothing very spooky about purple and orange jelly beans, but at least they slapped a Halloween witch scene on the bag. The jelly beans have just the right amount of sweet tarts filling inside them... nothing too strong. This, of course, could be dangerous, because when a candy is seemingly this easy to stomach, you could potentially eat them one bag at a time. Damn you Wonka, that's what you had planned all along, isn't it!



out of 5 Uncle Festers
Brach's Mellowcreme Pumpkins


I exercised great restraint by not eating the entire bag of these Mellowcreme Pumpkins before I could photograph them for the site this year. Something I failed miserably at in the past. So yeah, you can now congratulate me on my impressive display of self-control... and while you're doing that, I'm gonna go eat the entire friggin' bag.




out of 5 pumpkin candles
Skittles Chocolate Mix


Now this was a strange thing to see on the candy shelves, Skittles that aren't fruit flavored? Whatever happened to their whole "taste the rainbow" slogan? Don't think I've ever seen a chocolate rainbow before, but Skittles is trying to change that with their new Chocolate Mix pack. It comes with five different flavors: S'mores, Chocolate Caramel, Chocolate Pudding, Brownie Batter and Vanilla. The S'mores ones really don't taste like S'mores at all if you ask me... they're more like Tootsie Rolls really. Same goes for the Chocolate Caramel. Same goes for the Chocolate Pudding. Same goes for the Brownie Batter. Honestly, with each flavor it just seems like they added in more chocolate to the mix, but when you eat them one after the other, it all basically blends together. The Vanilla flavor is really the only one that stands apart from the pack, but not in a good way. I'd venture to say that it's the worst flavor of the bunch. All in all, none of these chocolate Skittles taste particularly good, and they're definitely not something I would buy again. I've tasted the chocolate rainbow and it's no good.
out of 5 Pennywise clowns
Ghost Dots


I reviewed these Ghost Dots last year and they haven't changed a bit... that's not a good thing. So why review them again? The answer is simple: I asked the Tootsie company to produce some Ghost Dots plush toys because I absolutely love how the characters on the bag look.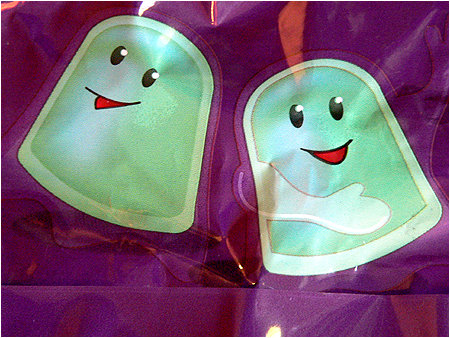 Unfortunately, they failed to deliver the goods this year, so I'm gonna keep putting the request out there every Halloween until they (or somebody) makes me a Ghost Dot plush toy. I just want one. It's not too much to ask is it? I'd settle for a vinyl toy too, but it had better squeak when squeezed. Don't let me down again, Tootsie.
out of 5 full moons
Wonka Nerds Giant Chews


I'm not sure if these are brand new or not, but it's the first time I've ever had 'em and all I can say is... holy crap! These Giant Chewy Nerds are absolutely delicious! The crunchy-sweet outer shell goes perfectly with the chewy center, and I like how they're bumpy as hell like eggs with acne for no real reason. Both flavors are great, but if I had to pick one of the two, I gotta go with the grape. While it's true they may not be the most Halloweeny looking treats (though the witch & devil Nerds characters are a nice touch), it's entirely possible that these are the best tasting candies of the season and you absolutely must track down a package of 'em.





out of 5 pumpkin carving tools
Fruit Gushers X-Scream
Mouth Morphers Tropical Freak Out


While fruit snacks aren't technically a candy, these new Fruit Gushers X-Scream Mouth Morphers were on display with the rest of the Halloween candies, and it's clear that they made these orange and black ones for the holiday. If you're into extremely tart fruit snacks, you'll probably love these things. The black ones are considered "special pieces" because, in addition to being so tart, they're filled with liquid that's supposed to turn your tongue green. I found that they just make your tongue look like you ate a bowl full of ashes. Mmm... soot.
I should also note, there's a questionnaire on the back of the box asking "What will you do when the green rush comes over you?" and rather than allowing you to speak for yourself, they provide you with the answers to their question:
-Take a martian to your school's Halloween dance.
-Go trick-or-treating as the mysterious zombie tongue.
-Start a rock band called the Screamin' Greenies.
-Befriend the lizards living in your back yard.
-Tell your mom you have gushertongueitis so she'll let you stay home and rest up for Halloween.
-Get a job as the 18th green at a mini-golf course.
Wow... and here I was just gonna brush my teeth. I guess I'm just not "X-Scream" enough for these fruit snacks.


out of 5 Chucky dolls
Wonka Creepy Treats Pack


Who ever knew bananas could be so horrifying? The Wonka company, that's who. With their new Creepy Treats pack, two of the four varieties found within are all about bananas. First off, you've got the "Fungus Toenails", which are really just the bananas from their Runts candies. Then, there's the "Ear Wax", which is just a piece of banana-flavored Laffy Taffy. I've always been a fan of the banana-flavored Runts, and have long said that they should sell them separately, so this is definitely a welcome treat. I've never had the banana-flavored Laffy Taffy before, but it's definitely just as good as the Runts if you ask me. Plus, each one comes with a joke on the wrapper. Hilarious jokes such as, "Question: How do small children travel? Answer: In Mini Vans!" I'll give you a few minutes to regain your composure, because if you're like me, that joke had you on the floor, clutching your stomach and writhing in pain from laughing so goddamned hard that you were ready to puke up all that sugary banana goodness.
Are you okay now? Alright, good... let's move on.
The Creepy Treats pack also comes with the Skulls n' Bones variety of Sweet Tarts, which have been around for a few years now, but it's always good to see 'em return. Not enough candies actually change the shape of their treats, so it's nice to see them still doin that with these ones. Lastly, we have the "Giant Chewy Bumpy Warts" which are the exact same thing as the Nerds Giant Chews I mentioned earlier. The difference with these is they only put the grape ones in these individual packs, which is fine by me since I think the grape ones are the best of all.
You really can't go wrong with any of the candy varieties in this bag, so whether you're looking to pig out on 'em or you simply want all the trick-or-treaters out there to talk about how your house is giving out the best candies this year, this is definitely one of the better large candy variety bags out there this Halloween.




out of 5 brains in jars of formaldehyde
Oh but there's more!
CLICK HERE TO CONTINUE TO
PAGE 2 OF THE CANDIES!