by: -RoG-
Since this has been one of my busiest Halloween seasons in recent memory, what with me constantly updating I-Mockery with new content over the past two months and simultaneously working on my upcoming Bionic Chainsaw Pogo Gorilla game, I thought I'd sneak past October 31st without having to submit my stomach to unspeakable sugary suffering. Well apparently the laughs and future hospital bills are on me, because look who just showed up in my living room once again:
Everybody's favorite little sack-headed Halloween hero, Sam from Trick 'r Treat, turned up, and I was hoping he was just here to tell me about how they announced the Trick 'r Treat 2 sequel. While I can't tell you how happy I was to hear that news, I couldn't ignore the fact that he showed up with an even larger pile of candy than last year! Again, no words from Sam... just candy. I knew what he wanted me to do with them. Just as he expects people to put out jack-o-lanterns on their front porches and give out candy to trick-or-treaters, I too have become a Halloween tradition that cannot be broken, even if I have a note from my doctor saying I really shouldn't keep doing this every year. Sam doesn't accept notes from doctors or any other excuses. Ulcers schmulcers; it's my duty to ensure that you learn about the newest Halloween candies that are on store shelves this season.
Over the past two months, Sam has collected candies from the 2013 Halloween season and now it's time for me to put them to the test. On the following pages, you will learn all about the best and worst candies of the season as I conduct a thorough taste test of each and every one of 'em. In return, I only ask that you please share this article on your social networks of choice... and send me massive amounts of insulin too.
As always, if you haven't read my past Halloween candy coverage from 2005, 2006, 2007, 2008, 2009, 2010, 2011, and 2012 make sure you do, because many of the candies from those years are still in production. Alright, let's get started!
Starburst Fruit Flavored Candy Corn


I was surprised when I saw these on store shelves early this season, because I never pictured Starburst going the candy corn route. Well, the fact is that these smell exactly like regular Starburst candies, and that smell is so good that they need to make air fresheners and perfume out of this stuff if they haven't already. Sadly, the scent is pretty much where the good news about these new candies ends. The texture is just like candy corn, but with the super sweet fruity flavor, it just comes off like a Starburst candy that was sitting out for too long. As I chew on them, I find myself wishing I was eating a real Starburst candy instead. Good for them attempting something slightly new, but I'll pass on these in the future.

out of 5 floating eyeballs
Tootsie Caramel Apple Lollipops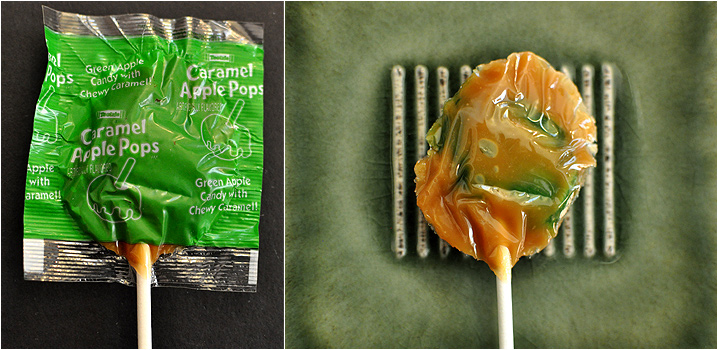 I'm usually a fan of caramel apple flavored anything, so I was happy to see this new offering from Tootsie. It took a bit of time to remove the lollipop since it was completely stuck to the packaging, so I had to cut it open with scissors. You'd think they could find an easier way to wrap 'em. Packaging aside, the lollipop is completely coated in caramel. All you taste is caramel at first, and it's delicious. Then you get to the sweet green apple center and it blends together really well with the caramel. It may not look pretty, but it's easily one of the tastiest candies I've had this year. Nice job, Tootsie!




out of 5 Phantasm Sentinel Spheres
Jelly Belly Pet Tarantulas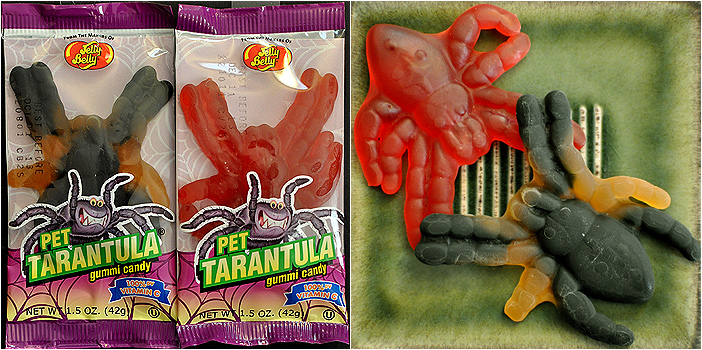 I love the packaging on these, what with the big Tarantula more than happy to make your acquaintance, even though you have every intention of eating it. The back of the packaging also has some fun "care & handling instructions" for your pet tarantula... hey, it's the little things that count.. The tarantula gummies come in a variety of flavor combinations including Blackberry, Cherry, Lemon, Lime, Pineapple and Strawberry. As nice as they look, they sadly don't taste good at all. We're talking a serious chemical flavoring to these things. I suggest sticking with Jelly Belly's jelly beans instead.


out of 5 Uncle Festers
Gruesome Grape Big League Chew

If there's one thing we can all agree on, it's that you simply can't go wrong with an angry mummy playing baseball. And look, one of his gauze wraps is slightly wrapped around the bat. I bet he'll become completely unraveled if he tries to swing for a home run. Poor guy won't even be able to make it around the bases. If you've had regular grape Big League Chew, this "Gruesome Grape" Halloween variety tastes exactly the same; an incredibly strong grape flavor, and it's tasty as can be. It's even better if you imagine the shreds of bubble gum are actually shreds of mummy gauze. Mmmm... delicious gauze.
I should also note it's available in a "Howlin' Original" flavor with a werewolf, but I prefer our grape mummy friend here.
out of 5 Pennywise clowns
Ausome Candy Cauldron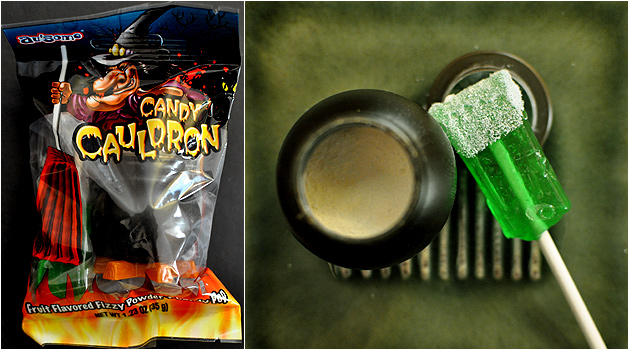 I didn't even know these existed until my mom (the lady I credit with my obsession for all things Halloween) sent this my way. She found this Candy Cauldron in a CVS, and as you can see, it has nice packaging with a classic witch and flames to heat up her bubbling cauldron. It's described as a "fruit flavored fizzy powder" and comes with a lollipop shaped like a broom. While I don't feel it fizzing at all in my mouth, which I was looking forward to, it's still a nice tart flavor and fun to eat. It's like a Halloween version of Fun Dip, and while I prefer the taste of the dipping chalk that comes with that classic candy, this stuff is still quite good with the green apple lollipop. You also get a nice little plastic souvenir witch cauldron toy afterwards, which is nice. Plus, you can reseal it any time so you don't have to eat the whole thing in one sitting. Here's hoping we'll see these again in the future!




out of 5 pumpkin candles
Gimbal's Harvest Mix Jelly Beans


Now this really caught my attention. I love it when companies don't just repackage their candies. This is a genuinely interesting mix of flavors, and I was dying to try the Roasted Marshmallow one in particular when I read about it on the back of the bag. Gimbal's Harvest Mix comes in 7 fall flavors: Roasted Marshmallow, Harvest Spice, Peach Cobbler, Goblin Punch, Red Delicious, Harvest Berry, Pumpkin Pie. So let's go one by one:
• Roasted Marshmallow: This one tastes exactly like it sounds. I honestly wouldn't mind a whole bag of these ones and nothing else. Really, really good!

• Red Delicious: Again, tastes just like the apples. Not too sweet, and not too shabby either.

• Harvest Spice: It has a slight cinnamon flavor to it, but I gotta say I'm not a big fan of this one.

• Peach Cobbler: Tastes just like a peach, so they did a good job. Unfortunately, I'm not a fan of peaches, so I won' t hold that against 'em, but if I'd prefer to pass on these ones.

• Purple: I'm not sure what flavor this was to be honest. It was very mild though, so not bad at all and it blends well with the other flavors when eaten at the same time.

• Maroon: I don't know if this was Goblin Punch or Harvest Berry, but it was fine. Almost like a very mild grape.

• Pink Speckled: Same as the Maroon. Couldn't tell ya which specific flavor it is, but it works.
Overall, it's a nice mix of flavors, with the Roasted Marshmallow easily being my favorite of the bunch. I do think they should include some kind of key so you know how to match up the jellybeans with their flavors, since I had no idea what three of the flavors were. A very solid showing that could easily give a similar Jelly Belly mix a run for their money.



out of 5 full moons
Pumpkin Spice Hershey's Kisses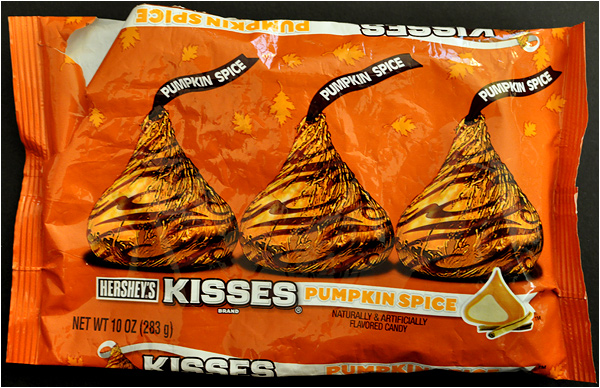 Sorry, but these are so insanely good that they had no chance of lasting through the season, so a photo of an empty bag is all you're gonna get. After years of reviewing these, they've officially become a new Halloween favorite of mine. I'm bumping them up to my highest rating this year. Yep, they're that good.
Pro-Tip: Start your day off right... eat 'em for breakfast!





out of 5 pumpkin carving tools
Black Widow Spider Eggs Bubble Gum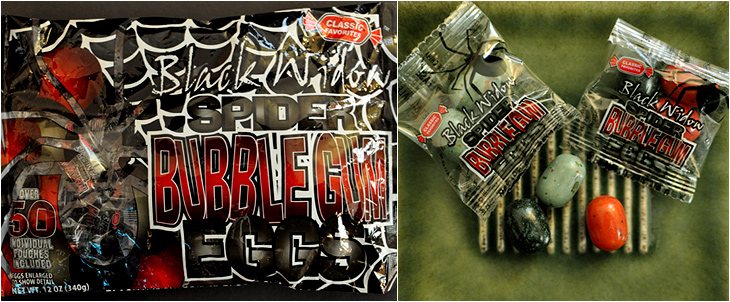 I love the idea of a black widow spider just laying a bunch of tasty eggs for us to chew on every Halloween. The eggs come in three speckled colors: grey, black, and red. I do wish they has the red hourglass symbol on them to drive the whole "black widow" theme home a bit stronger. The gum itself has only one flavor, and it's just that of a generic gumball, so nothing particularly exciting. Still, it's nice they come in individually wrapped packs of three for the trick-or-treaters. Not bad.


out of 5 Gremlins
Trolli Evil Twins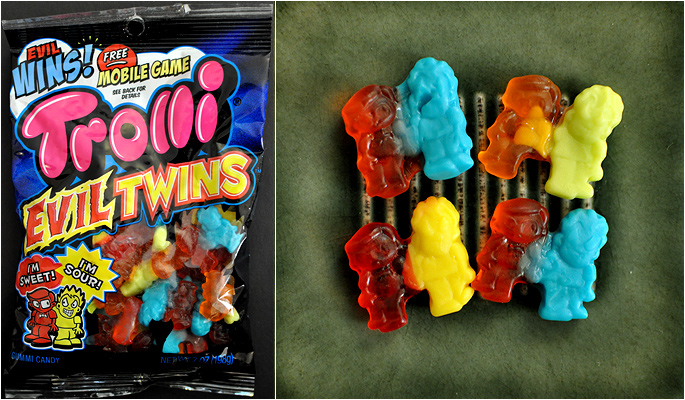 Come on, who doesn't love the idea of being able to rip two conjoined twins apart and eat them. Okay, maybe conjoined twins don't love that idea, but I think the rest of us can get on board with it. One twin is sweet, and the other is sour. I'm not a huge fan of gummy candies, but these taste pretty good. They're not too sweet or too sour, and if you eat 'em both the flavors blend together really well. I'd gladly take these over Gummy Bears any day of the week. Another solid addition to our ever-growing menu of seasonal Halloween sweets. Well done, Trolli!
out of 5 maggots
Oh but there's more!
CLICK HERE TO CONTINUE TO
PAGE 2 OF THE CANDIES!