by: -RoG-
Halloween Horror Nights at Universal Studios Hollywood is back this season to scare everyone in SoCal who dares to enter their always entertaining selection of spooky seasonal attractions. In 2013, they had mazes based on Evil Dead, Insidious, The Walking Dead, El Cucuy: The Boogeyman, and Black Sabbath 3D. In 2014 (which we didn't have enough time to cover on the site last year), they had mazes based on An American Werewolf in London, From Dusk Till Dawn, The Walking Dead, The Purge, Clowns 3D, and Dracula Untold. This year, the mazes include Halloween: Michael Myers Comes Home, Insidious: Return to the Further, The Walking Dead: Wolves Not Far, AVP: Alien Vs. Predator, Crimson Peak: Maze of Madness, This Is The End 3D, and Terror Tram: Survive The Purge (in addition to some more "scare zones").
Now we've been attending HHN for ages, but 2015 was unfortunately the first time there was no Eyegore Awards ceremony to kick off their opening night. That was a real bummer, as it's something we always look forward to, but John Murdy told me he's hoping they'll bring back the Eyegores again next year. Let's hope that proves to be true.
That said, in addition to the bazillion photographs you're about to be treated to, we did record some video footage of our favorite maze (Halloween: Michael Myers Comes Home), and you'll get to see it at the end of this pictorial. But first, it's time for you to walk with us as we make our way through the scare zones, mazes, and tram rides of Halloween Horror Nights!
Disclaimer: It's really hard getting good photos in some of the haunt mazes, so please excuse the occasional blurriness.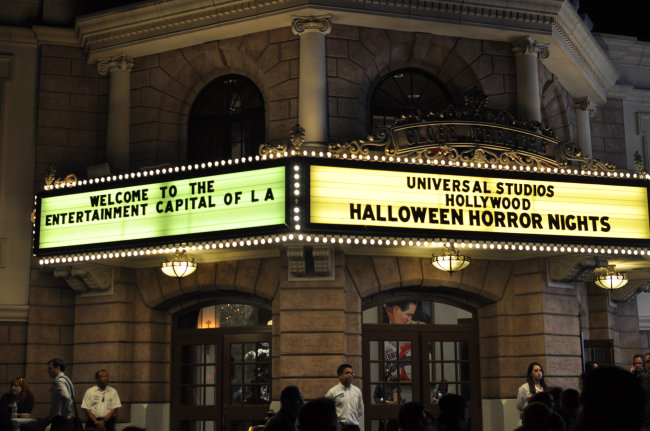 We arrive at Universal Studios for their 2015 Halloween Horror Nights event!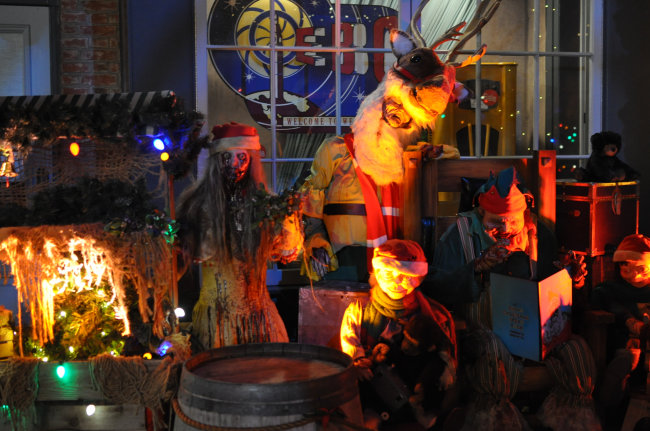 And we were then immediately greeted by Christmas characters?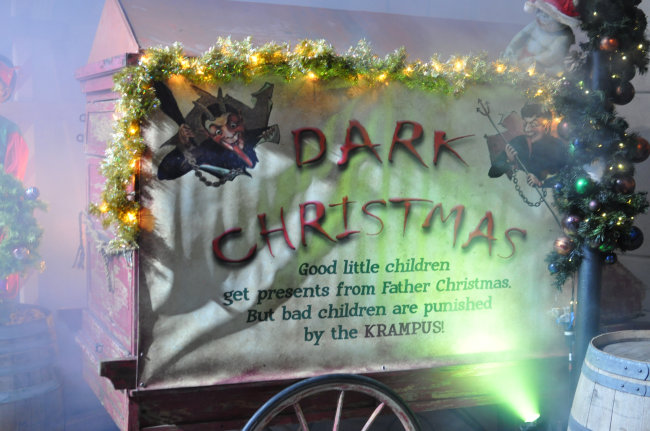 Ohhh... it's Dark Christmas! That makes a lot more sense.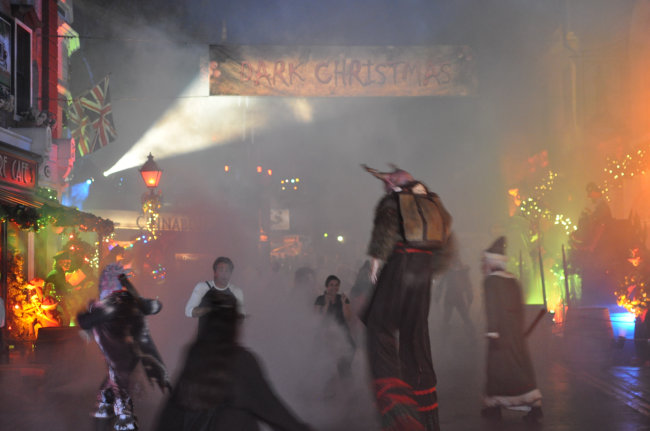 This was the first "scare zone" we walked through, featuring a giant Krampus stalking helpless children.
Scare zones aren't actual haunt mazes, but they're still fun and have scare actors messing with everyone.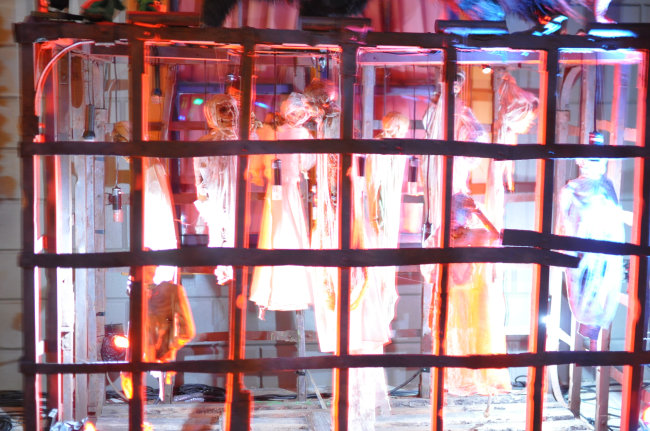 So many hanging Christmas angels all caged up.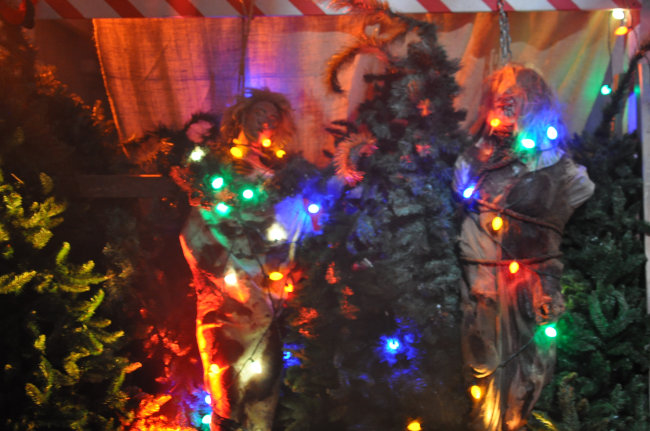 Amazing how a few colored lights can even make dead people look festive, isn't it?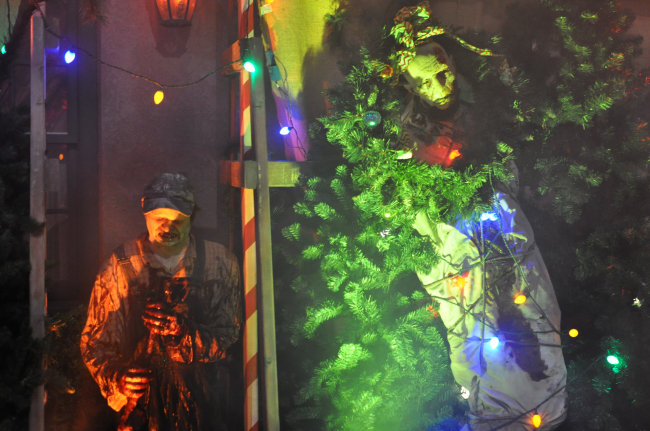 I'm guessing this customer wasn't happy with his tree, so Bubba killed him when he tried to return it to his tree lot.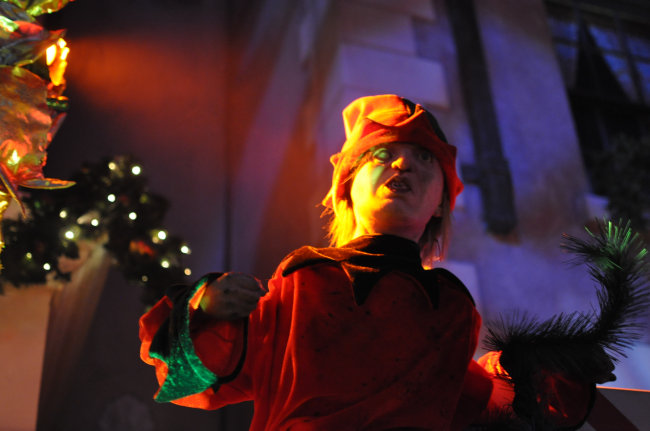 What a fine looking elf you are!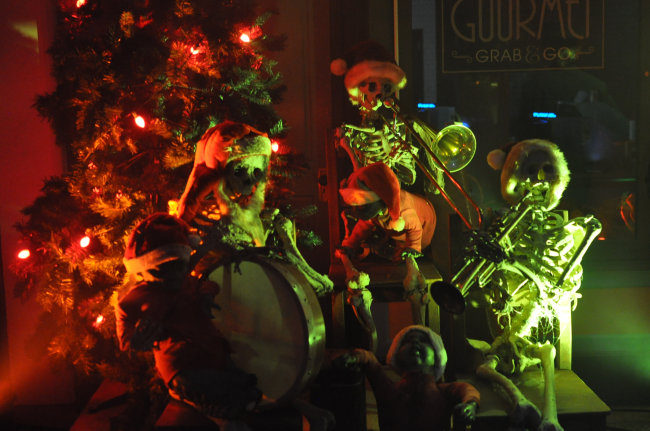 And the skeleton band played on.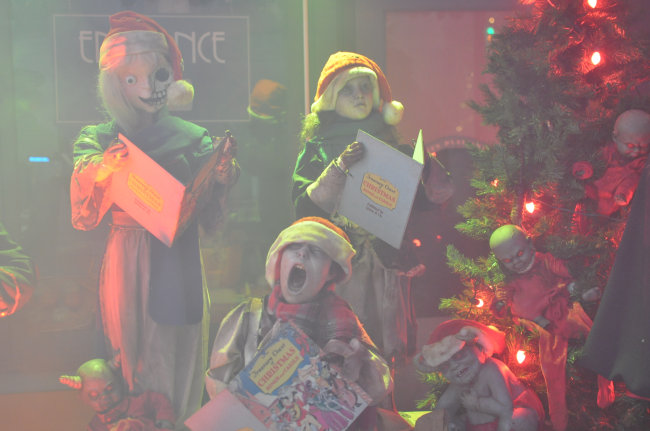 Not sure you'd wanna hear the voices of these particular carolers.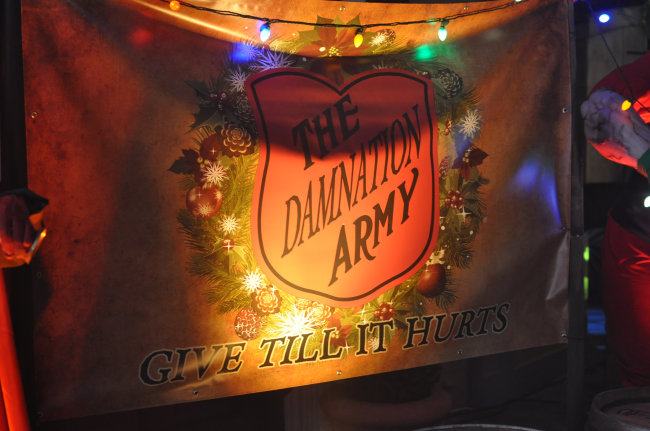 This sign made me smile soooo much.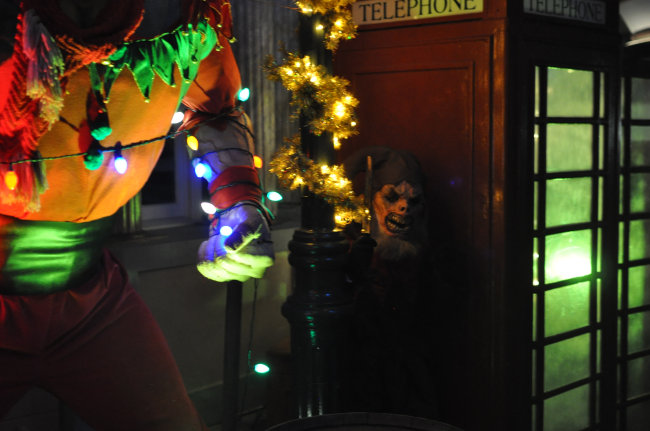 One of the scare actors hiding behind the telephone booth, waiting to jump out at an unsuspecting passerby.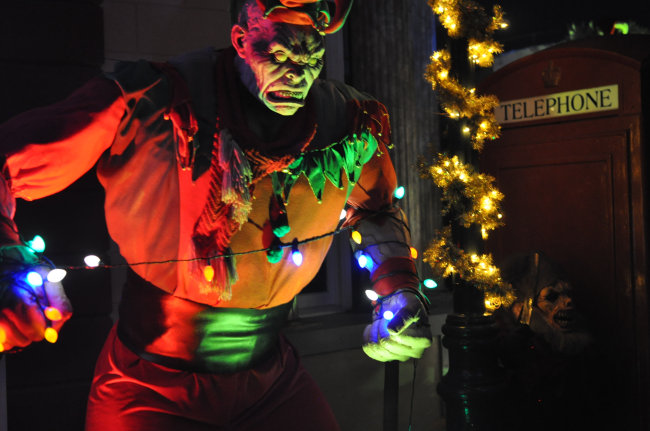 Beware the mega elf!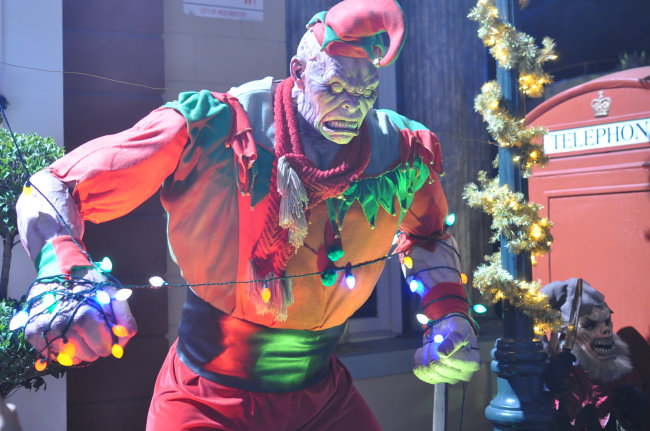 I said BEWARE!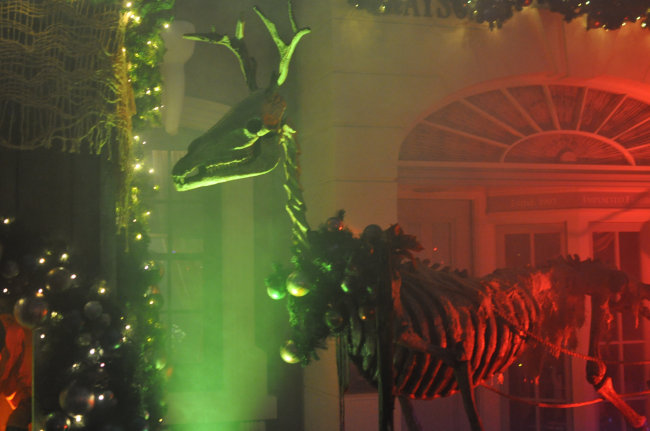 Looks like Rudolph lost his nose... and a lot of weight.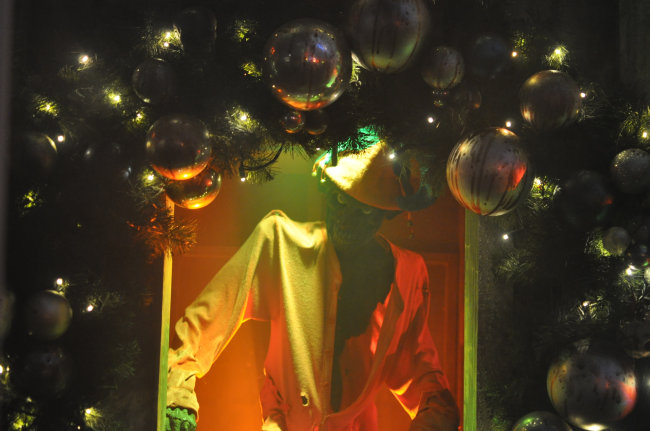 I don't know what he was charging for tickets, but I didn't want to
stick around to find out, so I just threw my wallet at him and ran.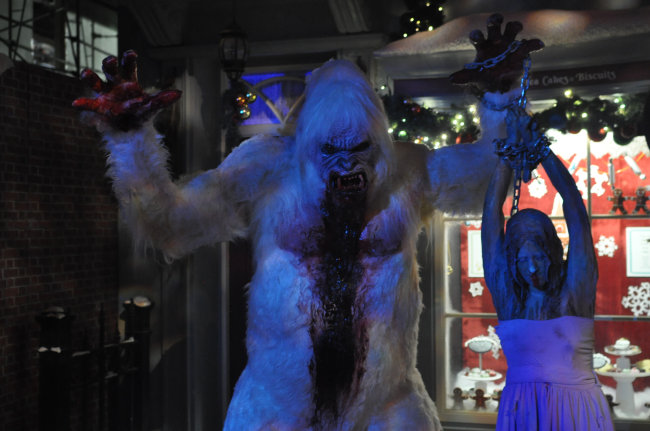 Looks like this Yeti found himself a tasty frozen treat.
Also, totally recognize that girl from the Black Sabbath maze a few years back.

The next scare zone we passed through was Exterminatorz.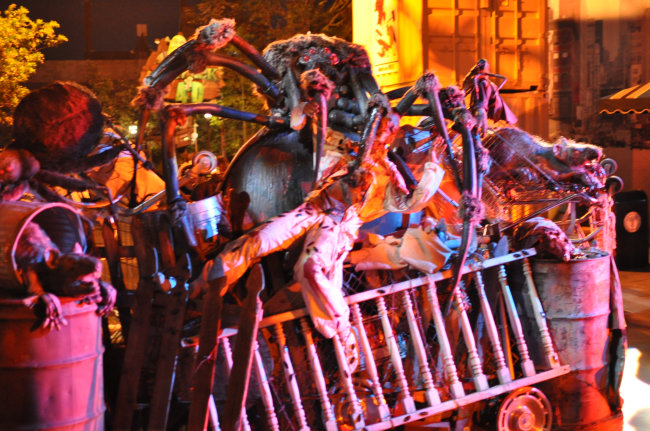 As you can see, it's the bugs that are doing the exterminating of humans here.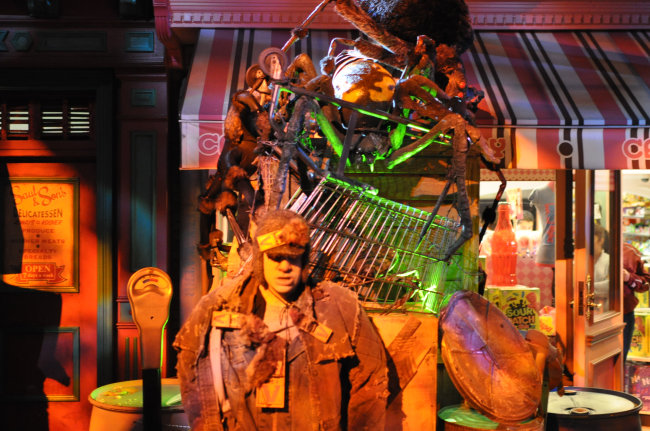 It's like a Katamari ball of murder.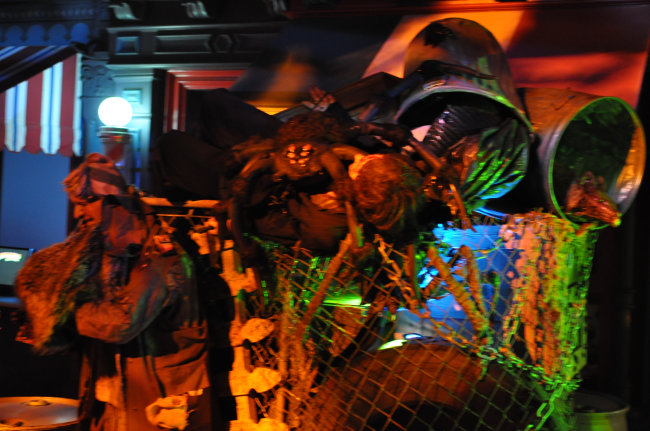 Arachnids apparently love eating trash and the homeless.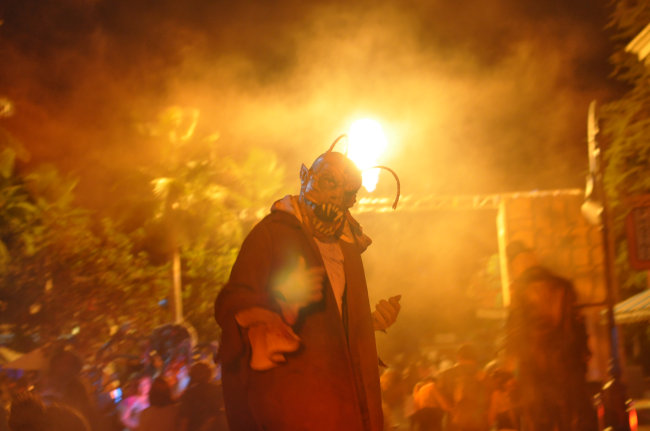 Timed this shot perfectly.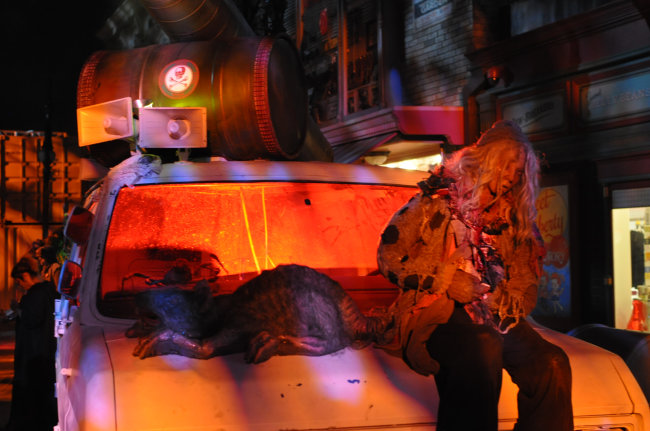 Somebody better call the Orkin man.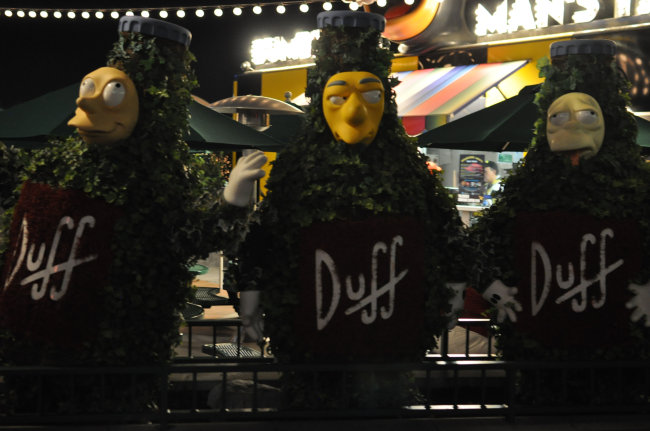 Duff beer hedges. Not particularly Halloweeny, but you gotta pass by 'em on your way to the haunted attractions.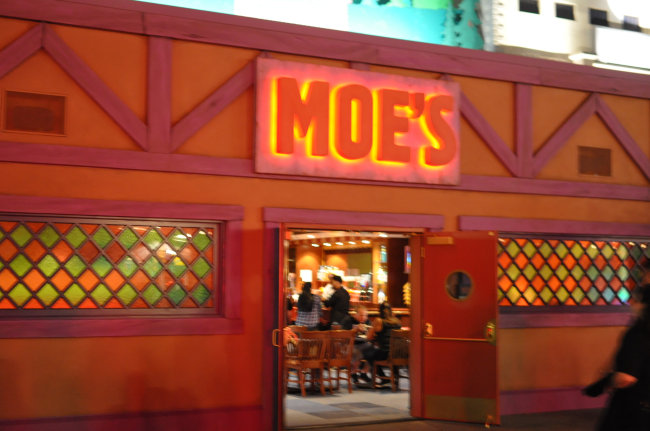 Moe's Tavern!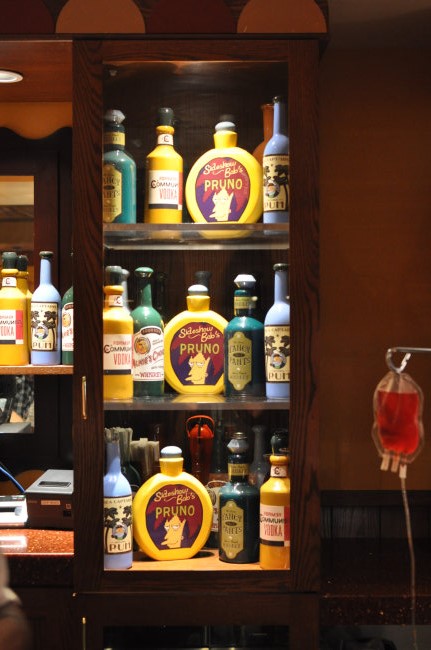 What's your poison? Communist Vodka, Sideshow Bob's Pruno, or a Flaming Moe?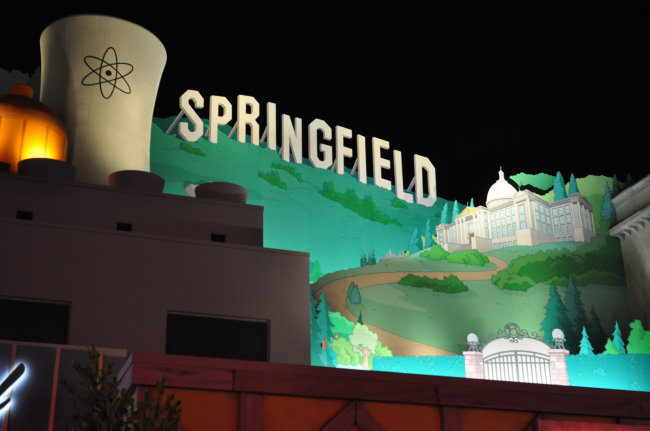 The Springfield Nuclear Power Plant is looking stable, for now...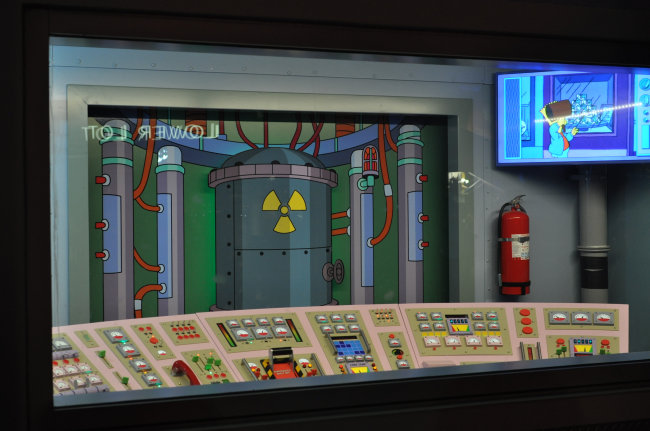 ...then again, with the flick of a switch, I could change that real quick.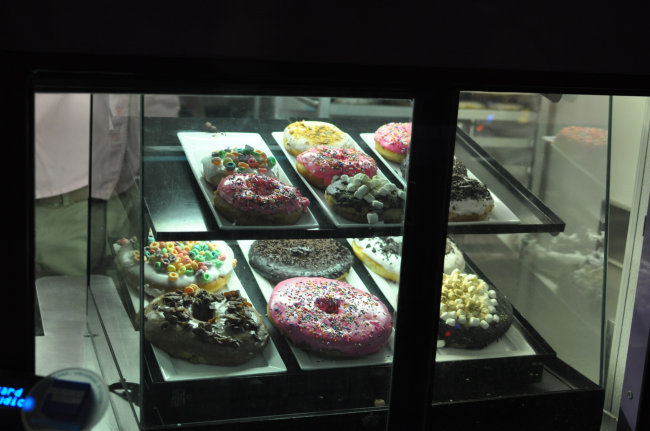 Universal Studios - where donuts have more calories than an entire wedding cake.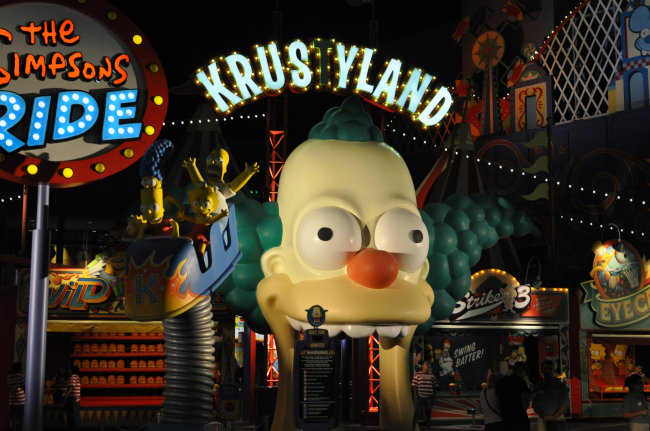 After all these years, the sight of Krustyland still never gets old.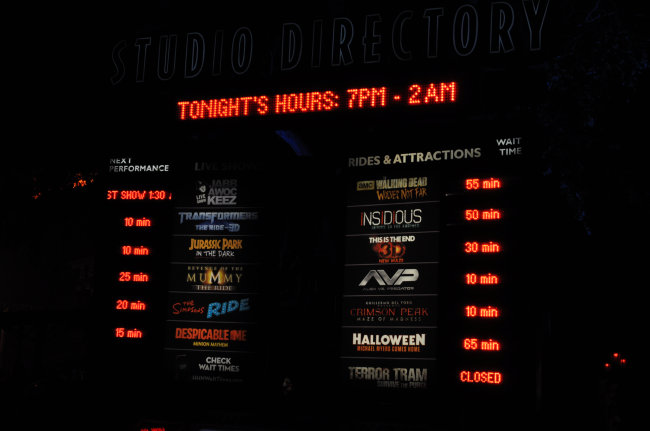 Decisions, decisions, decisions...
There's still more Halloween Horror fun to see!
Click here to continue onward to page 2!