by: -RoG-
Halloween. It's not a holiday. It's a day of murder. A Murderday. Murder, mayhem, poisonings, child abductions, car accidents, grenade explosions, scorpion attacks, children melting in angry pools of magma spewed forth by stygian hounds right before your very eyes... it's one hell of a dangerous time to go outside. And yet, here you sit, letting my warning pass you on by as you daydream about which costume to wear this Halloween. Just what the hell is wrong with you? Have you no interest in self-preservation? Well... I think it's high time you get a lesson in safety. Halloween Safety!
Oh sure, you can cry all you want, but you're gonna sit here and learn from this important educational film about the dangers of going trick-or-treating on Halloween. Yes, it's a film from 1977... but so what!? Do you think that makes it dated? It's no more dated than the last educational film I reviewed about bicycle safety and monkeys. And whether or not you like to admit it, I saved your life by exposing you to the lessons learned in that film. I expect to save your life once again by showing you this one today. So let's take a look at the 1977 "Halloween Safety" educational film by Centron.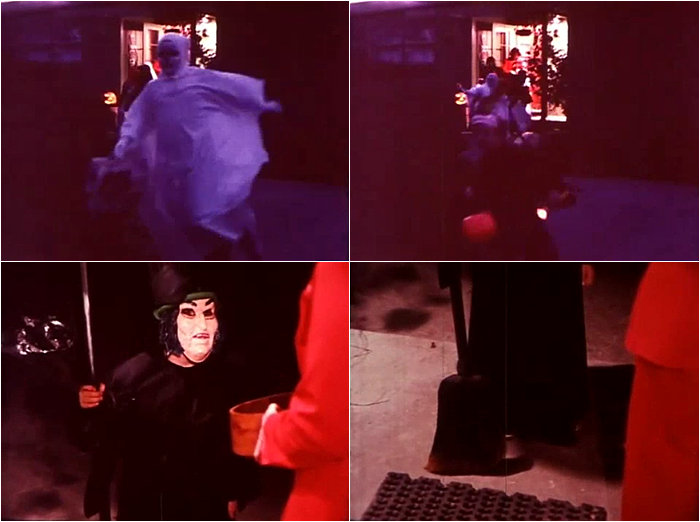 The film starts off with some classic shots of children running from door to door as they trick-or-treat in their iconic Halloween ghost and witch costumes. But after the initial excitement dies down, we quickly realize that there is something very wrong with one child's costume. Look at that little witch! Look at her costume! Look at her broom! What, you still can't see all the potential danger here!? Ok, it's time we put you in her witchy lil' shoes so you can experience first hand exactly what it's like to go trick-or-treating in those garments of death.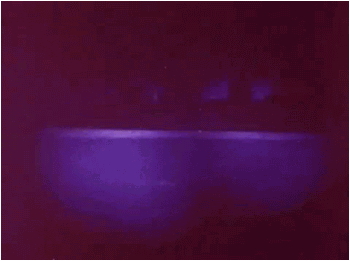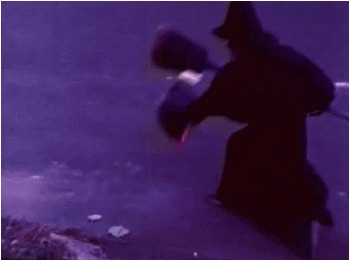 Yeah, it's not such a pretty picture now, is it? When you walk around with a mask like that covering your face, you run the risk of being nearly blind! You won't be able to see where you're walking and you may trip over your own witchy feet and spill your candy all over the ground. You could even be hit by a car!

That's right, a CAR. It's a well known fact that the only motorists on the road on October 31st are homicidal maniacs with a thirst for seeing the innards of young children in costume splattered upon the front grill of their cars. For this little girl to wear a pitch black witch costume in the middle of the night... it's as if she's just asking to be murdered. Naturally, to illustrate their point, the filmmakers keep switching back between early evening and late night exterior shots whenever the particular lighting suits them. Safety comes before Hollywood magic, folks.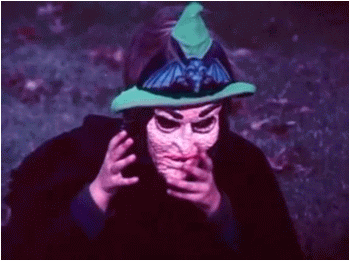 So after falling down not once, but twice, our little witch has just about had it with her costume. She kicks her broom, tosses her hat to the ground, and rips off her mask in utter frustration. What could she have done to make this a more enjoyable... nay... a safer Halloween? Fortunately, the filmmakers have all the answers for you so you don't have to make these same fatal mistakes.

First off, her costume is clearly way too long and needs to be shortened so that she doesn't trip and fall again because it's dangerous to HOLY SHIT THERE'S A CAT ON THE SCREEN! Yes indeed, one can only assume that due to budgetary constraints, they were unable to reshoot this sequence of the mother shortening the skirt when the cat walks in front of the camera. Had it been a black cat, people would've thought it to be an intentional addition to the scene, but not here. Nope, this is just pure cat interference and there's nothing anybody can do about it. It was simply time for that feline to shine.
Anyway, back to the important topic of safety...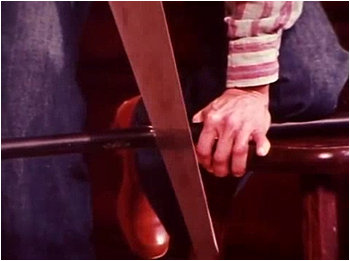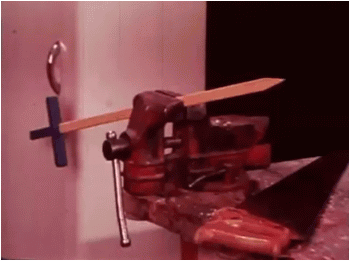 Now if you must carry around something with your costume, such as a broom or a sword, it's highly recommended that you saw off the lengthy parts and any sharp ends. Personally, I'd recommend that if you are going to carry a pirate sword around with you, you don't use a cheap one made out of wood. A plastic one is far less likely to kill you or somebody else, and it won't give you splinters. Then again, if you're smart, you'd carry a REAL sword or a gun with you due to all the murderers that are wandering the streets on Halloween night.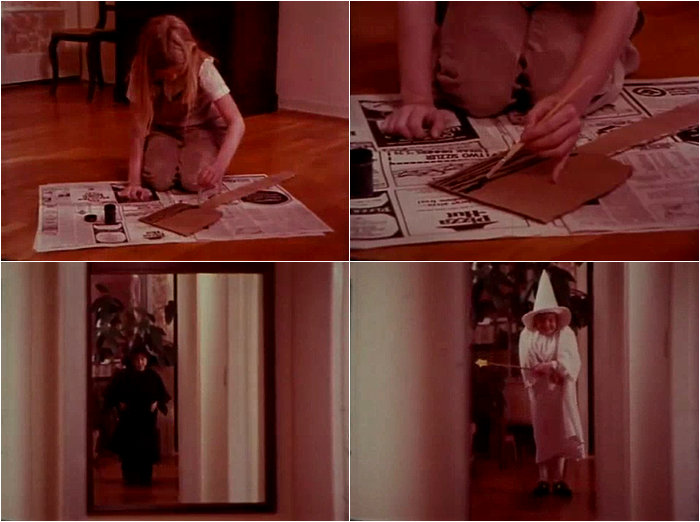 Of course, the filmmakers go on to recommend that you carry a cardboard broom or sword with you instead of a real one. Not just because it's safe, but because it's fun to have the whole neighborhood thinking that your parents are penniless and homeless when they see you in costume. You're already begging for candy... why not look the part of a beggar while you're at it?
Another problem with this witch costume is how dark it is. That problem is quickly solved by throwing that tossing that black death robe and putting on a white outfit instead. Yeah... who wants to be a black witch on Halloween anyway when they can be a white princess, right? Just look how happy she is! You can be just like her too if you follow these safety rules. So now you know, witch costumes are not safe at all.
HALLOWEEN SAFETY TIP #1: WITCH COSTUMES SHOULD BE BANNED DUE TO THEIR DANGEROUS NATURE AND PEOPLE WHO WEAR THEM SHOULD BE BURNED AT THE STAKE TO TEACH THE COMMUNITY A VALUABLE LESSON.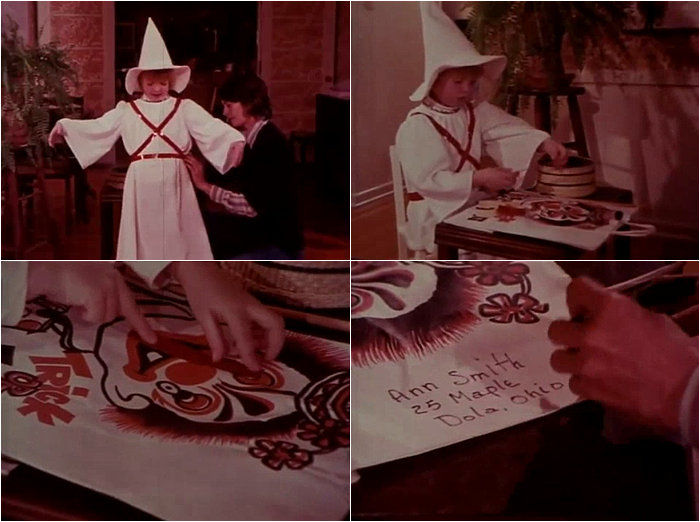 Now just because you're wearing all white, doesn't mean cars will be able to see you in the dark, so it'd be best if you strap a bunch of red reflective tape on your costume for good measure. There! Now you look like a beautiful princess... and hey, you can even reuse that same costume next year. After all, it's only a few small steps away from being a spooooooky kkk costume! OoOoooOOOoooo!
Even though you are wearing all white and you're wearing reflective tape, it's still highly likely that you're going to get your face caved in by a speeding car. Halloween isn't a holiday, it's an odds game... and odds are, you're gonna find your face under the front wheel of a Dodge. That being said, it's best if you write your full name and address on your trick-or-treat bag so that when your parents are unable to identify your corpse because it's been so horrifically mangled, a quick check of your bag will confirm that it is indeed your body that they found splattered all over the street. It's just a simple courtesy really, and it's the least you can do for your parents since they're going to be grieving over your death for years to come all because you just had to go out on Halloween. Asshole.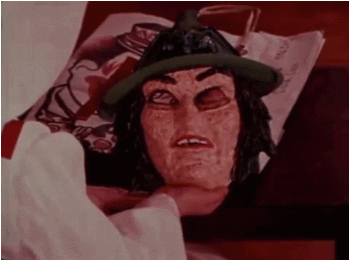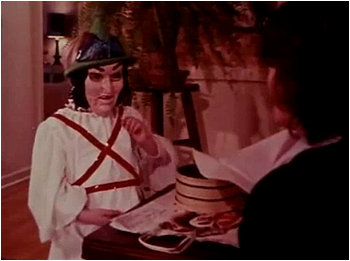 Now what about that mask? Surely you recall how difficult it was to see out of those eye holes. That's easily solved by cutting some larger eye holes into it. Right? Right! There, now doesn't that feel better? Well, before you run off into the pitch black land of candy and death that is Halloween, you'd better check with mom first. After all, mom knows best.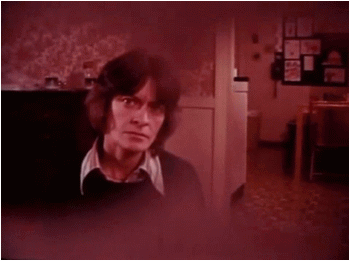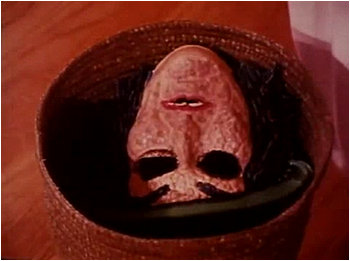 Now if your mom doesn't care about you at all, she'll let you go out into the night with that mask on and that will be your story. But if she's like the mom in this film, a kind, caring mom who only wants the best for her daughter... well... she'll throw that witch mask right into the trash can. Yeah, you heard me.
HALLOWEEN SAFETY TIP #2: UNDER NO CIRCUMSTANCES SHOULD YOU WEAR A MASK. HALLOWEEN IS A CELEBRATION OF SAFETY, IT'S NOT SUPPOSED TO BE FUN.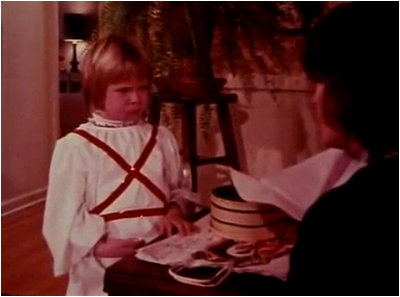 Aww, don't pout little girl. Turn that frown upside-down! Your mom is just doing her duty as a concerned citizen who wants nothing more than her daughter to blind oncoming cars with her blazing white reflective costume so they veer off the road and kill some other children instead. But hey, there are other ways you can decorate your face before a car decorates it permanently.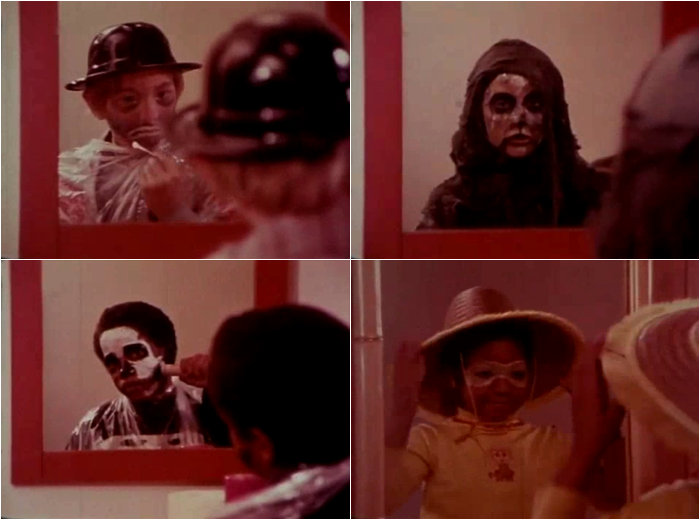 Just look at these happy kids! None of them are wearing real masks. Just find your way into mom's makeup and you can smudge her expensive products all over your face. Or you can leave her trashy make-up alone and go with something far more grandiose...

YES! YES! YES!
Nothing beats a kid with fake facial hair. Just look how mighty and regal they look! These two kids were once outcasts... now, they are a part of high society... two distinguished gentlemen that scoff at the poor and will gladly introduce you to their wild fisticuffs should you insult their honor!
HALLOWEEN SAFETY TIP #3: FAKE FACIAL HAIR, PARTICULARLY EXAGGERRATED MOUSTACHES, WILL MAKE YOUR PARENTS AND THE REST OF THE WORLD LOVE YOU MUCH MORE.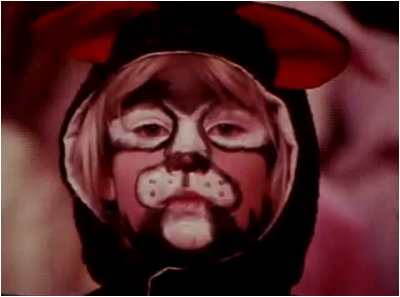 But not even the mighty moustache men can compete with THE INCREDIBLY SERIOUS CAT!
(Note to our readers: Please do not attempt to be an incredibly serious cat. This is a professional actor and it takes YEARS of
intense research and meditation to achieve this level of seriousness. You are not this talented and you will fail if you try it. Seriously.)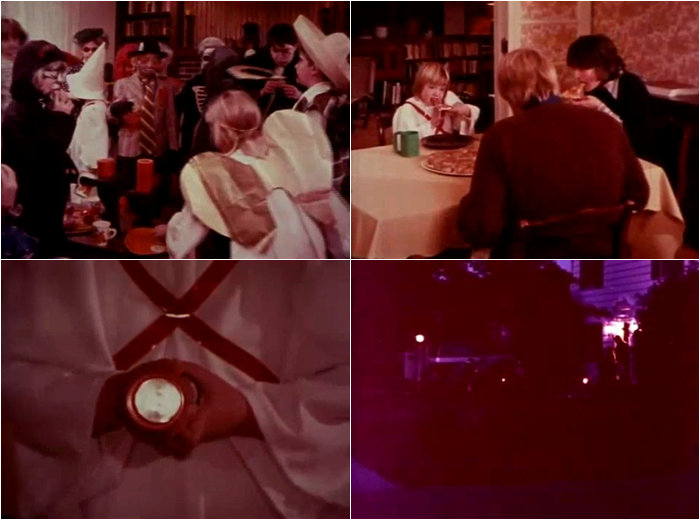 Now that you and your chums are all wearing incredibly ornate flame retardant costumes, it's almost time to go out into the night to see which of you survive the carnage. And hey kids, don't forget, you can't spell carnage without CAR! But before you skip to your doom, make sure you do it on a full stomach. That's right kids... gorge on all the pizza you can, because this will most likely be your last meal. Oh, and bring a flashlight too... you know, because your reflective-tape-strapped white costume being brighter than the sun is a goal worth striving for.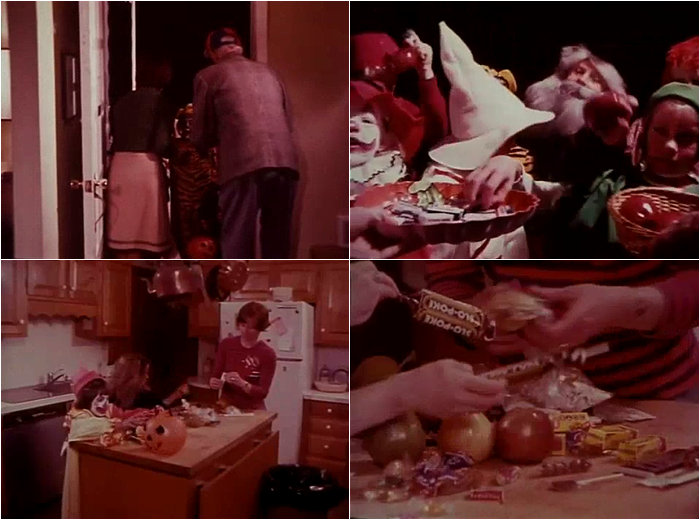 So, if you are one of the few (and I do mean FEW) lucky ones who actually manage to survive trick-or-treating on Halloween, you're not in the clear yet. Almost everybody who gives you a treat is under house arrest for murdering children with their cars during previous Halloweens, so now they're resorting to killing kids with tainted treats. So before you go indulging on your sweet tooth, you should inspect all your treats thoroughly.

Wash off all fruit before consumption, because surely you'd rather take that fruit home to eat instead of hurling it through the window of the bastard who gave it to you as a so-called treat instead of some delicious sugary candy. Also, be sure to leave in your plastic fangs while washing off your fruit. Trust me, it's a rule.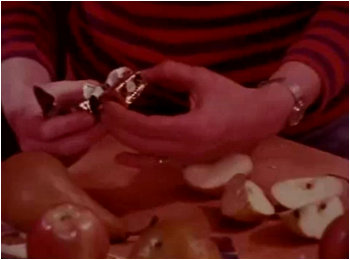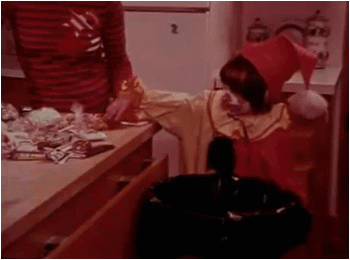 Have a parent inspect all the fruits and candies you procurred on your dangerous Halloween adventure. Then, because there's no real way to be sure if they're poisoned or not without actually tasting them, throw all your treats away. If you can take them out back and burn them afterwards, that's even better.
HALLOWEEN SAFETY TIP #4: ALMOST EVERY TREAT YOU RECEIVE ON HALLOWEEN WILL KILL YOU IF YOU EAT IT, SO IT'S PROBABLY BEST IF YOU JUST DON'T GO TRICK-OR-TREATING AT ALL.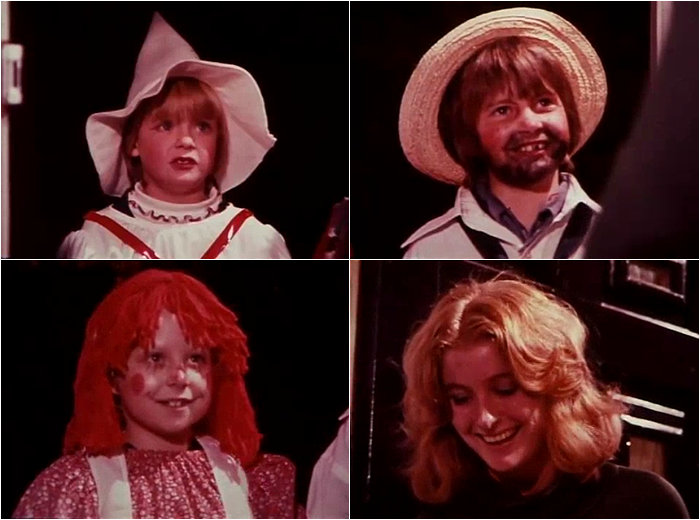 Also, if you want to avoid being murdered while trick-or-treating at the homes of COMPLETE STRANGERS, tell them a joke and if they laugh, you'll be off the hook for a little while. If they don't laugh, however, you'll be on the hook... one of the many meat hooks hanging in their basement to be exact. They'll skin you alive and feast on your flesh, all because you couldn't get a few chuckles out of them with a cheesy one-liner.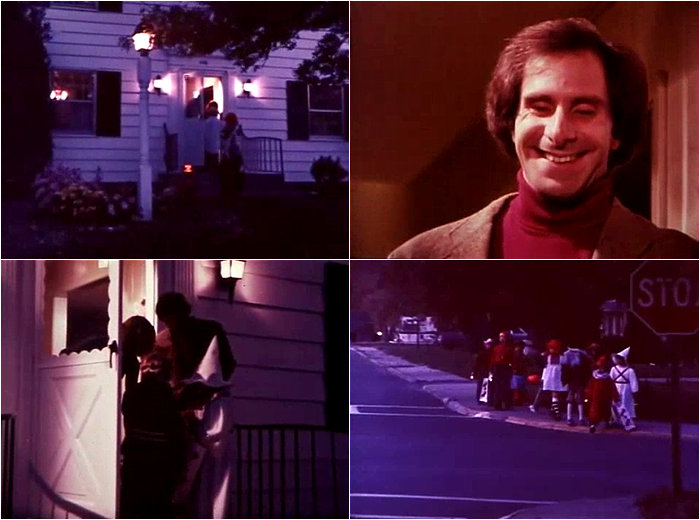 Now don't you feel better? Don't you feel like you know how to be a safer person on Halloween? Just think how many kids will be dying around you while you're safe and sound because you took the time to read through this. Hell, every single one of those kids in your group are almost definitely going to die. But not you. Nope... you'll be just fine.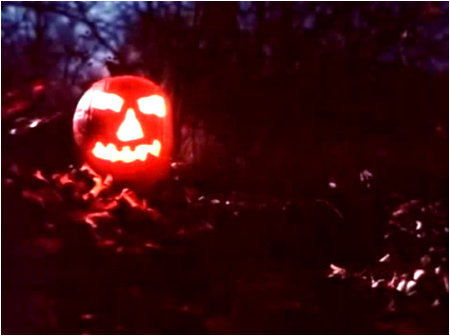 OR WILL YOU!? OOOOOOOOOOOOOOOOOO!!!
Click below to watch parts 1 and 2 of the original 1977 "Halloween Safety" educational film!

part 1

part 2
Have any questions or comments about this piece?
SHARE YOUR THOUGHTS IN THE READER COMMENTS SECTION BELOW!