by: -RoG-
Last Friday night I paid a visit to Gallery 1988 to check out their latest exhibit "Under The Influence: He-Man and the Masters of the Universe" featuring unique tribute pieces from 100 different artists. While I didn't have my good camera on me like I did for their previous shows (such as the ongoing "I Am 8-Bit" series of exhibits), I did have a smaller one on hand and managed to snap some photos while I was there for you guys, and they came out just fine. Suffice to say, the show was absolutely fantastic, and the entire gallery itself was actually decorated like Castle Grayskull with painted foam bricks lining the inner walls. Yes indeedy, it was truly a sight that could bring tears to the eyes of anyone's inner geek, and it also made me wish I was rich so I could spend a few grand on some of the fine artwork. Unfortunately, that's just not the case, but I did capture plenty o' pics from the exhibit, so let's take a gander at some of the art, shall we?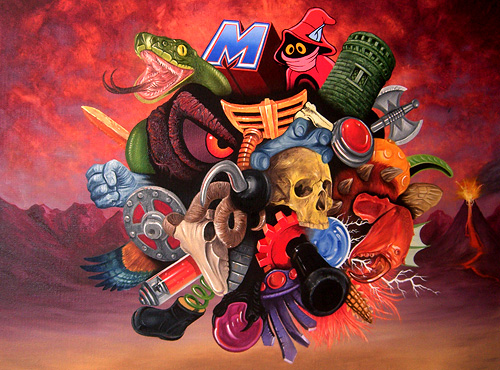 Katamari Damacy and He-Man: together at last.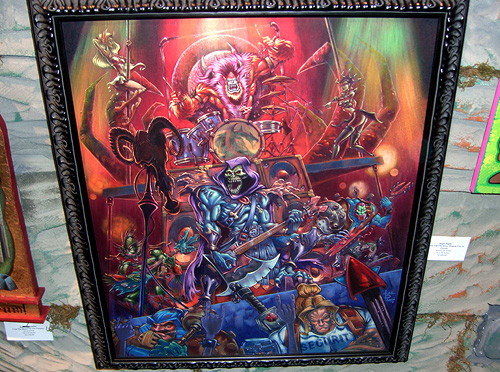 I would pay top dollar to see Skeletor and company as a heavy metal act.
Gotta say though, I'm surprised He-Man and Man-At-Arms are working security.
Then again, these are tough economic times...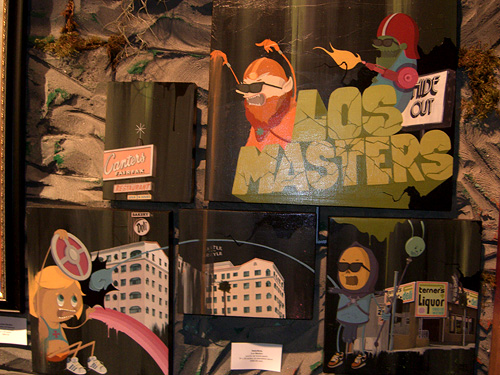 Masters of the Los Angeles Universe.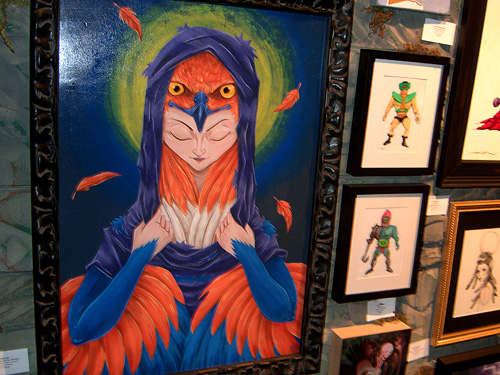 A fine large painting of the Sorceress.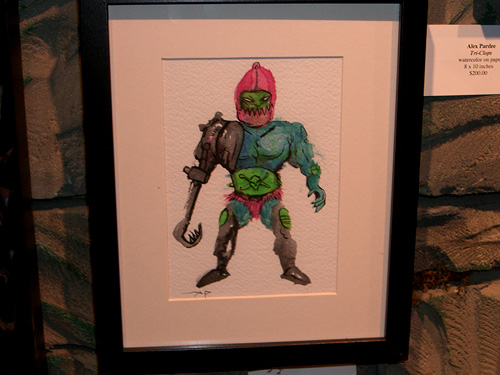 My all-time favorite He-Man character, Trap-Jaw, done in watercolor. You'll be seeing more of him soon enough.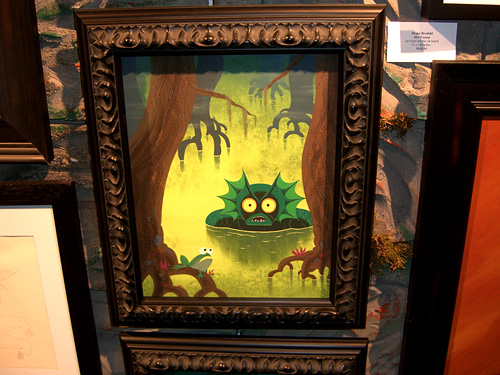 Mer-Man caught like a deer in headlights.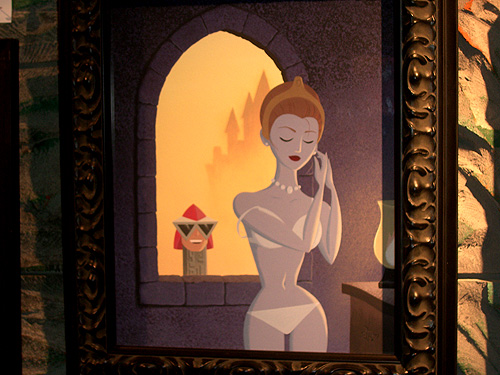 I always knew Mek-A-Nek was a perv.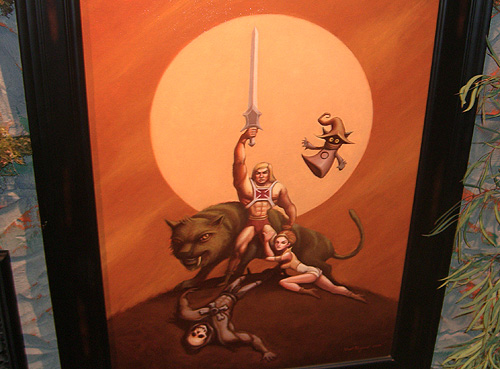 It's about time somebody created a spoof of the classic sword 'n sorcery film posters for MOTU.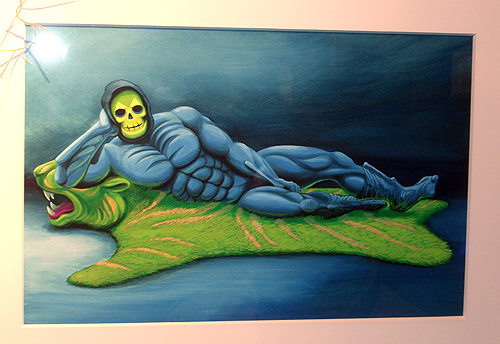 Easily one of my favorite pieces at the show.
I'll take Skeletor in Playgirl over Burt Reynold's any day of the week. Brilliant!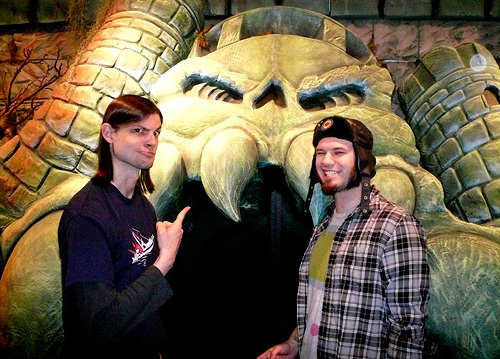 I also ran into an I-Mockery fan by the name of Crispin while I was there and I have to
thank him and his lady pal for inviting me to join them in the long line outside the gallery.
Gotta credit them for the above photo of us standing in front of the gallery's badass Castle Grayskull sculpture too.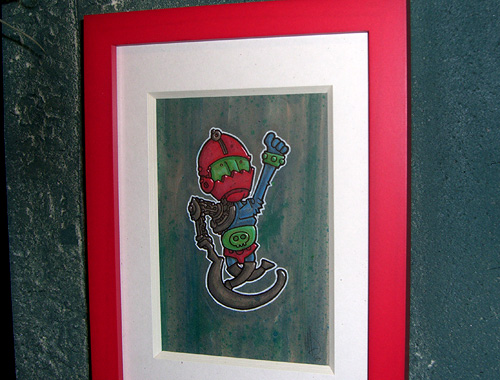 Power to the Trap!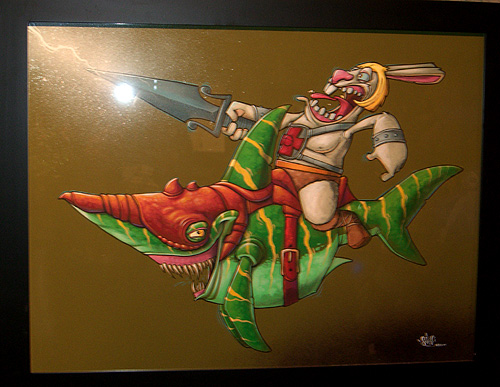 Rabbit-Man and his trusty sidekick, Battle Shark!
I like that the flash of my camera appeared right on his power sword.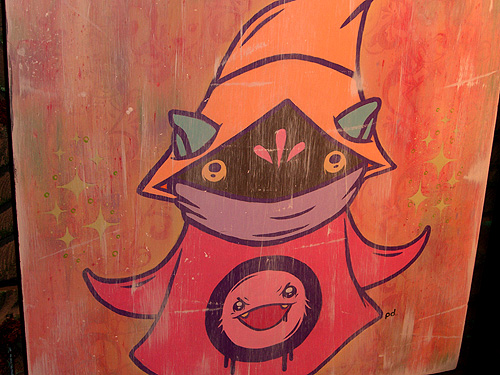 Almost looks like an evil Kirby is bursting through Orko's chest.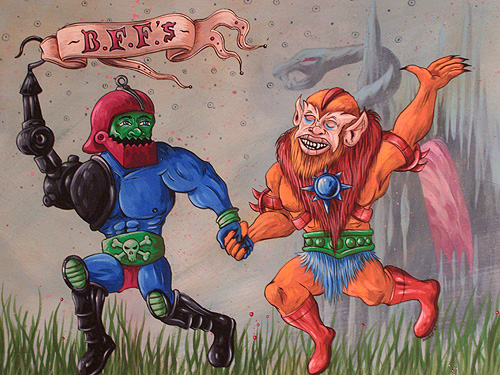 You know, without Skeletor bossing them around, I bet this scenario wouldn't be that far out of the realm of possibility.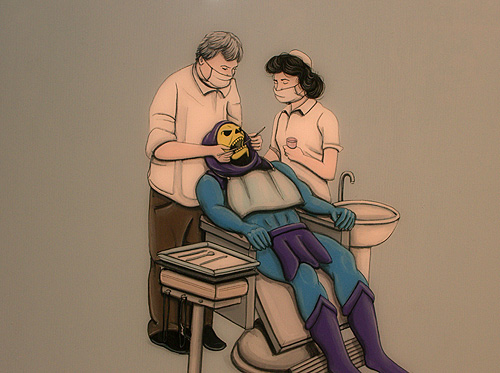 What I wouldn't give to see a full cartoon episode about Skeletor paying a visit to the dentist.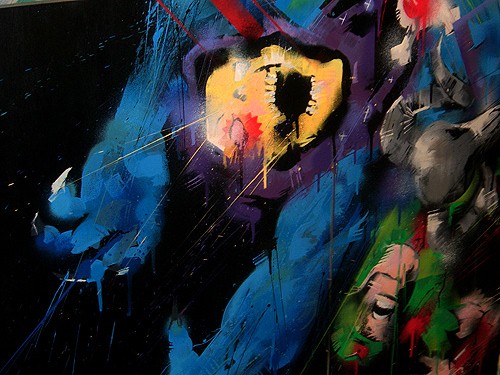 Loved this one! I imagine this is what it would look like if Skeletor and Tri-Klops were trapped in the Phantom Zone.
There's plenty more He-Man artwork to see!
Click here to continue onward to page 2!