by: Dr. Boogie
What if there was a nuclear war? How many would perish in the initial blast? What would the survivors be forced to do to survive in the post-nuclear wasteland? Good questions all, but I have an even more interesting one for you: what if there was a nuclear war, and the only things that survived were frogs and misogyny? That, my friends, is a whole 'nother story. A story called "Hell Comes to Frogtown."
By now, I'm sure you're wondering what this movie is about. The cover tells us that former pro-wrestler and Academy Award-snubbed actor "Rowdy" Roddy Piper plays a character named Sam Hell, and that there are giant gun-toting frogs, but why is everyone wearing ratty clothes? In short, there was a nuclear war.
The narrator explains the cause quite succinctly: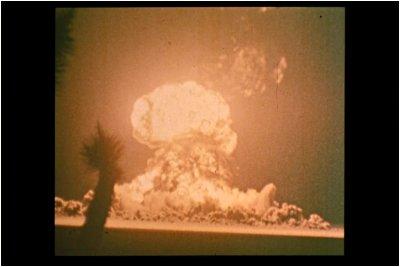 "In the latter days of the 20th century, there arose a difference of opinions."
Ah, that explains it. This sort of understatement does little to set the tone for a movie about Roddy Piper and anthropomorphic frogs. Nevertheless, I can't argue that a nuclear war probably did come as the result of a difference of opinions. Probably over whether dogs or cats are the better pet.

And now we meet our first two characters: a beekeeper, and a man listed in the credits as "the poor dufus". The beekeeper is admiring a Statue of Liberty souvenir when TPD attacks him from behind, steals his statue, and calls him "squid lips". Will this duo serve as comic relief to offset the horror of the promised Frogtown hell?
No, no they aren't.

Determined to reclaim his lost dignity, the insulted beekeeper draws his weapon and aims it at TPD. TPD, in turn, explains that there is a law against "greeners" owning guns. The beekeeper responds by shooting him in the chest.
And so, with his adversary defeated, the beekeeper stands up and proudly declares: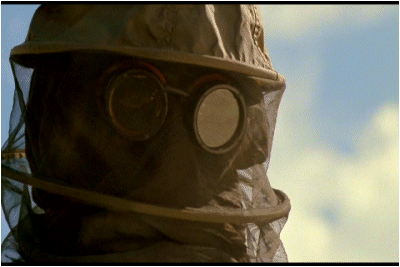 "Ribbit"? Could it be that he was actually a frogman? Is that what we were meant to take away from him being called a "greener"? Is it really that big of a reveal since we saw that there are frogmen of some sort on the movie's cover/poster?
At the end of the day, it doesn't really matter. What we've got here is a movie with Rowdy Roddy Piper as the main character. Is failure an option? I don't think so.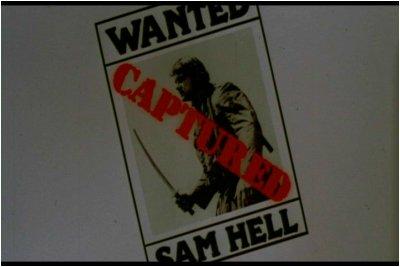 He plays the role of Sam Hell (get it?), and right off the bat, we see that he is both wanted, and captured. No doubt our post-apocalyptic hero has been bagged by the underlings of some sinister governmental figure for trying to help the little people.
Nah, I'm just kidding. He was wanted to sexual assault.
His interrogator is one Captain Devlin, an army man who is somewhat upset about Sam calling his daughter a liar. Can't say I really blame him for smashing a bottle over Sam's head, or threatening to castrate him with that same bottle, but believe it or not, Sam is the good guy in this movie.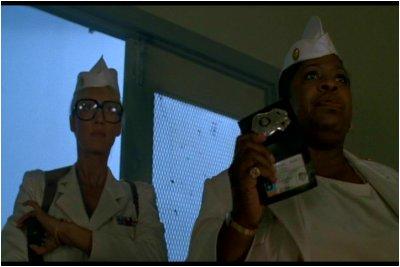 Sam's impending castration is interrupted by a pair of nurses from Med Tech, a powerful medical research company. They have good news for Sam: the woman he was accused of raping changed her story when she found out she was pregnant. Now hearing that, you'd think that this was going to be a very depressing movie. Sam is the hero, I swear.
Anyway, the big nurse explains that Sam is one of the few non-sterile men roaming the wasteland, and because of that, the government has authorized Med Tech to take him. Worse yet, Devlin has been reassigned to the border because of his "reputation". I guess Sam's isn't the first head he's busted a bottle over.
Devlin tries to get a parting stab on Sam, but the spindly nurse flips him. He gets back on his feet and delivers this touching farewell address: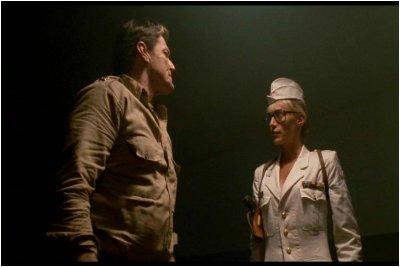 "Some people think women are running too many things."
Oh movie, you've given us two great male characters. Don't make me choose between them!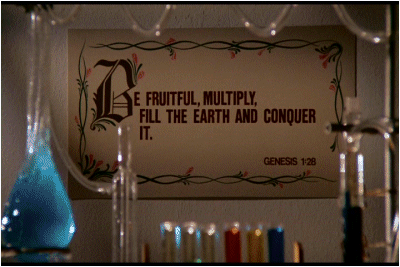 Back at Med Tech HQ, Sam is relishing in his newfound freedom. The head nurse explains that Med Tech's chief responsibility is to "locate and impregnate fertile women in the wastelands." And Sam, well, he's "quite popular with the ladies" because "you've left a string of pregnancies everywhere you've been." It all seems like one big load (no pun intended), and even Sam can't believe what he's hearing. Nevertheless, he's willing to sign whatever they put in front of him if it'll mean a clean criminal record. There's just one hitch:

Looking down, Sam realizes that not only has he put his robe on backwards, but he's wearing some kind of plastic chastity belt. The head nurse explains that the belt has an electronic lock, and only the med techs at Med Tech have the code to unlock it. Sam wonders how it will affect his ability to do the deed, but the spindly nurse assures him, "there's a flap".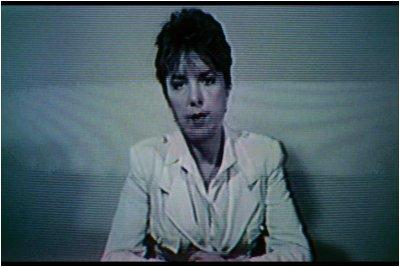 Elsewhere, the spindly nurse is watching a black and white broadcast about a bunch of people kidnapped by "armed greeners". The guns, the announcer explains, came from somewhere near Frogtown, but from whom, they can't say. As the poor dufus in the introduction informed us, greeners having guns is a big no-no, but this doesn't really have anything to do with Med Tech's national impregnation tour, does it?
Apparently it does, but more on that later. A fully-dressed (and chafing) Sam Hell is escorted to the motor pool to see the Med Tech bang bus he'll be traveling in: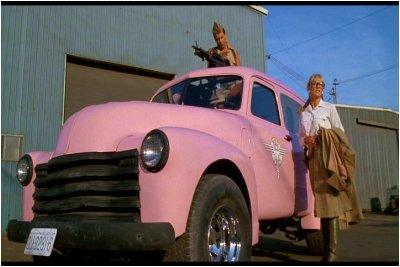 Lucky for him, he'll be traveling in one of their low visibility models. The spindly nurse (who we learn is named "Spangle") will be accompanying him, along with a greasy-haired soldier named "Centinella".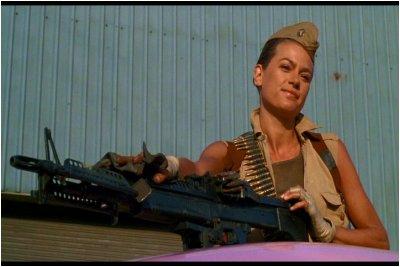 Centinella will be providing support in case they run into any dangerous bandits, bloodthirsty mutants, or former lovers of Sam's that weren't crazy about him getting them pregnant and skipping town.
And so the trio departs. Perhaps they chose a pink van because frogs are colorblind, but only to the color pink. I think I read that somewhere.

The first bump in the road comes when they're forced to cross the border to... somewhere. The road takes them to a lone toll booth in the middle of the desert manned by a couple of bored teenagers and, incredibly...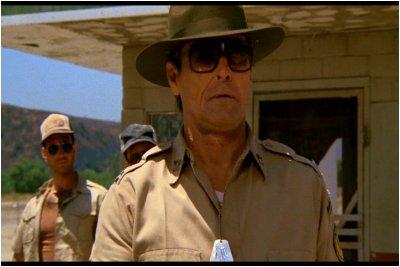 Captain Devlin, aka the angry army guy who wants at least two of the three people in the van dead. Spangle tries to play off the awkward meeting, but Devlin is quick to point off that he could easily have his men kill Sam and Spangle and say that the "greeners" did it. Fortunately, Centinella on the machine gun swings the argument more in their favor, and the group passes through. Didn't Med Tech realize they were sending one of their valuable assets on a route that bypassed a recently uprooted army man with an axe to grind? Between that and their inconspicuous transportation, the company doesn't seem to be that well run.
Sam takes note of their run-in with the father who wanted to skip the shotgun wedding and go straight to a shotgun funeral. Spangle explains that their destination is Frogtown, where they will rescue fertile women who were kidnapped by the diabolical Commander Toty. Sam asks why the mutants would kidnap human females. I had an answer in mind already, but Spangle assures him that they are for ransom.
Spangle explains their plan: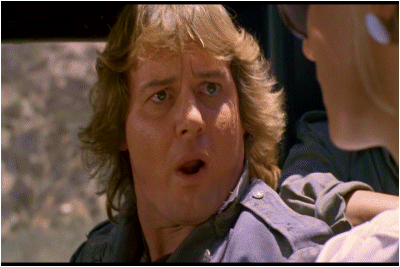 "We're gonna get them out, then you're gonna get them pregnant."
The plan's genius lies in its simplicity.
Sam isn't entirely on board with Spangle's plan, in spite of all the government-sponsored boning he could be looking forward to in the future. That's why, when they stop to gas up, enacts a brilliant plan of his own: pretend to take a leak, then run like hell. As he crests the first hill, things are looking up. All of a sudden, his belt gives off four short beeps. Turns out, four short beeps is Morse code for...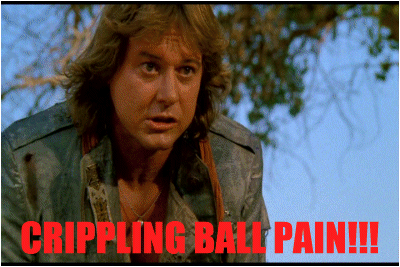 Spangle arrives shortly thereafter to lay out the rest of the belt's features, apart from the electronic lock and sex flap:
-There's a one ounce charge of plastic explosive that will detonate if the device is tampered with.

-A device in her right earring will trigger an "electronic stinger" in the belt when it goes beyond a certain point, and is deactivated with a button press.

-A device in her left earring works as a directional finder that will lead her to her errant manslave (assuming his screaming doesn't do that already).
So now we know everything about what's going on down there. Except why Sam is wearing a loincloth over his jeans.

Fast forward a couple hours and the team is making camp. Sam has had a long, hard day of having his crotch juiced up with electricity. A flattened sleeping bag on the dry, craggy ground is bound to look pretty inviting right about now. Spangle, however, has other ideas...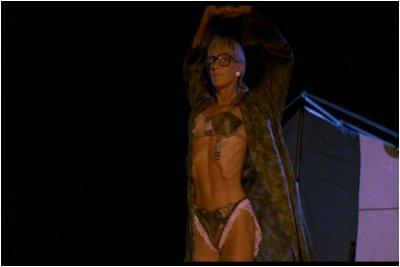 Clad in some kind of piecemeal army bikini, she puts on a very awkward display of her bony frame. Sam, having felt the sting of her magic earring, isn't about to hop into bed with this devious skeleton. At least not until she asks him a second time, at which point he is subjected to more...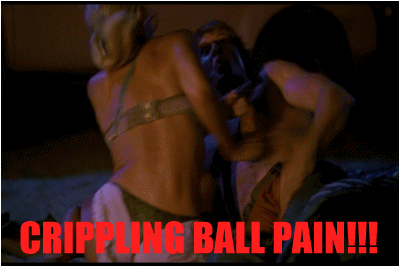 She explains that it's all part of keeping his potency up. Keep your man ready for sex by getting him to associate arousal with severe pain. Makes perfect sense to me.
But Spangle isn't the only one with lovin' on the mind.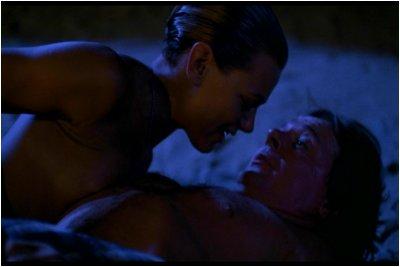 Centinella sneaks over to get a sample of Roddy's Piper. There's some initial confusion about how to get around the belt, but as Sam is quick to point out, "there's a flap". She's able to get a couple mouthfuls of Sam's hairy chest before Spangle shows up. The threat of more genital electrocution quickly sours the mood. For some reason, the thought of Sam doing another woman makes Spangle really gaunt... I mean, pouty.
There's still more of Hell Comes To Frogtown to see!
Click here to continue onward to page 2!