by: -RoG-
When people think of Halloween music videos, Huey Lewis and the News are never the first act to come to mind. More than anything, most people think of Michael Jackson's "Thriller", and perhaps even Rockwell's Somebody's Watching Me". But over the years, Huey Lewis and the News proved they were no strangers to the wonderful world of horror either.
For starters, everyone knows that it was their music from "I Want A New Drug" that was copied for the Ghostbusters theme song, and the resulting lawsuit was highly publicized. Furthermore, Patrick Bateman gave an amazingly poignant speech about the band in American Psycho, right before he chopped Paul Allen to death with an axe while listening to "Hip to Be Square". Huey himself later went on to parody this scene with Weird Al Yankovic in a FunnyOrDie video.
But did you know that Huey Lewis and the News once made their own tribute to the world of horror and monster movies? Indeed they did! The song "Doing It All For My Baby" doesn't sound like a Halloween tune, but the video they shot for it absolutely is, and I've always loved it for both the costumes and the set design. It's nearly a whopping 8-minutes long too, with the first half being an intro story without any music. Due to its length, many viewers only saw the video from the point where the music kicks in, as MTV often didn't play the lengthy intro portion.
Today, I'd like to go back to 1987 (after all, Huey did supply music for Back to the Future) and take an in-depth look at what I consider to be one of the all-time greatest horror-themed Halloween monster videos in its entirety. So let's get started...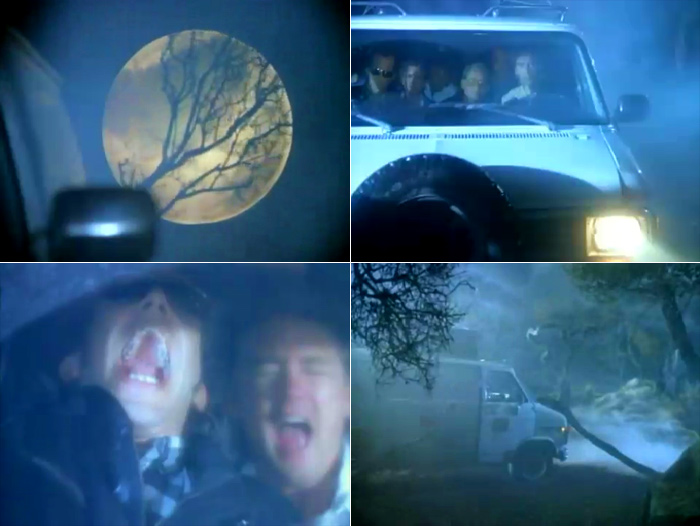 It all begins with the band crammed into a rickety old van as they're driving past a graveyard during a full moon. Not sure why such a successful band is still having to drive around in their own van, but they run into trouble pretty fast. I'm not sure if it's because he didn't see through the thick fog, or if Huey tossed back a few too many, but he crashes the van directly into a fallen tree.
None of the band members wanna take care of the van, so Huey volunteers to slide underneath and try to repair it. They jack the van up so Huey can get to work, but one of the guys yawns and leans up against the jack without even thinking about what a bone-headed move that is. Of course, it falls over, and the van seemingly crushes Huey from the waist up. The band makes a brief effort to rescue him, then they give up and decide to go for a late night stroll instead.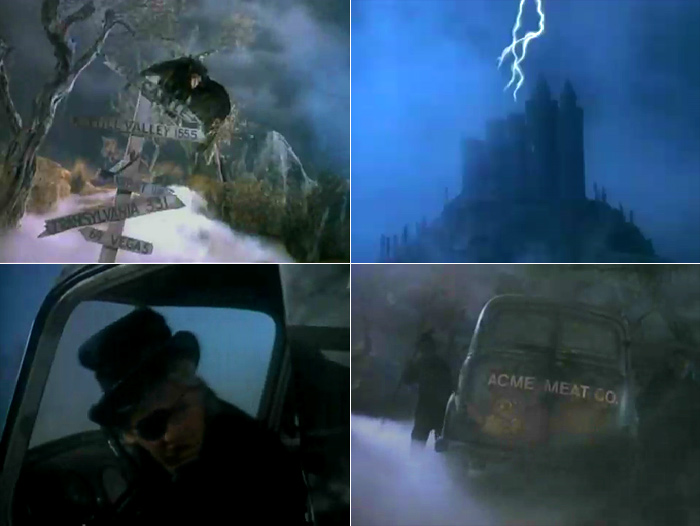 During their stroll, they pass by some grave robbers and eventually come to a sign pointing out a number of destinations such as Transylvania and Vegas. Unfortunately, the closest destination appears to be a giant castle nearby. Oh, and the crow that was sitting atop the sign suddenly keeled over and died. That's gotta be a bad omen, right? While the band heads to the castle, the grave robbers pull up to Huey (still crushed under the van) in their own Acme brand meat wagon.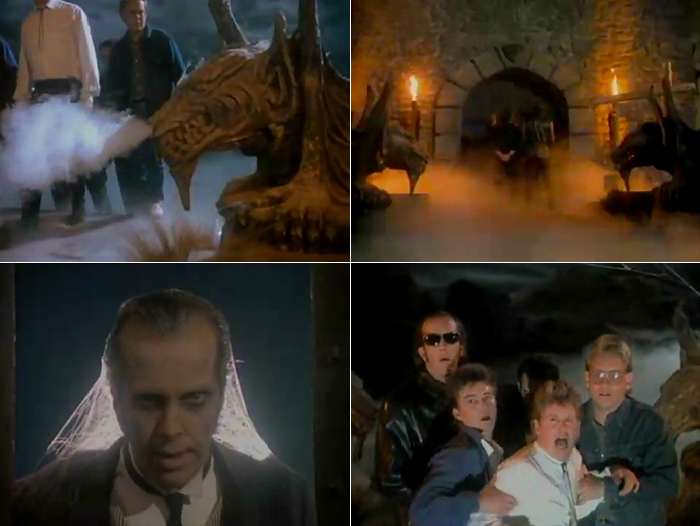 Well, the band strolls up to a castle, completely ignoring the ominous smoke-breathing demon gargoyle statues out front, along with the "No Vacancy" signs, and they knock on the door anyway. Soon after, a Dracula-like butler (Mario) whose head is covered in cobwebs answers the door and lets the band in. At this rate, the heart of rock & roll will probably not be beating for much longer. HAHAHAHAHAHAAAAAAAA!!! MUSIC JOKES!!!!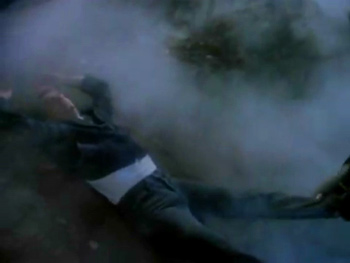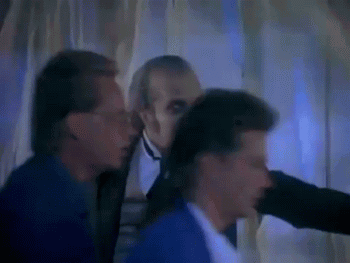 Anyway, back at the van, the two grave robbers manage to pull Huey's lifeless body out from underneath the van. Keep in mind, his entire band couldn't muster enough strength to pull him out. Life touring on the road maaaan... it's hard on folks.
And as the band makes their way farther into the depths of the castle, the music of "Doing It All For My Baby" finally kicks in. This is generally where MTV started the video back in the day, so again, many people never saw all that intro stuff.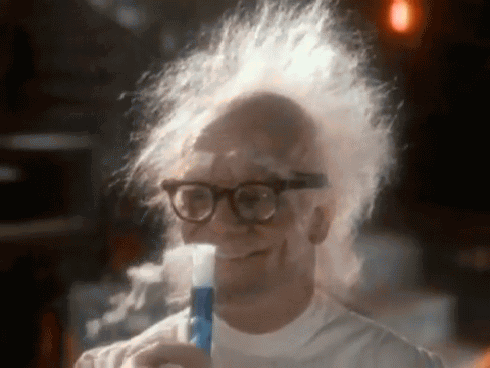 In case you haven't caught on yet, many of the band members are playing multiple roles in this video, especially Huey Lewis. As the music kicks off, we're treated to a close-up of Huey as a mad scientist with hair that gives Doc Brown (and Doc Mock!) a run for his money. Huey's concocted some kind of bubbling blue liquid that he's holding in a test tube, and he's all to please that smoke is billowing out of his ears after he drinks it.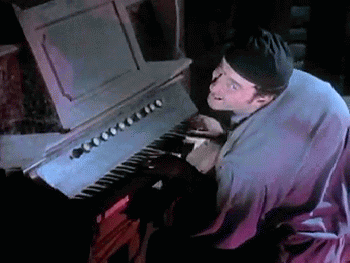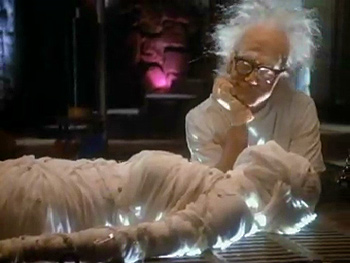 Whenever the song is about to head into the next verse, it cuts to their keyboard player (Sean Hopper) who is taking on the role of Igor in the video. And just look at that smile on his face! He sure does love playing that old organ. Dr. Huey also appears to have a mummy of some sort on his table. Who could it be?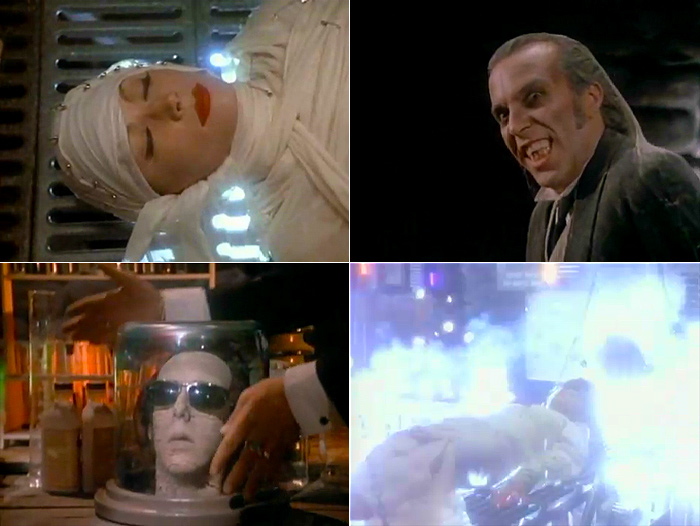 It's no old mummy at all, it's a beautiful woman instead! I dunno what graveyard he dug her out of, but they sure have some amazing means of preserving bodies in that place. Why, she still looks alive if you ask me! Cobwebs McDracula shows up once again, and as one of the many visual gags in the video, we see him placing his own severed head in a jar onto a nearby table alongside the rest of the band members. Then, Doc Huey turns on his machine and electric sparks go flying everywhere. What kind of monster is he making out of that woman?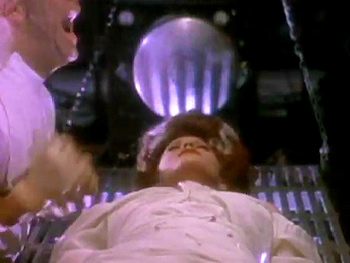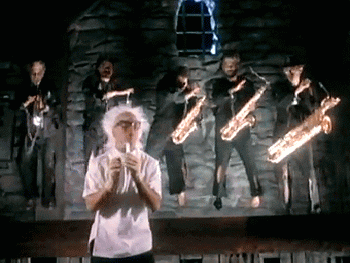 Well, he certainly gave her a taller hairdo. Another thing I must note since it's one of my favorite things in the video, the band's horn section (known as the "Tower of Power") are all strung up on chains behind Dr. Huey as he sings directly into his microphone test tube. Despite dangling from chains, they dance along and play their instruments without a care in the world, and I'll never, ever tire of that visual.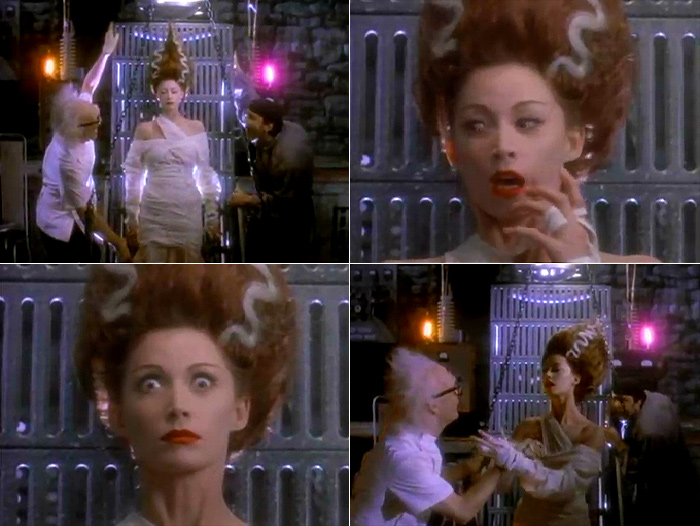 Just as you probably suspected, Huey was turning that woman into the Bride of Frankenstein! She wakes up with a shocked look on her face (hey, you would too if you have 1.21 gigawatts of electricity pumped through your body), and is quickly drawn to Doc Huey. I have to say, Tara Shannon does an absolutely fantastic job as the Bride of Frankenstein in this video. Her facial expressions, posture, and movements just nail the character perfectly. I only wish they made a full movie with her starring as the Bride of Frankenstein back then... would've been a real treat.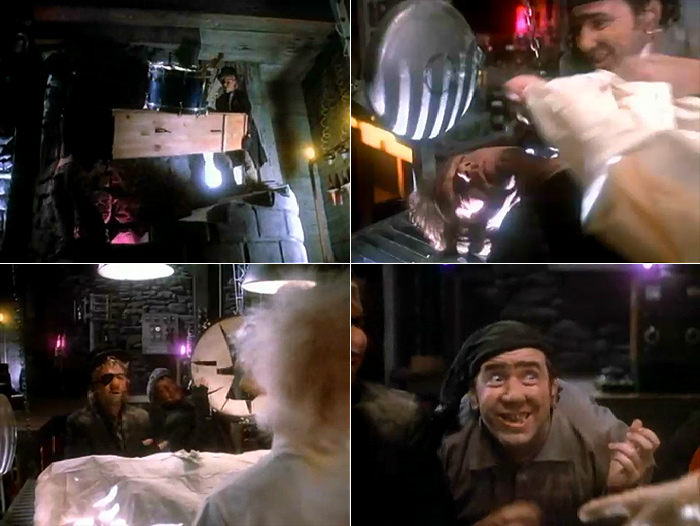 Next, the grave robbers show up in the castle trying to hawk off Huey's body and the band's used equipment, including the bass drum that was busted during the van crash. While Dr. Huey wants to buy the body, he has absolutely no interest in the music gear, but Igor please with him to buy the shiny red guitar. Yeah, I don't think I could've said no to that face either.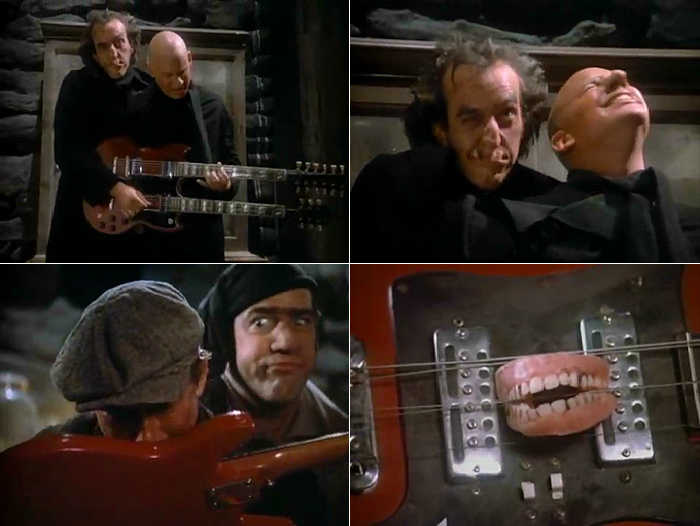 And speaking of guitars, it's now time for the solo in the tune, and who better to perform it than a two-headed mutant? One has a completely shaved head, the other has a major underbite and a large snaggletooth. Together, they rock. At least, moreso than the guy who tries showing off by playing Igor's new guitar with his teeth, only to get his dentures tangles in the strings. Sorry fella, there's no room for showboating in this castle dungeon.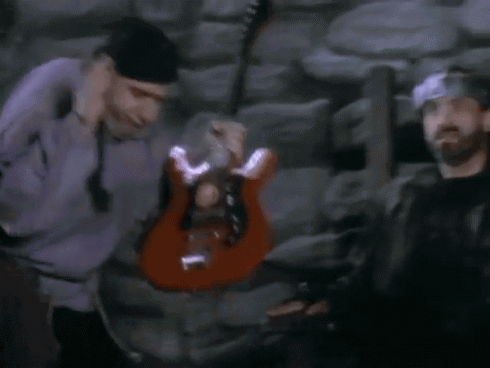 Igor clearly believes his beloved guitar is now forever tarnished, so he drops it off in the lap of a guy who's strapped into the electric chair. Naturally, this activates the chair immediately, and the guy begins to fry. Why? I don't know. But I'm sure there's some sound science behind it all.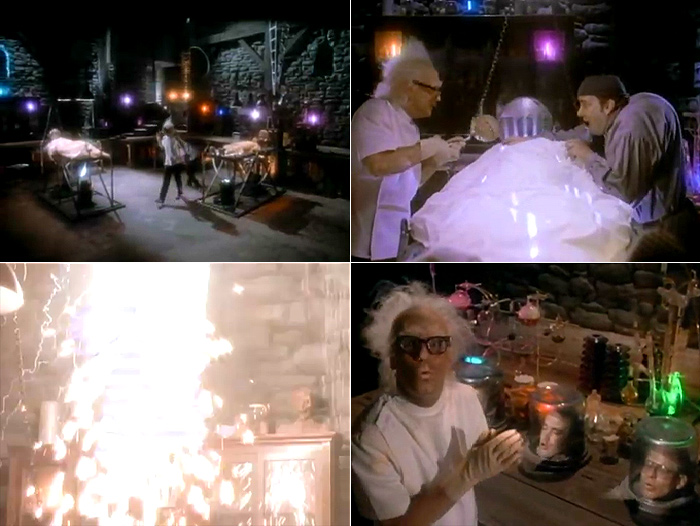 And speaking of science, Doc Huey is busy in his dungeon laboratory, removing dead Huey's brain from his body and then activating his high-voltage, electric machinery. Could he be creating another singing head for his table?

No... it's something far, FAR more terrifying than that!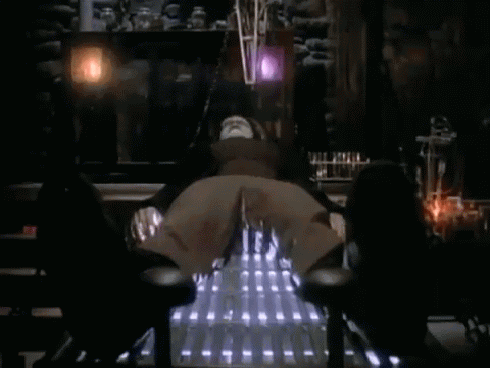 BEHOLD FRANKENHUEY!
So if you've been keeping count, Huey has played three different roles in this music video: himself, a mad scientist, and now Frankenstein. And I gotta say, FrankenHuey looks pretty great. If I were him, I'd bust out that costume in October every year and perform in it while on tour. They could even name their band to something appropriately corny for the Halloween season like, "Gooey Spewis and the Boos!"
Huey, I'm offering that amazing name up to you. If you don't put it to use, I'm gonna start a band and use it myself.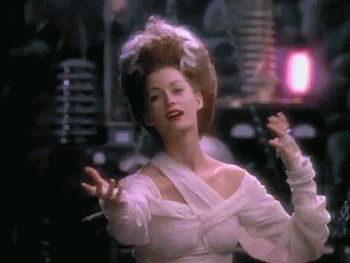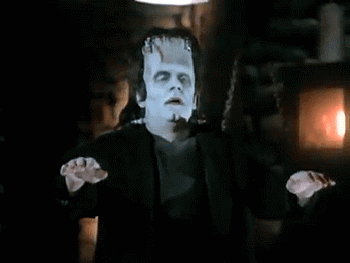 Anyway, as expected, the Bride and FrankenHuey are immediately drawn to each other. Or maybe they just happen to be pointed in the same direction and walking towards one another. After all, their brains were removed, so it could all be motor reflexes at this point. Or so I thought...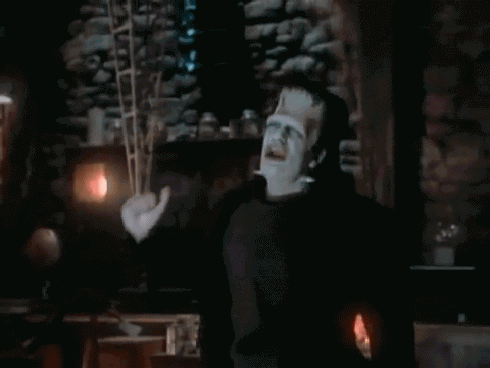 FrankenHuey then starts singing "Doing it all for my babaaaaaay!" while doing a fantastic Frankendance. Goddamn, I just made that GIF, and I'm pretty sure I could watch it all day long. If I ever need a pick-me-up, I'm making a point to come directly back to this article and stare at the hypnotic Frankendance.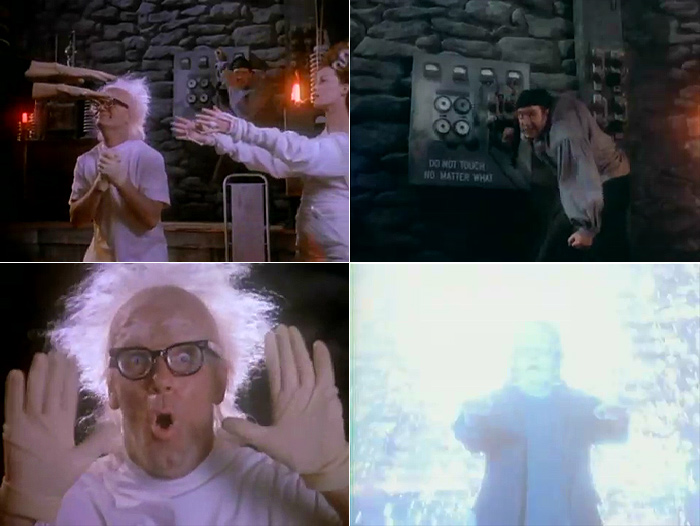 FrankenHuey and his Bride continue to walk towards each other, and Doc Huey looks extremely pleased about it, but leave it up to Igor to screw something up. He walks over to the big control panel on the wall, and I guess he never learned to read, because the "DO NOT TOUCH NO MATTER WHAT" sign goes completely ignored. Igor throws the knife switch just as Doc Huey screams "Nooo!" and electric sparks start flying everywhere behind FrankenHuey.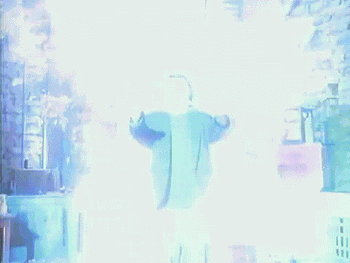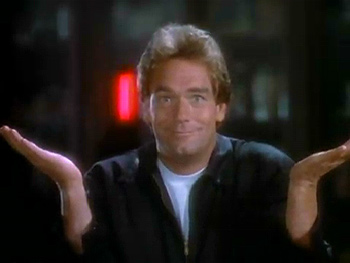 As the smoke clears, we see that FrankenHuey has now been turned into a far more monstrous creation: Huey Lewis! Naturally, the Bride reacts to seeing Huey's face in the only logical way one could possibly react to such a sight: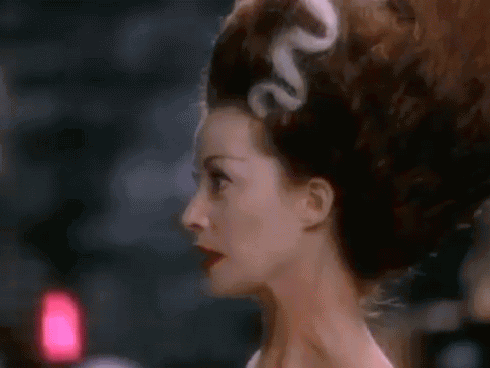 AAAAAAAAAAAAHHHHH!!!!!!!!!!!!!!!
I hope you've enjoyed this look back at what I consider to be one of the most highly underrated Halloween monster music videos to emerge out of the eighties. It completely embraces the silly, fun, let's-not-take-ourselves-too-seriously attitude, and works perfectly for this spooky setting. I just love it. Now it's your turn to watch the full-length "Doing It All For My Baby" music video by Huey Lewis And The News, then you can chime in with your thoughts in the comments section below:
What'd you think? All I can say is if you run into Patrick Bateman and he asks, "Do you like Huey Lewis and the News?", you had damn well better respond affirmatively after having seen this classic 80s Halloween monster music video. Now if you'll excuse me, I have to go return some videotapes. Happy Hueyween!
P.S.: If you really can't get enough of Halloweeny Huey, you can watch "The Making of 'Doing It All For My Baby'" video too!
Have any questions or comments about this piece?
SHARE YOUR THOUGHTS IN THE READER COMMENTS SECTION BELOW!