This year those hardcore soda geniuses at Jones Soda have put out 4 limited edition Halloween sodas. Fortunately for us, I-Mockery recently hired J-Dawg and Skeeter - also known around the globe as the Extreme Beverage Testers. When a drink is just too intense for our civilian taste buds to tackle, we'll be calling in the EBT's to get the job done and report back to us. So we now turn over the Halloween Jones Soda taste test over to J-Dawg and Skeeter - EXTREME BEVERAGE TESTERS!
---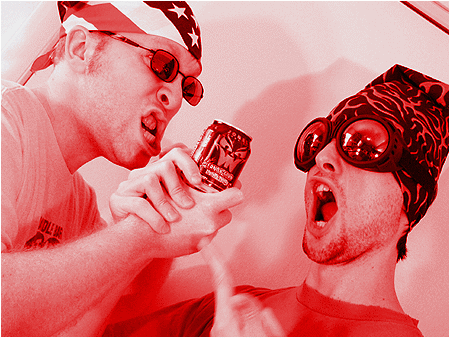 SKEETER: "OK YOU GNARLY GRINDERS, IT'S TIME TO SKYDIVE WITH THE E TO THE B TO THE T INTO JONES 2005 HALLOWEEN SODA! YOU READY, J-DAWG?"
J-DAWG: "I'M READY TO CHUG THESE BAD BOYS DOWN AND SCREAM FOR MORE UNTIL A JONES DELIVERY TRUCK CRASHES THROUGH MY MOMMA'S HOUSE JUST TO BRING ME A FEW CANS! LET'S GET IT ONNNNNNNNN!"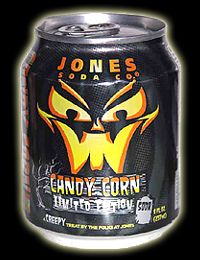 TASTE TEST #1 - CANDY CORN FLAVOR!
SKEETER: "DUDE! MY MOUTH WAS JUST ASSAULTED BY THE CORNS OF CANDY! IT'S LIKE BUDDHA CAME DOWN FROM HIS HEAVENLY SNACK SHOP WITH A HANDFUL OF CANDY AND SAID "YO SKEETER, CHECK THIS!" AND THEN MELTED 'EM WITH HIS RAD AURA AND LET THE LIQUID GOODNESS POUR INTO MY THROAT! I FEEL LIKE I JUST DRANK HALLOWEEN AND I MUST SAY HALLOWEEN TASTES PRETTY DAMNED INTENSE!"

CONCLUSION: "I GIVE THIS BAD BOY 8 AND A HALF AXEL GRINDS OUT OF 10!"
J-DAWG: "I GOTTA SAY AT FIRST I WASN'T TOO SURE ABOUT THIS FLAVOR. IT TASTED KIND OF LIKE THE CORNS ON MY FEET, BUT THEN WHEN I WAS THINKIN' ABOUT IT I REALIZED THAT THE CORNS ON MY FEET TASTE PRETTY ÜBER-FANTASTIC! THE WAY THOSE BODACIOUS SODA SUDS SLAMDANCED ON MY TONGUE MADE ME FEEL LIKE A HORNY REBEL BIKER SUICIDE PIRATE AND THAT REALLY TAKES ME BACK TO THE GLORY DAYS!"

CONCLUSION: "I GIVE THIS HOT TAMALE 8.5 BUNGEE JUMPS OVER A PIT OF LAVA OUT OF 11!"
---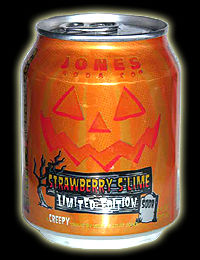 TASTE TEST #2 - STRAWBERRY SLIME FLAVOR!
SKEETER: "WHOAH-HO-HO! NOW THAT'S WHAT I CALL A BLAST OF TROPICAL FRUIT MADNESS! IT'S SLIME TIME BABY! I CAN ONLY COMPARE THE TASTE TO THRASHING ON THE HIGH SEAS OF IRRITABLE BOWEL SYNDROME! I'VE GOT A FEELING THESE CARBONATED STRAWBERRIES WERE HARVESTED FROM THE FIELDS OF HELL AND THEY'LL SOON COME BACK TO HAUNT ME LIKE A KILLER WAVE JUST ABOUT TO BREAK UPON THE SHORES OF UTOPIA!"

CONCLUSION: "AS MUCH AS I DIG STICKING MY STRAW INTO BERRIES, I CAN'T SAY THESE ONES LIGHT MY FIRE! 4 OUT OF 9 HAIKUS RECITED ON THE BEACH!"
J-DAWG: "I GOTTA SAY WHEN I'M BARRELLIN' DOWN THE MOUNTAIN AT 250 KNOTTS PER HOUR ON MY FLAMIN' SNOWBOARD THAT I WON IN A POKER GAME FROM THE DEVIL HIMSELF, THIS IS THE DRINK THAT I'D PASS UP ALL THOSE FLYIN' CANS O' MOUNTAIN DEW FOR! THIS IS THE DRINK THAT'LL PUT HAIR ON YOUR ASS AND MAKE YOU A HIT WITH THE LADIES, BOY! I GOTTA TELL YA, IT JUST DOESN'T LIGHT UP MY PALETTE ANY BETTER THAN THIS! "

CONCLUSION: "I GIVE THIS ONE 9 OUT OF 7 TATTOOED BABE SUICIDE GIRL PHOTO SHOOTS!"
---

TASTE TEST #3 - SCARY BERRY LEMONADE FLAVOR!
SKEETER: "THIS ONE KNOCKED MY FOOT PEGS OFF INTO OBLIVION! IT MAY HAVE AN EXTREMELY SWEET KICK TO IT, BUT LISTEN TO ME BRO! DON'T FEAR THE REAPER! IF HE'S COMING FOR YOU, THERE'S NOTHING YOU CAN DO BUT SCALE THE MOUNTAINS OF LIFE AND WHEN YOU REACH THE PEAK, FLIP HIM THE BIRD! YOU THINK YOU CAN'T HAVE A LEMONADE AND A SODA IN THE SAME DRINK? THINK AGAIN BRO! IT'LL KNOCK YOU OFF THAT MOUNTAIN AND HAVE YOU CLIMBING BACK UP FOR MORE!"

CONCLUSION: "THIS DRINK DON'T MESS AROUND! I GIVE IT 200 AVALANCHES OUT OF NONE!"
J-DAWG: "I GOTTA TELL YA, I WAS NOT ENTHUSED ABOUT THIS DRINK AS SOON AS I SAW THE WORD 'LEMONADE' ON THE COVER! BUT DRINKING TASTY SODA BEVERAGES IS ALL ABOUT THE TECHNIQUE, AND AS YOU CAN SEE, I TRIED TO MAKE THE MOST OF IT BY DRINKING IT AT GNARLY ANGLES, BUT THIS DRINK WAS A REAL KILL ON MY BUZZ, DUDE!"

CONCLUSION: "LEMONADE IS AND ALWAYS WAS A GIRLY GIRL DRINK FOR GIRLY GIRLS. I GIVE IT 18 BARBIE DREAM HOUSES OUT OF 3, WHICH IS ABOUT AS UN-EXTREME AS IT GETS!"
---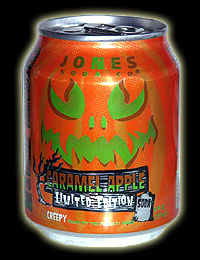 TASTE TEST #4 - CARAMEL APPLE FLAVOR!
SKEETER: "THAT'S RIGHT, I'M NOT MESSIN' AROUND THIS TIME! THIS CAN WAS LOADED WITH SUCH BRUTAL CARAMEL APPLE FLAVOR I THOUGHT IT WAS PICKED STRAIGHT FROM A CARAMEL APPLE TREE! WHEN IT CAME TO GETTING THIS WICKED DRINK INTO MY SYSTEM, I FOUND MYSELF COMPELLED TO LEAVE IT UP TO FATE! SURE ENOUGH, THAT LIQUID SAID, "YO SKEETER DUDE! WE'RE ALL ABOUT GETTING IN YOUR MOUTH AND SHOWING YOU THE WAY!" SO WHAT COULD I DO BUT OPEN WIDE AND ENJOY THE RIDE!"

CONCLUSION: "THIS IS MY NEW LUCKY DRINK OF CHOICE SO I GIVE IT A WHOPPING 13 OUT OF 13 FREAKY WILD WIPEOUTS ON THE BANANABOAT OF AWESOMENESS!"
J-DAWG: "I GOTTA SAY, THIS RAMBUNCTIOUS LITTLE NUMBER TRIED TO GET A LITTLE ROWDY WITH MY BUDS--TASTE BUDS, THAT IS! BUT I SHOWED THE DRINKY BITCH WHO WAS BOSS AND PUMMELED THAT CARAMEL GOODNESS INTO SUBMISSION, AND IT LIKED IT BY THE TIME THE BEATIN' WAS THROUGH! ANY DRINK YOU GOTTA WRASSLE WITH WHILE IT'S GOIN' DOWN IS ALRIGHT IN MY BOOK!"

CONCLUSION: "I GIVE THIS FEISTY LITTLE SODA A GAGGLE OF BOBSLEDDING ONE-LEGGED GORILLA SUICIDE BOMBERS!"
---


MEGA-EXTREME TASTE TEST - ALL FLAVORS COMBINED!
SKEETER: "ALRIGHT J-DAWG, WE'VE BEEN PAMPERED WITH THESE SINGLE DRINKS ALL DAY LONG. WHAT SAY YOU AND I THROW-DOWN WITH ALL OF THESE DRINKS AT ONCE FOR THE ULTIMATE CONCOCTION OF SODA FURY!"
J-DAWG: "ALRIGHT SKEETER, I GOTTA TELL YA THAT IF I WERE ANY LESS OF A MANLY MAN'S MAN, I'D HAVE SOME SERIOUS DOUBTS ABOUT WHAT'S ABOUT TO GO DOWN HERE TODAY! BUT LET ME TELL YA SOMETHIN' BRUTHA, WE ARE GONNA DROPKICK THIS MIX OF CARBONATED MADNESS INTO OUR BELLIES WITH NO PROBLEMO!"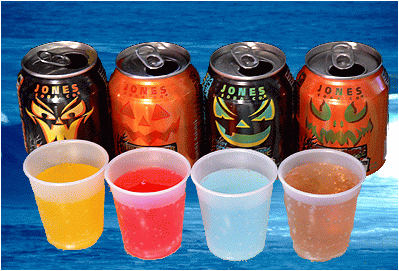 SKEETER: "MIXING THESE DRINKS TOGETHER WAS POTENTIALLY MORE HAZARDOUS THAN MIXING ALL THOSE VOLATILE CHEMICALS WE USED TO MIX TOGETHER IN CHEMISTRY CLASS! WHOAH, REMEMBER THOSE DAYS, J-DAWG?"
J-DAWG: "HOO BOY, DO I! I REMEMBER WE BLEW UP THE CHEM LAB WITH OUR MIX OF BAKING SODA AND APPLESAUCE! THIS MIXED DRINK IS EXTRA DANGEROUS BECAUSE IT'S ORANGE, AND ORANGE IS THE COLOR OF EVIL!"
SKEETER: "RIGHT ON! AND BEFORE WE GO, I GOTTA REMIND ALL YOU CIVILIANS OUT THERE, DON'T TRY THIS AT HOME! WE ARE PROFESSIONALS!"
J-DAWG: "EXTREME PROFESSIONALS!"
SKEETER: "MY MIND? BLOWN! IT'S SPLATTERED ON THE PAVEMENT AND THEN SOMEONE CAME ALONG AND TOOK A JACKHAMMER TO THAT SAME PAVEMENT AND SPLATTERED IT ALL OVER THE PLACE TOO! THIS IS ONE BADASS DRINK FROM THE MOST HEINOUS OF PLACES THAT THE HUMAN MIND MAY OR NOT BE ABLE TO COMPREHEND! IT WILL SET YOUR FLESH ON FIRE AND JETTISON YOUR SOUL INTO THE FURTHEST REACHES OF THE SOLAR SYSTEM! AND WHEN IT GOES FLYING BY JUPITER, JUPITER WILL GIVE IT A NOD AND SAY 'HANG LOOSE LITTLE BUDDY!' AND INSIDE YOU'LL KNOW YOU LIVED LIFE LIKE A MAN!"

CONCLUSION: "THIS DRINK IS BEYOND RATINGS! IT TRANSCENDS RATINGS, SO DON'T EVEN THINK ABOUT IT!"
J-DAWG: "WHAT THE HELL DO YOU MEAN 'I'M NOT DEAD'! I GOTTA TELL YA, THIS IS KIND OF A RIP-OFF! THIS WAS SUPPOSED TO BE MY 'SUICIDE PUNCH' CUZ I WAS GONNA GO OUT WITH A BANG! I TELL YA, I'VE SEEN AND DONE IT ALL. THIS SODA WAS SUPPOSED TO BE MY LAST HURRAH TO CAP OFF AN EXTREME LIFE OF EXTREMITY! BUT ALAS, IT LOOKS LIKE I SHALL LIVE TO CLIMB MORE ERUPTING VOLCANOES AND DO MORE NAKED TSUNAMI HANG-GLIDING!"

CONCLUSION: "THIS DRINK WAS A BIT OF A WUSS BECAUSE IT DIDN'T MANAGE TO FINISH ME OFF, BUT IT SURE PUT FORTH ONE HELL OF AN EFFORT! I GIVE IT TWO THUMBS UP--ON HANDS THAT ARE HOLDIN' GRENADES!"
---
EXTREME CONCLUSION!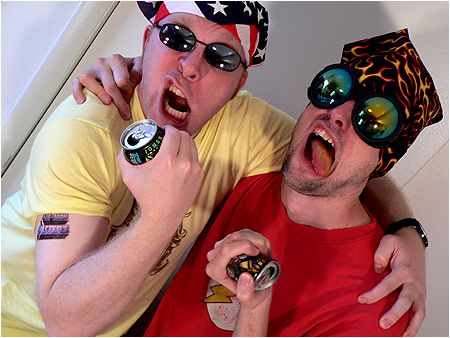 SKEETER: "IN THE END, I GOTTA GO WITH THE MINDWARP THAT IS THE JONES SODA CARAMEL APPLE FLAVOR! IT'S BOLD TASTE AND 'NEVER-SAY-DIE' FLAVOR ATTITUDE HAD ME BEGGING FOR MERCY IN THE BEST OF WAYS!"
J-DAWG: "I GOTTA TELL YA, THE STRAWBERRY SLIME FLAVOR WOULD HAVE HAD A LESSER MAN BENT OVER IT'S KNEE FOR THE ULTIMATE SPANKING, BUT I MANAGED TO HOLD MY OWN AGAINST IT'S MIGHTY THROAT-SLAMMIN' POWER! THE CARAMEL APPLE CAME CLOSE, BUT MY FINAL VOTE'S GOTTA GO WITH THE SLIME THAT ONLY STRAWBERRIES CAN PROVIDE!"
SKEETER: "ALRIGHT DUDES AND SHE-DUDES, THAT WRAPS UP THIS CHUGGIN' 'N BUGGIN' EDITION OF EXTREME BEVERAGE TESTERS! CATCH YA ON THE FLIP SIDE!"
---
Click here to see the Extreme Beverage Tester's take on Jones Holiday Sodas!
---
---
help support I-Mockery by supporting our sponsors:

---
Running a big site like I-Mockery takes a lot o' time and costs moola too.
Want to help show your support?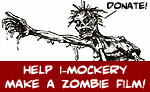 DONATE TO OUR ZOMBIE MOVIE!
Come talk about this piece & more on our Message Forums!