As if their Halloween soda flavors weren't crazy enough, Jones Soda has unleashed not one but two different holiday packs this year. And ironically, the holiday pack flavors are actually FAR more scary than the Halloween ones could ever hope to be. These sodas are the things that dares are made out of. You don't drink them with the intention of having a tasty meal, you drink them to see whether or not you can withstand carbonated drinks with flavors like "Brussels Sprouts" and "Smoked Salmon Paté". It is with this in mind that we here at I-Mockery are thankful to have some in-house Extreme Beverage Testers who will gladly take these sodas on without thinking twice about it. Keep in mind, the EBT's are professionals and claim to have been testing beverages since infancy. So we now turn over the Jones Soda 2005 Regional & National Holiday Packs taste test over to J-Dawg and Skeeter - EXTREME BEVERAGE TESTERS!
---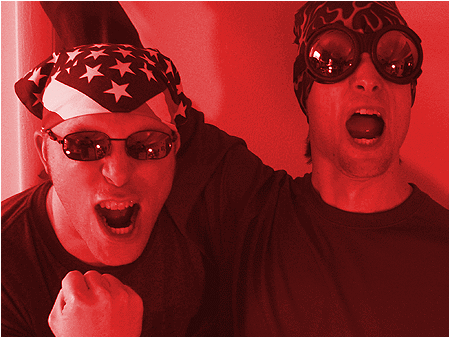 SKEETER: "WELL WELL WELL, IT LOOKS LIKE THE EXTREME BEVERAGE TESTERS HAVE TO TAKE ON YET ANOTHER DRINK THAT'S FAR TOO WICKED FOR YOUR AVERAGE CIVILIAN TO INGEST!"
J-DAWG: "THAT'S RIGHT, SKEET-O-RAMA! THOSE WUSSES CAN'T HANDLE THE EXTREME POWER OF THE GNARLY JONES BEVERAGES LIKE WE CAN!"
SKEETER: "YOU COULDN'T BE MORE RIGHT IF YOU CHOPPED OFF YOUR LEFT ARM, J-DAWG! BUT TODAY WE'VE GOT A NEW EXTREME TESTER A RAP-TAP-TAPPIN' AT OUR DOOR! LET'S GO SEE WHO IT IS AND WHAT HE'S COME TO BRING US!"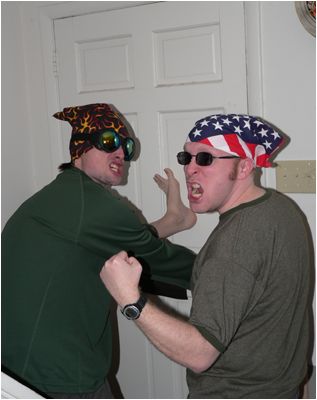 J-DAWG: "LET'S THROW OPEN THAT EGRESS AND SEE WHO'S COME A'CALLIN'!"
SKEETER: "WHOAH!! BUSTIN' OUT THE THESAURUS ON US THERE! FOR THOSE OF YOU NOT IN THE EXTREME FOLD, AN EGRESS IS A DOORWAY. A DOORWAY TO ADVENTURE AND AS YOU CAN CLEARLY SEE! WE EVEN OPEN UP OUR DOOR IN ONLY THE MOST EXTREME WAYS!"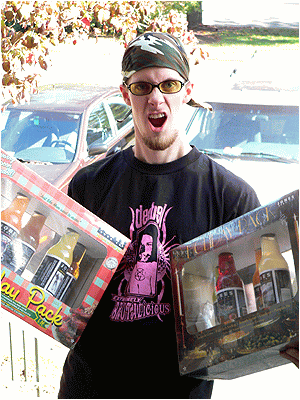 BODHI: "WHASSUP, BROSEPHS? IT'S ME, BODHI - THE DUDE WHO'S NEVER SUBDUED! JUST GOT BACK FROM A WICKED SKYDIVING JAUNT IN EASTERN BOLIVIA AND THOUGHT I'D DROP BY WITH THESE CARBONATED CARCINOGENS FOR A TEST DRIVE! SO LET'S GOBBLE DOWN FOR A BENCH-CLEARING BRAWL ON OUR TASTE BUDS!"
SKEETER: "SO LET ME GET THIS STRAIGHT, YOU'RE TELLIN' ME YOU'VE BROUGHT BOTH THE 2005 JONES SODA NATIONAL AND REGIONAL HOLIDAY PACKS? MY FRIEND, MY COMPADRE, MY WINGMAN... THAT RIGHT THERE IS WHAT WE REFER TO AS EXTREME GENEROSITY! WELCOME TO THE FOLD BROHEM!"
J-DAWG: "INDEED! YOU HAVE BROUGHT US A VERITABLE BOUNTY OF BUBBALICIOUS BEVERAGES, BODHI, OR SHOULD I SAY BRODHI! LET'S GET THIS TASTE TESTIN' PARTY STARTED, TO THE MAX!"
---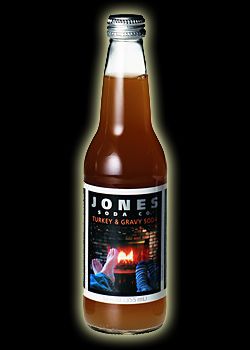 TASTE TEST #1 - TURKEY & GRAVY
SKEETER: "KEEP THE HOME FIRES 'A BURNIN', BECAUSE POPPA'S COMING HOME WITH SOME LIQUID DINNER THAT HE JUST HUNTED DOWN IN THE MIGHTY FORESTS OF ELYSIUM! WE MAY HAVE TAKEN THIS EXTREME LAND FROM THE INDIANS BACK IN THE DAY, BUT THERE WOULD'VE BEEN MUCH LESS BLOODSHED HAD WE JUST GIVEN THEM A TASTE OF THIS LIQUEFIED TURKEY! THEY WOULD'VE PACKED THEIR BAGS AND HEADED FOR THE NORDIC SHORES OF NEVERMORE! ANY DRINK THAT CAN DRIVE A MAN FROM HIS TEEPEE HAS GOTTA BE PRETTY WICKED!"

CONCLUSION: "I GIVE THIS BAD BOY 5 DEMOLITION DERBIES OUT OF 10!"
J-DAWG: "I TELL YOU WHAT, I LOVES ME SOME TURKEY, AND THIS SODA WAS TURKEYTASTIC LIKE NOTHING I'VE EVER TASTED! I COULD TASTE THE GRAVY ROLLING OFF MY CHIN AND I NEEDED A BIB TO SOAK UP THAT LEFTOVER GOODNESS AND SAVE IT FOR LATER! BUT ALAS, I WAS BIBLESS! THIS WASN'T HALF AS SATISFYING AS IF I HAD WRUNG THE TURKEY OUT MYSELF OVER THE BOTTLE AND MADE MY OWN HOMEMADE VERSION THOUGH!"

CONCLUSION: "I GIVE THIS SIX AND A THIRD DISGRUNTLED POSTAL WORKERS OUT OF 13.5!"
BODHI: "THE MURKY BROWNISH COLOR REMINDS ME OF THE AFTERMATH OF MY LAST VISIT TO TIJUANA, MEXICO - AND BELIEVE ME, IT ISN'T ANY PRETTIER WHEN IT'S COMING OUT THE OTHER END. THEY SAY EATING TURKEY MAKES YOU SLEEPY, BUT AFTER JUST A MOUTHFUL OF THIS FETID POULTRY JUICE I'M STILL COCKED AND LOADED!"

CONCLUSION: "I GIVE THIS DEAD BIRD 4 WHIPLASHED NECKS OUT OF 10!"
---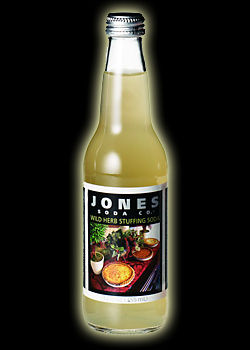 TASTE TEST #2 - WILD HERB STUFFING
SKEETER: "I AM NOW STUFFED WITH THE WILDEST OF HERBS AND THEY'RE DANCING THE FORBIDDEN DANCE AS THEY PUT MY ESOPHAGEAL FORTITUDE TO THE ULTIMATE TEST! AND WHEN THOSE BAD BOYS SLAMMED RIGHT INTO MY GULLET, I WAS DOWN BUT NOT OUT! HAD THESE BEEN NORMAL HERBS, I'D RECOMMEND IT TO ANYBODY, BUT THESE ARE WILD HERBS AND CAN ONLY BE TAMED BY THE INNER BEAST!"

CONCLUSION: "HAVE YOU EVER DANCED WITH THE DEVIL BY THE PALE MOONLIGHT? 2 OUT OF 17 SELF-PERFORMED SKIN GRAFTS!"
J-DAWG: "I GOTTA BE HONEST WITH YA, I WAS A LITTLE DISAPPOINTED BY HOW WILD THIS SODA WAS NOT. AFTER SUCH A BUILD-UP INSCRIBED ON THE SIDE OF THE BOTTLE, THE LEAST I EXPECTED WERE SOME EXPLOSIONS AS IT RACED DOWN MY THROATPIPES, BUT NO--NOT EVEN A NINJA ATTACK ON MY LARYNX! AND "STUFFED" WAS NOT SOMETHING I FELT EVEN REMOTELY AFTER SLOSHING THIS DOWN!"

CONCLUSION: "THIS ONE GETS 23 MILLION GRANDMA-KNITTED QUILTS OUT OF FOUR, BECAUSE IT WAS THAT UN-EXTREME!"
BODHI: "IF THERE'S ONE THING PEOPLE SAY ABOUT ME WHEN IT COMES TO TURKEY DAY, IT'S THAT I'M A MAN WHO LOVES MY STUFFING, SO THIS PALTRY POP WAS DOOMED FROM THE START AS FAR AS QUENCHING MY UNDYING THIRST FOR MAXIMUM EXTREMITY! WILD IS AN ADJECTIVE BEST RESERVED FOR THE WYLD STALLYNS AND THE LIKE, SO THESE HERBS JUST DON'T DELIVER THE GOODS."

CONCLUSION: "I'M GONNA FIRE THIS ONE OFF WITH 3 OUT OF 10 THUNDERING CROTCH ROCKETS!"
---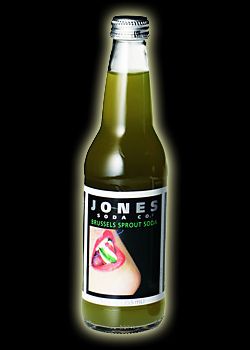 TASTE TEST #3 - BRUSSELS SPROUT!
SKEETER: "WHOAH-HO-HO! HOLD ONTO YOUR HANG GLIDERS, WE'VE JUST FLOWN HEADFIRST INTO A MOUNTAIN OF AWFUL! THE FLAVOR DECIMATED MY SOUL LEAVING MY BODY WEAK, DESPERATELY DIGGING MY NAILS INTO THE FIBERS OF LIFE AND CLINGING ON WITH ALL THE ENERGY I COULD MUSTER! I HAVE SURVIVED YOU BRUSSELS SPROUT, BUT AT WHAT COST? ONLY TIME WILL TELL!"

CONCLUSION: "I GIVE THIS BAD BOY 69 HIGH DIVES ONTO A BED OF NAILS OUT OF NEGATIVE 233!"
J-DAWG: "I GOTTA SAY, THIS POISONOUS POTABLE MIGHT NOT HAVE BEEN TOO PLEASING TO MY PALETTE, BUT IT WAS ONE OF THE MOST EXTREME THINGS I HAVE EVER ENDURED! IT WAS LIKE KNIFE-FIGHTING WITH THE DEVIL AS IT GUSHED OVER MY TONGUE IN A DEADLY TORRENT OF EVILICIOUSNESS! DON'T TRY THIS ONE AT HOME, KIDS! IN FACT, DON'T TRY THIS ONE AT ALL!"

CONCLUSION: "THIS ONE GETS 19 BOTCHED NOSE JOBS PERFORMED BY A BLIND PRIMATE WITH A HAMMER OUT OF 1, BECAUSE LOVE IT OR HATE IT, THIS DRINK WILL KNOCK YOUR SOCKS OFF AND SET THEM ON FIRE!"
BODHI: "DEAR, SWEET MANA FROM THE GODS OF PURE EXTREMERETRICIOUSNESS! I MAY HAVE TASTED THIS IN MY MOUTH, BUT I FELT IT STRAIGHT IN THE PIT OF MY BOWELS! I'VE BEEN PAID TO DRINK RAW SEWAGE ON A DARE THAT PRETTY CLOSELY COMPARES TO THE EXPERIENCE OF CHOKING BACK THIS HAZARDOUS WASTE! AND YET NO DRINK WILL EVER BEST ME!"

CONCLUSION: "LET'S HIT THIS PUPPY UP WITH 8 OUT OF 10 SLIPS OF THE TONGUE, ALA WHITESNAKE!"
---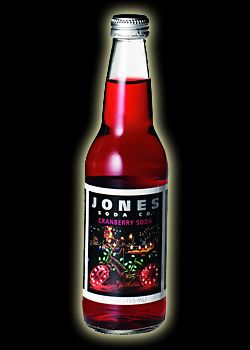 TASTE TEST #4 - CRANBERRY!
SKEETER: "FORGET ABOUT GOING TO THE DOCTOR FOR SOME OMINOUS OINTMENT, THIS CRANBERRY CONCOCTION CLEARED UP MY BLADDER INFECTION THE MOMENT IT PASSED THROUGH MY LOINS! NOW I'M READY TO HOP BACK IN THE SADDLE AND RIDE HIGH ON LIFE'S MANY BODACIOUS ADVENTURES TO THE MAX!"

CONCLUSION: "IT MAY NOT BE AS EXTREME AS SOME FLAVORS, BUT I STILL GOTTA BOW DOWN BEFORE THE THERAPEUTIC POWERS THAT RESIDE WITHIN THOSE CRANTASTIC BERRIES! 4 OUT OF 23.17 SANDSTORMS!"
J-DAWG: "I WILL TELL YOU THIS, THE CRANBERRY DRINK WAS LIKE A HEAVENLY GIFT WRAPPED BY GOD WITH TINY LITTLE ANGELS DANCING ON THE BOW AFTER THAT HARROWING BRUSSELS SPROUT EXPERIENCE! BUT I ALSO GOTTA TELL YA THAT IT WASN'T VERY EXTREME. THIS WAS LIKE A ROMANTIC COMEDY THAT YOU CAN TAKE YOUR GIRL AND HER PARENTS TO! FOR THAT REASON, I WOULDN'T BE CAUGHT DEAD DRINKING THIS IN PUBLIC, BUT I COULD CURL UP BY THE FIREPLACE AND WARM UP TO THIS WHEN NOBODY ELSE IS WATCHING!"

CONCLUSION: "3.14 SLOPPY JOE PIES OUT OF A MATHEMATICIAN'S FRIDGE!"
BODHI: "NOT BAD, NOT BAD. I COULD CRANK THROUGH A BATCH OF THIS BERRY-FLAVORED NECTAR NO SWEAT. OF COURSE, HAD THEY BOTTLED THAT THICK, GELATINOUS, PSEUDO-CRANBERRY-LIKE SLUDGE THAT'S PAWNED OFF ALMOST LIKE A CANNED VEGETABLE COME TIME FOR THE HOLIDAYS, IT WOULD'VE REALLY GOTTEN MY SPIDEY SENSE TO TINGLE!"

CONCLUSION: "I HAVE A REPUTATION TO UPHOLD HERE, SO SPEAKING IN TERMS OF SHEER BRUTALITY, THIS BERRY BREW ONLY CLOCKS IN AT HALF PAST MY LITTLE PONY!"
---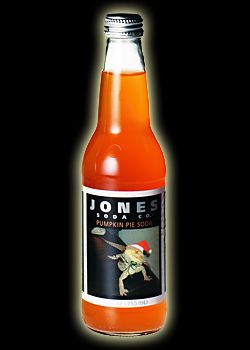 TASTE TEST #5 - PUMPKIN PIE!
SKEETER: "MY OH MY! THIS FRISKY OL' PUMPKIN PIE HAS LIQUEFIED BEFORE MINE EYES! AND THERE'S NO DOUBT THAT THESE JUICY JACK-O-LANTERNS ARE GONNA GLIDE DOWN MY GUTTURAL HIGHWAY WITHOUT OBEYING ANY POSTED SPEED LIMITS! AND WHY SHOULD THEY? THESE LITTLE DITTIES DO THE DANCE WITH NO UNDERPANTS AND THAT'S JUST FINE BY THIS COWBOY!"

CONCLUSION: "THE GREAT PUMPKIN DEMANDS THAT HIS YOUNGLINGS BE GIVEN THEIR JUST DUES! 8 HAUNTED HAYRIDES ON A PLUTONIUM-POWERED ROCKETSLED OUT OF 17!"
J-DAWG: "THE ONLY THING THIS DREAMY DRINK NEEDED WAS A COOL WHIP CHASER TO FOLLOW IT DOWN AND MAKE THE WHOLE EXPERIENCE COMPLETE! AS IT WAS THOUGH, I COULD FEEL THE WHIP OF THE PUMPKIN TAMER CRACKLIN' DOWN ON MY TASTE BUDS AS THEY SOAKED IN THE SUDS OF THIS MANLY POTION OF 'PUMPKININ' IRON'!"

CONCLUSION: "7.4 PUMPKIN PIE-TASTIN' SEWER RATS IN THE DUMPSTER AT THE BACK OF APPLEBEE'S!"
BODHI: "WHEW! ABANDON SHIP! HEAD FOR SAFETY! WOMEN AND CHILDREN FIRST! YOU'RE IN FOR AN EXTREME DOSE OF FALSE HOPES AND I'M YOUR HOST, SHOOTIN' STRAIGHT AND TALLYIN' THE SCORE! MY TONSILS WANT THIS JUMPIN' JACK FLASH JACK-O-LANTERN TRASH OUTTA MY THROAT! WHAT A PUTRID EXCUSE FOR WHAT SHOULD'VE BEEN A POST-HALLOWEEN PUMPKINY DELIGHT!"

CONCLUSION: "7 OUT OF 10 HAMMER SMASHED FACES - I'VE GOT A HEADACHE!"
---
OH YOU THINK IT'S OVER ALREADY? WELL
YOU THOUGHT WRONG, SPORT!
CLICK HERE TO CONTINUE TO PAGE 2
OF OUR EXTREME REVIEW OF THE
2005 JONES SODA HOLIDAY PACKS!
---
help support I-Mockery by supporting our sponsors:

---
Running a big site like I-Mockery takes a lot o' time and costs moola too.
Want to help show your support?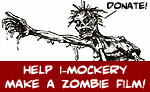 DONATE TO OUR ZOMBIE MOVIE!
Come talk about this piece & more on our Message Forums!