You know, all I ever seem to hear about clowns is bad stuff. Sure, they can be creepy. Some are associated with a serial killer by the name of John Wayne Gacy. We wonder how unhappy they must really be if the only way they can show joy is to paint a fake smile on their faces. We even saw "Uncle Buck" slam an alcoholic one in the schnozool. But even with all of these negative connotations, I never looked at them in the often horrified way that most coulrophobes do, but rather with amazement that they can put on such a facade when people think they're so darn creepy. I grew up watching Bozo the clown on T.V. as he challenged kids to throw ping-pong balls into progressively farther buckets. If your ball landed in the final bucket, you got something great like a new bike or a video game system or whatever. If your ball only made it to the first bucket, or it missed the first bucket (which sadly happened on more than one occasion), your parents took you home and beat you for being the failure that you were.
The only other association with clowns that I ever really had was with a delightful little b-movie: KILLER KLOWNS FROM OUTER SPACE. This movie really put clowns, or "klowns", on the map for me. All the ones on TV and in the circus were mildly amusing at best, but these killers has pizzazz! They finally gave clowns the justice they had been struggling to achieve for many, many years. So let's take a closer look into the movie!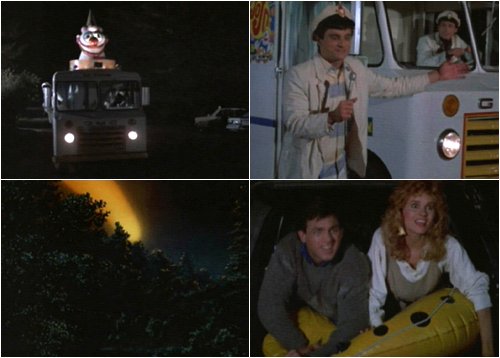 We start off with the Terenzi brothers pulling their ice cream truck into the "top of the world" - ie: the hot make-out spot for all the teenagers in town. Problem is, the Terenzi brothers are supposed to be the comedic relief in this movie... but the movie is comedic by nature, so everything these two say and do comes off as awkward and annoying and all you want to do is see them die. I don't even like talking about them, so I'm going to avoid them as much as possible in this piece.
Anyway, two of the teenagers Debbie Stone and Mike Tobacco are gettin' busy when a comet flies over their heads and lands just over the hill. Mike thought it was cool 'n all, but he's more interested in getting some action. Let's face it, when your name is "Mike Tobacco" you're either gonna be a total badass or a complete loser. After seeing how this guy carries himself, you'll see that he quickly falls under category B. It's pretty sad too, because Mike Tobacco has the potential to be one of those really powerful sounding names such as "Glutton Manchowder" and "Skrög Foghorn". Well, Debbie convinces him to go find where the comet landed. See? I told you he wasn't a badass. If he was, he would've said "NO WAY BABE. THIS IS TOBACCO TIME! NOW STRIP AND GET READY FOR THE TOTAL TOBACCO PACKAGE!"
You blew your chance Mike... you really blew it.

Before Debbie and nancy-boy make it on over to where the comet landed, a local farmer finds his way over to it since it practically landed in his backyard. Much to his hillbilly surprise, there is no comet crater, but instead a giant circus tent. Well after shouting out a flurry of more stereotypical hillbilly catchphrases, a clown appears before him and whips out a blaster gun. Bye bye hillbilly guy, we'll miss ya.

Back in town, Curtis Mooney drags a couple of punks into the police station because they were walking around campus with a bottle o' booze. In case you didn't notice already, Curtis is played by the great John Vernon who is a master of playing characters which are complete assholes which you loathe with a passion. Naturally, this is the guy that most people will want to see die some horrible death at some point in the movie. Mooney is constantly pissed off and he doesn't believe doing things by the book like his partner Dave Hanson does. If you ask me, Dave is the only thing that stands in the way between Mooney and the incarceration of every college kid, er "punk", in town.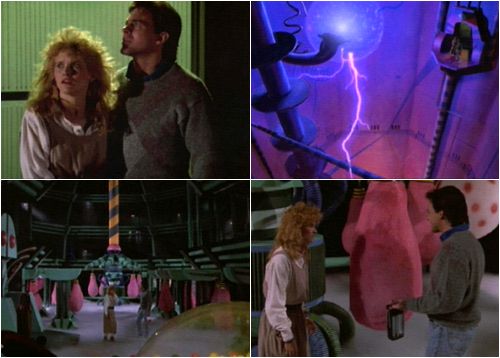 Back in the hills, Debbie 'n Mike find their way to the circus tent and decide to check it out. Aside from the fact that it's out in the middle of nowhere and the fact that the tent is made out of metal, Mike is still convinced that it's perfectly normal. That is until they go inside and discover that it's a huge place with all sorts of strange electrical things going on. Then they find a room with giant cotton candy lumps hanging from the racks. Mike draws the conclusion that it's a cotton candy factory. A cotton candy factory? Jesus christ, just what kind of "Tobacco" have you been smoking Mike!?
Well, just to prove to Debbie that it's perfectly normal, he peels off a piece and...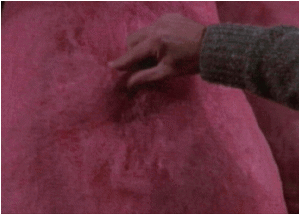 Well, well, well... where's your cotton candy factory now, Tobacco boy? For some reason I don't remember my cotton candy having a bloody face embedded in the middle of it. Then again, who am I to judge the superior intellect of the great Tobacco?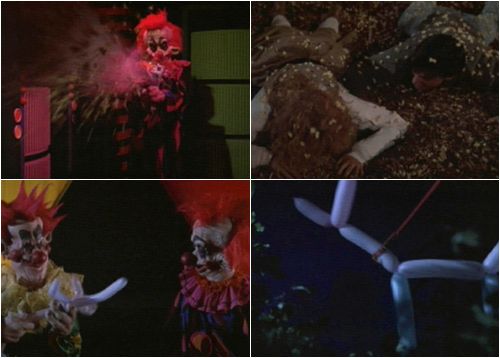 The two of them finally realize that this is indeed no cotton candy factory, and instead home to a bunch of killer clowns. They make a run for it, but one of the clowns sees them and shoots his patented popcorn gun in their direction. The popcorn clings to them and falls off slowly as they run into the woods. Then one of the other clowns make a "balloon animal" dog which is able to follow the trail of popcorn using his keen sense of smell. I told you these klowns were much funnier than regular clowns.

Debbie and Mike barely make it out of there alive, but as they head back to town, they lead the clowns that way too. Upon arriving, they inform the police about their encounter with the killer clowns and the cotton candy cocoons. Naturally, this is the type of wild tale that Mooney has a field day with. "Killer Klowns From Outer Space... holy shit!" Actually, listen to him say it. I just love the way he expresses himself. He's just got one of those classic "love 'em and hate 'em" on-screen personalities. He's gonna need a lot more than personality to survive the killer clowns though, and they're already arriving in town.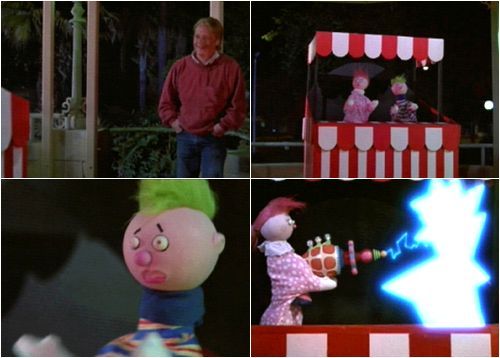 Some lonely dork happens to be walking around in the middle of the night when he discovers a puppet show taking place up inside a gazebo. Sure, a puppet show going on in the middle of the night with nobody else around. Yeah, I wouldn't be suspicious of that at all. So the guy puppet tries to get it on with the girl puppets, but she won't have any of it. But she doesn't resort to the pepper spray... she goes straight for the laser gun! Unfortunately for dork boy, the guy puppet isn't the only one who's gonna get a taste of the laser.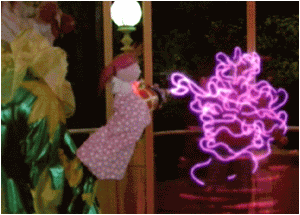 A killer clown emerges from behind the puppet stage and blasts dorko with the laser gun, but it's no ordinary one. It turns the guy into a cotton candy cocoon! So that's how they do it! I normally couldn't give a shit about guns, but man, I want one of those.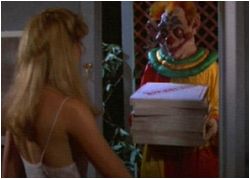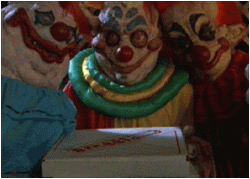 Elsewhere, the clowns decide to deliver a pizza to their next victim. Put this pizza has all the toppings on it, including DOOM. A drunk young woman answers the door in her lingerie and... wait... what? Hold on a second, I need to address something here.
Look. Drunk young women answering the door in their lingerie when a pizza guy arrives just doesn't happen as much as the movies would have you think. I've known quite a few pizza delivery guys, and not once have they told me a story about some sexy young gal answering the door in her skivvies. One of them did tell me about a drunk girl who puked on his shoes shortly after she opened the door though, so I guess that's the same thing, right? Or how about the overweight guy in his 60's that answered the door in nothing but black socks and tighty whiteys? Just take my word for it, don't become a pizza boy if you're hoping for semi-nude gals to answer the door on a regular basis.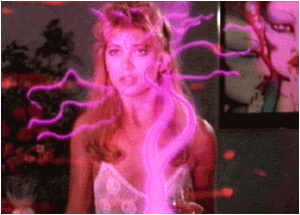 Well anyway, a baby clown pops up right out of a pizza box and zaps the ditzy drunkard until she too is cocooned in cotton candy.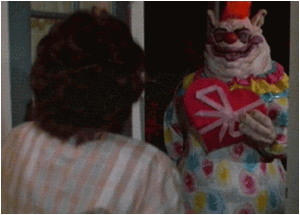 The clowns are also nice enough to give their victims a little bit of joy just before killing them. Take for example this nice lady who the big clown hands a heart-shaped box of chocolates to. She's so happy to receive the chocolates, she doesn't even see the laser blast coming. These clowns have style I tells ya! And if this doesn't prove that infamous statement by Forrest Gump to be true, I don't know what does.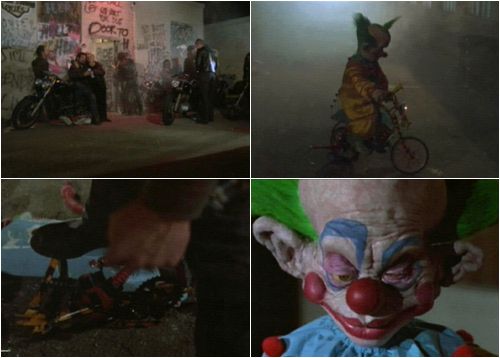 But not all the clowns are so high class. No, some clowns live a reckless life on the streets, such as this little fella. He pulls up his tiny bike beside a hardcore motorcycle gang and they're all impressed from the get go. One of them decides to pick on the little clown though, and smashes his bike when he won't let the gang member take it for a ride. The little clown breaks down into tears and you can't help but feel sorry for him. But fear not, this little clown is from the tha streetz and knows how to handle himself!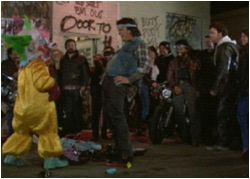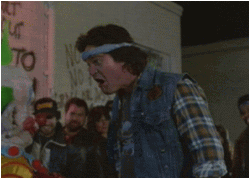 In a flash, he's wearing boxing gloves, bobbing 'n weaving about and ready to take on the biker dude in a street fight. Cocky as can be, the biker sticks his chin out and let's the clown have the first shot. Unfortunately for biker dude, that will be the first and only shot of this street fight. He may be a little clown, but he packs quite a punch.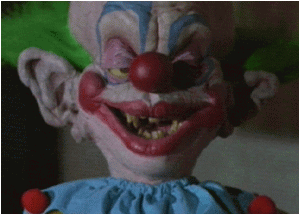 HA HA HA! I GOTZ THA STREET SMARTZ, G!

Meanwhile, Dave goes to check out Mike and Debbie's story about the killer clowns up near the "top of the world" make-out area. And sure enough, all of the parked cars are filled with nothing but cotton candy. Mooney on the other hand, isn't about to go outside looking for some clowns that those punks reported. Soon enough, the phones at the police station are ringing off the hook with more reports of clowns, and Mooney in all of his paranoid splendor, decides that the entire town is playing a big joke on him. "Well they can all go to hell! I made it through Korea I can make it through this bullshit!" With one-liners like that, this guy is a living legend.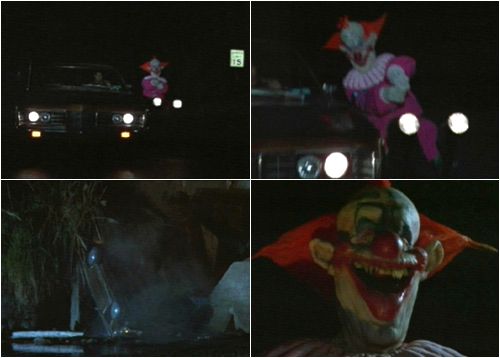 Another clown decides to have a demolition derby with some poor bastard on the highway. Only thing is, the clown doesn't even have a car. He simply attaches headlights to his feet, sits down, and he's flying down the highway. Even more amazing, his body somehow has more mass to it than the real car that he's ramming into. The car eventually goes flying off a ledge and explodes much to the amusement of the clown. I guess they're not out to just turn people into cotton candy. Some of them are just in it for sport kills.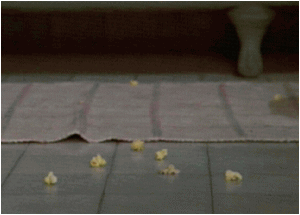 Back at her home, Debbie decides to take a shower. After all, she was sprayed with alien clown popcorn, so it's probably a good precautionary measure to wash that stuff off. Some of the pieces land on her bathroom floor and they actually crawl off into her laundry hamper. I don't know what they're up to, but goddamn if those tiny crawling pieces of popcorn aren't the cutest little things ever. Popcorn would make the ultimate pet if you ask me. Why? Cuz if it pissed on the carpet, you wouldn't have any second thoughts about eating it to teach it a lesson. Can't say the same about your cats or dogs now can you? Well maybe you can, you sick bastards. We'll get back to Debbie in a bit, but first we need to see what those crazy killer clowns are up to.

Over at the clown-themed "Big Top Burger" joint, one of the killer clowns puts some of his popcorn in the trash bin. Then one of the helpers comes along to throw out some trash when he hears some strange noises coming from inside the bin. He opens it up to check it out and something (other than his own horrible acting) pulls him in. Looks like those little popcorn pieces do a lot more than crawl around and make cute noises.
WILL THE KLOWNS TAKE OFF THEIR MAKE-UP?
WILL THE POPCORN RISE UP TO KILL THEIR MASTERS?
WILL "BIG TOP BURGER" BECOME THE MOST SUCCESSFUL FAST FOOD CHAIN IN THE HISTORY OF THE PLANET?
CONTINUE TO PAGE 2 TO FIND OUT!
---
help support I-Mockery by supporting our sponsors:

---
Running a big site like I-Mockery takes a lot o' time and costs moola too.
Want to help show your support?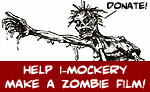 DONATE TO OUR ZOMBIE MOVIE!
Come talk about this piece & more on our Message Forums!
click here for more minimocks!

---


[Minimocks] [Articles] [Games] [Mockeries] [Shorts] [Comics] [Blog] [Info] [Forum] [Advertise] [Home]


Copyright © 1999-2007 I-Mockery.com : All Rights Reserved : ()
No portion of I-Mockery may be reprinted in any form without prior consent
We reserve the right to swallow your soul... and spit out the chewy parts.