by: -RoG-
I always enjoy checking out places I haven't visited during previous Halloween seasons, so when Re told me about a place called Lombardi Ranch up in Santa Clarita that had a big "Scarecrow Alley" attraction you could walk through, I needed no further convincing. We hopped in the car and headed out for a nice afternoon drive to pay the ranch a visit, and it turned out that the scarecrows were far more entertaining than I ever could have imagined. As always, I brought my camera along to document the experience so those of you who couldn't pay the ranch a visit would still get to see it. Keep in mind, by the time we arrived, the scarecrows had already been up for weeks, so some of them were a bit ravaged by the weather. Then again, sometimes the weather made them look even more interesting. Either way, I'm sure you're gonna get a kick out of all these scarecrows that random people from the community built for the 2013 Fall Festival at Lombardi Ranch. Enjoy!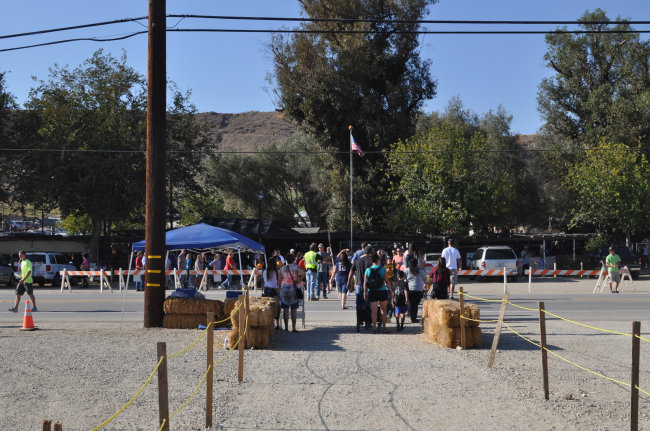 We arrive at Lombardi Ranch and head on in along with the rest of the huge crowds.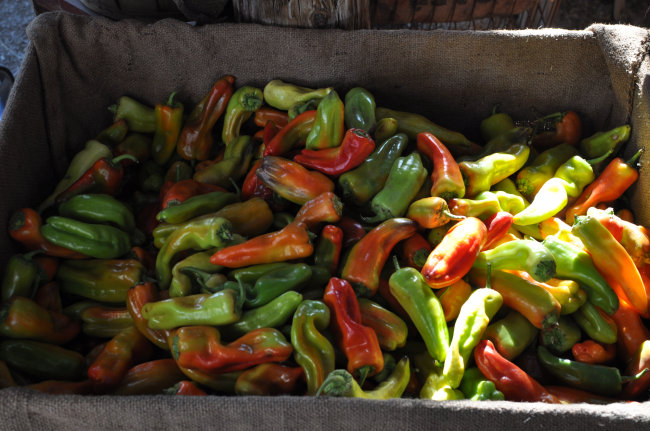 Maybe there's a ghost pepper buried in there somewhere.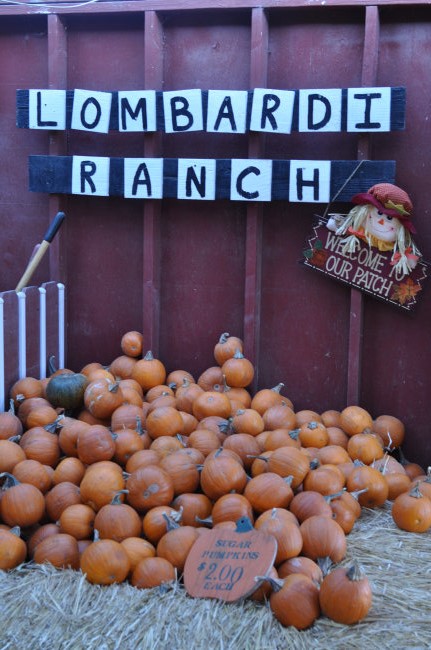 Sugar pumpkins anyone?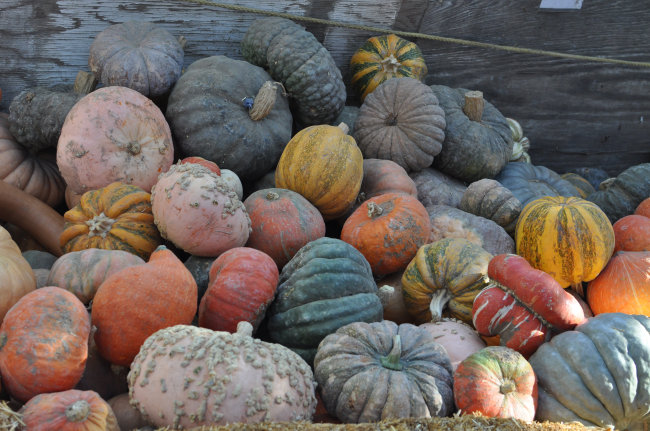 Some of these are gourdgeous! Get it? GOURDgeous!?!? AHAHAHAHAHAHAHAHAHAHAHAHA! Genius.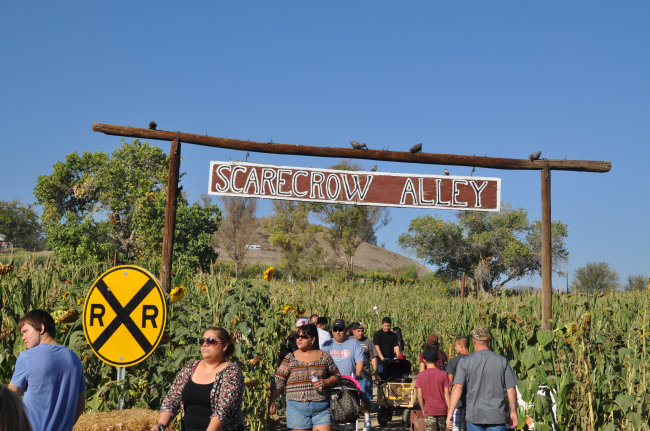 And now, it's time to explore what we really came here for... Scarecrow Alley!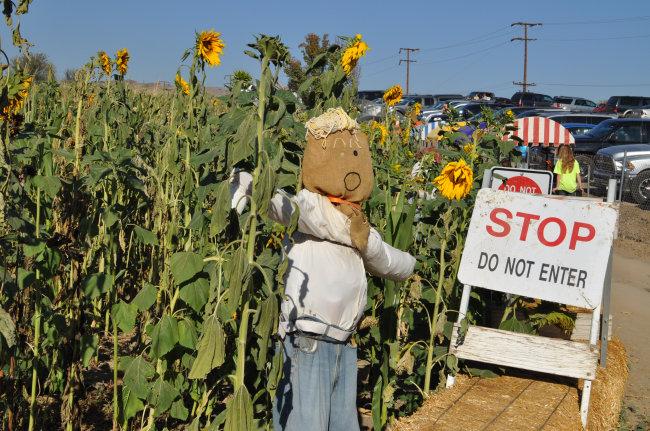 Look pal, I drove all the way out here, and I'm not leaving 'til I have my fill of scarecrow goodness.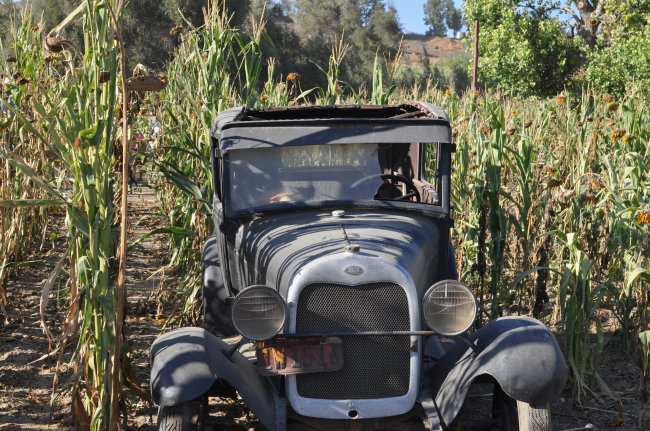 Not exactly a scarecrow, but still pretty cool seeing such an old car just sitting there in the field.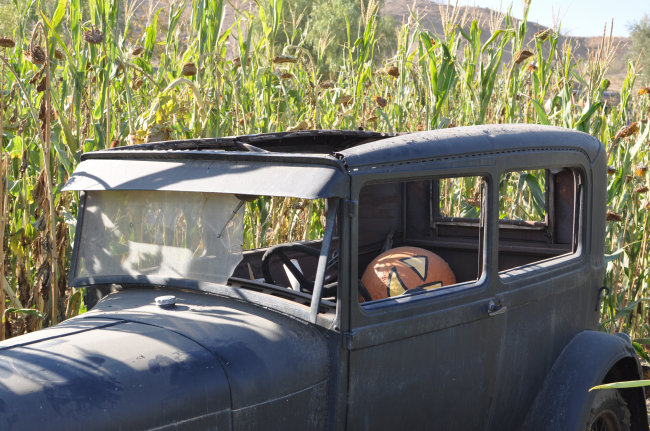 The fact that it has a giant pumpkin ball sitting in the back makes it all the better.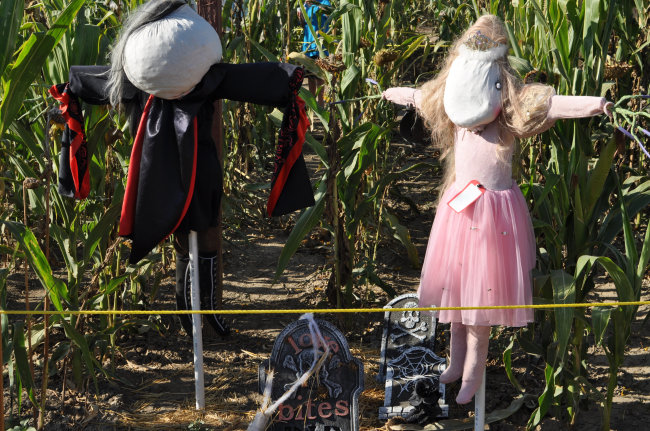 The first set of scarecrows is a a vampire and what I assume is his victim.
I like how the vampire's head kinda looks it's a giant onion with a bad comb-over.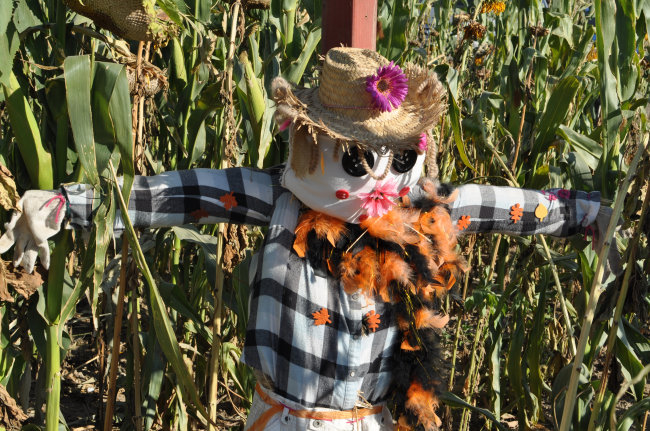 All I can say about a scarecrow with a black & orange feather boa is that it looks faaaaabulous!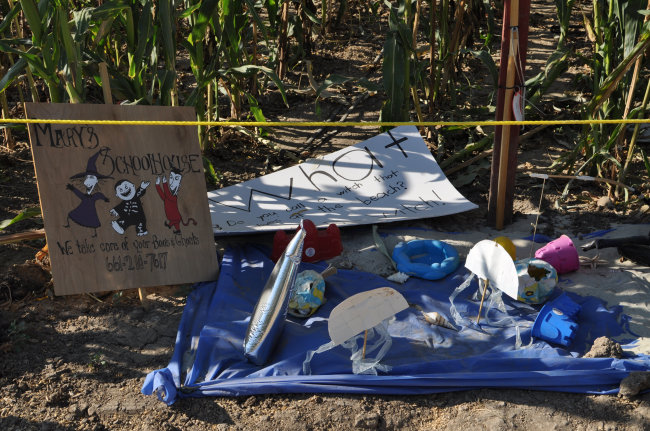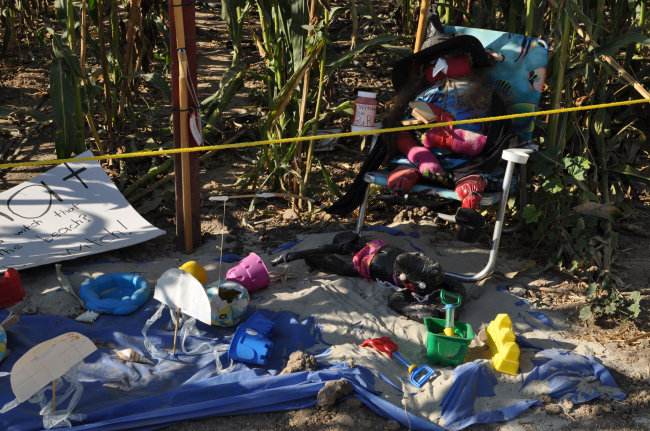 Here's a nice one with a witch sitting in her beach chair while her black cat enjoys the sandy beach.
She even has a jar of sun burn lotion that apparently helps burn her skin. Makes sense to me.
The sign that was toppled over read: "What do you call a witch that lives on the beach? A Sand-witch!" HAR!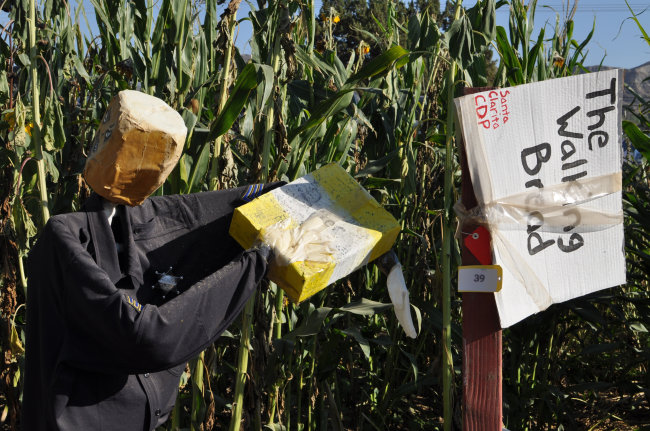 No, you're not reading that that wrong, it's not The Walking Dead, it's The Walking Bread!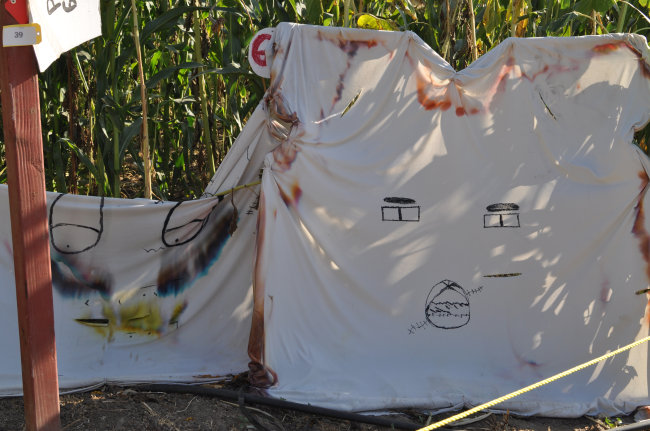 I can only assume these must be the zombified slices of bread. INCREDIBLE. Oh but that's not all this display had: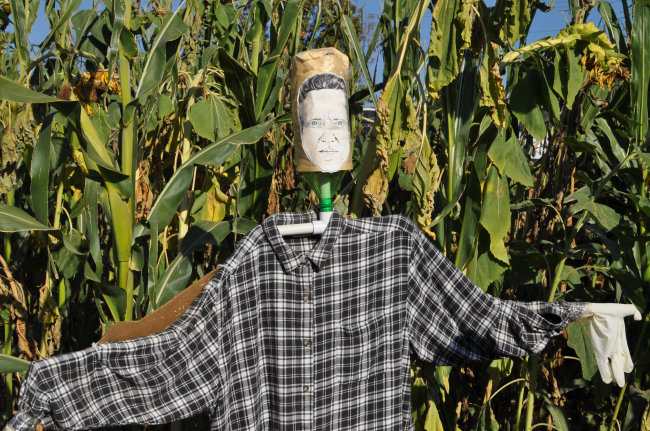 Yep, a Christopher Walken scarecrow. But wait, there's a sign that blew over on the back of his arm.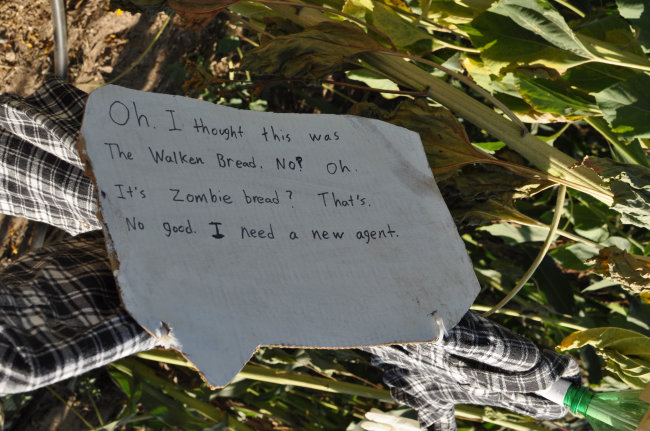 The Walken Bread. We're only a few scarecrows in, and this is already one of my favorite Halloween attractions this year.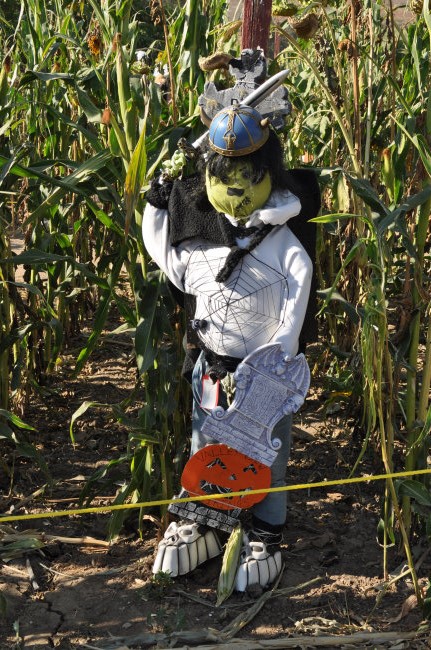 A Valley View Viking scarecrow, with some seriously awesome shoes and a spiderweb chest plate.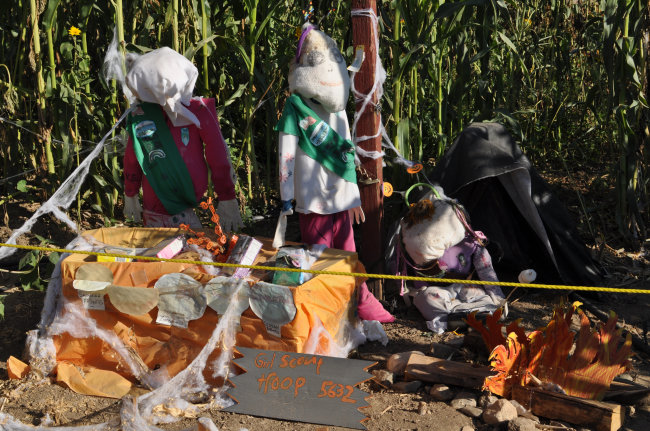 It's a collection of scarecrows from Girl Scout Troop 5632, complete with campfire and cookies for sale.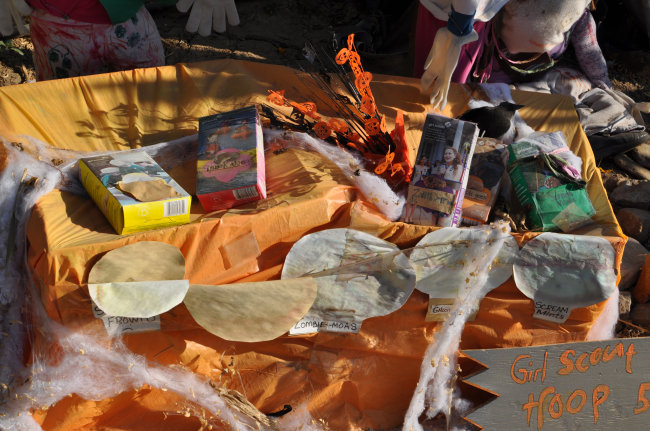 Anybody for Zombie-Moas or Scream Mints?

Not sure if this one would keep the crows away, but I do love the little fishing hole they set up next to the tent.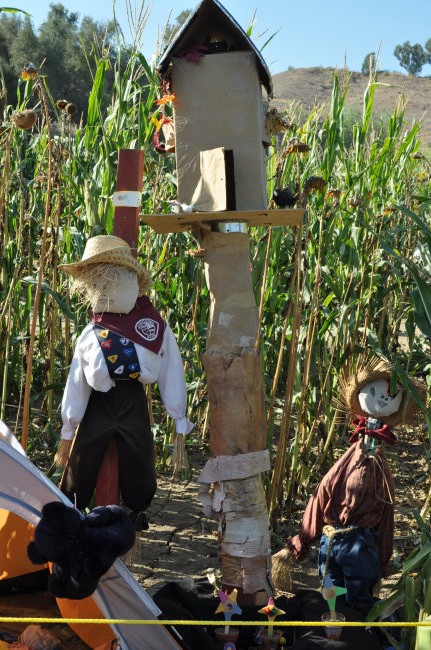 Yeah they're not gonna scare any crows away when they built a house to welcome 'em.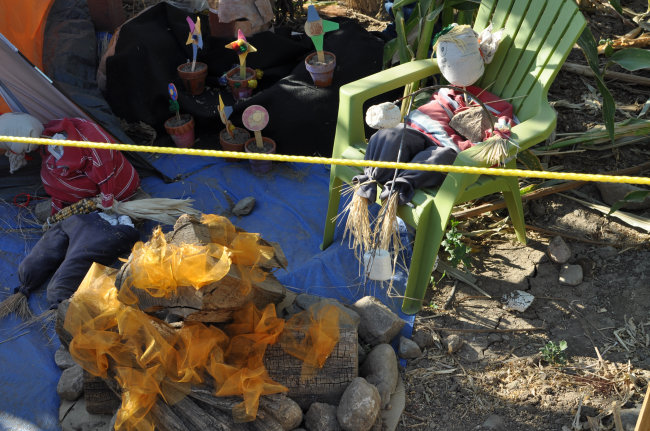 Nice campfire, and those are some huge marshmallows she's roasting!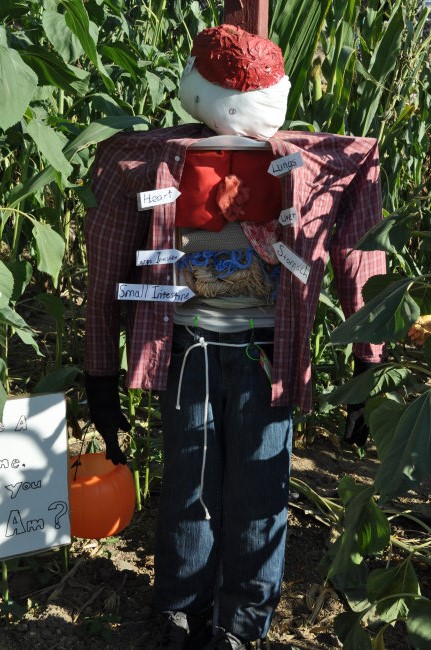 The sign reads: "My insides are a costume. How scary do you think I am?"
Well since it asked, I think a scarecrow that teaches us anatomy is quite scary.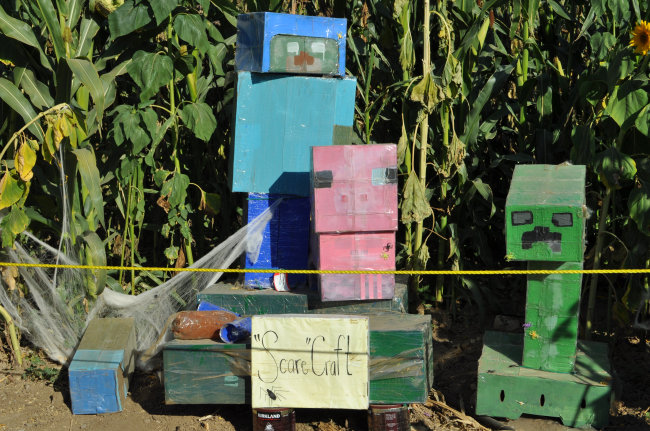 Scarecraft. Naturally, the Creeper would make for a perfect scarecrow.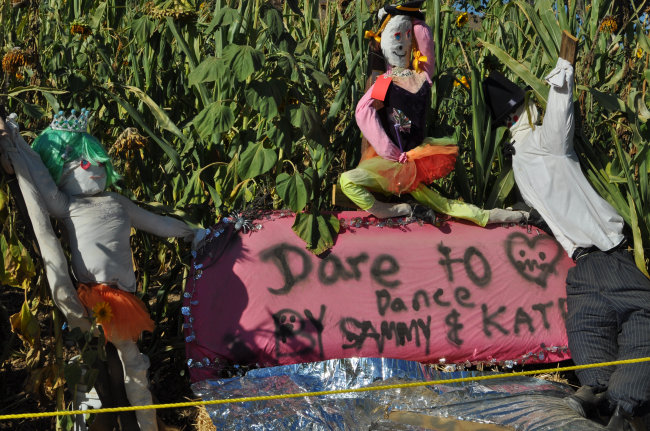 A fine shiny dance floor for the scarecrows, by Sammy & Kate.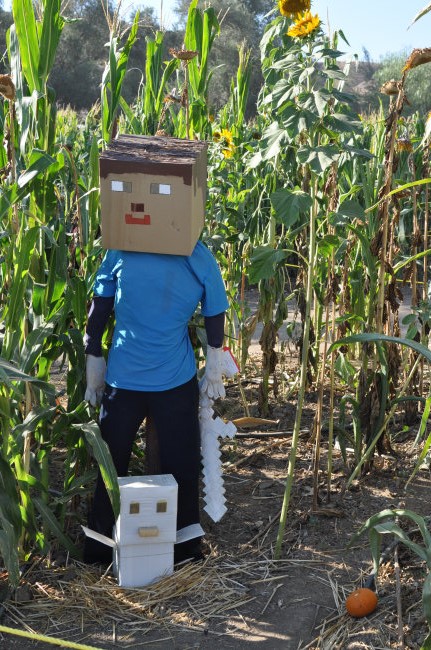 Yeah, it's another Minecraft one, but come on... that lil' ghost is awesome.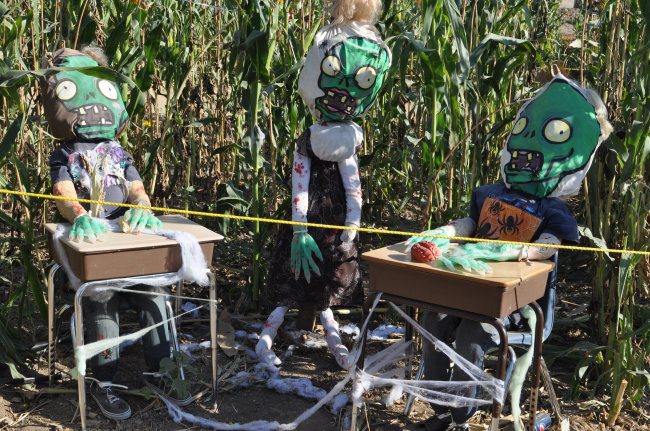 The zombies from Plants vs. Zombies are ready to learn all about scaring away crows at school!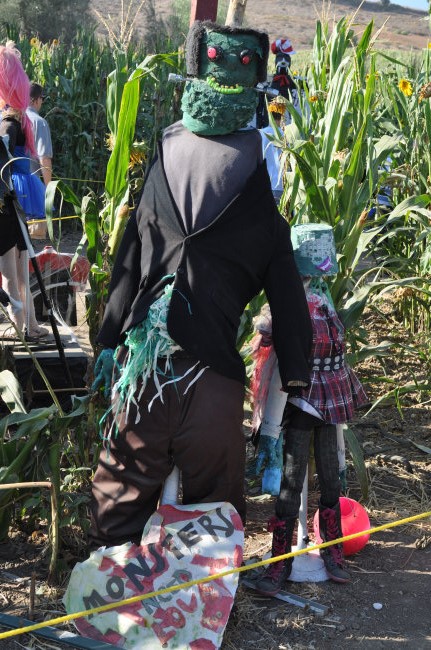 "Monsters need love too."
They sure do, Frank. Gotta love his face, and the shredded entrails spilling out of his gut.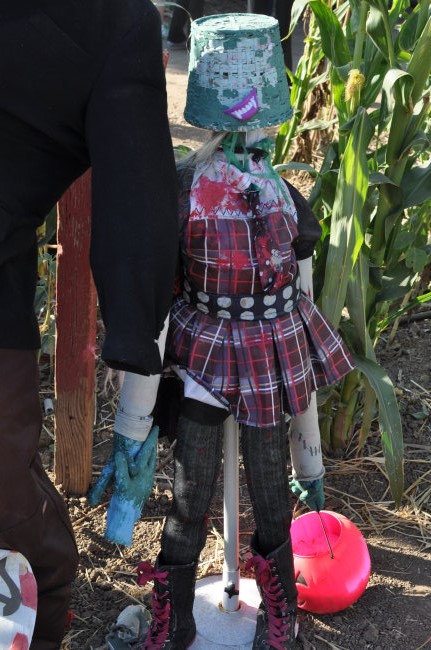 His little bucket-head monster friend there appears to have ripped his hand right out of its socket.
She's stronger than she looks.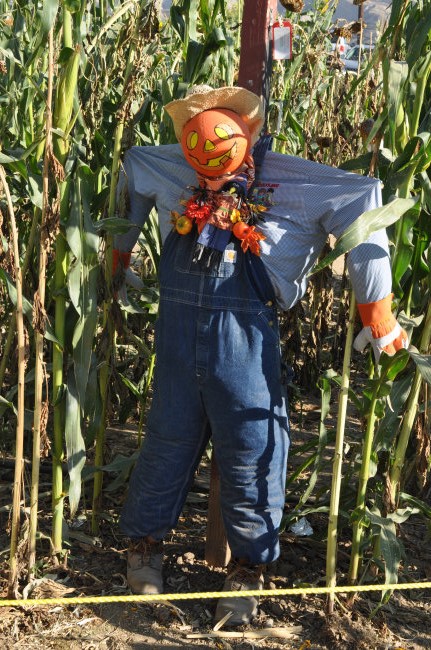 Can't go wrong with this one, especially since they used one of those
awesome Halloween jack-o-lantern dodge balls for its face.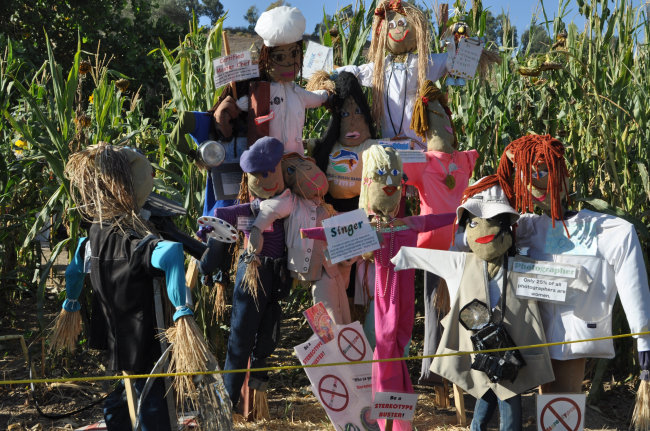 This set was called the "Stereotype Busters" and was about breaking the stereotypes about what careers women hold.
Well, I for one didn't know they could be scarecrows, so mission accomplished.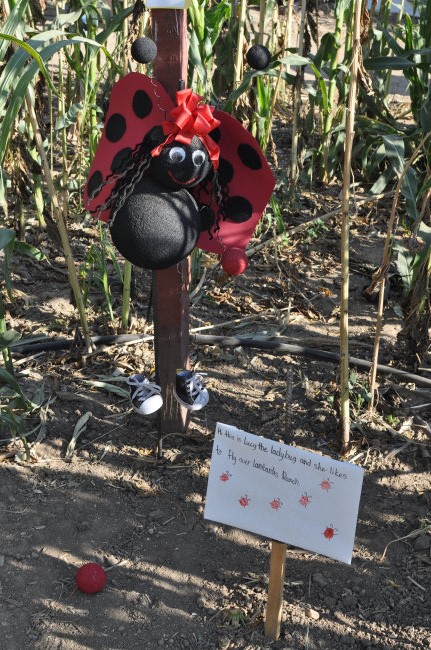 "Hi, this is Lucy the ladybug and she likes to fly over Lombardi Ranch."
Good to know!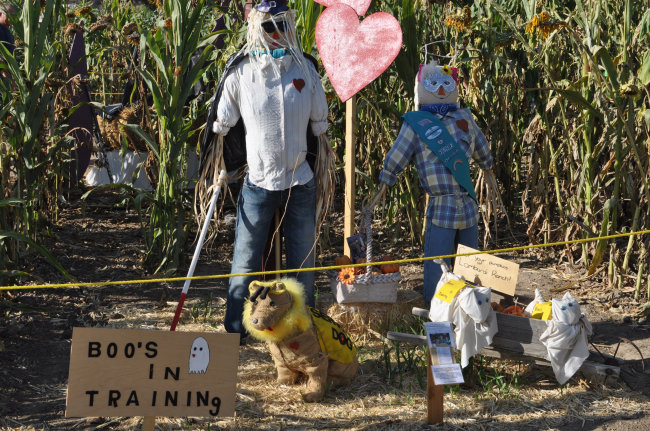 Next up, let's check out what's happening with the "Boos in Training" scarecrows.
There are more photos from Scarecrow Alley to see!
Click here to continue onward to page 2!