by: -RoG-
I owned a lot of monster toys when I was a kid. Between the 70s and 80s, there sure were plenty to choose from. Whether it was Mattel's "Krusher", LJN's Gremlins, Remco's Mini Monsters or something else, they all had that special twisted something that we kids simply couldn't get enough of. Of all the weird monster toys of my youth, Ideal's Manglors are perhaps the most unsung ones of all. This isn't too surprising though... not just because Ideal wasn't really the largest toy company at that point (their Robo Force robot series sadly couldn't compete with the popularity of Go-Bots and Transformers), but because the very nature of the Manglors toy line wasn't concomitant with longevity.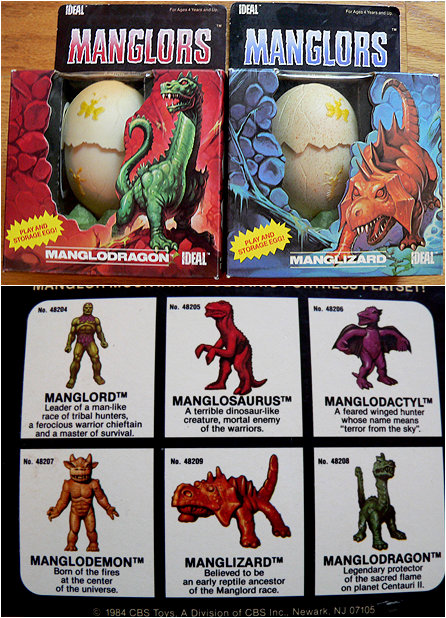 For those of you not familiar with Manglors, the idea behind the toys was very simple. Manglors were "Made of the strangest stuff on earth!" as the packaging would say, and it wasn't that far off. Each alien monster figure felt like it was made of a substance somewhere between the consistency of slime and rubber. Most bizarre indeed. The toyline also had no real established storyline other than a few random details about each figure on the back of the boxes. All we kids knew is that Manglors were alien monsters from a prehistoric time, but hey... it's not like the story of He-Man was that deep either. The storylines for most of the toys we loved were filled with an absurd amount of plot holes, but we didn't care... we filled in those holes with our own imaginations.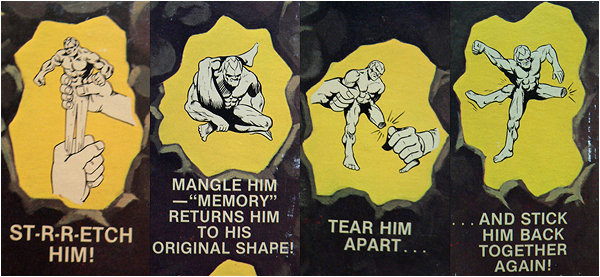 The real hook for the kids was that, once removed from their "pre-historage" eggs, these figures could be torn apart, or mangled (see what I did there?), and then put back together again as if nothing had happened. What's more, you could tear off a foot and reattach it to its face and proclaim your Manglor's name to now be "Foot-face the Mighty!" Now, while the figures were very stretchy and sticky, and could be reassembled to an extent, they were never really the same after you tore 'em apart the first time. You couldn't stretch them out nearly as much without the mangled parts popping off, and they would eventually lose their stickiness. If you ask me, Ideal had a truly great money-making idea going with this toyline: create toys that you encourage kids to destroy, then their parents will have to buy new ones sooner or later. Brilliant!
Because of the all-too-common mangling of the toys, it's become increasingly difficult to find Manglors in good shape these days. In all honesty, the only ones worth buying are those rare ones that were never opened to begin with. As you can imagine, those toys are hard to come by these days (I've been trying to complete full a set of 'em for years). Still, they were a lot of fun to play with (as long as you didn't drop 'em on a carpet), and you could combine them with other Manglors figures to create some impressive anthropomorphic abominations.
Even harder to come by is the Manglor Mountain Volcanic Fortress Playset. It was the only playset ever released for the Manglors toyline and wasn't promoted much (no commercials and not even a mention on the back of the Manglors figure boxes), so finding one even back in the day wasn't the easiest of tasks. And like any hard to find toy, that just made us kids who knew about it want it that much more. Oh, and did I mention it involved slime? Well it did and we all know that slime makes EVERY toy better. It's an undisputable fact.
Today, I have a rare treat to share with you. A brand new Manglor Mountain Volcanic Fortress Playset, complete with the original Manglord alien monster figure. We're going to take a closer look at this elusive set and see just what made it tick... er... bubble and gurgle.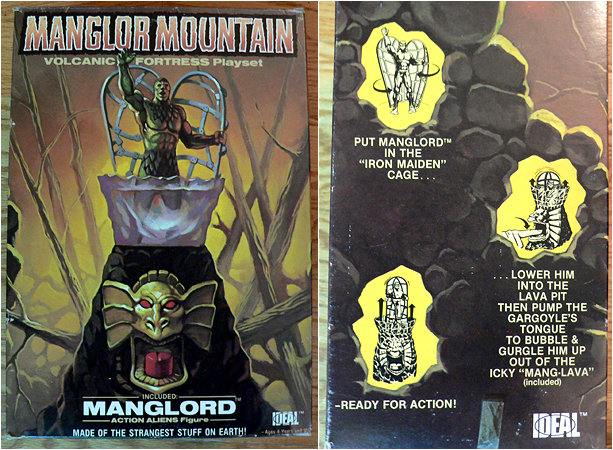 Look at that artwork. LOOK AT IT! How could any kid in his or her right mind resist the urge to have a toy that looked like this? I love how they didn't even try to make it look like a real mountain on the package, they actually drew it to scale. Unlike most other playsets from that era, the artwork is pretty much an exact representation of what you'll find in the box. And speaking of what's in the box, as you can see from the description on the side, Manglor Mountain actually came with its own Iron Maiden cage to play your Manglord figure in! Most kids first learned about what an Iron Maiden was through the English heavy metal band or Bill & Ted's Excellent Adventure. Me? I learned about it thanks to Manglors. Fact: adding an Iron Maiden to any toy makes it 50 times cooler. That and a substance called "Mang-Lava". God, I love just saying that. Mang-Lava.
MANG-LAVA. MAAAAAAAAAAAAAAAAAAAAAAAAAAANG-LAAAAAAAAAAAAAAAVAAAAAAAAAAAAAAAAAAAAAAAAAAA!
Ok I'm done. For now.
Mang-Lava.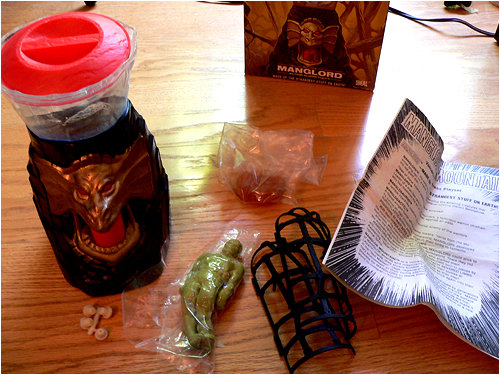 I'm sure to some of you toy collectors out there, seeing this brand new Manglor Mountain playset removed from the box is like torture. "Nooooo! You're decreasing the value!!!" Well screw that. I never found this playset in stores as a kid and always wanted it... so almost 30 years later, it's time to collect on some long lost Manglors fun. I'm all for taking good care of old collectible toys, but not everything needs to remain in the package. What's the fun in that, especially if you never even got to try it out as a kid? That's no fun at all. It wouldn't be a very interesting article if I just showed you pictures of the box and left it up to your imagination about what the toy inside was like. Actually, maybe that would be interesting... but it's too late now. I guess you'll have to suffer as you witness the spectacle of this awesome toy. Mang-lava.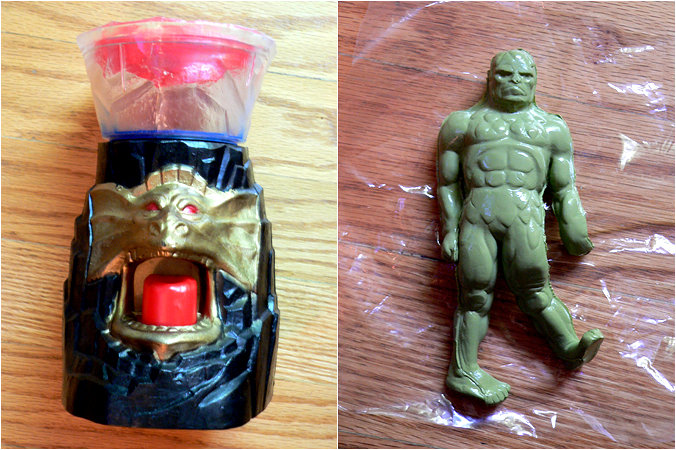 And here we have the two stars of the show, Manglor Mountain and Manglord himself... or... itself. As you can see there's a big gargoyle on the side of Manglor Mountain, so big in fact that it takes up nearly the entire thing. Actually, considering the size of this thing, it's not really much of a mountain as it is more like a mound. Let's be realistic here, no kid would want to buy a "mound", it just doesn't have that grandiose feel to it, so it's understandable why they would name this playset as they did. Still, Skeletor's "Snake Mountain" playset was much closer to the scale of a mountain than Manglor Mountain ever was... but did it have a gargoyle with a tongue you could depress or an Iron Maiden? Nope. That, my friends, was definitely a Manglor Mountain exclusive.
And what about Mr. Manglord himself? Even with all the other weird monster/dinosaur hybrid Manglors they released, this guy was always my favorite. Aside from being the original Manglor, he has that eternal look of discontent and disapproval on his face that's usually reserved for bitter old men. That and he always reminded me of "The Thing" from The Fantastic Four.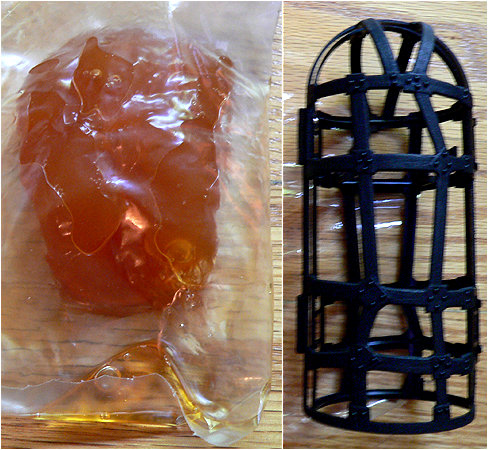 Mang-lava. MAAAAAAAAAANG-LAAAAAAAVAAAAAAAA! As one would expect, the big bag of lava slime is but a shell of its former self. All that remains is a small blob of what was surely once a big juicy bag full of glorious orange slime, eager to coat Manglord in all of it's Mangy goodness. MANG-LAVA. Don't worry though, I have some back-up slime that should do just fine. It may not be Mang-Lava, but I'm sure it'll do the trick. More on that in a bit. Mang-Lava.
Now, Manglors were supposed to be prehistoric creatures, so one can assume their adventures took place in prehistoric times. What I want to know is, why do they have torture devices such as the Iron Maiden as a part of the Manglors toyline? That's a wonderfully glaring anachronistic error if I've ever seen one! Not that I'm complaining. As stated earlier, Iron Maidens can make just about any playset better. Hell, I bet Mattel would sell a hell of a lot more Ken & Barbie playsets if they occasionally included an Iron Maiden with 'em. Admit it... you'd buy 'em in a heartbeat.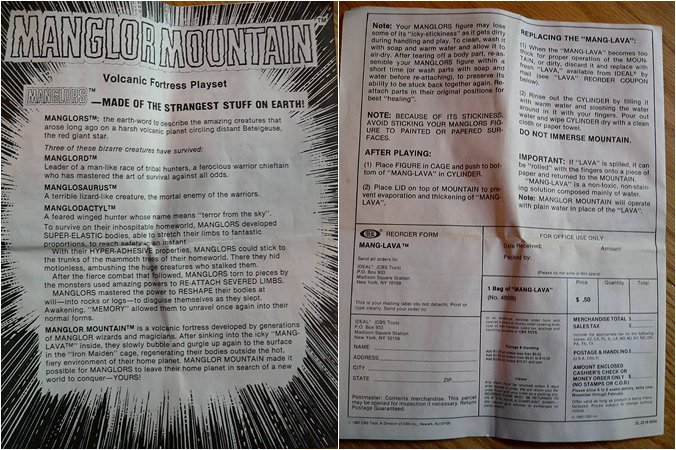 [click to see a larger view]
Well now, we finally get some back-story about these mysterious rubbery slime creatures. "Manglors: The earth-word to describe the amazing creatures that arose long ago on a harsh volcanic planet circling distant Betelgeuse, the red giant star." So Manglors is the "earth-word" used to describe them? I wonder what their real names are! I guess this means Manglors have their own language... Mang-Language... Mang-lang! Yes! MANG-LANG! And how about the name of that red giant star! Betelgeuse!? I wonder if Tim Burton had Manglor Mountain as a kid and was inspired by the story of Manglors so much that he eventually named one of his movies "Beetlejuice" in tribute to it. Can you imagine if Michael Keaton had emerged from a mountain of Mang-Lava in that flick? Man, I would've loved that movie even more.
Speaking of the Mang-Lava (and who doesn't enjoy speaking about MANG-LAVA?), there's an order form for a refill bag of it. For a mere 50 cents, you could order a full bag of the stuff! I would absolutely love to order 100 bags of Mang-Lava so I could bathe in it each and every evening. But sadly, it's no longer a valid offer. I'm 30 years too late, damnit! I'm still tempted to send it in, just so I can get a letter back from whoever owns that P.O. Box stating something like:
"Dear Mr. Barr. I'm sorry sir, but I have no idea what 'Mang-Lava' is or why you've sent in a mail order form for it to me. I don't have any Mang-Lava. Please don't send me orders for it ever again.

Yours truly,
Phineas McDowner."
It might be a waste of time and money, but I want to get a letter like that so I can frame it and hang it near my Manglor Mountain playset. Why? Because that's what dreams are made of.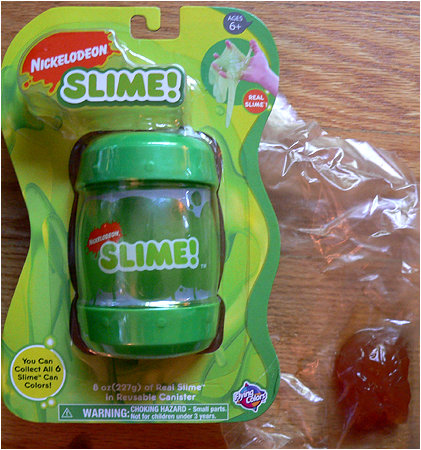 As I mentioned before, there's simply not enough original Mang-Lava for us to use with Manglor Mountain, so we're gonna have to use a substitute. You can't replace Mang-Lava with your average Goop that you get from a 25 cent novelty machine in a grocery store. No, no, no! The only possible worthy replacement for Mang-Lava is Nickelodeon Slime! I got a nice big 8oz jug of the stuff (though you can buy the even more impressive, 30oz BUCKET of slime) and it should work out perfectly for our Manglor Mountain needs. Oh and for the record, Nickelodeon slime is absolutely fantastic and every household should have at least one jug of it.
So we've seen the mountain... we've seen Mr. Manglord... we've seen the Mang-Lava. Now it's time to put it all together and see just how this classic alien monster toy really worked. Below is a video of this Manglor Mountain being put to use for the very first time. You'll also find the original Manglors TV commercial at the end of it. Mangtastic!
I hope you all enjoyed this little demonstration of a long forgotten toy from the early eighties. It was nice to see Mr. Manglor emerge from his slimy mountain tomb in an Iron Maiden. I guess there's really only one thing left to say about Manglor Mountain...
MANG-LAVA.
Have any questions or comments about this piece?
Email -RoG-